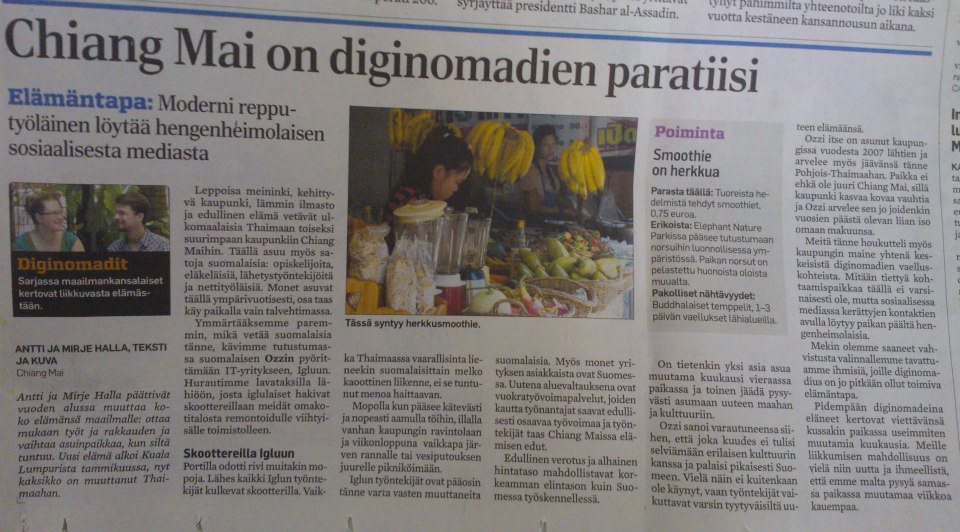 Written by Antti and Mirje Halla
Antti and Mirje Halla decided to move their whole lives abroad. They wanted to be able to relocate whenever they feel like it, so they took their love and jobs with them. Their new life started in Kuala Lumpur in January, and now the couple has moved to Thailand.
Relaxing atmosphere, thriving city, warm climate and affordable life attract foreigners to Thailand's second largest city; Chiang Mai. The city is home to hundreds of Finns: students, pensioners, missionaries and internet workers. Many live here all year-round, whilst some only come for the winter.
To better understand what pulls Finns all the way here, we met Ozzi, who runs an IT-company called Iglu. We took a songthaew to the suburb, where the Iglu-guys picked us up on their scooters and brought us to their cozy office.
By Scooter to Iglu
There was a long row of scooters in front of the gate. Although the traffic seems completely chaotic for a Finn, this doesn't seem to slow down the guys at Iglu as everyone gets to work by scooter.
With a motorbike you can get quickly and easily to work in the morning, to a restaurant in the in the evening, or for a picnic to the side of a lake or waterfall on the weekend.
The employees at Iglu are Finns who have purposely moved to Thailand and many of their clients are from Finland too. Their most recent concept is an employee leasing service, where employers get skilled workers affordably whilst the employees get all the benefits of living in Chiang Mai.
Low taxes and low price levels allow a higher living standard than when living in Finland.
It is of course one thing to live a few months in an unfamiliar place and another to adapt permanently to a new country and culture.
Ozzi said he was prepared that every sixth employee wouldn't be able to cope with the cultural differences and would quickly return to Finland. So far, however, this hasn't happened as all the employees seem very happy with their new lives.
Ozzi has lived in Chiang Mai since 2007 himself, and reckons he will stay in Northern Thailand permanently. The place to stay might not be Chiang Mai though, as the city is growing at a fast rate and it might soon be too big for his own taste.
Another reason that lured us here was the reputation of the city as one of the main traveling spots for digital nomads. There isn't any specific meeting spot here, but with contacts collected through social media we can find many like-minded people.
We have received support to our choice after meeting some long term digital nomads who agreed that it's a well-working lifestyle.
These long term digital nomads explain that they usually spend a few months at one place at a time. For us, the opportunities for relocating are still so new and wonderful, that we can't stay at one spot for more than a few weeks.