Covering must-know criteria for outsourcing Iglu and other Enterprise-grade partners for your mobile app development
Mobile app development has never been more relevant amid the global pandemic; what was once seen as a specialised niche, mobile-based development has now become the primary content delivery platform for many companies, and outsourcing app development is a primary means to achieve this.
This makes sense given that our phones are with us constantly, always connected to the internet with ever-faster cellular data speeds and larger leaps in technology iteration each year.
There has been a particularly big uptick in smartphone usage from even a year ago, with a few key categories experiencing most of this growth.
Mobile is more relevant than ever in key verticals
Food delivery services, eCommerce, FinTech and gaming verticals have enjoyed particularly large growth, fuelled by geographies implementing lockdowns and social distancing measures.
Global spend on mobile apps hit USD $112 billion in 2020 — and iOS represented 65% of that spend. – Adjust, Mobile App Trends 2021.
The mobile platform dominance and growing demand for apps in three key verticals – eCommerce, FinTech and gaming – is putting pressure on companies to roll out mobile app solutions of their own. And as such, development efforts are hurriedly being drawn up and implemented.
To highlight this reality, here are some key metrics for the 2020-2021 period:
The average user now has 2.5 finance apps installed. Global payments reached USD $1.39 billion in 2020 and are projected to reach USD $1.68 billion this year.
33% of all apps downloaded in 2020 were mobile games. The mobile gaming industry was valued at USD $165 billion in 2020,  with an increased projected growth predicted to hit USD $180 4 billion in 2021.
eCommerce adoption is at an all time high, with a 58% increase in in-app transactions from 2019 to 2020. The trend is not slowing down amid lockdowns and stay at home measures.
Mobile growth has continued strongly into 2021 with installs up 31%.
Figures taken from Adjust's Mobile App Trends 2021 report.
Clearly, if companies do not yet have a presence on an App Store or mobile ecosystem, it should be a top priority to do so.
Companies are rushing to a mobile-first app infrastructure
The increase of mobile application development demand is driving up developer salaries as companies rush to adapt to a mobile-first strategy. There are various challenges that come with this transition that include:
Companies not having a mobile application development team, that in itself consists of a specialised skill set. Required skill sets can be very broad depending on the requirements of the app. The prospect of transitioning to a mobile-first strategy can be daunting if the company has little to no experience in catering for such platforms.
Not only do mobile apps need to be designed for touchscreen devices (perhaps even across smartphones, tablets and wearables), the cloud infrastructure hosting the services, data and brains of the app also need to be acknowledged. There are many form factors to consider, all of which should offer a consistent user experience.
The solution to these problems is what this article focuses on – the strategy to outsource app development to a highly skilled and competent development company that can fulfil your app development requirements to a high standard.
The solution: Outsource mobile app development targeting Enterprise-grade outsourcing partners
Whether your company has an in-house team of developers or not, the ability to outsource app development can be an effective way of developing your mobile-first app infrastructure.
A highly skilled outsourcing app development team should be targeted: a company that can develop your app to a high standard for the two dominant mobile operating systems – iOS and Android – with the capabilities to adapt the solution to various screen sizes and form factors as mobile hardware evolves.
Such highly skilled outsourcing partners will be term Enterprise-grade outsourcing partners in this article. We will delve more into what makes an outsourcing partner Enterprise-grade further down.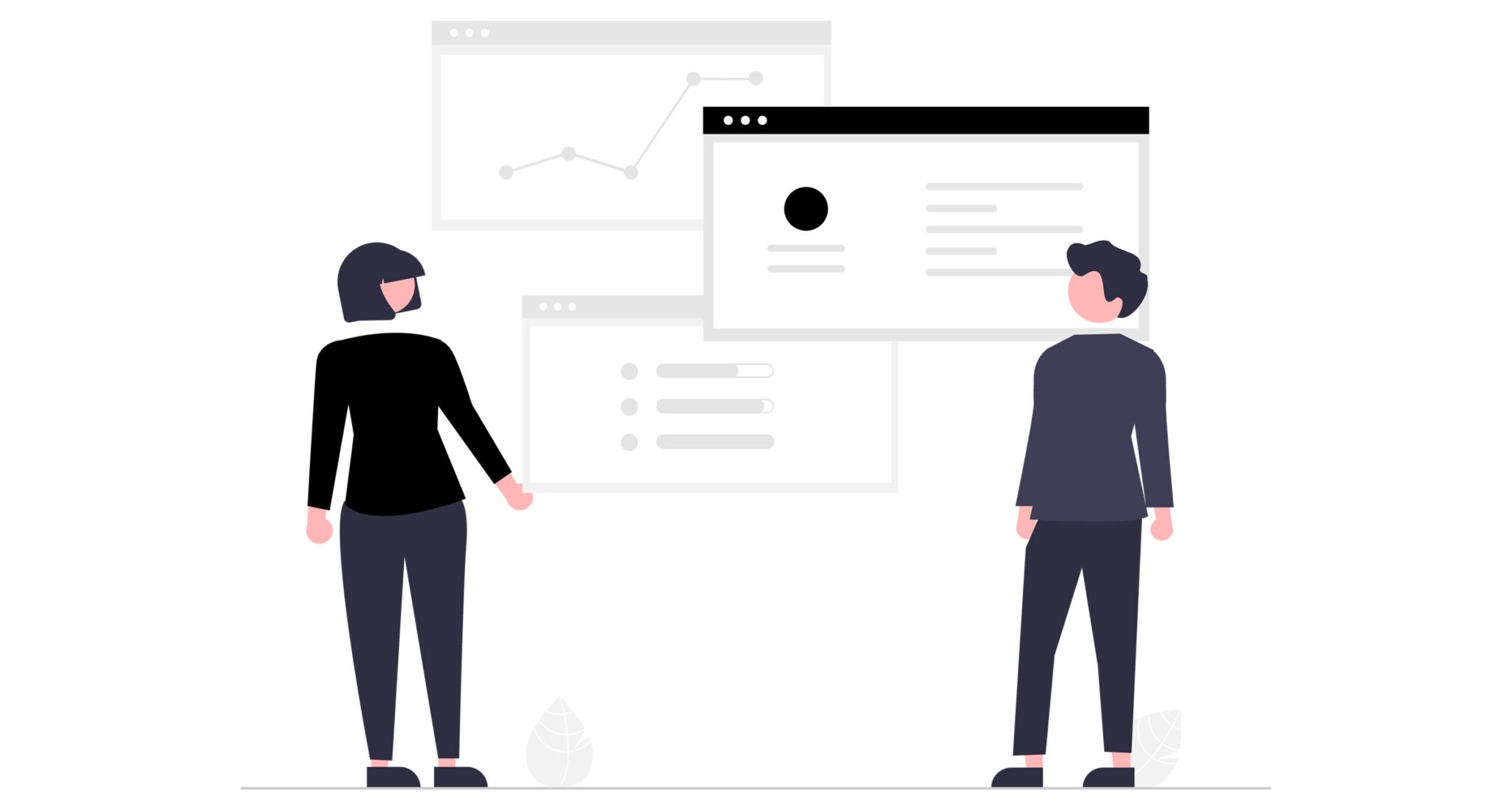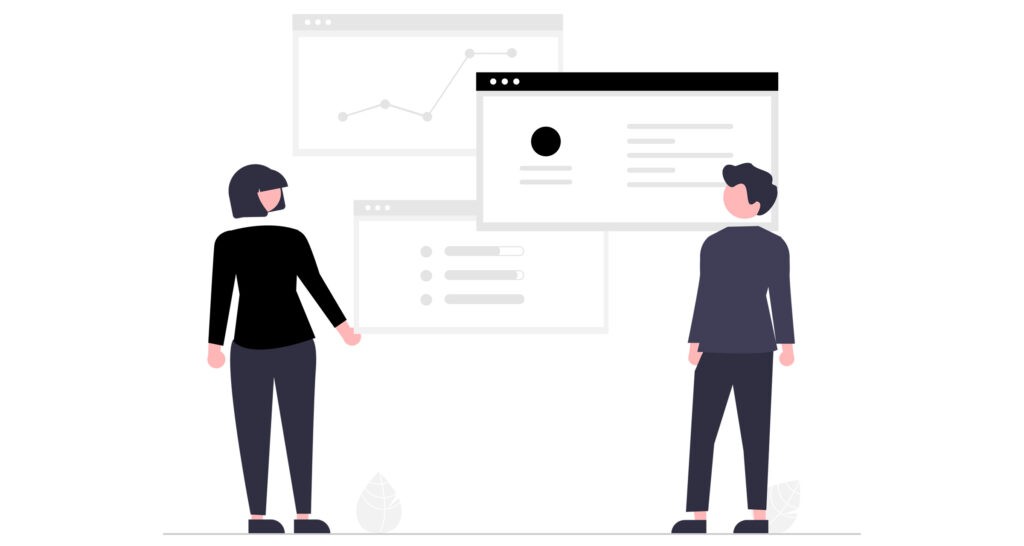 Outsourcing Mobile App Development: Service Models
Just as important as finding the right outsourcing partner is choosing the best strategy, or service model, to undertake.
This depends on the scope of work to be accomplished, but two particular models of team extension and project-based outsourcing will be discussed here as either one of these service models will fit the majority of app requirements.
Software development outsourcing models have been discussed in more detail in a corresponding piece, How to Outsource Software Development. The reader is encouraged to consult both articles for a comprehensive breakdown of the encompassing global outsourcing trends.
Team Extension Model
The team extension model, also known as staff augmentation or outstaffing, entails bringing in external software developers on either an individual freelance or team basis, as a means to fill a void within your internal app developers capabilities, without having to commit to additional full-time salaries.
Adopting the team extension model assumes that you wish to maintain control of operating hours, oversee app development project milestones, control the development pipeline and overall development process.
These responsibilities come with more responsibility that can ultimately be avoided with the project-based model and Enterprise-grade outsourcing partner combo.
Saying this, staff augmentation via team extension can work whether you already have an in house development team underway or whether you are starting an app completely from scratch, although team extension makes more sense in the former scenario as a way to:
Bolster your team's skills to undertake more specialised development goals.
Speed up development time to rapidly iterate new features.
Boost quality standards or improve the testing pipeline with more comprehensive unit testing.
Prototype additional services that can fit around your current app ecosystem.
Prototype different form factors (tablets, smartwatches, VR headsets) or support additional platforms (such as Windows or Huawei's HarmonyOS) while leveraging existing app infrastructure.
Consider the following questions to determine whether the team extension model can work well for your requirements:
Do you have a full time Chief Information Officer (CIO) (or similarly a Chief Technical Officer [CTO]) that can oversee the app development efforts of the outsourced developers you bring into the company? And does the CIO have sufficient knowledge in the technologies required for the app development pipeline? Likewise, is there a Project Manager (PM) at hand to work with the CIO and oversee development progress and communication channels?
Do you have confidential data or intellectual property (IP) that if stolen would damage your business proposition or app idea? If so, can the team extension model ensure that such IP can stay confidential? This is a typical concern with a freelance model whereby the individual may have more to gain by leveraging your IP.
Would hiring an entire development team instead be more conducive for your company to focus on your core competencies? With development concerns being managed by a highly skilled Enterprise-grade outsourcing partner with their own project manager, more energy could be focused on carrying out day-to-day business operations away from those of app development.
This outsourcing model is more cost effective than hiring a dedicated outsourced development company to develop an entire app from scratch, but it comes with additional management responsibilities that also require a comprehensive understanding of app requirements and technical knowledge.
Project-Based Model
A project based model, also known as end-to-end development or dedicated team model, entails an outsourcing development company taking full responsibility for your app development.
Such efforts will encompass the app design process, programming the app, managing and overseeing the development process, testing and deployment pipelines.
This end-to-end development model takes a lot of the day-to-day management away from your company, thus freeing time, energy and expenditures that would otherwise need to be compensated.
What is essential in this scenario is that communication is maintained between yourself (the client) and the outsourcing partner. Project managers on both sides are essential for this process to be as efficient as possible.
With this in mind, the project-based model could work well for your app requirements if:
You have a high level overview of what you require for your app, but do not have the technical expertise, manpower or clear vision within your company to implement the full solution.
You are a medium to large sized organisation with a sizeable amount of app developers with numerous in house operations to maintain on a daily basis.
Instead of further stretching your team of app developers or expanding an existing studio, it could make more sense to outsource app development completely to a dedicated team with full-time resources at hand.
You are not technically trained, nor have a CTO or CIO to rely on technicalities. An Enterprise-grade outsourcing partner in such a case can fill these voids and act as a technical advisor as well as the development muscle behind your app.
In either case, you will want to attract a highly skilled, trusted outsourcing partner, otherwise known as Enterprise-grade outsourcing partners. The next section will discuss the attributes to look out for for such app development companies.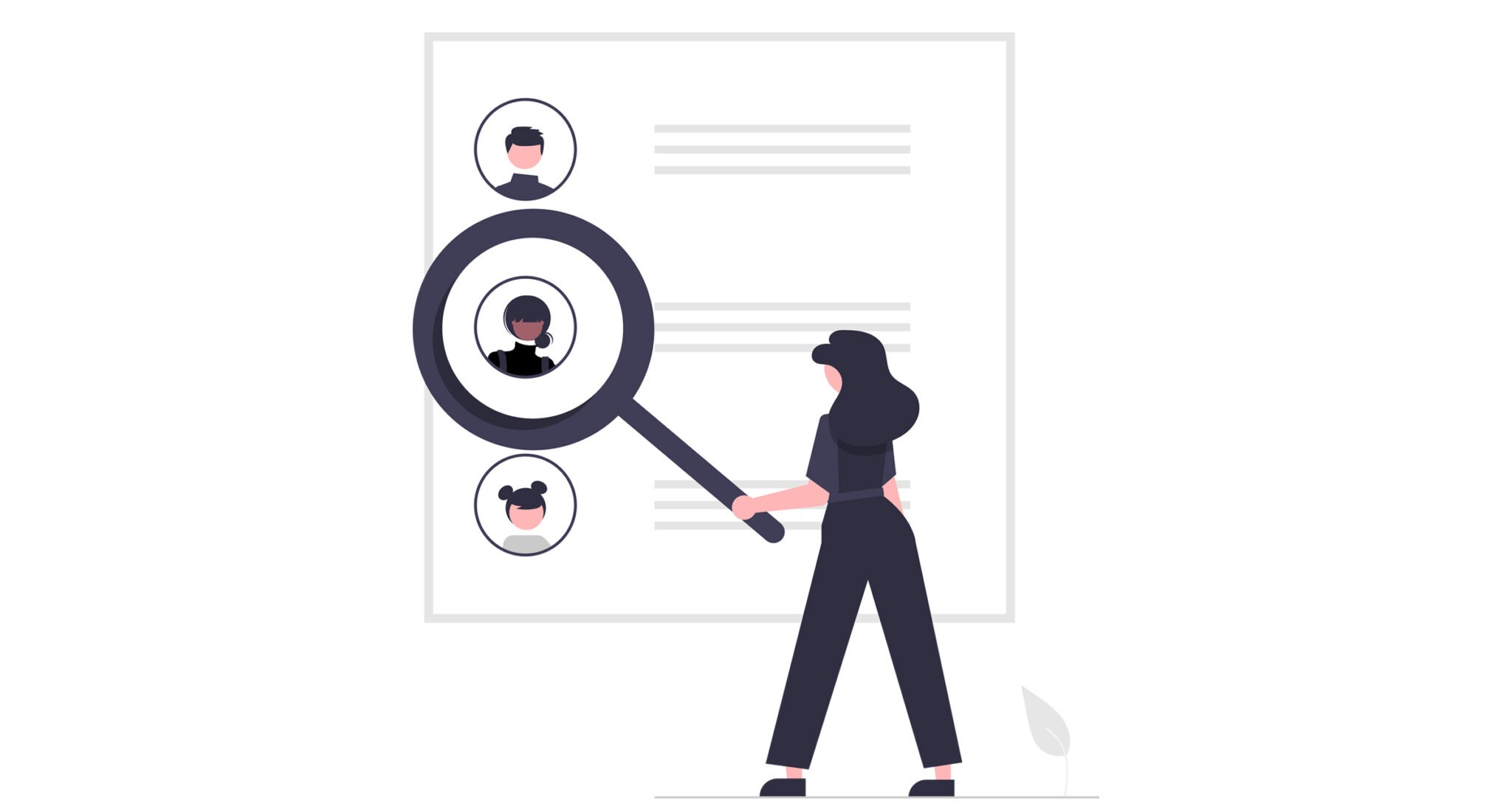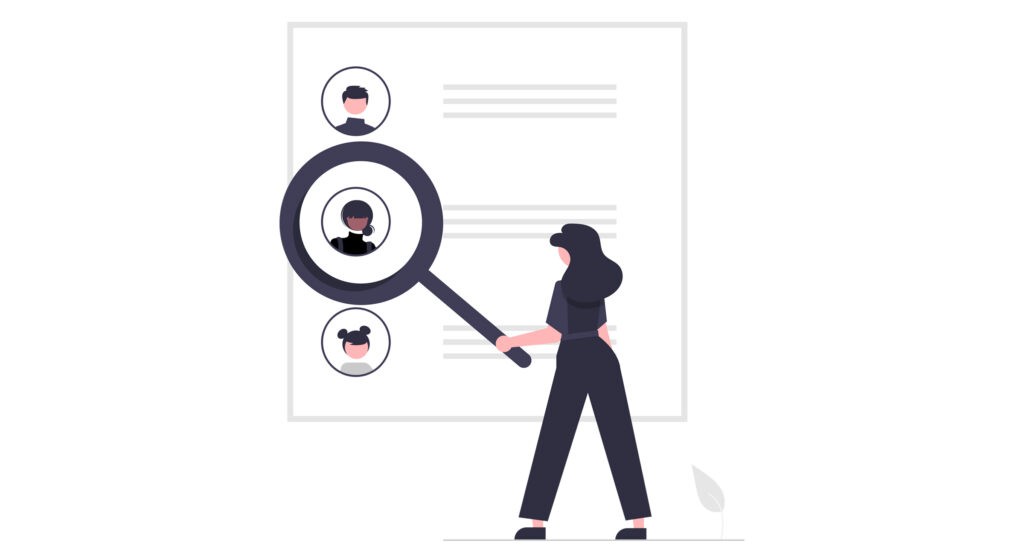 Finding Enterprise-Grade App Development Outsourcing Partners
Companies looking to cut costs will inevitably have to make trade-offs in the quality of service they will receive when outsourcing mobile app development. The higher this compromise, the higher the risk of the project failing; this is the case at both ends of the rate spectrum.
The sweet spot between budget and highly skilled outsourcing partners therefore needs to be found.
The following illustration outlines where Enterprise-grade outsourcing partners lie in the rates spectrum, as well as the benefits to using each type of service:


It is in your interest to avoid the far left side of the scale, where hourly rates are lowest but skill and experience on offer is subpar.
These "body shop" companies entail a high risk, with a greater need to direct and monitor them, and an expectation of shortfalls that will need to be addressed. This neither leverages the advantages of the project-based model or the team extension model, causing more of a burden on your internal resources than an aid.
Although professional contractors and agencies yield the greatest probability of success in terms of a viable, relevant and technically capable app, this will likely not translate well with your cashflow or budgeting limits, with such outsourcing partners demanding 3 figure hourly rates that often surpass $200.
This highlights the importance of a sweet spot. Here are some characteristics that make such companies Enterprise-grade:
The vast majority of their previous clients are either US, Europe or Australia based.
A thorough understanding of western cultural values.
Time zone flexibility.
A thorough understanding of the technical requirements of your app, with the willingness to make suggestions where particular technologies are no longer relevant or superseded.
English fluency throughout the app developer team with no communication obstructions, allowing greater collaboration, shorter turnaround times and overall increased innovation.
Commitment to a structured work day of around 8 hours.
Active project management that continuously gauges the effectiveness of the app development process, and makes amendments where necessary to improve output. This should also entail a continuity plan for app maintenance, growth and scalability after its initial deployment.
Developers with the credentials and experience to justify them working on your app.
Invests in a work culture, infrastructure and improvement programs that attract high quality talent to the team, with the intention of growing that talent over time.
These attributes are tell-tale signs that an outsourcing partner is of Enterprise-grade. Effective executive management of an outsourcing company will filter through to the entire team, thereby attracting better talent; ultimately developers who are hungry to exercise and improve their already impressive skill sets.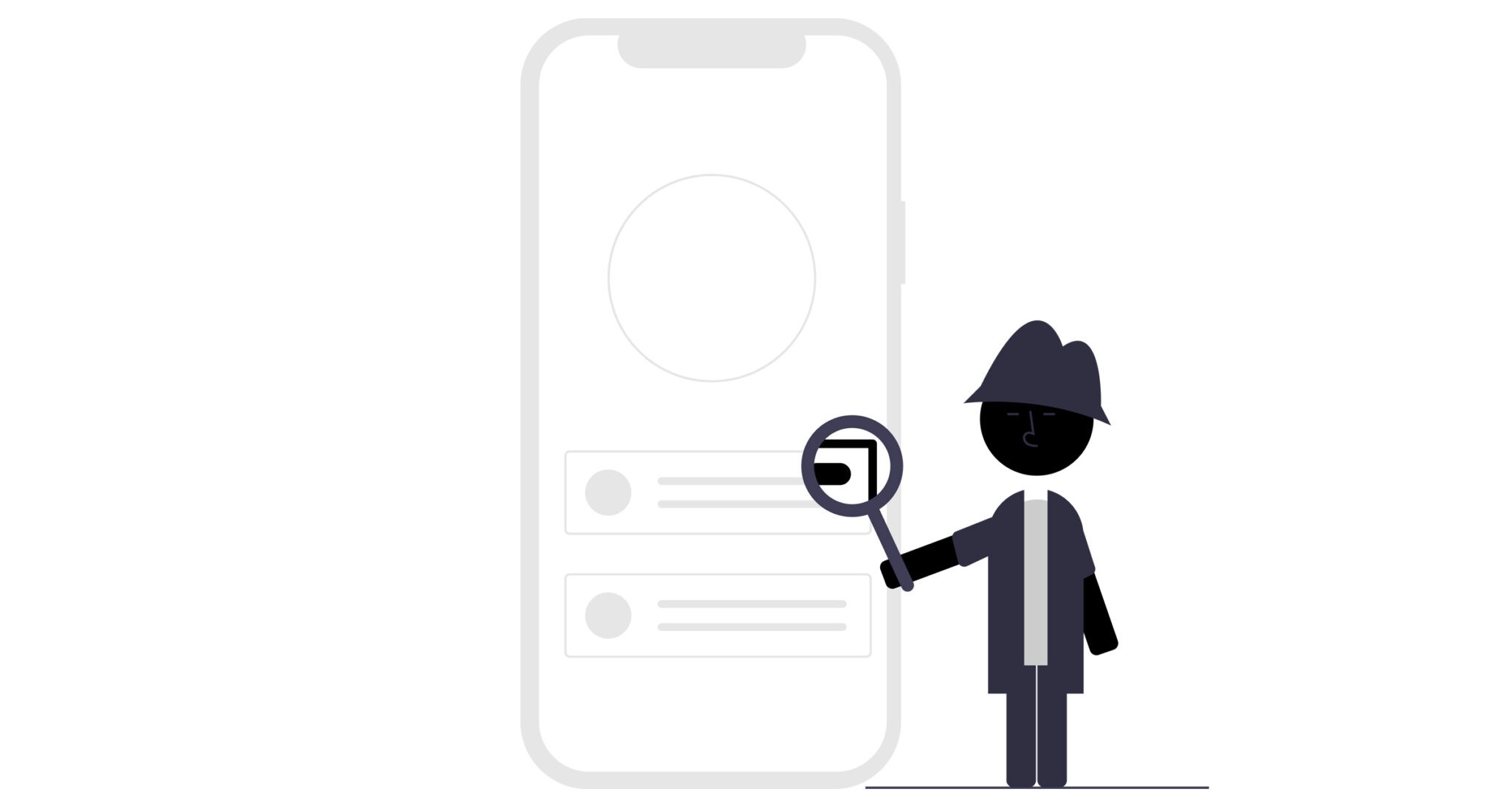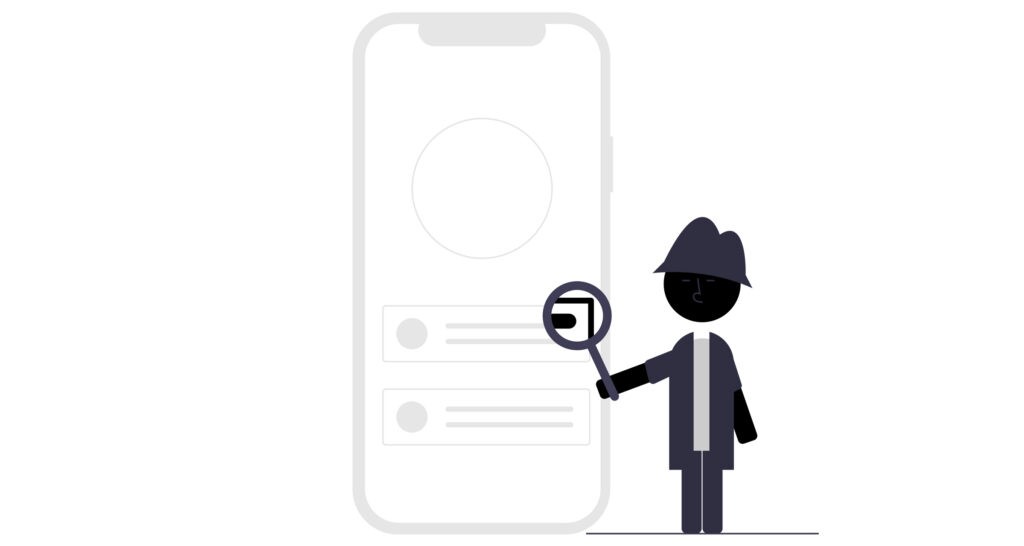 Choosing an Outsourced App Development Company
The most common method of sourcing app development companies is through online aggregation platforms, the most notable app development services being Clutch and GoodFirms.
Both platforms attempt to filter through the thousands of potential outsourcing companies on the platform to find the best suited based on your requirements.
A counterpart to this piece, How to Outsource Web Development: Your Ultimate Guide, delves into more detail about the various platforms you can leverage and expands upon the points mentioned in this section.
There is a focus on reviews and ratings on both platforms that aim to offer unbiased, trusted feedback from the outsourcing companie's previous clients.
These feedback mechanisms are just one piece of the puzzle however, and thorough due diligence should be carried out on a number of factors, including:
Analysing the outsourcing company's portfolio, drilling down the components of each of the apps the company has developed in the past. Take note of the technologies adopted and whether they are relevant today – and relevant for your particular solution.
Within the outsourcing company's portfolio, are there particular apps that offer similarities to your desired project? Apps offering similar functionalities guarantee that the client is capable of pulling off your requirements.
Take note of the previous section and the various factors that make an outsourcing company Enterprise-grade. Test their communication skills, their professionalism, how they conduct meetings or Zoom calls with you, and how they respect your IP and sensitive data.
Filtering through potential outsourcing companies, choosing candidates, and thereafter carrying out thorough due diligence on those candidates is a time consuming, intensive process that ideally won't be repeated, at least for the scope of your project requirements.
It is therefore extremely important that the right outsourcing company is chosen the first time round.


Outsource Mobile App Development with Iglu
With over 10 years of experience in the industry, Iglu has a track record of attracting talented digital specialists from all over the world. Our Enterprise-grade employees range from senior talents with decades of experience to junior employees for more affordable solutions.
Not only are we experts with the mainstream tech stacks, but we also have specialists in some of the most exotic programming languages.
See our comprehensive list of services for more information and we will look forward to working with you.
How much do App Development Companies Cost?
We have already considered the costs of Enterprise-grade partners vs the lower and highest ends of the rates spectrum above, so let's now briefly explore the cost comparisons of onshore vs offshore mobile app development costs.
Another Iglu piece centred around outsourcing software development services delves into global outsourcing rates by continent and notable countries in much greater detail than this piece: How to Outsource Software Development: The Ultimate Guide.
Although outsourcing, when done right, can have big benefits on your budget sheet and cashflow, it is also worth noting that costing should be carefully planned to ensure a continued effective partnership.
Consider the following additional costs that should also be considered beyond the hourly rate of the outsourcing company.
Management and oversight costs. Consider subscriptions of communication tools, storage management solutions, and other tools the outsourcing partner may require you to use.
Source control, automating app deployment and testing pipelines are all areas where paid services may crop up.
Consider iOS developer licence costing and the management required to set up team members and shared resources between yourself and outsourcing partners within the Apple Developer Portal. The same can be said for Google Play and other targeted stores, although Google Play charges a one-off $25 developer licence.
If the partner is in close proximity (perhaps you are located in the UK and your outsourcing partner in Ukraine, for example), then in-person meetings become a possibility. Factor in any planned visits to your outsourced company in your budget.
The costs between managing an extended team versus an end-to-end development solution vary, but needless to say, every outcome should be considered for a successful app development process.
The following illustration compares an in house team expenditure sheet to that of an offshore company: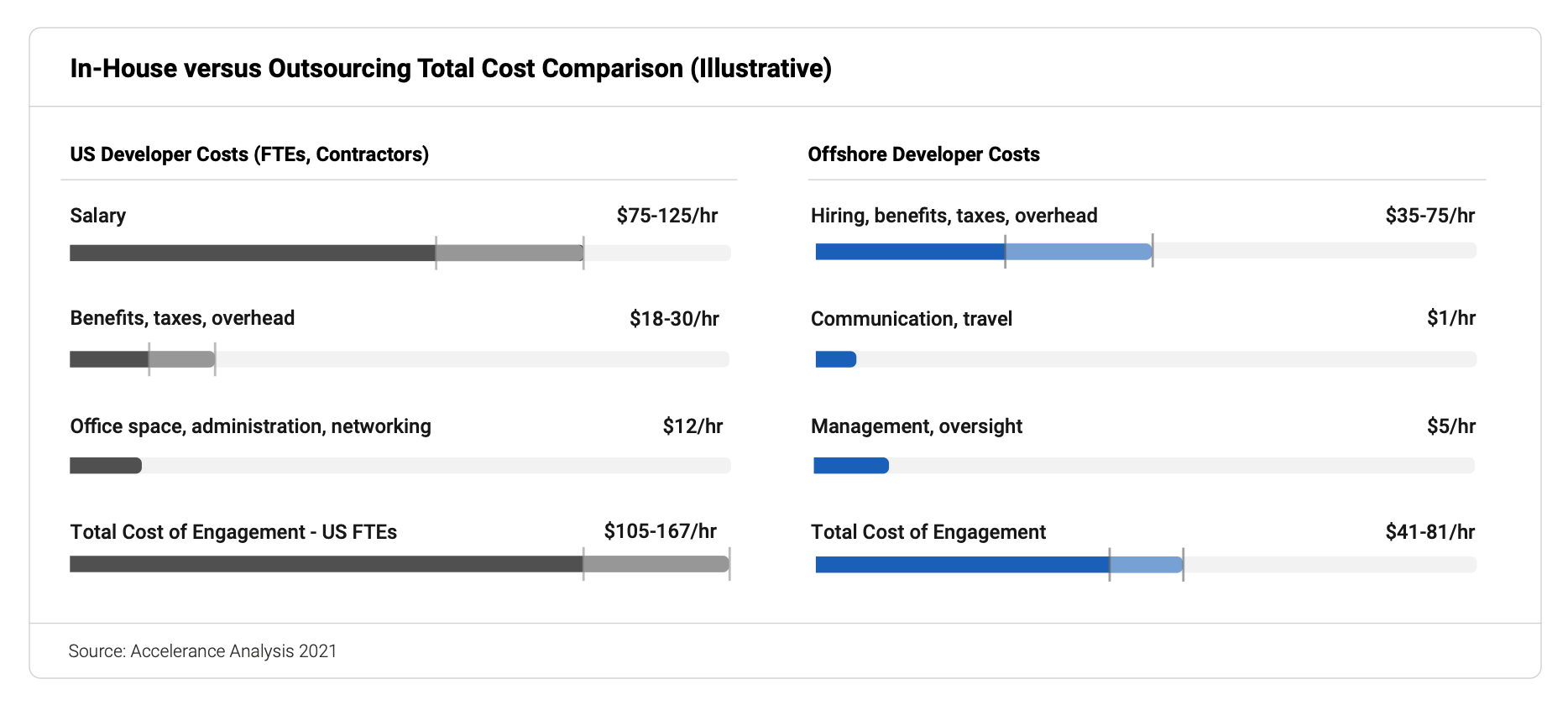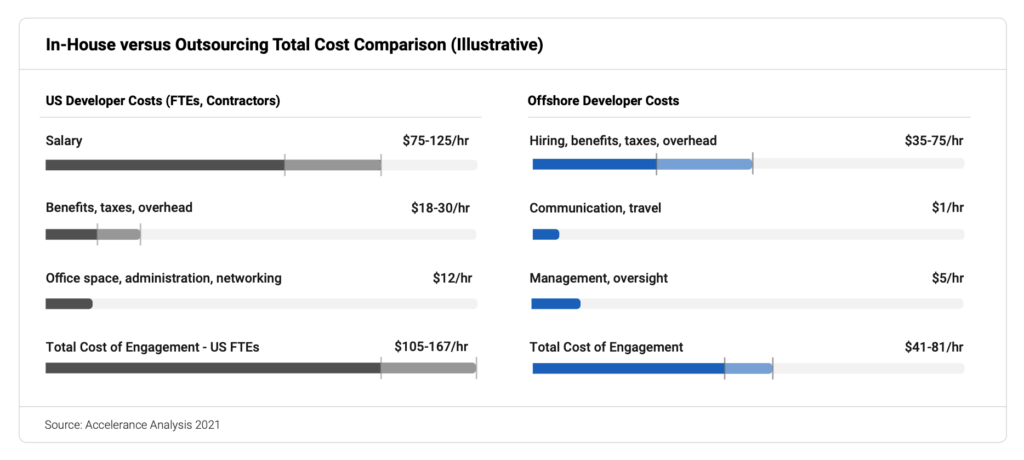 Choosing a payment model: Hourly rates in most cases
An hourly rate model, also known as time and material payment model, is the optimal payment model for outsourcing app development in the vast  majority of cases.
A fixed price payment solution should only be considered in cases where you know exactly what you require, and how the solution will be implemented.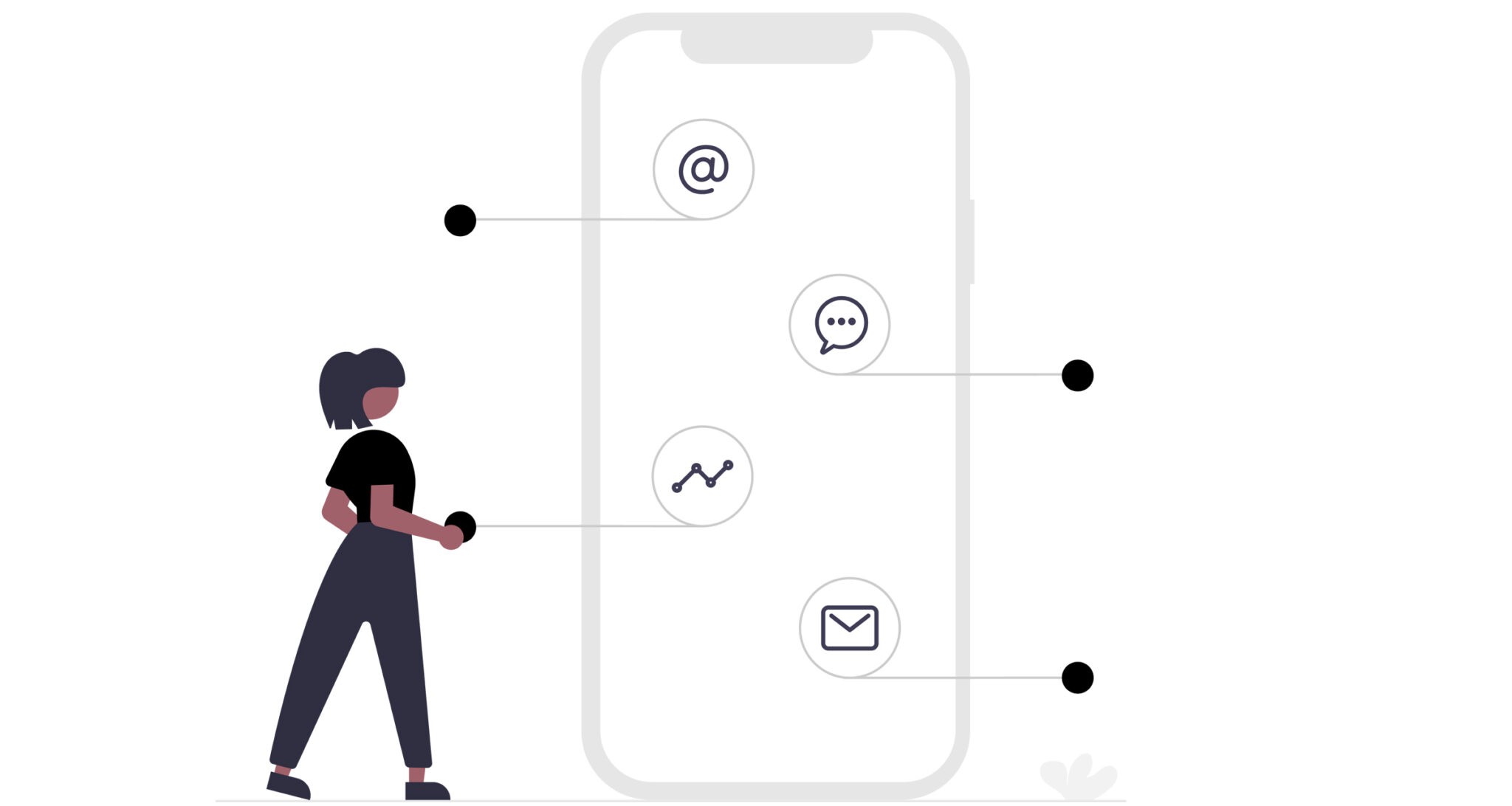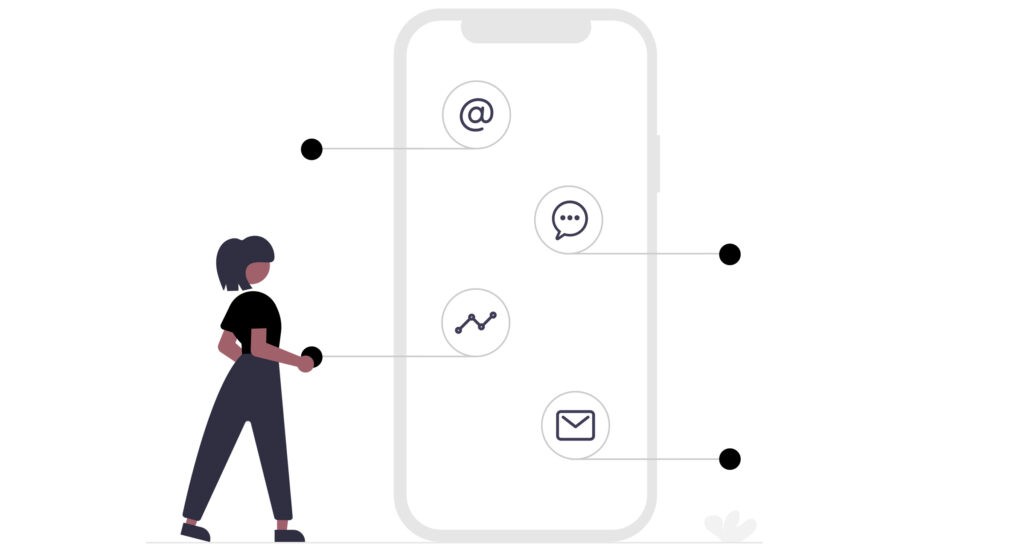 This wraps up our take on outsourcing mobile app development. Outsourcing app development is in such high demand with some key app categories exploding in popularity from a year ago, thus putting pressure on app developer demand with app developers enjoying a continued growth in salaries.
This desire is increasing software development outsourcing demand in general.
Companies are (or should be) transitioning to a mobile-first strategy to reach users centred around an Android app and iOS app presence. Both Android and iPhone app development need to be considered, and this multi platform "hybrid app" necessity increases app cost and the need for quality assurance, even for a simple mobile app.
This article has attempted to summarise the best outsourcing partner for mobile applications.  We have termed the ideal partner as an Enterprise-grade outsourcing partner. Such partners have particular attributes that have been outlined in this article, that range from competent app developers to a healthy company culture.
For the best chances of success in your endeavours to outsource a mobile app development company, Enterprise-grade partners like Iglu should be considered as primary candidates for both simple and complex app requirements.
Of course, to outsource mobile app development on any scale, due diligence also needs to be carried out to ensure your candidates can complete your requirements to a high standard.