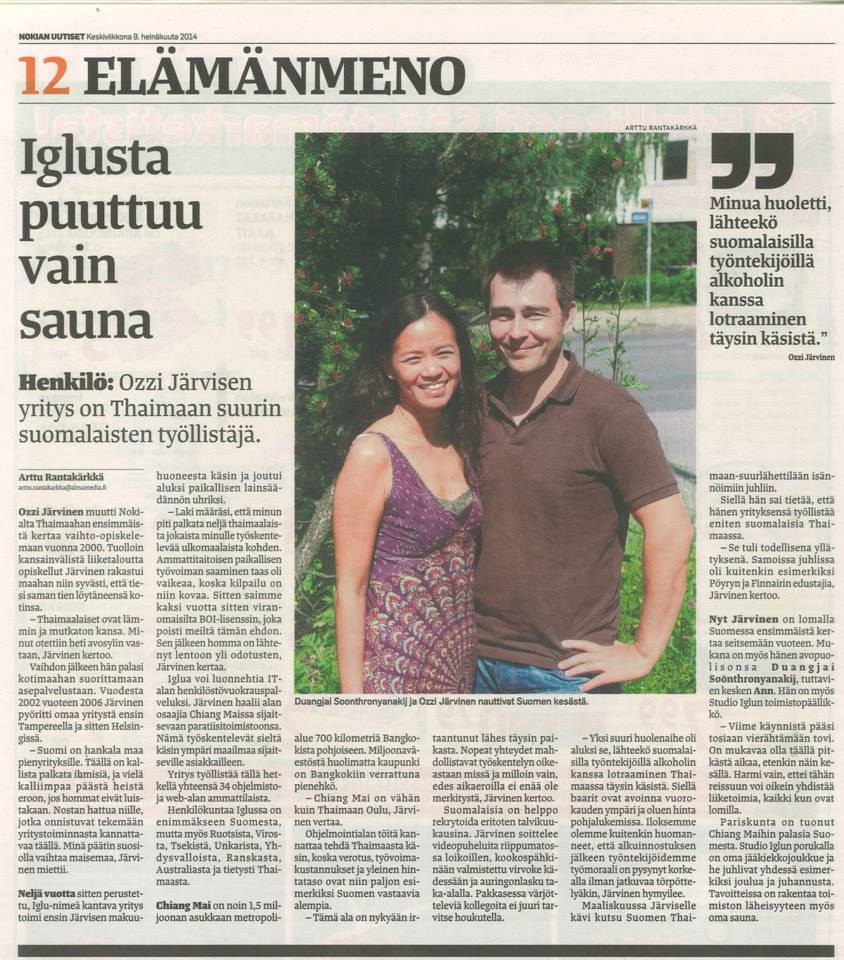 Duangjai Soonthronyanakij and Ozzi Jarvinen enjoying the Finnish summer.
"I was worried that alcohol consumption will get out of hand here with the Finnish employees."
Ozzi Jarvinen, the largest employer of Finns in Thailand
Written by Arttu Rantakarkka
Ozzi Jarvinen moved from Nokia to Thailand in 2000 as an exchange student. Ozzi, who was studying international business back then, fell in love with the country so deeply that he felt he had found a home.
Thai people are easy-going and have warm personalities. I was immediately welcomed with open arms when I got here, Ozzi remembers.
After the exchange year he returned to Finland to complete his military service. From 2002 till 2006, Ozzi managed his own business, first in Tampere and then in Helsinki.
Finland is a troublesome country for small businesses. It's expensive to hire people and even more expensive to get rid of them, in case of any trouble. I would congratulate anyone who succeeds in making a business profitable here. I decided to pack up and leave, Ozzi says.
Ozzi's company, Iglu, first started out from his bedroom and faced difficulties with the local regulations.
The law dictated that I had to hire four Thais per every foreigner I employ. Finding skilled local labour was challenging, as there is a lot of competition. After two years we got a BOI-licence from the officials, which took this rule away. Since then, the business has been booming over expectations, Ozzi explains.
Iglu can be described as a personnel hire service of the IT-industry. Ozzi finds professionals of the industry to his paradise office in Chiang Mai, who work for clients around the world.
Currently the company employs 34 software and web development professionals.
The people at Iglu are mostly from Finland, but also from Sweden, Estonia, Czech Republic, Hungary, US, France, Australia and of course, Thailand.
Chiang Mai is a metropolis of about 1.5 million people, located 700 km north from Bangkok. Although the population is large, the city is small compared to Bangkok.
Chiang Mai is like the Oulu of Thailand, Ozzi compares.
It's practical to do development from Thailand, since the taxation, HR-costs and general price levels is so much lower compared to Finland, for instance.
Having fixed locations is no more necessary in this industry. Quick broadband connections allow one to work from anywhere at any time. Even the time zones aren't an issue anymore, Ozzi explains.
It's easy to recruit Finns especially during the winter months. Jarvinen makes video calls whilst relaxing in his hammock, drinking a coconut drink and watching the sun set. It's not difficult to convince some colleagues to come here, who are shivering in the freezing winter of Finland.
One major worry for me was that drinking will get out of hand with the Finns here, since bars are open day and night, and the price of beer is very low. Luckily however, we have noticed that after the first few weeks the morale of my employees has stayed very high without them fooling around too much, Ozzi says smiling.
In March Ozzi was invited to a party hosted by the Finnish Ambassador of Thailand, where he was told that his company is the biggest employer of Finns in Thailand. This was a complete surprise to him, as there were even delegates of Payry and Finnair at the party.
Now Ozzi is on holidays in Finland for the first time in seven years. Together with him is traveling his partner, Duangjai Soonthronyanakij, also known as Ann, who is also the office manager of Studio Iglu.
It has been a while indeed since my last visit. It's nice to be here after a long time, especially in summer. It's a pity though, that I can't do anything business related on this trip as everyone is on holidays.
The couple has brought some traditions from Finland with them. The guys of Studio Iglu have their own ice hockey team and they celebrate Christmas and Midsummer day together. Our vision includes building a sauna somewhere near the office in the future.
Update: Since this article was written, we have fixed the situation and now our Bangkok office has a Sauna 🙂 Happy days!