Let's say you're a successful web developer, graphic designer, or software engineer and you're looking for a great seaside location to relocate to. When not busy programming or designing websites, you dream of spending your free time splashing on the beach, diving among coral, and eating excellent seafood.
You also want to be somewhere that will give you the most bang for your buck. Why not consider moving to Phuket, Thailand?
If you already plan on living in Phuket, keep on reading for tips on making the move to Thailand's biggest island.
What's the Best Place to Stay in Phuket?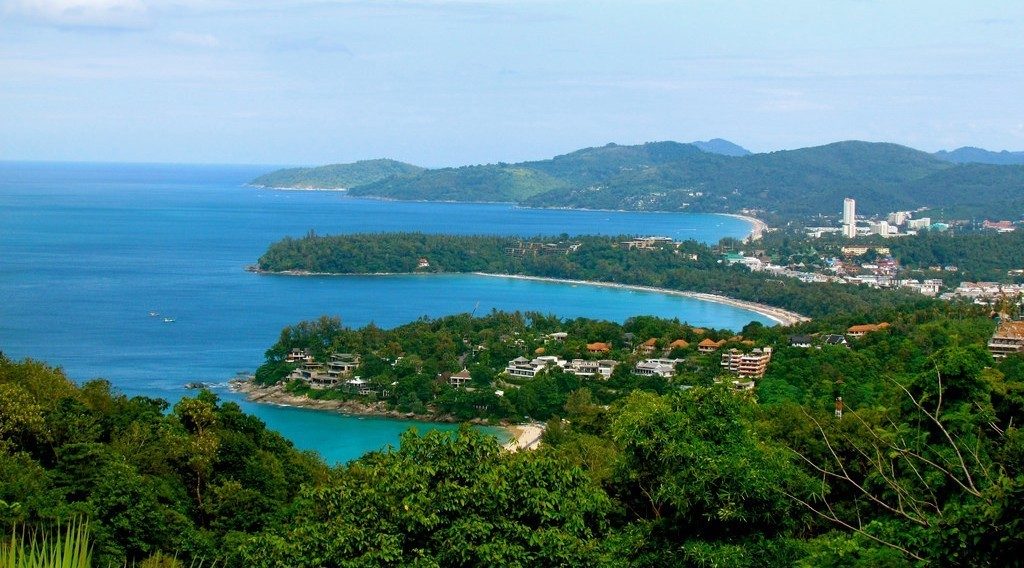 Everyone's opinion on the best area to live in Phuket will be different. For some, being five minutes or less away from one of Phuket's famous beaches will make the island life complete. For others, being right in the thick of the nightlife scene is their ideal. Still others may prefer to stay in a quieter area or a part of the island that retains a more typically Thai character.
So rather than proclaim which part of Phuket is the best to stay in, I'll give the pros and cons of the main areas, then you'll have a better idea what to expect. In any case, my suggestion would be to explore a little bit for yourself once you get here.
If you've never been to Phuket before, you might be surprised at how big it is. Traveling along the main highway running down the center of the island, it becomes easy to forget that you're on an island at all.
With such a large area, there will be someplace to suit everyone's tastes. Phuket has everything from rowdy party zones teeming with international tourists to family-friendly, quiet beaches.
Patong
Patong Beach, on the middle of Phuket's west coast, is the most heavily touristed part of the island. You'll either love it or hate it depending on how you fare in tourist hotspots. Patong is the center of Phuket's nightlife, with no shortage of bars and nightclubs. It also has a huge variety of restaurants and shopping, including the modern Jungceylon mall.
Nobody would claim that Patong has Phuket's best beach, but it really does have a nice stretch of sand—it's what attracted tourism in the first place. While the water is quite nice, any sense of serenity is quickly broken up by the constant buzz of jet-skis.
For a more relaxing experience, you can hire a long-tail boat to the nearby Freedom Beach. Patong could be a good place to stay if you're the type who likes to party but knows how to cut out distractions when it's time to get down to business.
Karon and Kata Beaches
Karon and Kata beaches, south of Patong on the west coast, are both good choices for someone who wants to stay in a beach area with decent restaurants and bars, but without the full-on craziness of Patong.
During the rainy season, from about April to September, Kata Beach has decent waves for surfing. If you're a surfer—or interested in learning—that could be a good reason to choose Kata.
Phuket Town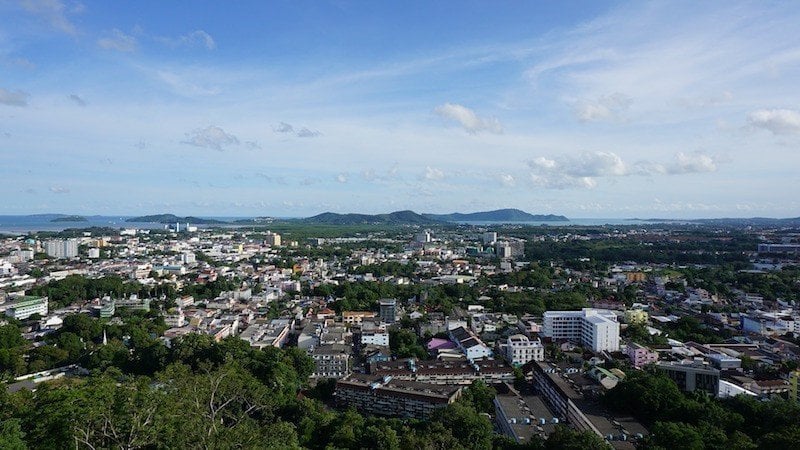 Phuket Town, on the east side of the island, is Phuket's main population center. It's one of the least touristy areas of Phuket, and makes a good place to stay if you want a more authentic Thai city experience.
Like many Thai cities, Phuket Town has a prominent Chinatown making up the traditional economic center. It's also full of modern shopping options such as Central Festival mall and Robinson's department store. As the largest city on the island, Phuket Town has tons of dining available—everything from American fast-food, to sushi, to Thai noodle stalls.
The cost of living also tends to be a little lower here compared to the more tourist orientated towns and resort areas. On the downside, you'll have to drive at least 20 minutes to get to a beach.
Chalong
Chalong Bay, on the southeast end of the island, is the main boat harbor on Phuket. Most of the dive companies have their headquarters here. If scuba diving is what mainly brought you to Phuket, then this might be a location to consider staying in.
Chalong also has a number of Muay Thai gyms if you're interested in a land-based method of staying in shape. Karon and Kata beaches are a short drive away by cutting across the island. Rawai and Nai Harn beaches on the southern tip are nearby as well.
Kathu
Kathu is a town located about exactly in the middle of Phuket island. Accommodation can be cheaper here because of the greater distance to the beach. The central location, however, has some advantages.
Phuket Town and Central Festival shopping mall are only about a 10 minute drive away, and you can drive over the hill down to Patong Beach in about 15 minutes. A general lack of tourists is another feature that many expats in Kathu enjoy.
If you're a golfer, you'd be interested to know that there are several golf courses in the immediate vicinity.
Cost of Living in Phuket
Your living expenses in Phuket can vary greatly depending on your lifestyle. In general, your two biggest expenses are going to be housing and food. Phuket is the most expensive province in Thailand, but even so, your overall living expenses will be much lower than somewhere like New York, London, Sydney, or Helsinki. Numbeo estimates that the cost of living in Phuket is 48.70% less than New York.
On the lower end of the spectrum, you could easily get by on USD $1000 per month. That is roughly equal to 35,000 baht. You could budget around 15,000 baht to include rent on a studio apartment, electricity and water, internet, mobile phone plan, and fuel for your scooter.
That leaves you 666 baht per day on average for food and entertainment. You wouldn't be living like a king, but it can be comfortable if you develop a taste for Thai food and don't drink yourself stupid every night.
When you bump up your monthly budget for living expenses to USD $2000-3000, then you can really start enjoying life. With that, you can rent out a spacious, modern condo or house, dine on international food as much as you want, and enjoy lots of activities around the island such as diving, snorkeling, playing golf, going to the cinema, joining a fitness club, etc.
Phuket Local Transportation
As far as transportation goes, the most sensible option—as everywhere else in Thailand outside Bangkok—is to have your own set of wheels. The most economical choice would be to either buy or rent a motorbike.
A brand new Honda scooter will run just under 50,000 baht (around USD $1400). It's also possible to find a used model for about half that price. If renting, you should be able to get a monthly price of around 3000 baht (USD $85). Having a motorbike gives you the freedom to go anywhere at any time, and it's always easy to park. If you have a family or are allergic to rain, you might prefer a car. In that case, you can check BuyCar24 for used autos in Phuket.
Relying on tuk-tuks and taxis in Phuket is not a good idea. Rather than running the meter, Phuket taxi drivers demand high-priced fixed fares. Short rides that would be under 100 baht with the meter will run 300-500 baht in Phuket.
It's a good idea to download the Grab app to your smartphone to use in Phuket and other Thai cities. The ride-hailing platform bought out Uber's Southeast Asian operations in early 2018 and is now the main alternative to standard taxis. The taxi drivers don't like the competition, of course, so Grab drivers are intimidated away from picking up customers at some high-demand locations such as bus terminals and airports. If catching a Grab ride upon arrival at Phuket International Airport, the drivers will ask you to cross the parking lot and meet them at the main road.
Your other option for local transportation is the local pickup trucks converted into mini-buses called song-thaew. They are fairly cheap, but only go to certain destinations, stop running around 6pm, and you might have to wait around for one. If using song-thaew to go from one beach to another, you'll have to do so indirectly by going to Phuket Town first and switching vehicles. This is because pressure from the taxi drivers have forced song-thaew to avoid running direct beach-to-beach routes.
Phuket Accommodation
In Thailand, getting the best deal on long-term accommodation usually involves some legwork. Going through a property agency may save you some time, but your rent will be inflated to pay the agent's commission.
If you have a particular area in mind, exploring by bike can be the easiest way to cover ground. Driving slowly, keep an eye out for "for rent" signs and stop to inquire about vacancies at promising looking condo buildings.
You can also use the internet to narrow down your search and turn up hidden gems. In particular, there are many Facebook groups you can join where people list properties they have available to rent. Start by looking at these:
The range of rental properties available in Phuket is quite huge. Some of the cheaper options are in Kathu, where it runs about 7000-8000 baht per month (USD $200-230) for a furnished studio condo in a building with a swimming pool and fitness room.
In the middle-range, you can find fancier condos to rent at 15,000-20,000+ baht. These might be more spacious, with a better location and view. Prices increase the closer you get to the beaches. Also in the mid-range category, for 14,000-15,000 baht per month (USD $400-430) you could rent a 2-bedroom house located in Rawai, 5 minutes from some quieter beaches on Phuket's southern tip.
On the higher end, you can find 3 or 4-bedroom pool villas in Chalong, Kathu, and Rawai for anywhere from 40,000-100,000 baht per month (USD $1,150-2,875).
You might want to check out Airbnb for short-term accommodation when you first arrive. There are many condos in Phuket listed there, which you can rent out for a few days or weeks—often for much cheaper than a hotel stay would be.
Cost of Eating Out in Phuket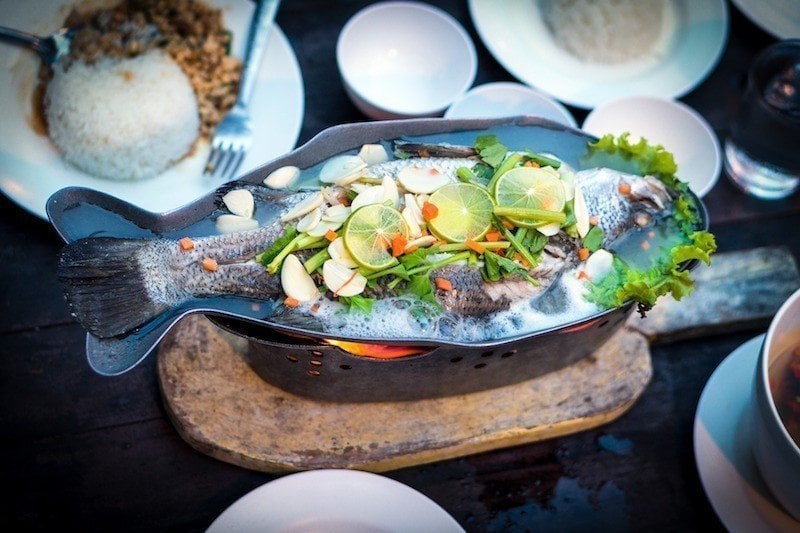 With food being the second main portion of living expenses, you may be wondering about the average meal price in Phuket. This of course depends entirely on the type of food, type of restaurant, and the restaurant's location.
Generally speaking, restaurants that cater mostly to tourists will have inflated prices. So even simple Thai food like Pad Thai and Tom Yum Kung are usually going to cost more in places like Patong, Karon, and Kata. In Phuket Town, you'll find more restaurants that cater mostly to locals, with prices to match.
A meal of basic Thai food at a local restaurant might cost around 60 baht, or just under USD $2. In a popular tourist area, a cheap meal might run closer to 150 baht (USD $4.30). Dinner for two with a couple beers could easily run 800-1200 baht (USD $23-35) depending on your orders.
The first tier of imported wine worth drinking is around 600-1000 baht per bottle (USD $17-29) if you buy from the supermarket. Count on restaurants charging about double for the same bottle if you buy from them. If you get a Big Mac attack, expect to pay around 180 baht (USD $5.20) for a value meal at McDonald's.
Getting Cheap Flights to/from Phuket
One of the convenient aspects of basing yourself in Phuket is the international airport. If you choose the right route, you can avoid Bangkok completely when entering or exiting Thailand. A large number of domestic and regional destinations are also served by flights out of Phuket International Airport, making it easy to plan a holiday when you feel like a change of scenery. A partial list of cities you can reach on direct flights out of Phuket includes:
Bangkok
Chiang Mai
Koh Samui
Hat Yai
Pattaya
Singapore
Kuala Lumpur
Siem Reap
Beijing
Kunming
Seoul
Hong Kong
Melbourne
Sydney
Moscow
Helsinki
Frankfurt
Copenhagen
Stockholm
Dubai
Abu Dhabi
Doha
If coming from North America, Seoul and Hong Kong are good hubs for making connecting flights. You might get the best deal flying on two different airlines, just make sure to leave adequate time for your layover. Skyscanner and Kayak are good websites for comparing flight prices.
Australian citizens should look into flying on Jetstar Airways out of Sydney or Melbourne. Those in Europe have many options. Connecting in Bangkok may end up being the cheapest. Otherwise using Singapore or Kuala Lumpur as a hub can give you many possibilities.
For domestic flights, Thailand's low cost carriers often run special promotions. It's worth checking with AirAsia, Nok Air, and Thai Lion Air for deals. Of these three, Thai Lion Air is often the best value—the prices are usually among the cheapest, you get 15 kg of checked baggage included in the base fare, and you can choose a seat for free when using web check-in between 4-24 hours ahead of departure.
AirAsia sometimes has very cheap promotions, and they also have the largest network of destinations in the region. Nok Air is also competitively priced.
Things to Do in Phuket
Phuket is one of the most popular tourist destinations in Thailand, with no shortage of activities to suit all types. And while many of the activities are set up for the tourist market, there's nothing stopping expats from enjoying them too.
Beaches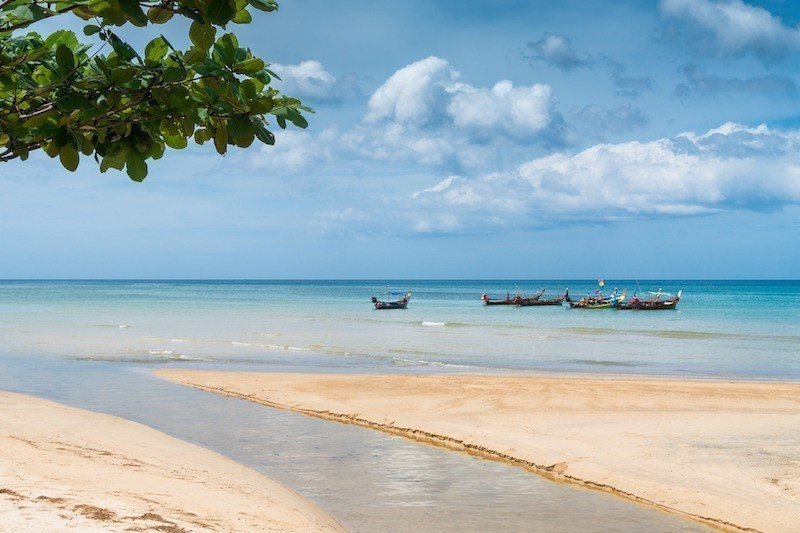 The beaches are the big draw for most people. Phuket's west coast is essentially made up of one beach after another. Patong, Karon, and Kata get the bulk of the attention, but there are also some quieter beaches further north worth exploring such as Kamala, Surin, and Mai Khao.
Down on the southern tip of the island Rawai and Nai Harn are a couple more beaches for those who want to avoid large crowds. If living on the island for a year or longer, you'll have plenty of weekends to visit different beaches and find your favorite one.
If you want to do your part to help keep the beaches clean, consider joining Trash Hero Phuket. They pick a different spot on the island each weekend to cleanup trash for a couple hours. You'll do something positive for the environment while making new friends.
Diving and Snorkeling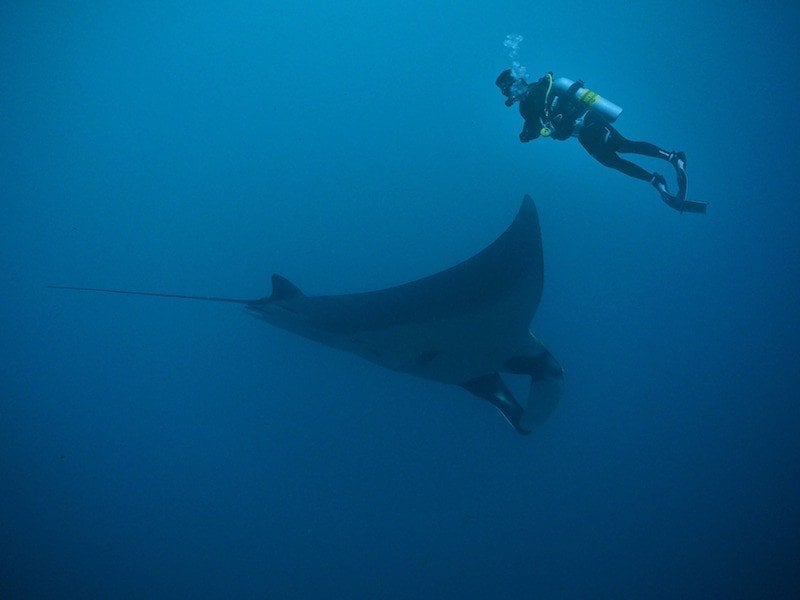 Phuket has a number of beaches ideal for snorkeling. Often these are smaller beaches with rocky features that aren't as popular with swimmers. Some of the top snorkeling spots in Phuket include Laem Singh Beach, Ya Nui Beach, Ao Sane, and Paradise Beach.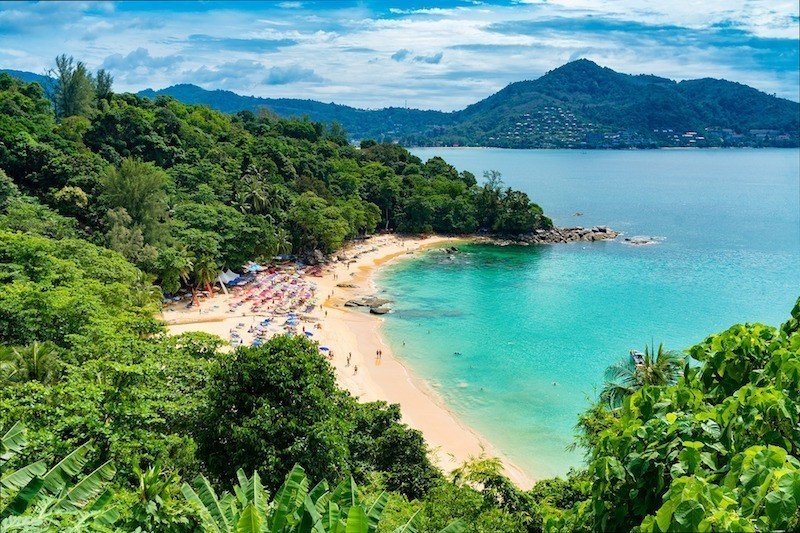 The Andaman Sea, in which Phuket sits, is one of the world's premier scuba diving areas. Some of the incredible sea creatures that you can encounter close up include whale sharks, leopard sharks, manta rays, sea turtles, clown fish, and eels.
Some of the most popular diving sites in and around Phuket are Shark Point, Anemone Reef, King Cruiser Wreck, Koh Dok Mai, Koh Racha Yai and Koh Racha Noi, Koh Phi Phi, Richelieu Rock, the Surin Islands, and the Similan Islands. If you've never tried diving but are interested to give it a go, there are plenty of diving schools in Phuket where you can get certified.
Surfing
The rainy season from April-November is also known as the "low season" since tourist arrivals drop off when the beaches are less than ideal for swimming and tanning. The good news, however, is that the southwestern monsoon winds stir up some good waves for surfing on several of Phuket's west coast beaches. The most popular by far is Kata, where the best waves are found on the southern end. There you'll find some shops that rent out surf boards and private instructors you can hire per hour to learn how to ride a wave. While Kata is the busiest surfing beach, good waves can be found in season at others such as Kalim, Kamala, Nai Harn, and Surin.
Golf
Golfing in Phuket is not cheap, as the target market is tourists and this is reflected in the green fees. However, the courses are high quality, so if golf is your thing, you'll be tempted to tee off regularly. Phuket has over half a dozen country clubs, so you can try out a variety of courses. Some of the most popular are Blue Canyon Country Club, Red Mountain Golf Club, Loch Palm Golf Club, Laguna Phuket Golf Club, Mission Hills Golf Cub, and Phuket Country Club.
Shopping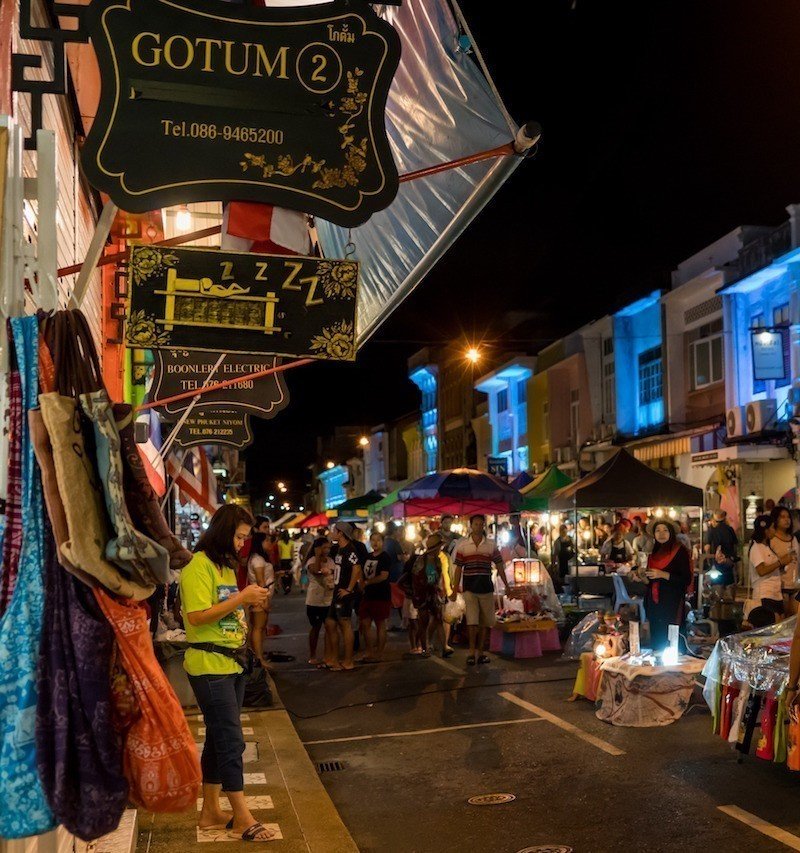 If you've spent any time in a Thai city, then you already know that shopping malls are some of the most popular hangout spots. Thais flock to air conditioned malls on the weekends and holidays to relax and unwind out of the heat. They come for the restaurants and cinema more than for actual shopping in many cases.
In Phuket, the two big, modern shopping malls are Jungceylon in Patong and Central Festival in Phuket Town. If outdoor markets are more your thing, you can look for deals at Naka Market, Karon Temple Market, Chalong Night Market, and Phuket Town's Sunday Walking Street.
Spas
Thai massage is an ages-old traditional healing art. Spending hours per day sitting at a desk, hunched over a keyboard can lead to all sorts of built-up stress in the back, shoulders, and neck. One of the best parts of living in Thailand is the extremely affordable access to high quality massage and spa services.
As a major tourist spot, Phuket has spas and massage parlors all over the place. They range from simple shophouse setups with a few massage mats separated by curtains to luxurious day spas where you can indulge in herbal body scrubs and milk baths. Prices can range anywhere from 200 baht (USD $5.75) for a traditional Thai or foot massage on up to 7,000+ baht (USD $200) for a 5-hour luxury spa package.
Sometimes it pays to spend a little extra for a better quality establishment. To be sure that you'll get a professional massage experience it's best to avoid any shop that has staff sitting outside beckoning passers-by.
Patong Nightlife
Patong is the busiest Phuket nightlife area. The action is centered on Bangla Road, which is closed to motor traffic after sunset. You'll find dozens of beer bars, go-go bars, restaurants, pubs, and discos on Bangla and the small alleys running off it.
Some will be turned off by the sleaze-factor found here, while others will just have a blast dancing the night away at one of the clubs such as Illuzion, White Room, Seduction, or Tiger Disco.
Thai Boxing Gyms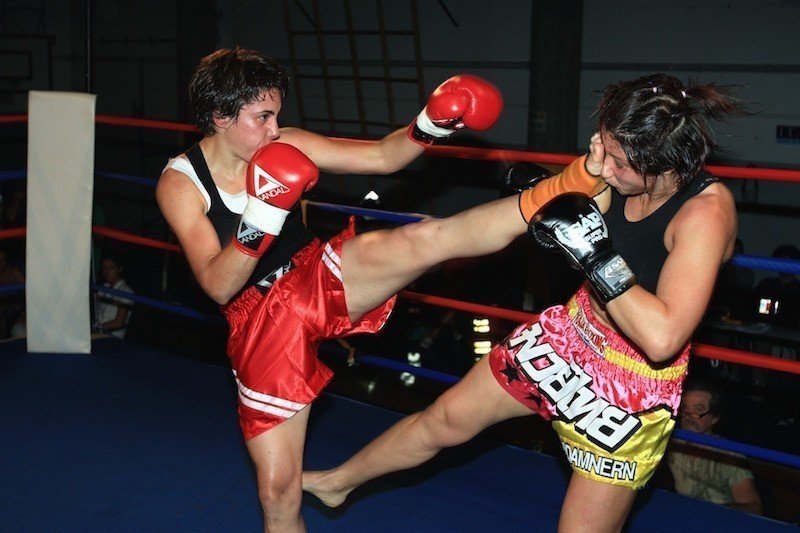 If you want to get in shape while learning some valuable self-defense skills, and pick up on some Thai culture at the same time, then Muay Thai training might be for you. Phuket boasts a large number of Muay Thai gyms where you can learn the art of Thai kickboxing. Muay Thai gyms are located all over the island, but some of the best are concentrated in the Chalong and Rawai areas. If interested, here are a few you might want to look into:
Best Beaches in Phuket
Phuket is blessed with well over two dozen beaches. You could spend each weekend for half a year going to explore a different beach. Inevitably, though, you'll find a few that you prefer over the others. To get you started, here's a short list of Phuket beaches that are consistently highly rated.
Nai Harn
Nai Harn Beach is one of Phuket's best, with gently sloping white sand. Located on the southern tip of the island, Nai Harn is relatively quiet.
Kata Noi
Kata Noi, separated from it's larger northern neighbor Kata by a rocky head, is popular with swimmers, snorkelers, and surfers alike. It remains relatively undeveloped.
Kata
Kata Beach is one of Phuket's most beautiful. It sports a palm-lined white sandy arc framing bright blue water. It's popular with families and surfers alike.
Freedom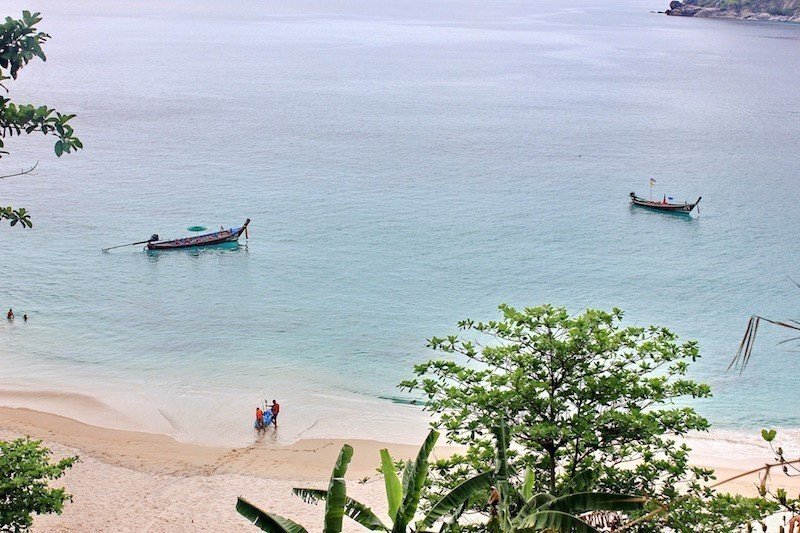 One of the factors that makes Freedom Beach so appealing is how difficult it is to access. You either have to approach from Patong Bay by long-tail boat or else hike down to the beach through a forest path.
Karon
Karon is the second longest beach in Phuket. It's more low-key than Patong to the north. Even though it's one of Phuket's three most popular beaches (along with Patong and Kata), it never seems crowded. Much of this has to do with the sheer size of this strip of sand, as all the activity gets spread out along the length of the coast.
Mai Khao
If long, nearly untouched beaches are your cup of tea, you'll need to check out Mai Khao. At 11 km, it's the longest beach on Phuket. Despite it's size, Mai Khao is relatively undeveloped, with just a few resorts.
Quiet Islands Near Phuket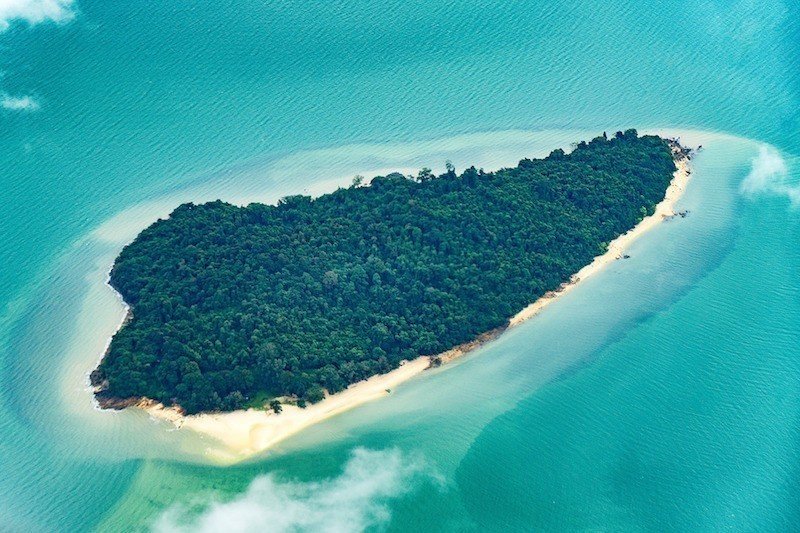 While Phuket is Thailand's largest island, there are many small, quiet islands nearby that can make for interesting excursions. As fewer people know about these smaller islands, they can be good for when you want to escape to someplace truly peaceful.
Similan Islands
The Similan Islands are a group of 9 islands located in a Marine National Park. They are located 84 km northwest of Phuket, and can be visited on a day trip. Otherwise there are some overnight options involving camping or staying at bungalows run by the park service. Besides remaining unspoiled, the waters surrounding the Similan islands are one of the Andaman Sea's top diving spots.
Koh Hae (Coral Island)
Located just 5 km from Phuket's southeast coast, Koh Hae (or Coral Island) is one of the easiest small islands in the vicinity of Phuket to reach. It has just one hotel, along with a few restaurants and bars. As a popular snorkeling and diving spot, Koh Hae receives a fair number of visitors during the day, but quickly gets quiet in the evening after all the tours return.
Koh Racha Yai and Koh Racha Noi
This pair of small islands sit about 20 km south of Phuket. These islands also offer great spots for snorkeling and diving. There is accommodation on the larger island, Koh Racha Yai, where you'll also find two splendid beaches. After the day-tripping divers have gone home this small island becomes quite peaceful indeed.
Koh Yao Yai and Koh Yao Noi
These two medium-sized islands is about halfway between Phuket's east coast and the mainland. The smaller of the two, Koh Yao Noi, has more accommodation available. Overall, this island pair remains largely undeveloped with the local population of Thai Muslim fishermen and farmers the only people you'll see.
Phuket People, What Are They Like?
The Thai population living on Phuket is actually quite diverse. Much of the population can trace their origins to Chinese immigrants, while a good portion is also ethnically Malay. Still many others have migrated from the Northeast and other parts of Thailand for work.
Overall, Muslims make up about 5% of Thailand's population, but in Phuket the number is closer to 20%. During the high season, Phuket's population more than doubles under a flood of tourists from Europe, North America, and China along with increased numbers of seasonal workers coming from other provinces in Thailand.
In the tourists spots, such as the west coast beaches, some Thais are likely to assume you're a tourist and so their main motivation may be to separate you from your money rather than to befriend you. In Phuket Town and other areas that don't see as many tourists, your interaction with the locals is more likely to be based on genuine friendliness. Overall, though, Thai people are easy-going and even more so when found in an island environment.
One tradition coming from Phuket's Chinese-Thai population is the annual Vegetarian Festival. This 10-day long celebration is actually the local version of the Taoist Nine Emperor Gods Festival, of which vegetarianism is just one aspect. The festival is also quite famous for the ritualized mutilation that religious devotees perform. Under a trance-like state they pierce their skin with swords, knifes, and all sorts of other objects—some quite bizarre.
Phuket Expat Scene
Phuket has thousands of expats from many different countries. A large number of expats are retirees from the UK, the US, and Europe, particularly the Scandinavian countries and Germany.
In the past few years, though, the number of younger expats has increased as more are able to work remotely or support themselves by running online businesses. Phuket is also a major hub for those working as diving instructors and dive leaders. If you're looking to meet new people after arriving, the Phuket New Era Expats Facebook group is one place to find out what's happening.
Phuket Digital Nomad Scene
Phuket doesn't seem to get as much attention from digital nomads as Chiang Mai and Bangkok. Partly this may be due to the relatively higher cost of living in Phuket compared to the rest of Thailand. Looking on the bright side, this means that anyone you connect with in the digital nomad community in Phuket is more likely to be successful at what they do.
All the complete newbies—the ones who bought a plane ticket to Asia with hopes and dreams, but without a viable strategy to make money online yet—usually make a beeline for Chiang Mai instead. The Phuket Digital Nomads Facebook group is one place to find out who's around.
Stash
Stash Phuket is located just just a little bit inland, in the Koh Kaew area on the other side of Thepkrasattri Road. Stash is as much a co-living space as it is a co-working space, with a number of dormitory beds and private rooms for rent.
Sentio
Sentio is located north of Phuket Town, near Phuket Rajabhat University. It's a curious mix of co-working space and furniture showroom.
Hatch
Hatch Coworking Space Phuket is smack dab in the middle of Phuket Town, a stone's throw from the Golden Dragon Monument, and about 1 km from Central Festival. Hatch has various prices for everything from 2-hour to 30-day passes. Free coffee, water, and snacks are included. They also have meeting rooms in several sizes as well.
Garage Society
Garage Society can be found on the west side of the island, just a 2 minute walk from Patong Beach. They also have payment options of 2-hour, half-day, full-day, weekly, and monthly passes.
What's the Weather in Phuket Like?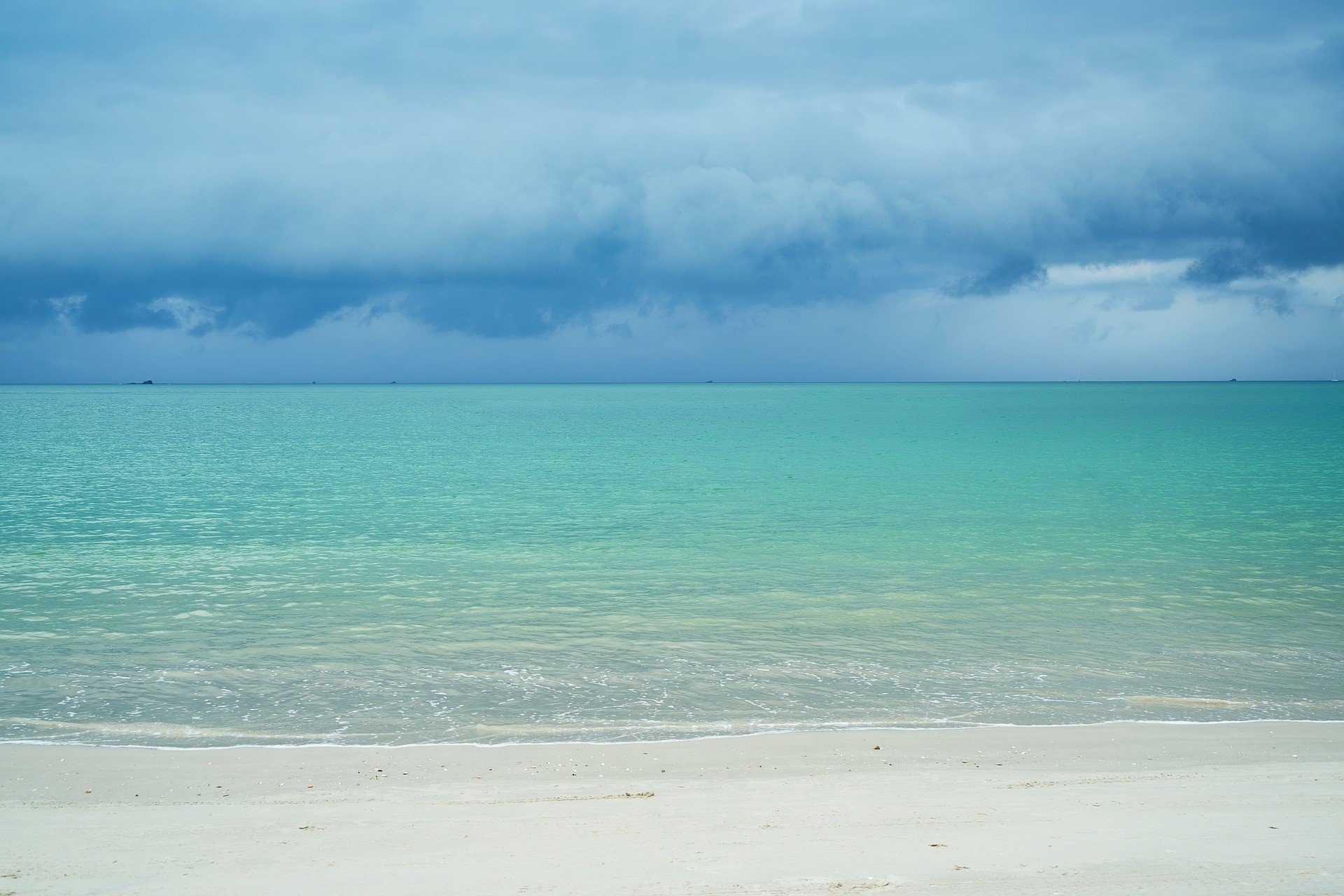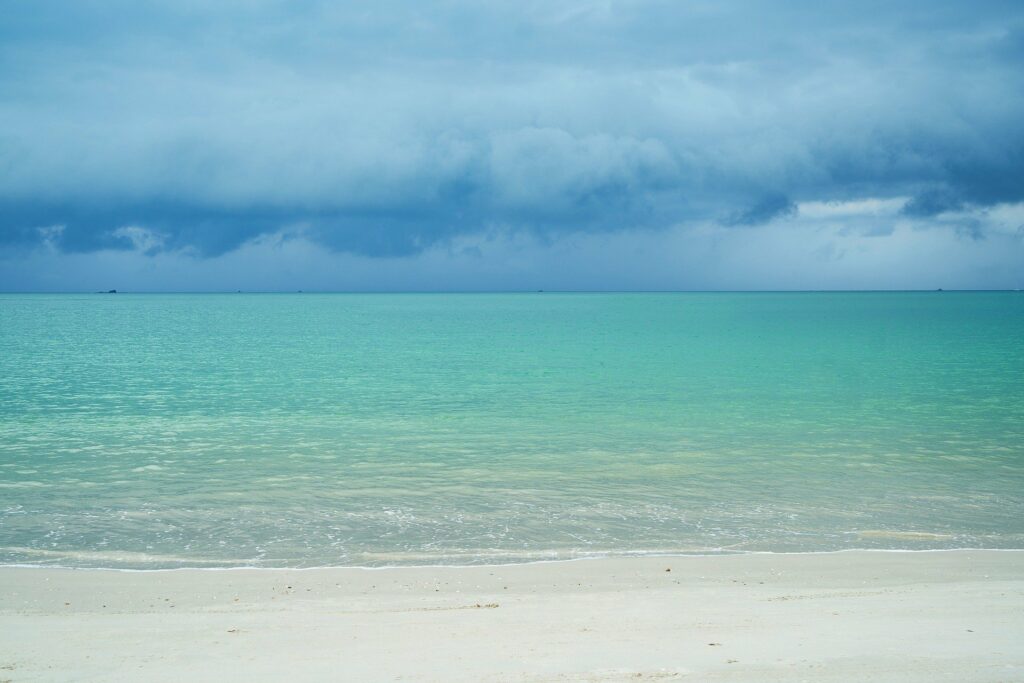 Phuket has a tropical monsoon climate with little change in temperature throughout the year. March is the hottest month, with an average high temperature of 34 °C (93 °F), however, the record high is only 37.8 °C (100 °F). On the flip side, the cooler months of September-January still see average highs of 31-32 °C (88-90 °F) and average lows only dipping down to 24 °C (76 °F).
The only main seasonal difference is in the amount of rainfall. The rainy season lasts from April to November, with September and October being the two wettest months. When moving to Phuket, you can safely leave your winter coat behind, but don't forget to pack an umbrella.
One huge advantage of Phuket over other parts of Thailand is the fresh air. While Bangkok, Chiang Mai, and other Thai cities choke under smog for parts of the year, Phuket's AQI (air quality index) regularly scores in the healthy range year-round. So if you're concerned about your long-term health, Phuket can be a great place to live.