Let me kick this off bluntly. Bangkok is cheap. Really cheap. You could be struggling to get by on a moderate salary in New York City, then take that same income and live flat-out luxuriously in Bangkok.
Let's be fair: this is a loaded comparison. Bangkok vs New York City couldn't be further apart on the cost-of-living spectrum (or the planet). But that's also what makes this a really fun article to write.
Bangkok has so much to offer and so few drawbacks compared to New York City that if you've built your budget around the expense of New York, transplanting yourself to this vibrant, enticing Southeast Asian capital city is a realistic way to multiply your relative wealth by over 500%. So whether or not you're ready to pack your bags and take a one-way trip to Bangkok, this is sure to be an exciting look into what your life could be like if Bangkok became your home.
Here's How We'll Break It Down
I'll give you a brief overview of what it's like to live in Bangkok and some key factors that make the two cities unique.

We'll look at key product categories and compare prices between Bangkok and New York City.

We'll examine some exclusive products, services and factors that you'll only find in one of the two cities.

As we explore it all, I'll present relevant non-financial pros and cons, so you can assess whether any savings or premiums may be worth their tradeoffs.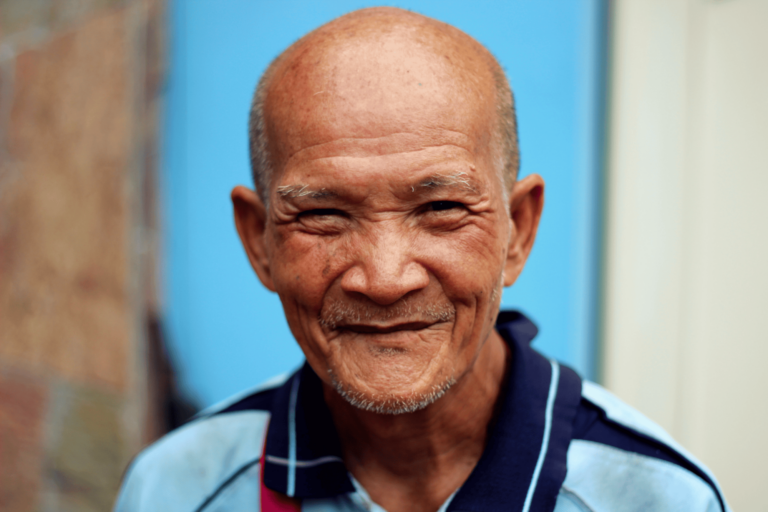 A Stark Cultural Difference to Foreigners
To truly appreciate the financial differences in Bangkok as someone from the west, you need to be able to envision the lifestyle, imagery, and feeling that make the capital such a special place.
If you've ever visited Bangkok chances are you've quickly noticed a few things that stand out pretty vividly in comparison to most European or American cities.
For one, the streets are constantly abuzz with motorbikes that evidently rely on some secret system of lanes and traffic lights totally different from the ones visible on the road. But despite the apparent chaos the drivers on these same streets will rarely—if ever—honk their horns.
Then there's the people. Bright and cheerful, engaging and inquisitive, generous in their willingness to help strangers—they seem almost… happy.
As a native New Yorker this was something that seemed genuinely bizarre to me at first. I have to admit that my cynicism was fully illuminated during my first few months in the Bangkok sun.
A Wealth Gap Bigger Than The 59th Street Bridge
While the strikingly warm and pleasant vibe managed to throw this New Yorker thoroughly off her game, it also turned out to be quite a statement on Thai culture and worldviews.
Consider this:
The average annual income in Bangkok is just over USD 20,000. That's about 25% of the USD 78,000 the average New Yorker makes per year.
What's amazing about that stat is that it compares the urban business hub of Bangkok to the entire state of New York—not just NYC. Significantly lower rural-area salaries are actually reducing the New York figure, whereas people earning much less money in the outer provinces of Thailand have been excluded from the Bangkok average—thus elevating the Bangkok average.
So for the locals to be so content and positive while surviving on such a modest income, there must be at least a few very special things about living here.
And indeed there are, not the least of which is the almost too-good-to-be-true cost of living. Not only does it make the city itself one of the region's biggest tourist attractions, it also ensures those earning very little can still afford a home, plenty of delicious food, and even modern conveniences like public transit.
Meanwhile visitors and foreign expats benefit from their money going much, much farther than it does back home. This couldn't be more true than for anyone who's called the notoriously expensive city of New York their home.
Let's examine the differences, so you can get all excited imagining the major lifestyle upgrades you could afford if you made the jump from New York City to Bangkok.
Bangkok vs. New York City: Core Cost of Living
Average Monthly Rent
According to rent.com, if you want a one-bedroom apartment in the Big Apple, you better be prepared to shell out over USD 4,500 (THB 156,500) each month. That's not including utilities.
Meanwhile, in the other city that never sleeps, you can rent a similar one-bedroom condo for THB 21,000 (USD 600)—right in the heart of the city center.
That's a monthly savings of USD 3,900—well over half the average New Yorker's annual salary.
Keep in mind that in Bangkok you'll also have your pick from an abundance of newly completed high-rise condo buildings, many with rooftop pools and views of half the city.
As a former New York City renter, I can personally verify that these cost variances are accurate and realistic. Living on the opposite side of the world, I've never once felt like those ridiculous savings come with really any drawbacks. In almost every sense, my living situation in Bangkok is a major upgrade from the one I left in NYC.
Quick Compare
New York
Studio apartment: $4,005 (฿140,000) / month

1- bedroom apartment: $4,500 (฿156,500) / month

2- bedroom apartment: $6,309 (฿220,000) / month
Bangkok
Studio apartment: ฿10,000 ($290) / month

1-bedroom apartment: ฿21,000 ($600) / month

3-bedroom apartment: ฿72,000 ($2,070) / month
Utilities (Water, Power, etc.)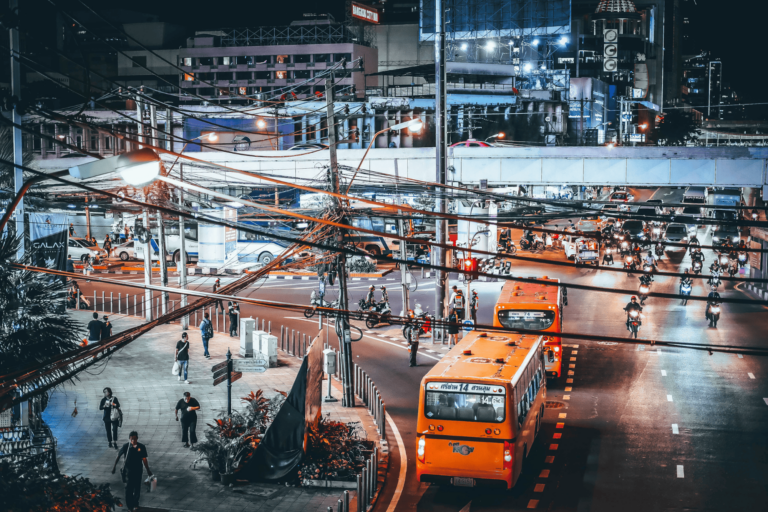 Water
Water usage at your home in Bangkok is incredibly cheap. In a 1-bedroom apartment, you're likely to pay as little as ฿140 ($4) per month.
With that in mind, this is one area in particular where Bangkok is firmly behind New York City in terms of quality. Whereas in NYC your tap runs with some of the best water available in any major city, most people avoid drinking the tap water in BKK.
The government insists municipal water is properly treated and meets standards for potability, but issues ranging from pollution by corporations and major annual flooding to rampant illegal tapping of central water lines makes people think twice before consuming it.
That said, installing a multi-stage reverse osmosis filtration system only costs a few hundred dollars one-time, plus filter replacement costs, and provides for crystal-clear top-quality water you can test and control right at your faucet.
Electricity
Energy is also cheaper in Bangkok than New York City, but perpetual summer definitely weighs on the average household's power consumption.
Bangkok's MEA charges roughly ฿4 (~$0.12) per kWh.

ConEdison

in New York City estimates around $0.33 (~฿11) per kWh not including taxes and fees.
So while you might use more of it over the same period in Bangkok vs. New York, you'll fork over 60% less, apples to apples, for your electrical bill each month.
Garbage & Heating
Generally when living in a Bangkok condo building—just like when renting an apartment in New York City—any costs associated with rubbish removal will be included in your rent. Homeowners in both cities need to arrange for the service with city government, but in Bangkok these costs are negligible and can often be avoided altogether thanks to the city's waste-pickers, or "salengs."
Your cost of heating in Bangkok will of course be zero, but to be fair you'll want to factor in year-round air conditioning to your electricity expense budget.
Internet & Mobile Data
Depending on your values, you might argue that the price of internet in Bangkok is an even bigger draw than the cheap, mouth watering food.
While Thailand may still be considered a developing nation, there's nothing still on its way about the connectivity infrastructure here. New York City is no laggard either, but in Bangkok, high-speed fiber optic home internet and 5G unlimited data are readily available, reliable and insanely cheap.
Quick Compare
New York
Home broadband (100Mbps+): $70 (~฿2,300) per month

5G mobile data (unlimited usage): $45 (~฿1,500) per month
Bangkok
Home broadband (100Mbps+): ฿500 (~$15) per month

5G mobile data (unlimited usage): ฿550 (~$16) per month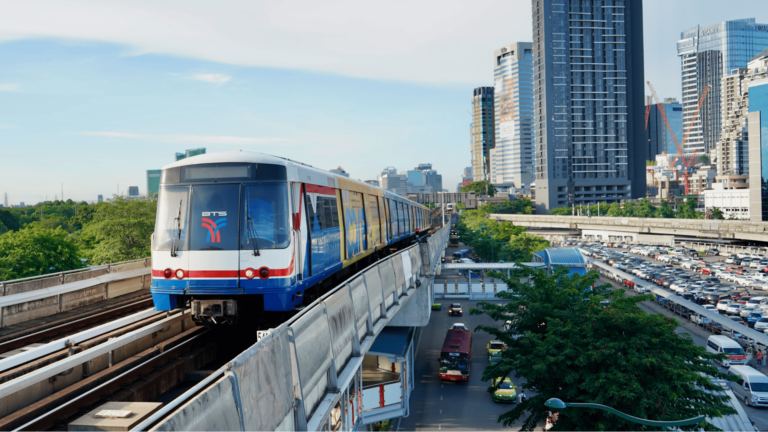 While Bangkok definitely has New York City beat when it comes to public transit fares, Thailand's capital city can't compare to the ubiquity and reliability of New York's public transportation system.
On the other hand, while the New York City subway is just about everywhere, reaches almost every corner, and runs all night, it could learn a lot from Bangkok transit's standards for cleanliness, order and safety.
As an experienced NYC subway rider as well as a current Bangkok resident, I'd take walking a bit further in the sun (or just hopping on a motorbike taxi for $1.20) than rolling the dice on the New York City subway any day.
Fare Comparison
In general, it costs at least double—often far more—to ride the subway in New York City than it does to take either the above-ground BTS or underground MRT in Bangkok.
New York provides the benefit of simplicity with its $2.75 flat fare system, while Bangkok employs distance-based rates that can keep a ride as cheap as ฿20 (~$0.60). With it's new OMNY system for digital wallet users, New York City now has the edge in convenience for most commuters, but to Bangkok's credit, it's had tap-and-go in place for a full decade already.
New York City
Average subway trip: $2.75 (~฿90) one-way

Monthly ride pass: $129 (฿4,240) per month
Bangkok
Average metro ride (elevated or underground): ฿44 (~$1.34) one-way

Monthly ride pass: ฿1,300 (~$39) per month
Dining Out at Restaurants
This one can swing pretty drastically for both cities depending on a lot of factors—but at the highest of the high-end, New York City will be significantly more expensive than Bangkok.
Don't get me wrong: Bangkok still offers plenty of ways to spend crazy money—Michelin-rated and celebrity chef-owned restaurants included. But save for the most exclusive, "the price tag is part of the experience"-type places, you'll still save a lot of cash in Thailand's capital city.
The High End
Choose a classy, well-reviewed rooftop bar with an impeccable view of the city, mouth-watering dinner for two prepared to perfection and unforgettable cocktails, and you've still got a chance of getting out of there for under ฿5,000 (~$150).
Do the same thing in New York and you can easily expect at least double the total at $300 (~฿10,200).
Oh, and did I mention that even a 10% tip at even the most luxurious restaurants in Bangkok would be considered quite generous? In fact 90% of the time a tip isn't expected at all. Not a small factor when you consider that $300 bill from New York is really $360.
The Low End
But simple dining is where things really get crazy. The thing about New York City is that if you're eating cheap, hot food you didn't make yourself, it's probably very, very low quality—and you probably don't want to know much about the preparation process.
Think I'm wrong? I'd argue that maybe you need to challenge your definition of "cheap" first.
Thailand has a global reputation as a foodie's dream destination, and rightfully so. The Thai menu is expansive, colorful, taste-bud tingling and addictive. It's also quite healthy—incorporating a diverse range of vegetables, proteins and grains into nearly every dish.
If you've heard anything about Thai food, you also know it's wonderfully cheap. But in Thailand, grabbing some cheap fast food doesn't equal taking a hit to your health.
Fresh, high-quality, locally-farmed ingredients are easily accessible in Bangkok, so even street food from little push-cart vendors is both nutritious and mouth-wateringly good. For as little as ฿50 (~$1.50) you can fill up on a generous serving of Pad Thai, Pad See Ew, Pad Krapao, or Kao Pad—made hot and from scratch just for you.
Meanwhile back west in New York City, walking half a block to eat at your nearest one-person street vendor isn't even always cheap. You can commonly find "artisan" food trucks on street corners and walk away with a wrap for $7.50 (~฿250).
The only way you'll get anywhere close to Thai street food prices is by going for a Central Park hot dog or a dollar slice of pizza from the shop in the theater district. And it's a safe bet that you won't be getting comparable quality, freshness or nutrition.
Groceries & Basic Necessities
Bangkok truly has it all. When it comes to shopping for everyday items, you've got your choice of small community food markets with lots of local vendors selling fresh produce, meat and ingredients. You've also got massive hypermarkets this size of a Costco in Queens.
At the high-end, there are also import-focused supermarkets and grocery stores that cater mostly to expats and visitors from other countries.
While you'll find everything you could want from snacks to cooking essentials, your favorite brands from America may be harder to find. If you do, be prepared to shell out quite a lot for the luxury of the import.
Wine and alcohol other than beer is one of the very few product categories that actually ends up costing more in Bangkok than in New York City, with many expats resorting to pooling orders to wholesalers in order to keep prices somewhat closer to what they'd spent back stateside.
Quick Compare
New York City
Loaf of fresh bread: $4.24 (~฿140)

1 kg of white rice: $8.00 (~฿265)

12 eggs (regular): $4.45 (~฿150)

1 kg of fileted chicken: $17.88 (~฿590)

1 kg of oranges (fresh): $4.98 (~฿165)

1.5l bottle of water: $2.50 (~฿85)

Total: $42.05 (~฿1,385)
Domestic beer (500ml): $3.15 (~฿100)

Average bottle of wine: $18.00 (~฿590)
Bangkok
Loaf of fresh bread: ฿65 (~$1.98)

1kg of white rice: ฿52 (~$1.60)

12 eggs (regular): ฿68 (~$2.10)

1 kg of fileted chicken: ฿108 (~$3.30)

1 kg of oranges (fresh): ฿67 (~$2.05)

1.5l bottle of water: ฿16 (~$0.50)

Total: ฿376 (~$11.50)
Domestic beer (500ml): ฿57 (~$1.75)

Average bottle of wine: ฿700 (~$21.30)
What You'll Only Find in Bangkok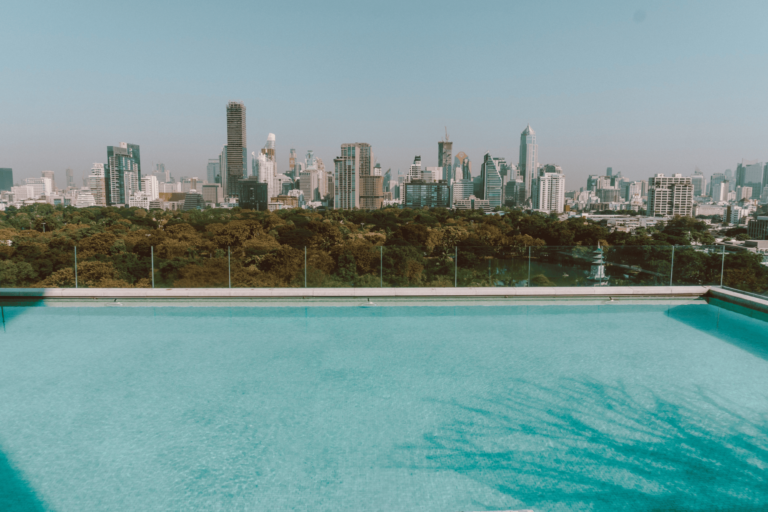 Aside from amazing deals, a constant trove of excited visitors, and plenty of sun, Bangkok has a spread of features ingrained in society that simply aren't available in New York.
Cheap, Instant Courier Service
As a former New York City resident it is absolutely bizarre to me that services like this aren't extremely common in Manhattan or the outer boroughs. In Bangkok you can open up Grab (Bangkok's Uber) or half a dozen other apps, and have a messenger on a motorbike meet you anywhere in under 5 minutes.
Send anything that fits in a tote bag across the city for around ฿90 (~$2.75).
Free, Instant Bank Transfers
In Bangkok and everywhere else in the country, the most common way to pay for things other than using cash is to take out your phone, open your banking app, and make a transfer.
Does that sound horribly inconvenient? Well unlike in New York and most other parts of the western world, bank transfers in Bangkok are instantaneous. Type in the amount, authenticate, hit send and your recipient receives the funds—not a confirmation that the money's on its way; the completed transfer amount—faster than a card reader can spit out a receipt.
I talk more about the wizardry that is the Thai bank transfer in this article all about spending and sending in the Land of Smiles as a foreigner.
Full-Service, One-Stop Hospitals
As if having impeccable, world-class healthcare standards and pioneers in medical research and surgery wasn't enough, Bangkok's hospitals are magnificent.
Not only will you often pay around the same amount as your insurance copay in America for the total bill after a doctor's visit in Bangkok, the entire health system is so much easier to navigate here.
GPs (internists, physicians, family doctors—whatever you call yours) all work out of major hospitals, many of which look like a cross between a high-end hotel and a shopping mall. In Bangkok you'll visit one for everything healthcare-related.
You can have a consultation with your primary care physician who can refer you to a specialist right down the hall. Any scans or tests you may need will be done in the same building, typically right away, and you'll be escorted from department to department by an attentive, friendly nurse or staff member.
As Well As…
Motorbike taxis (that are also super cheap)

An abundance of rooftop pools (on nearly all high-rise residential buildings)

Much more affordable cosmetic services (from hair and nails to Botox)

Clean, safe, air-conditioned commuter trains

No shortage of beautiful, brand new, mind-bendingly cheap apartments

Happy, welcoming people everywhere from the bars to the airport

Generally, an economy in which cheap can still equal quality
What You'll Only Find in New York City
In terms of development, technology and modern convenience, the perceivable difference between the Thai capital city and the financial hub of the west is already minimal—and shrinking rapidly.
But there are a few things people from New York City may miss in Bangkok—at least in the beginning.
An Impressively Reliable Grid System
If you're intrigued by urban planning or civil engineering, you'll notice very quickly that Bangkok and New York City are extremely different in terms of layout.
No matter what your interests you'll probably notice that despite being a modern metropolis full of towering glass skyscrapers, Bangkok doesn't really have a skyline.
That's because the Southeast Asian city has one thing in abundance that New York City has never been able to take for granted: land.
Because New York City has been bound by tight shores since the very beginning, it had to be very efficient and exacting with how it was organized and allowed to grow. The grid system in New York City is world-famous, and it's an incredible system that's a bit hard to live without once you've come to rely on it for navigation.
Street Parking
I've heard (and contributed passionately to) arguments both for and against street parking in cities, and comparing New York vs. Bangkok is an excellent illustration of how this one variable can impact transportation, traffic and overall reliance on cars.
Ironically, while New York City is a lot more space-restricted than Bangkok, parking (albeit with an intellectual maze of rules and restrictions) is allowed on the vast majority of streets.
In Bangkok, meanwhile, few if any of the city's main roads allow parking. Outside of the narrow "sois" in residential areas the only place to park a vehicle is in one of the many building garages that charge a small fee yet allow you to park regardless of where your actual destination may be. They also rarely, if ever, get entirely full.
Dog-Friendly Infrastructure
This is perhaps the most disappointing difference between Bangkok and New York. Whereas New York City is incredibly dog friendly and allows leashed pets on trains, in shops and even in outdoor restaurants, Bangkok has a much cooler attitude toward pets in general.
It's not for any lack of love. Dogs are still part of many Bangkok families and you'll find the full range—from semi-stray "soi dogs" to purse-traveling fluff balls—across every section of the city. But just like in other parts of the country, in Bangkok dogs have traditionally held more rugged, protector roles for those who feed and care for them.
Because of that, in Thai culture the idea of dogs traveling freely on the metro system or sitting calmly under restaurant tables is a bit out there. Having said that, if your fur baby is closer in size and appearance to a real baby than your average stray dog, many people and places will likely joyfully welcome you both, so long as they can sit calmly inside a bag.
As Well As…
Undeniably amazing New York pizza (but I know where to find some in BKK!)

Bagels… ugh I miss NY bagels

A larger selection of certified organic foods

Better public education (although Bangkok's international schools are excellent)

Overall cleaner air and better drinking water (but an

RO filter

will get you set with perfect tap water at home)

Much more ubiquitous credit card acceptance, including via digital wallets and Apple Pay
Having said that, plenty of expats are happy pet owners in Bangkok—with many even making the move from their home country along with their furry friends (it's actually a pretty easy process).
The Verdict: How Much Will You Save By Moving to Thailand's Capital City?
How much cheaper is Bangkok vs. New York City? A whole lot.
In New York City merely being able to afford a small apartment necessitates an annual income of at least $50,000. Utilities, groceries, and other expenses—not to mention the crushing weight of American insurance premiums—make it very challenging to enjoy life in New York City if you're earning less than $100,000 (~฿3,300,000) as a single individual with no dependents.
Meanwhile on the other side of the world in Bangkok, you can cover a full budget with few to no compromises on comforts for as little as $30,000 (~฿985,000). For that much you can set yourself up with:
A modern, well-appointed apartment in a luxury high-rise condo building, complete with rooftop pool, gym and free parking

500Mbps home internet and unlimited 5G mobile data

Weekly grocery deliveries from numerous specialty shops (including organic options)

Excellent international expat health insurance

Car insurance & property (personal effects) insurance

Frequent app-hailed taxi rides

Whatever streaming TV networks you want (Netflix, Disney+, AppleTV+, HBO Max, etc.)

Nights out for dates or fun with friends

Multiple trips to Thailand's gorgeous beaches, mountains or jungles each year

All the little things no one ever remembers to budget for
This comes from my own experience as a former New Yorker in Bangkok interested in seeing how far I could reduce my expenses while maintaining or improving my lifestyle. I'll be the first to admit that frugality is not my forte. There are tons of expats who very easily get their annual spend even lower than mine without sacrificing much at all.
Pretty incredible, right? Just don't make me think about how much I could've saved if I'd made the move sooner…
Want to Experience it For Yourself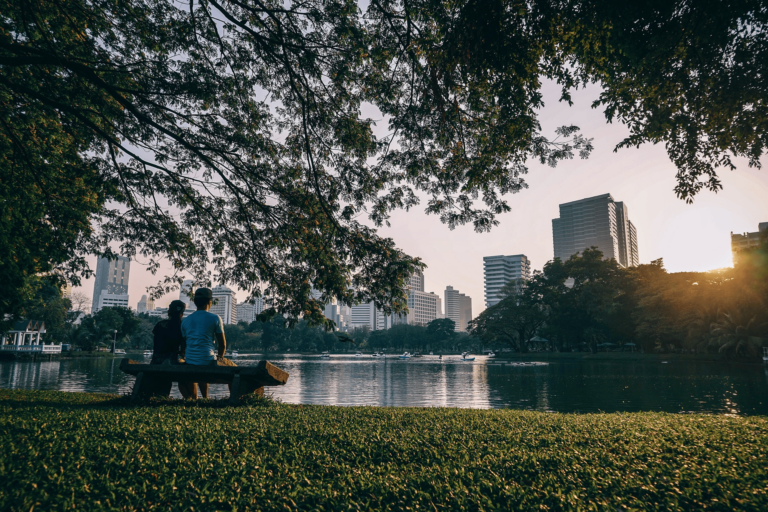 With very few drawbacks in terms of modern conveniences and tons of upsides across the board, Thailand's capital city has gained a reputation for turning visitors from cities around the world into long-term residents.
For some expats, Thailand's incredible affordability is just a great perk of being based in a gorgeous country full of sprawling nature, lighthearted people and the most delicious food they've ever eaten.
For many more it's an entirely worthwhile reason to turn an extended visit into a one-way trip.
One thing is for certain: whether you're drawn to Bangkok for its famous late nights, the thought of endless mouth-watering Thai food, enjoying some of the best shopping experiences in the world, or any of the city's other intoxicating draws, it definitely won't hurt to see your hard-earned cash go 10 times further than it ever could while within driving distance of Central Park.
Join the Expats Who Have Made the Move and Never Looked Back
At Iglu, we're both a team and a community of expats from all over the world—all of whom at one point fell in love with Bangkok and decided to call it home.
Every year we welcome new professionals who see the allure of the lifestyle on offer in Bangkok, Chiang Mai or coastal paradises like Phuket or the Thai islands. If you're ready to be more than just a visitor on a trip here, get in touch with us today to discover how you can make Bangkok your new city.