Riding motorcycles along the mountain roads of Northern Thailand is one of the the most popular hobbies among Iglu's Chiang Mai based employees.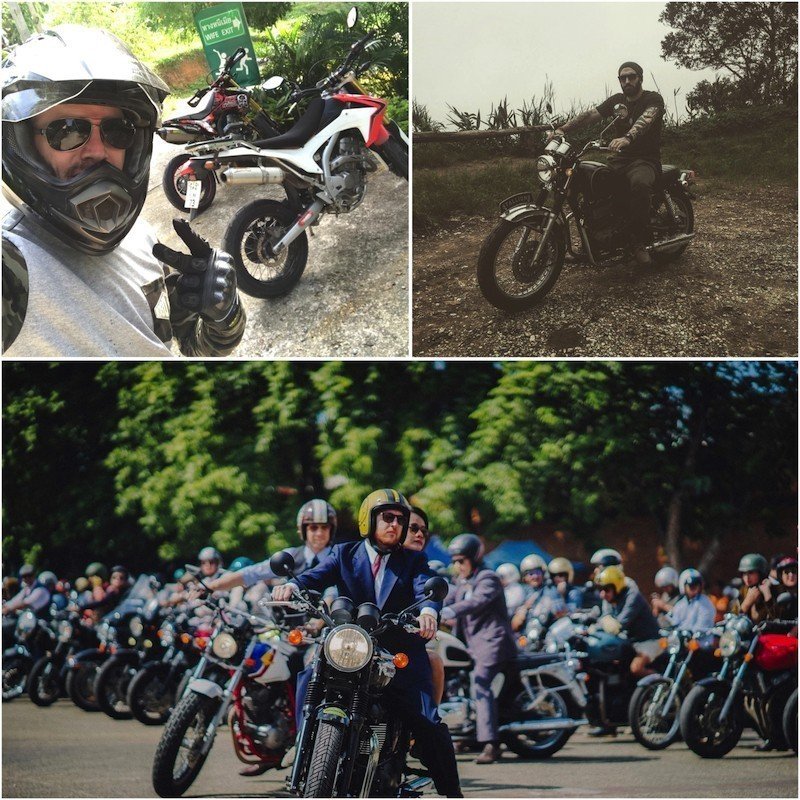 Weekends are the perfect time to set out on the open road, with a large variety of day-trips and overnight rides possible in any direction.
Whether you're riding a big bike or just a small automatic scooter, you can quickly and easily escape the city to enjoy fresh air and country scenes of rice fields, teak forests, and bamboo groves.
Where to Rent Motorcycles in Chiang Mai
As one of the most popular tourist cities in Thailand, Chiang Mai has plenty of options if you're seeking to rent a bike.
There are literally hundreds of rental shops, guest houses, and travel companies where you can rent a 110-125cc scooter. These are the most popular bikes for just getting around the city and short trips out of town because they're fairly inexpensive and easy for inexperienced riders to handle.
Prices for automatic scooters are usually 200-300 baht per day for daily rental. Discounts for weekly or monthly rental are often available too. Some renters will request to hold your passport as a security deposit, while others will simply accept a cash deposit.
A smaller number of bike shops in Chiang Mai also carry a selection of big bikes to choose from. Here's a short list of recommended rental shops:
If heading into the hills, I don't recommend anything less than 125cc. The popular 110cc models such as the Honda Scoopy are great in town but have trouble making it up some mountain roads, especially with a passenger.
Safety Tips When Riding a Motorcycle in Thailand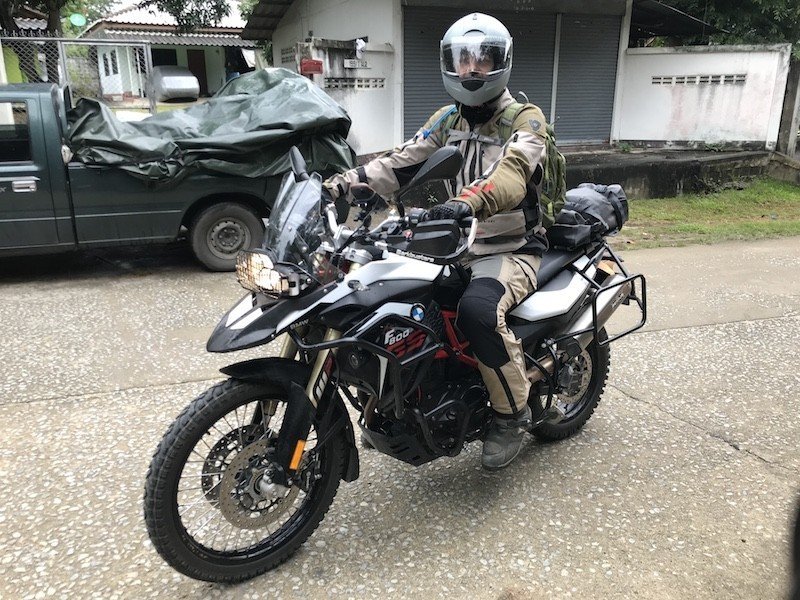 The number one safely rule for motorcycle riding is to always wear a helmet.
You don't have to be moving fast to crack your head open on the pavement if, for any reason, the bike were to fall. Wet surfaces, loose sand or pebbles, potholes, animals, erratic action by other drivers—there are many possible causes of spills and accidents on Thai roads.
Aside from a helmet, other protective gear such as a motorcycle jacket, pants, boots, and gloves are recommended when riding a big bike and especially for off-road riding.
If not wearing specialty gear, then a jacket, jeans, and sneakers will at least afford more protection than wearing just a T-shirt, shorts, and flip-flops.
It's common to see macho tourists driving around topless on rented scooters. They're either really proud of their six-pack abs or trying to work on their tan. But not only is this a recipe for instant road-rash in case of a spill, it also goes against Thai social norms and offends the locals. The beach, the pool, and the boxing ring are really the only three places you should be seen without a shirt on in Thailand.
The other important safety tip when driving in Thailand is to just simply take it easy and always be aware of other vehicles. Driver education in Thailand is quite weak, and the rules of the road are often ignored—which sadly leads to many accidents.
Always check if an intersection is really safe to cross, even when the light is green. Look out for unexpected behavior by other drivers, such as switching lanes without signaling, passing in no-passing zones, and making U-turns where one shouldn't.
Have a Proper Motorcycle License in Thailand
Many rental shops don't care if you have a proper license for riding a motorcycle, but the traffic police certainly do. Checkpoints are regularly set up by the traffic police on major roads in Chiang Mai, and fines are given out to those not wearing helmets or not holding a proper motorcycle license.
An International Driving Permit or English-language driving license for motorcycles is supposed to be acceptable for your first 90-days in the country. If you're staying in Thailand longer, you should get a Thai driving license.
Popular Motorcycle Day Trips from Chiang Mai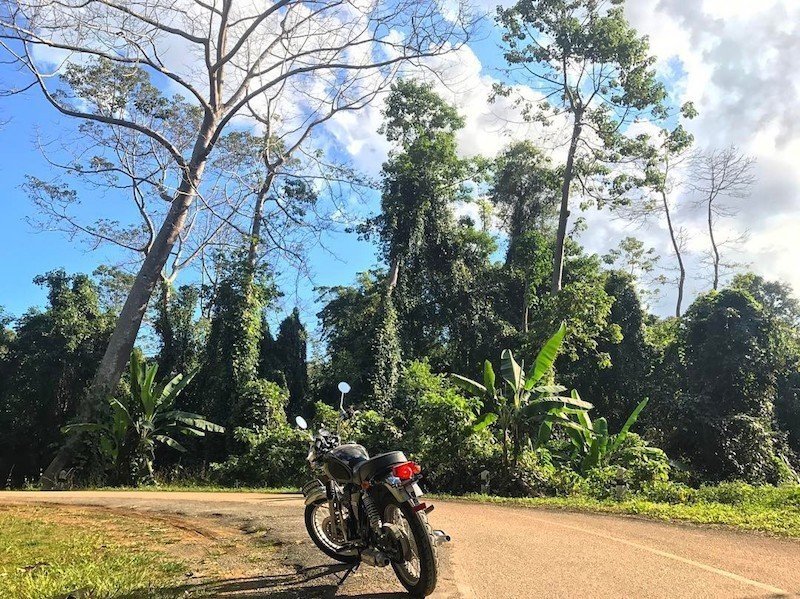 There are tons of short trips you can take out of Chiang Mai. Here are just a few ideas to get you started.
Doi Suthep / Doi Pui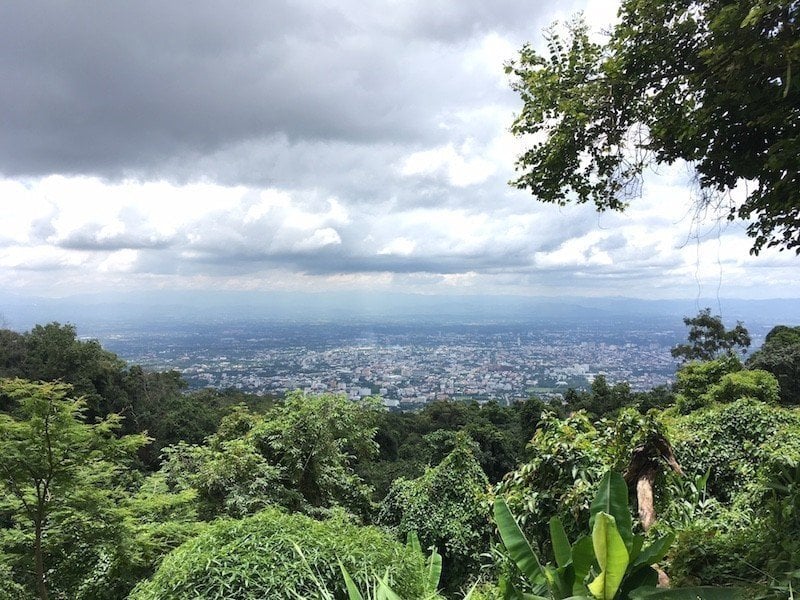 The most popular bike trip with tourists and first-time visitors to Chiang Mai is a ride up Doi Suthep, the prominent mountain overlooking the west side of town. The destination for most is Wat Phrathat Doi Suthep, the holy temple with the sparkling golden pagoda—easily seen from the center of Chiang Mai.
Without making any stops, it only takes about 20 minutes to reach the temple from the base of the mountain. There is, however, much more than just this one (often overcrowded) temple to explore. About half-way up the mountain is one of Chiang Mai's best kept secrets—Wat Pha Lat, an enchanting jungle temple built next to a clear mountain stream.
Continuing up past Wat Phrathat Doi Suthep, the road leads to Doi Pui, the upper peak that is home to a couple Hmong hill-tribe villages.
Before arriving at Doi Pui, you'll pass through Bhubing Palace, a royal residence with extensive flower gardens that can be explored.
The largest Hmong village on Doi Pui has become a bit of a tourist trap, but there's a coffee shop before the town on the left side of the road offering a fantastic view from the balcony. The smaller village, Khun Chang Khian, comes alive for a couple weeks each January when the Himalayan cherry trees blossom.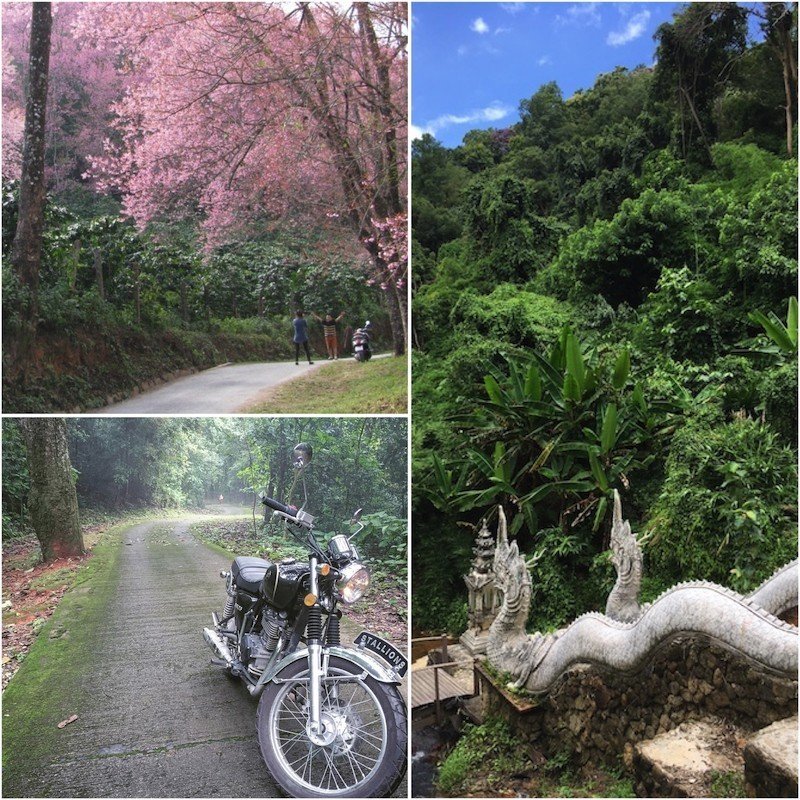 Samoeng Loop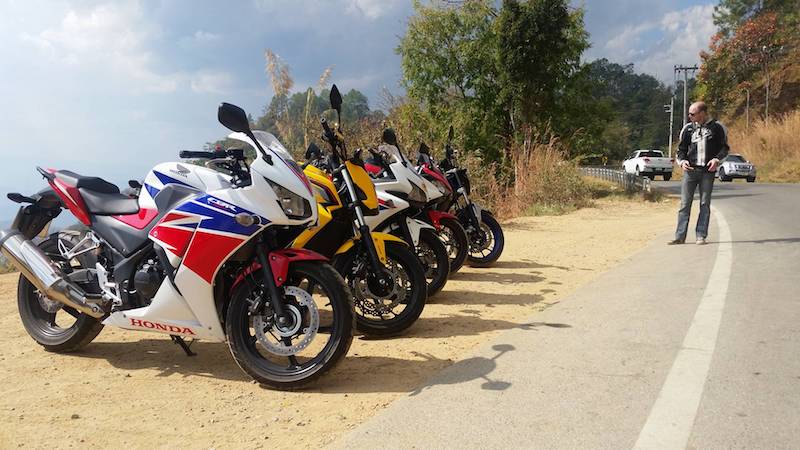 For those looking to get a little further out of the city, the Samoeng Loop will transport you to a world of lush greenery and hidden valleys.
The Samoeng Loop is a circuit around the backside of Doi Suthep, and it can be undertaken either clockwise or counter-clockwise. I prefer the counter-clockwise direction to get the busiest stretch of road out of the way first.
Starting from Chiang Mai, you head north on the main road (Highway 107) to Mae Rim, and then turn off to the left on 1096, which leads to the Mae Sa valley. Here you can take a break to visit the impressive Mae Sa Waterfall.
You'll also pass by an elephant camp, snake show, monkey show, and tiger attraction. If you don't feel like exploiting wildlife, just keep driving and save your pit stops for the coffee shops, restaurants, and vistas ahead.
At the half-way point you can rest at the Samoeng Viewpoint, where there is a shady pavilion overlooking the Samoeng Forest.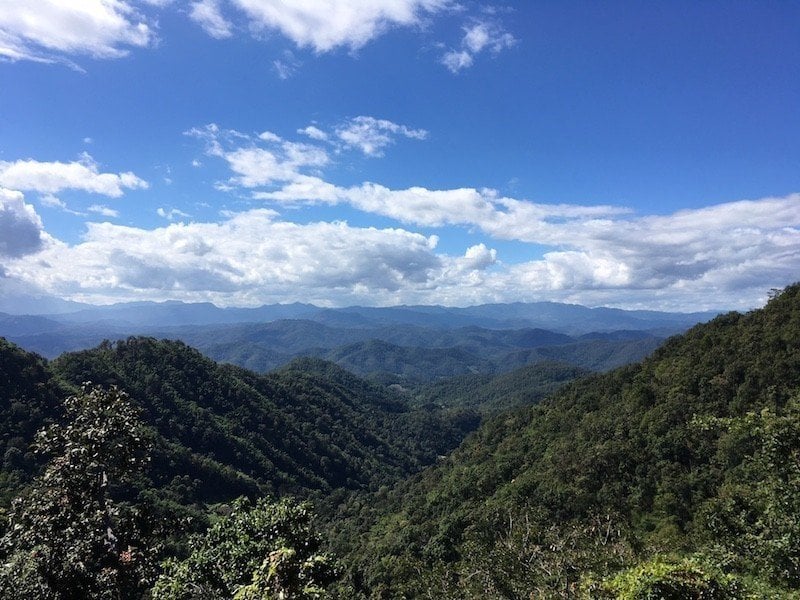 After this, you can continue on along Highway 1269 to circle the whole mountain. The second half of the ride features some truly wonderful scenery as you pass through cool groves of overhanging bamboo.
The entire loop can be completed in a couple hours with no stops, but plan on spending at least half a day to enjoy yourself.
Old Chiang Mai-Lamphun Road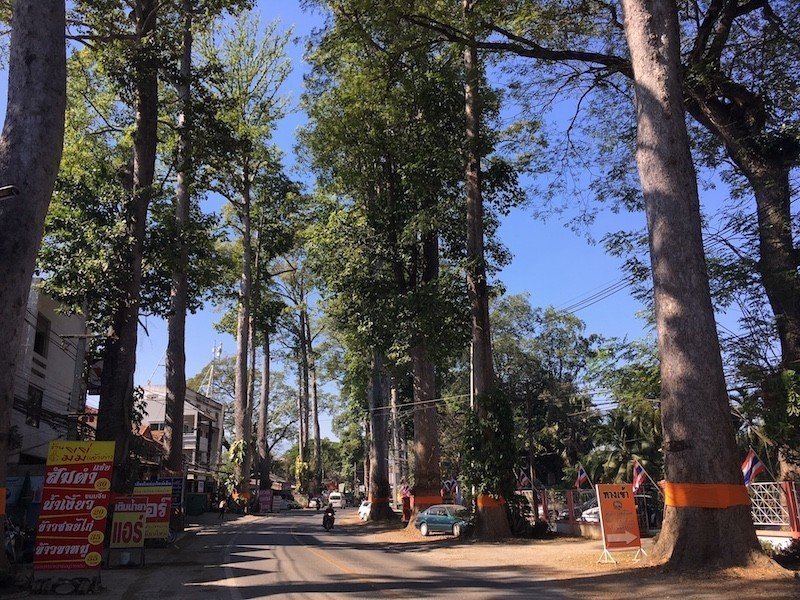 For a more leisurely Sunday ride with no mountain curves to negotiate, you can drive to Lamphun along the old Chiang Mai-Lampun Road (Highway 106). The way is marked by over 1,000 towering Dipterocarpus alatus trees lining both sides of the road. These clever majestic giants have donned the orange robes of Buddhist monks in an effort to evade loggers.
Once in Lamphun, you'll find a sleepy provincial capital with small-town charm, traditional Northern Thai hospitality, and peaceful temples—some dating back to the 9th century.
Doi Inthanon
Doi Inthanon is Thailand's highest peak and is conveniently located just a couple hours drive from Chiang Mai. Most of the mountain is part of Doi Inthanon National Park, which requires a 300 baht entry fee for foreigners. You can stop at a number of waterfalls, nature walks, and other attractions located on the mountain.
Please be aware that it can get quite chilly on the top—there is even frost appearing on some winter mornings.
Weekend Motorcycle Rides in Northern Thailand
When you've got a little more time on your hands, you can really set out and explore the roads of Northern Thailand. The possible routes are nearly infinite. You could choose any backwoods country road and head off on an adventure. Here are a few of the more popular destinations and circuits to consider.
Chiang Dao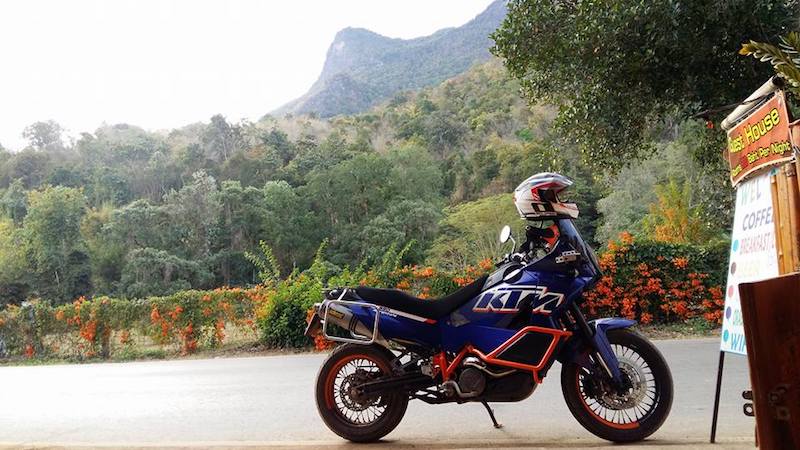 Doi Chiang Dao is Thailand's third tallest peak, rising to a height of 2,225 meters. The base of this limestone mountain contains extensive caves, some of which are open to the public. The national park covering much of the mountain is a favorite spot for hikers and bird watchers.
The actual drive from Chiang Mai takes just a couple hours following Highway 107 straight north. It's also not a challenging ride as it sticks to the Ping River Valley and doesn't cross over any mountain ranges.
Pai
Pai has become the backpacker mecca of Northern Thailand. Hill-tribe trekking, hot springs, and rafting are just a few of the attractions that draw in a steady stream of adventure-seekers.
The notoriously curvy road from Chiang Mai is known to induce motion sickness in all but the heartiest of bus passengers. For those up to the challenge, the same road can be attempted on motorbike. If doing a round-trip from Chiang Mai, a stay of two nights is probably better than one in order to give your poor butt a rest.
Mae Hong Son Loop
Those with more time to spare can continue on past Pai to complete the Mae Hong Son Loop. This route takes you through the sparsely populated Mae Hong Son province past the towns of Pai, Mae Hong Son, and Mae Sariang. This area, hugging the border with Myanmar, is known for dense teak forests, a large variety of hill-tribe cultures, and Burmese inspired temple architecture in the main settlements.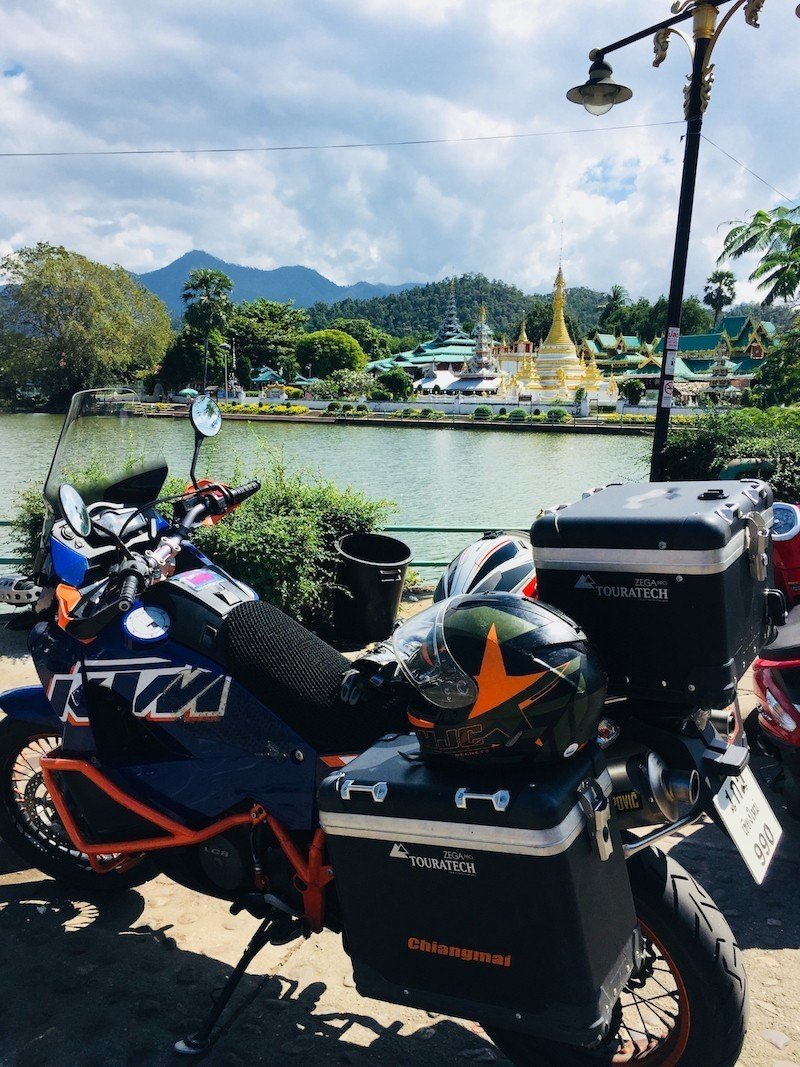 This route is not recommended for novice riders. The stretch from Chiang Mai to Mae Hong Son is famously said to contain 1,864 curves, while the entire circuit has about double that number. Caution needs to be taken for potential hazards like mudslides in the rainy season. The other thing that you really need to watch out for are the local drivers who may feel no hesitation to overtake vehicles around blind curves.
Phayao
Phayao is a small, quiet city aside a large lake. It's a nice spot to just relax, eat some good food, and poke around to check out a few temples.
Phayao makes for a pleasant weekend trip from Chiang Mai. For the most direct route, start by heading out on Highway 118 going towards Chaing Rai. Then turn off on Highway 120, which leads you over a mountain range and down into Phayao province.
The journey is particularly nice one you've made it onto 120. This stretch of road is not quite as busy and passes through some spectacular mountain scenery. The whole trip should take around 3 hours, or longer if going on scooter. There are also some alternate routes that take longer but give you something new to see.
Chiang Rai via Doi Mae Salong
You can see some of the best mountain views in Northern Thailand by taking a trip to Chiang Rai on a roundabout path via Mae Salong, taking Highway 107 north to Highway 1089. This route takes you within a few kilometers of the border with Myanmar.
This rough, mountainous region is home to many hill-tribe groups. Mae Salong itself is a Chinese village, populated by the descendants of Chinese Nationalist rebels who first arrived in the 1970's.
Chiang Rai's most famous site is the "White Temple," Wat Rong Khun. Some find it beautiful, others find it garish. But the one thing it's not is ordinary.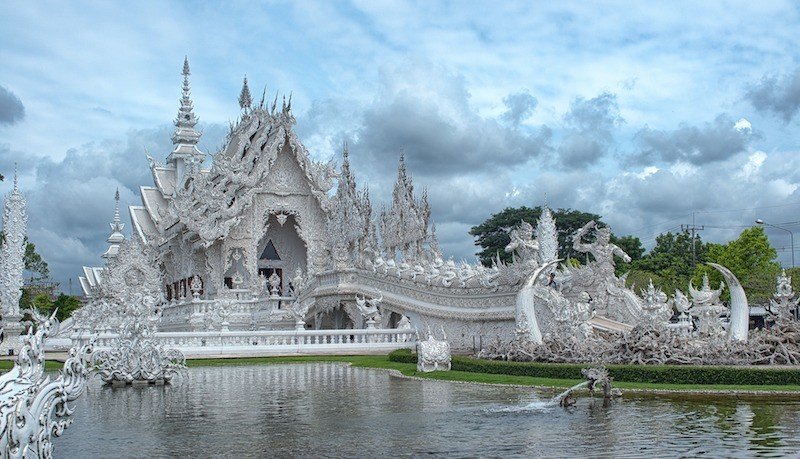 These are just a few of the biking options you have in Northern Thailand, many more exist. If you're a motorcycle enthusiast living in Chiang Mai, you can set out for a new destination every weekend and never get bored.