On Sunday, September 24th Iglu's Ozzi Jarvinen, Ann Duangjai, and Derek Smith joined thousands of others for the Run to Give 2017 event in Chiang Mai. This event was sponsored by Le Meridien Hotel and Marriott International, and was held at the Chiang Mai International Exhibition and Convention Centre. It consisted of a 3 km Fun Run and an 8 km Mini-Marathon, with the proceeds going to Baan Mitratorn, a home for children infected with HIV.
Run to Give 2017 was a huge success. Thousands turned out for the 5am start and enjoyed perfect weather for a morning run. Ann and Derek decided to run in the 8 km event, while Ozzi opted for the 3 km Fun Run. It ended up to be a good decision for Ozzi as he finished in 2nd place. (Way to go Ozzi!)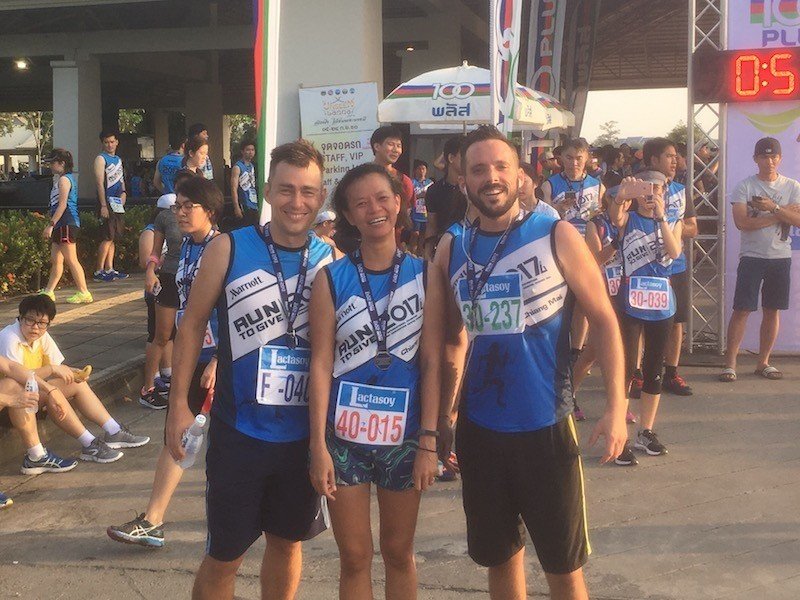 Simultaneous Run to Give events took place in Phuket, Koh Samui, and Hua Hin. If you missed out and want to join another run for charity or just-for-fun in the near future, you may want to check out the event listings on the website Wingnaidee.com ("Where to run?"). Although the website is mostly in Thai, you can see listings of events by month, and from there you should be able to get more info on any running event that you're interested in. Sundays are by far the most common day to run, with around 2 dozen Marathons, Half-Marathons, Mini-Marathons, Fun Runs, and other events going on at different spots in the country nearly every week.