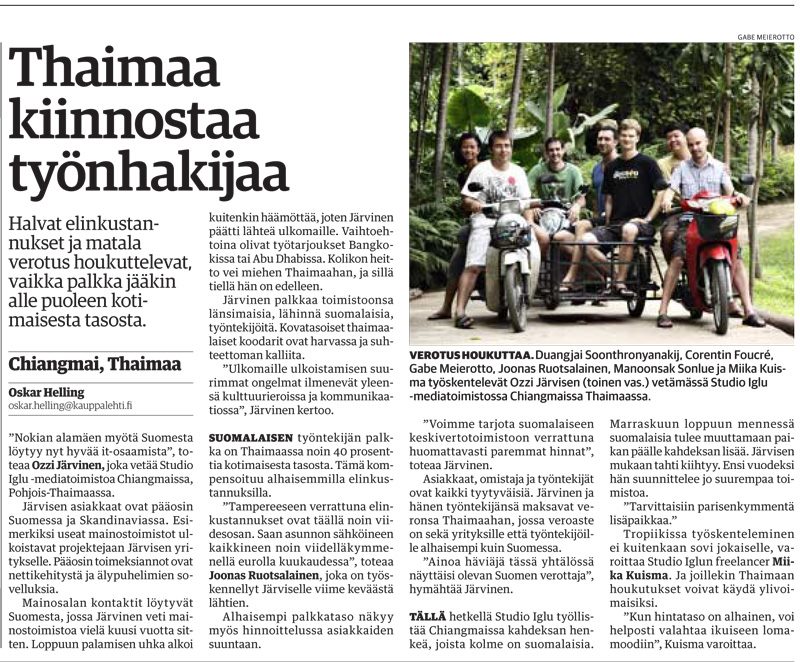 Low taxation is tempting. Duangjai Soonthronyanakij, Corentin Foucre, Gabe Meierotta, Joonas Ruotsalainen, Maanonsak Sonlue ja Miika Kuisma are working at the Studio Iglu media office founded by Ozzi Jarvinen (second on the left) in Chiang Mai, Thailand.
Article by Oskar Helling; Translation by Santtu Saavala
"Since the downhill of Nokia, there is now plenty of good IT-expertise available in Finland," observes Ozzi Jarvinen, who manages the Iglu media office in Chiang Mai, Northern Thailand. The customers of Ozzi are mainly from Finland and Scandinavia. For instance, various advertising agencies outsource their projects to his company, which mostly consist of web and mobile app development. Contacts in the advertising industry are found from Finland, where Ozzi used to lead an advertising agency six years ago. The threat of a burnout started to seem likely, so Ozzi decided to flee abroad, with job offers from Bangkok and Abu Dhabi as his two options. Flipping a coin steered the man to Thailand, where he still remains today. Ozzi hires Western people, mostly Finnish, to his office. High-level Thai developers are hard to find and surprisingly expensive to hire. "The biggest issues about outsourcing arise in cultural differences and communication," he notes.
The salary of a Finnish employee in Thailand is about 40% of the home country standard. This is, however, compensated for by low living costs. "The living expenses here are about one fifth compared to living in Tampere. I can get an apartment with all expenses included here for about 50 euros per month," says Joonas Ruotsalainen, who has been working for Ozzi since last spring. The lower wage standards can also be seen in the pricing of Iglu. "We can offer significantly lower prices compared to the average development office in Finland," Ozzi explains. The customers, the owner and the employees are all happy. Ozzi and his employees all pay their taxes to Thailand, where both, corporate and income taxes are lower than in Finland. "The only loser in this system seems to be the Finnish tax authority," Ozzi points out.
At this moment Studio Iglu employs a total of eight people in Chiang Mai, of which three are Finnish. By the end of November, eight more Finns will be joining us. According to Ozzi, the growth of the company is accelerating; for next year he is already planning a new office. "We would need space for about 20 more people." Working in the tropics is not for everyone, warns Miika Kuisma, a freelancer at Studio Iglu. The temptations of Thailand might become overwhelming for some. "When the price levels are low, it's easy to sink into a permanent holiday mode," Miika warns.