Thai food is one of the best things about living in Thailand, but many foreigners know little of this vast and diverse cuisine besides Pad Thai and Tom Yung Kung.
Iglu came up with a great way to help its own employees and any other foreigners in Thailand to expand their knowledge of Thai food while making it easy to order too.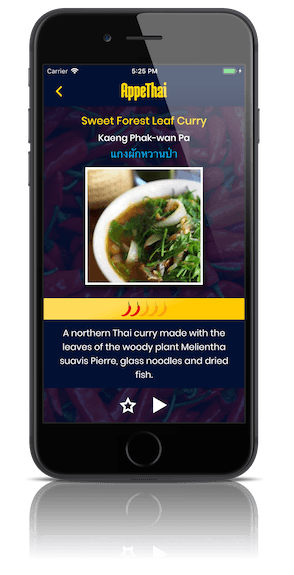 The solution is the AppeThai app available for iOS and Android.
AppeThai version 2.0 has a slick new design and was rapidly developed for cross-platform deployment with the Flutter framework.
AppeThai features over 200 Thai dishes. Each food item has an info page where you'll find a beautiful image and description of the dish.
Thai food is famous for being one of the world's spiciest cuisines. AppeThai's "hotness" rating of 0-5 chili peppers lets you know how spicy each dish is typically prepared.
Names for each dish are displayed in English, Thai, and Thai phonetics.
This way you can try to say them yourself, or show to restaurant staff when you have trouble getting the pronunciation right.
We've also included audio versions of each dish's Thai name recorded by a native Thai speaker to help you practice saying them correctly.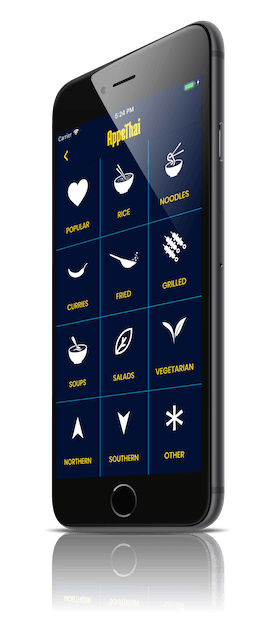 You can search for dishes from the master list or broken down by category:
Popular
Rice
Noodles
Curries
Fried
Grilled
Soups
Salads
Vegetarian
Northern
Southern
Other
Within any category you can search for dishes using keywords, or by name in both Roman and Thai scripts.
You can mark any dish you love to your favorite list so that you can quickly find it again.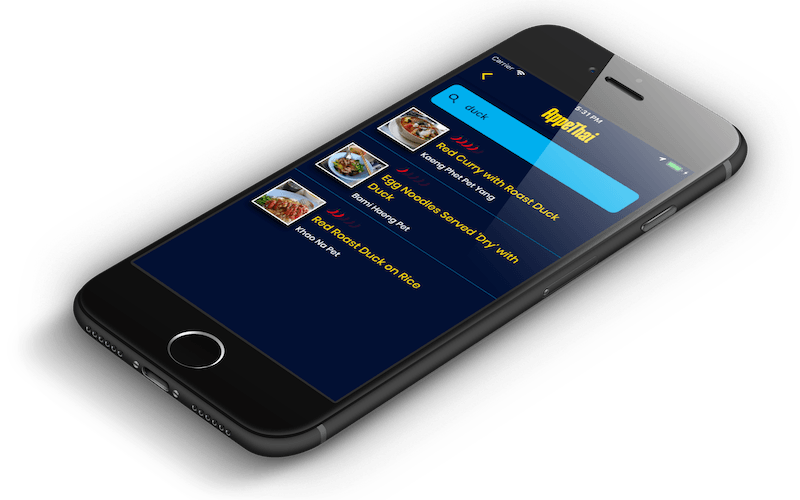 One more helpful feature is the nearby Thai restaurant locator. It will open up to a map centered on your current location and show any Thai restaurants in your area. The great part about this nearby locator is that it works in any city. You can use it to find Thai food in Tokyo, New York, or London just as easily as Bangkok.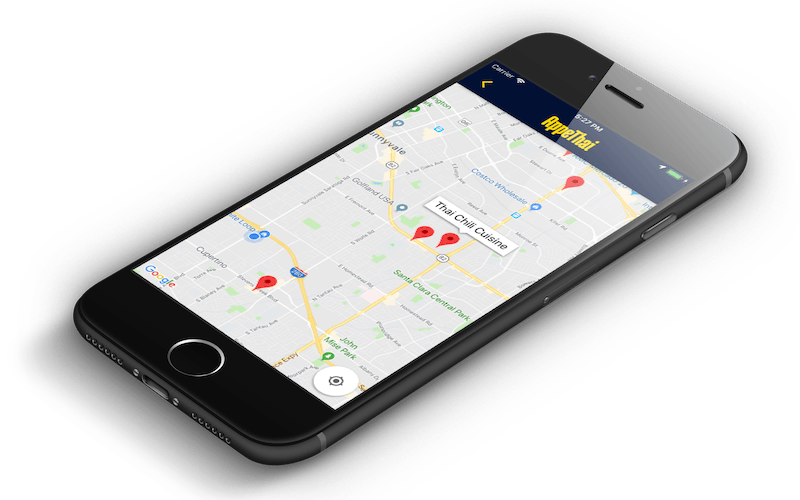 AppeThai Features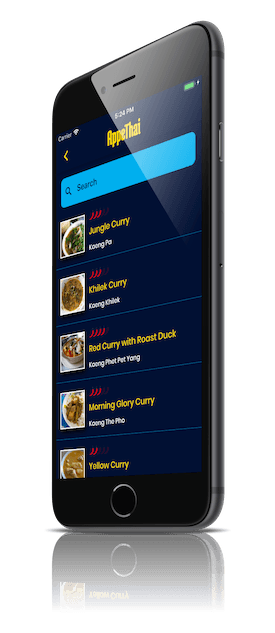 200+ Thai dishes
Search within Categories or from the Main list
Add foods you love to your Favorites list
Beautiful color photos of each food
Food names in Thai, English and Thai phonetics
Play audio clip of the Thai food name by a native Thai speaker
"Hotness" rating for each dish
Informative description of each food item
Nearby locator to find Thai restaurants in your area
Best of all, AppeThai is free to download.
It's available now on the App Store and on Google Play.