So here you are. You've been itching for a change, you're thirsty for adventure, and you're ready to break some comfort zones in pursuit of a new life of excitement and opportunity.
You've poured over all the pros and cons of living in Thailand as reported by seasoned members of the expat community, and the math checks out. You're ready to move to Thailand.
But choosing where the best place to live in Thailand isn't always instinctive. Of course there's the bustling city of Bangkok, where you'll most likely first arrive, but city life isn't for everyone.
And even if being planted right in the city center is something you could be into, Thailand is much, much more than its famous metropolis.
A Buffet of Lifestyles
One of the best things about Thailand is its sheer diversity of nature and developed areas.
In every direction beyond the Thai capital are destinations with stunning beauty, rich history, and many unique things to offer. They're worth a visit at least for everyone. For some, they'll become home.
Countless islands lined with white sand beaches in Southern Thailand offer a laidback lifestyle to anyone who desires it.
Northern Thailand is home to lush jungles and wide-open views over hilly roads perfectly suited to long motorcycle trips.
With coastal towns, large cities, national parks and beautiful beaches all with their own unique wonders and advantages, choosing the best place to base yourself can be a tough call.
Even long-term expats find themselves frequently relocating or splitting their time between different regions.
An Insider's Guide
Fortunately, through our collective experience and those of our families, friends and colleagues we've got this down to a science.
We've combed through all the options, analyzed their pros and cons, and extracted a shortlist of the best places to live in Thailand.
In fact, we actually go through 12 total locations—our top 8 picks plus 4 additional worthwhile considerations—so you're getting the full rundown all across this incredible country.
By the end of this article, you'll know:
All the best choices for making a home in Thailand

Our recommendations based on what most expats look for when relocating

Our rationale for choosing each one

Their pros and cons so you can make the best choice for yourself
The 8 Best Places to Live in Thailand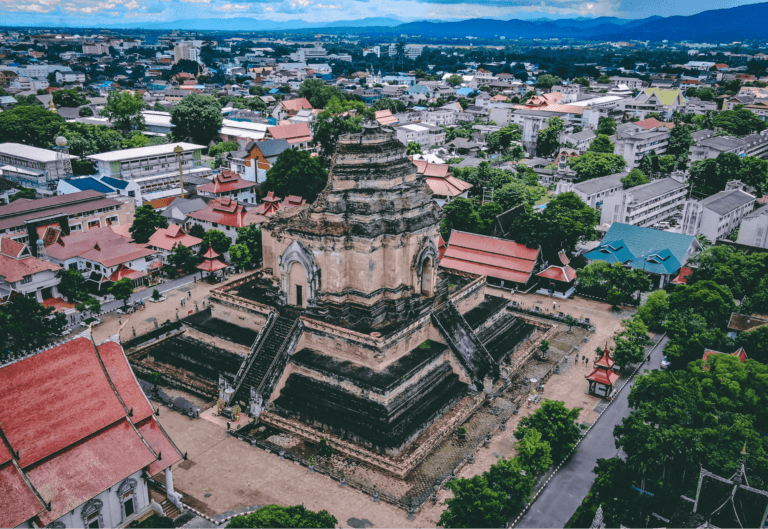 Planted on the green side of Thailand's natural beauty spectrum is Chiang Mai. This unique, vibrant city in northern Thailand trades white and blue sandy beaches for jungle-lined mountains and is an excellent choice for those who enjoy being immersed in nature.
Formerly the capital of the Lanna Kingdom before its eventual annexation by Thailand, the city center is still framed by the ancient walls that fortified it nearly 800 years ago.
Now a buzzing haven for artists, performers and digital nomads, Chiang Mai offers the best of life in Thai cities against a backdrop of history and greenery.
Digital professionals who get set up with their work permit and business network in Thailand through Iglu will have access to the company's office space here as well—in addition to its headquarters in Bangkok.
Coworking spaces, cafes, art galleries, and international restaurants abound here, as do cultural heritage sites and temples.
The city also plays host to a constant rotation of festivals that draw visitors from all over the country and beyond.
Since motorbikes are the go-to mode of transport for Chiang Mai residents, making a short-notice escape into your breathtaking surroundings for a dose of inspiration or mental wellness is as easy as throwing on a backpack and heading out your front door.
Or you can plan a longer trip and tour the famous Mae Hong Son loop. Lonely Planet even has a guide for how to do it.
While you're at it, stop off and volunteer at a sanctuary for rehabilitated elephants like the amazing Elephant Nature Park.
Pros of Chiang Mai
Cooler than elsewhere in Thailand

Perfect for weekend trips up into the mountains

Packed with exceptional things to do

Lively artist culture and expat community
Cons of Chiang Mai
Burning season significantly degrades air quality

Small roads near the center are easily overwhelmed with traffic

City hotspots can get overwhelmed by tourists
If you like what you're reading, you might want to take a read through our previous post about CM's cost of living, or this helpful guide about getting through its infamous burning season. To go more in depth on why Chiang Mai is an excellent choice for an expat's home in Thailand, give this article a read, too.
Also Consider: Chiang Rai
If the natural features of Chiang Mai are what call to you most and you're open to integrating more with Thai life, Chiang Rai shouldn't be overlooked.
Just a short drive from both Laos and Myanmar, Chiang Rai features some of the most affordable living in Thailand—an amazing stat considering the scenery alone.
Cooler still (for Thailand) than Chiang Mai, out of the way of the more severe burning season hazards and wonderfully enchanting, it's worth considering if you don't mind being a good deal more remote and appreciate small town living.
Expats tend to have a love/hate relationship with the country's capital, and it's not hard to see why. For some, the high energy of this bustling city simply isn't the draw that made life in Thailand appealing to them.
Although we'd argue that Bangkok's intensity has a much friendlier, happier vibe than most urban capitals in the west, it's very fast-paced and not always for everyone.
For lovers of city life though, Bangkok is a blast. Everything from the best nightlife and culinary options to staples of Thai culture like night markets and breathtaking temples are on display. And you'll have easy access to all of it via the city's impressive and rapidly expanding metro system.
Cost of living in Bangkok is assuredly cheaper than any major western city you might compare it to, and it's even cheaper than several other Thai points of interest in this guide.
Meanwhile you can live in a modern highrise condominium with unobstructed river views and watch the sunset from your rooftop pool every day of the year.
Food options are limitless, from delicious, cheap street stalls to Michelin Star-rated experiences. You can give your wardrobe an on-trend overhaul for the price of a single designer piece, or buy said designer piece from the Bangkok flagship store of any major luxury brand on Earth.
Need to send something across the city? Skip the constant traffic and order a motorbike courier through your ride-hailing app to get it delivered instantly—for as little as USD $2.
Need to send yourself? Bangkok showcases the best of Asian public transportation with sparkling clean stations and air conditioned trains—half of which tour you around the city on elevated tracks.
Pros of Bangkok
Cutting-edge, connected metropolis is the perfect hub for digital nomads

Living comfortably is affordable, and even tight budgets can afford inexpensive pleasures

Central to the rest of Thailand, with tastes of the beach lifestyle and mountain views within reach for weekend trips
Cons of Bangkok
Big city vibes that may be too big for some

Traffic can be tiresome, and roads are risky for motorbikes

Air quality isn't always top notch
Also Consider: Kanchanaburi
Beach towns aren't the only choice for expats who want to make their home amongst nature with the comfort of proximity to Bangkok. Kanchanaburi features the real-life inspiration for the setting of the famous Hollywood film Bridge on the River Kwai, including the bridge itself.
Kanchanaburi offers sprawling fields and forests concealing awe-inspiring waterfalls. It's a secret retreat for weary Bangkok Thais in need of a brief return to nature, where the trickling sound of babbling brooks will aid your meditation or send you off to the best night's sleep of your life. It's also the perfect place to experience a Thai floating market.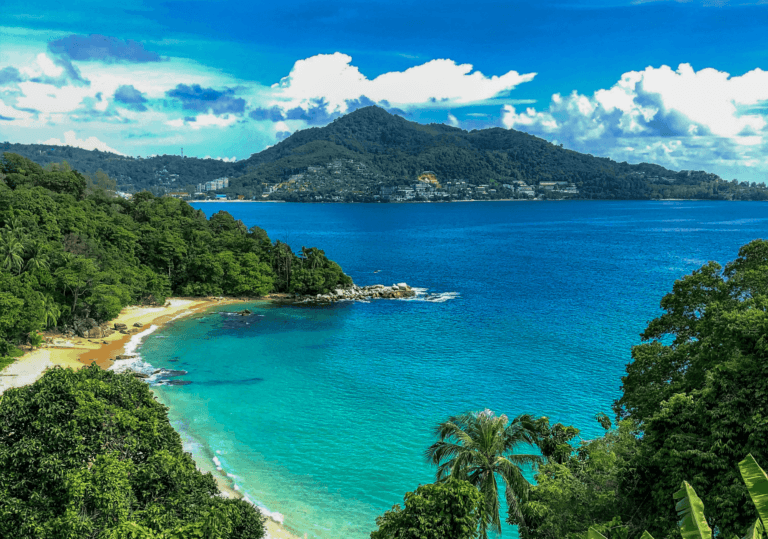 Phuket has a lot going for it. Thailand's largest island offers every bit of the convenient lifestyle you'll find in a big city like Bangkok with a fraction of the population and a limitless stretch of palm lined beaches.
With an international airport all its own, you'll be 100% self-sufficient with a home base in Phuket, which also features no less than 44 beaches.
Large shopping malls, abundant coffee shops, international restaurants and vibrant energy in Patong City are one side of Phuket's persona. A quiet life immersed in Thai culture and backed by serene escapes into nature is the other.
Samplings of each are always at your fingertips, as is the chance to island hop in the Andaman Sea. This contrast and enormous range of features arguably makes Phuket the closest an expat can get to having a bit of everything Thailand has to offer all in one place.
Pros of Phuket
City life and beach life can be had in fully customizable proportions

All the modern conveniences of home

A flourishing expat population
Cons of Phuket
No real public transportation

Developed areas may sometimes feel too touristy for some

Significantly more expensive than other parts of Thailand
If Phuket is calling your name, feel free to scan through our comprehensive Guide to Moving to Phuket. It tells all about the different parts of this massive paradise and offers tons of helpful hints to get you prepared for island life.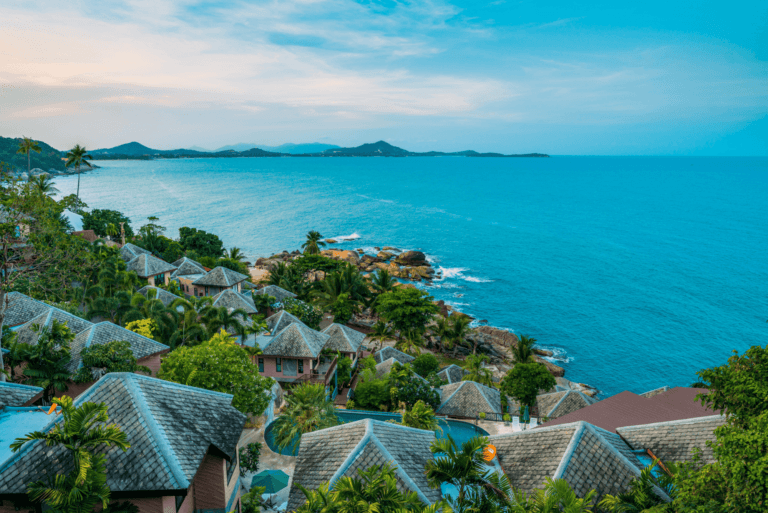 Ah, Samui, where even to begin? Well for one, this is Thailand's second-largest island. Unlike Phuket, however, the only way to arrive by car is to drive it onto a ferry, then get out of it and take in the absolutely magnificent view of the Gulf of Thailand for an hour and a half. That's a perk if you ask us.
The scenic route not for you? Hop a quick flight and land smack in the heart of the island.
Koh Samui really has it all, and many expats will argue it also has a lot more charm than the larger and better-known Phuket.
Quiet fishing villages and local markets neighbor luxury hotels, quality hospitals and a surprisingly well-equipped coastal town. You can drop off the grid and meditate on one of Samui's beautiful beaches and then go out for a five star meal.
Koh Samui's affordability and ideal balance of comfort, simplicity and fun make it one of Thailand's most popular expat havens and a favorite of digital nomads in particular. Not to mention it offers easy access to Koh Phangan, which we'll touch on next.
Pros of Koh Samui
Island life without sacrificing comfort and connectivity

Fully self-sufficient with reliable infrastructure and a thriving local economy

Koh Phangan is a quick boat ride away for retreats further off the grid
Cons of Koh Samui
Expensive compared to other parts of Thailand

Traveling between the island and the mainland can be a bit laborious

Island life requires compromises on connectedness and certain luxuries
Also Consider: Koh Phangan
If you've heard of Thailand's famous full moon parties chances are you've heard of Koh Phangan. Samui's little sister and a quick 30 minute ferry ride away, Phangan is much less developed and much more relaxed.
If you stumble upon a sunset-drenched beach dotted with dreadlocked acro-yogis, you've arrived.
It's extremely popular with young, eclectic types from all walks and backgrounds, and while it's definitely more salt-of-the-Earth than Koh Samui, it's still got plenty to offer by way of cafes, restaurants, bars and scuba diving.
If you're not worried about feeling isolated and "chilled out" is how you'd describe your ideal lifestyle, Phangan could be a good place to set up.
With Samui less than 30 minutes away though, many expats seeking doses of what Phangan has to offer prefer to base themselves on the larger island and take short trips across for "mental breaks."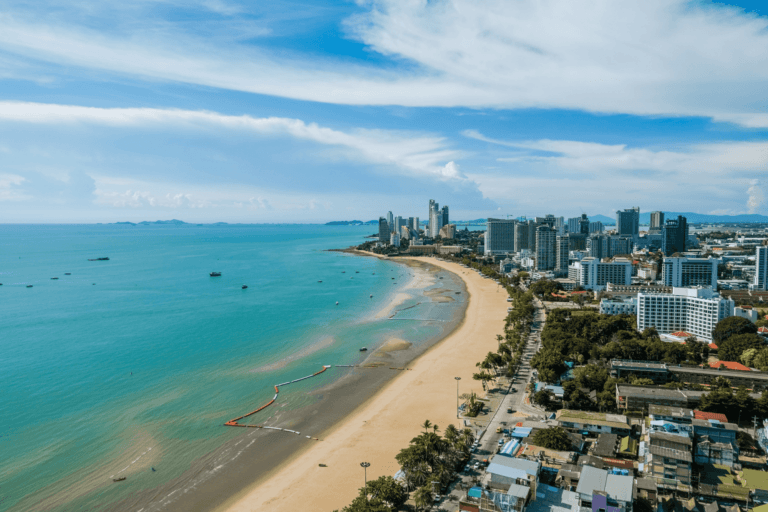 Take Phuket, cross it with Miami Beach and stick it just a short drive south of Bangkok, and you've got Pattaya. For some it's the best of all worlds.
Others would rather choose a place that commits more to one side of the city living/beach town spectrum. But there's a lot to like here.
Pattaya has its own unique features like world-class golf courses and a beach-adjacent walking street famous for all-night club hopping.
Compared to Phuket, everything in Pattaya is in a much tighter package, which many people find to be an added convenience.
It's much more developed overall as well, and the city is even organized into something of a grid.
The tradeoff is fewer beaches and a less natural setting that's much more commercialized—for better or worse.
Pattaya is best known for its nightlife and quick beach escapes from Bangkok, but it also offers a fantastic balance of city living and beach resort atmosphere.
That means plenty of low cost accommodations and yummy Thai street food, plus staples like shopping malls, western-style grocery stores and a multicultural vibe.
Pros of Pattaya
Live in a modern highrise condo right on the beach

Tons of nightlife options will never leave you bored

Bangkok is close enough to take a taxi to (for less than it would cost to go crosstown in New York City)
Cons of Pattaya
High season can bring an abundance of tourists

Much more commercial than other beach-centric options

Not the best showcase of Thailand's beaches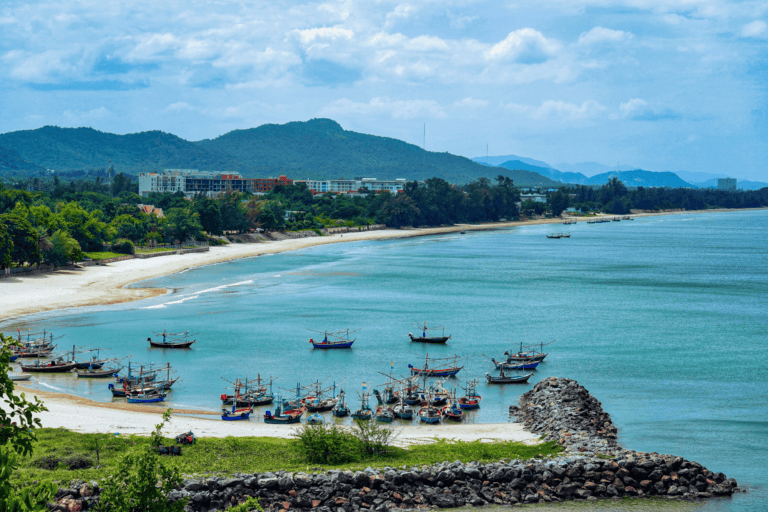 Follow the coast east from Bangkok and you'll arrive in the coastal city of Pattaya. Do the same through the western province of Prachuap Kiri Khan and you'll eventually find yourself in Hua Hin.
This beachside town conveniently just two and a half hours from Bangkok is rapidly becoming a haven for expats.
Its roots date back to the early 20th century, when Thailand's royal family built a summer palace by the beach.
This turned Hua Hin into a hotspot for wealthy Thais looking for a getaway from city living, and it developed in response.
The result is a relaxed, resort town vibe that these days caters exceptionally well to a booming expat community.
Famous for its fresh seafood stalls, culinary excellence, ever present breeze and an annual jazz festival, Hua Hin draws visitors for its convenient escape from Bangkok's bustle and gets them to stay with its peaceful atmosphere and low cost of living.
Pros of Hua Hin
Convenient, developed beach town close to Bangkok without the tourist attraction vibes that feature in Pattaya

Great amenities with an appealing cost of living

Surprisingly energetic, especially during weekends and festivals
Cons of Hua Hin
Traffic can be an issue since it's built close to the main coastal highway

Can lack the charm and authenticity of places that serve as home to more Thai people

Lots of somewhat uninteresting urban development targeted at expats
Also Consider: Cha Am
A smaller, quieter seaside town around 20 minutes north of Hua Hin, Cha-Am might be worth considering if you're not too concerned with setting up in an expat-oriented hub and prefer a more low-key, local Thai way of life.
You'll find beautiful long stretches of shoreline here, plenty of Thai restaurants, shops and local markets for all your basic needs, and even a small strip of bars.
There are some nice hotels right along the beach and of course plenty of Thai massage shops if you want to spend a weekend here first to see how it might suit your lifestyle.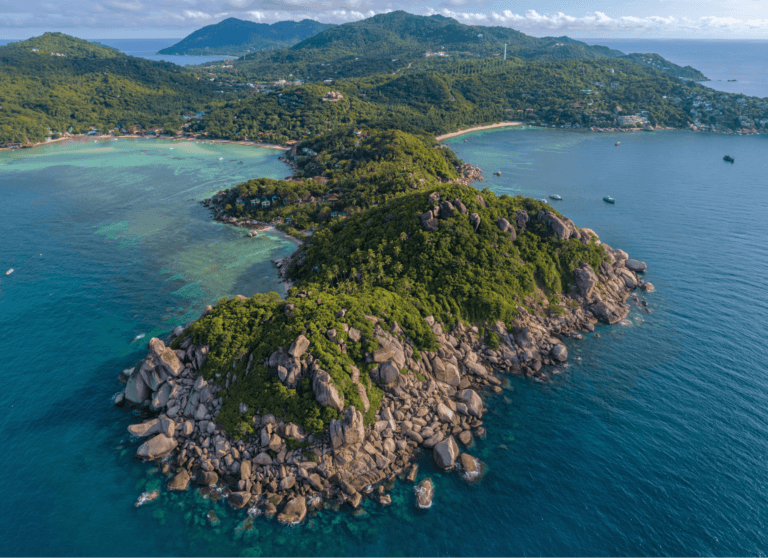 Further offshore than both Koh Samui and Phangan is Koh Tao, a small island particularly famous for scuba diving.
Koh Tao is roughly 1/10th of Samui's size and a good deal further out than the 30 minute ferry to Phangan, but considering how tiny and remote it is, it's disproportionately lively, popular and established amongst expats.
With an ever-present population of both resident and visiting dive enthusiasts, Koh Tao carries a very chill, happy vibe and boasts surprising energy as passionate ocean goers bask in their element and then regroup at the island's numerous unique bars to celebrate island life.
Pros of Koh Tao
Mecca for scuba divers, snorkelers and ocean lovers

Vibrant energy full of expats and locals alike

Relatively easy to island hop from here
Cons of Koh Tao
Getting on or off the island can be costly and time consuming

Small and not especially developed to benefit connected professionals

Many people you'll meet will just be visiting for few days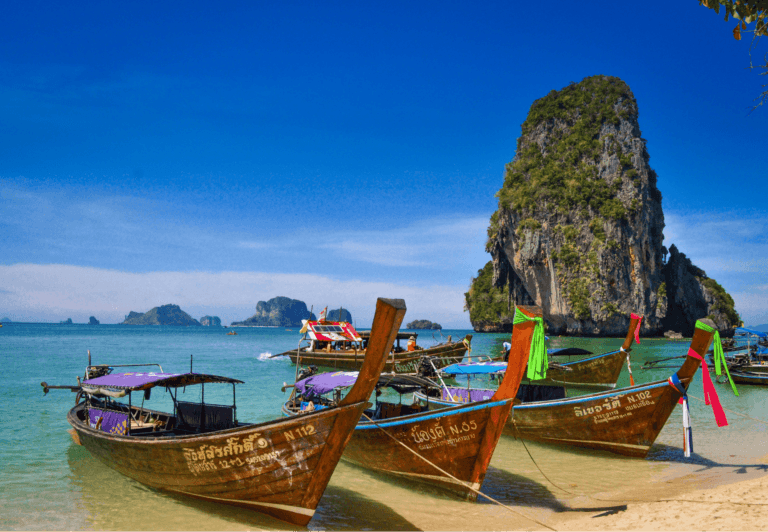 Krabi province is one of Thailand's most underrated gems. About as far south as Phuket but on the mainland, Krabi is home to some of the most famous landscapes in the country. Most people just don't know they're looking at it.
The views of Krabi's shores and its nearby islands are the kinds that inspire films, and they've appeared in plenty as well.
Off the coast of Krabi town are islands like Koh Lanta and Koh Phi Phi, which featured in the Hollywood film, The Beach.
This region is visually characterized by fantastic karst geography, which is responsible for those unforgettable rock formations that appear to jut into existence straight out of the middle of the ocean.
If you're looking to live amongst the stunning beauty of the photo that made you fall in love with Thailand in the first place, your new home may be somewhere in Krabi province.
Keep in mind though that abundant nature—be it waterfall-lined caves, sprawling rice fields, hidden beaches or secret islands—is going to be your main attraction here.
Krabi town will provide all you need to live but as the area is much less developed than Phuket or Samui, it makes for relatively quiet surroundings.
Pros of Krabi
Spectacular scenery and natural beauty

Quiet and far less touristy than Phuket

Extremely affordable
Cons of krabi
Not exactly an expat hub

Quite far from the better known and more developed hotspots

Developed, but caters mostly to local Thai people
Wrap-up: The Shortlist for Your New Thai Home Base
So what will it be? Mountains, islands, or mainland? Beach, city, or jungle? Are you looking for community or the quiet life? Maybe you want the option to switch between them from time to time. The good news is that no matter your preferences, Thailand will offer you options.
The bad news? Well, you are eventually going to have to choose. From our collective experience as expats who have done it all, you've got:
Phuket
The best blend of modern and connected life, beach resort vibes, and untouched nature for those with no interest in Bangkok but who don't want to compromise on convenience or luxury.
Chiang Mai
Thailand's Second City ties a vibrant expat community together with artist culture and a backdrop of rolling hills. Everything you could want and more is here, including one of our Thai coworking offices.
Bangkok
Cheap, luxurious living in a bustling city with a year round tropical climate? Tons of expats from all over the world living, working and partying together? Top-notch public transportation, shopping and healthcare? Yeah, sign us up too.
Koh Samui
How about true island life without the boredom and isolation? Samui's developed infrastructure makes for a perfect home base for the remote-working expat into island hopping, full-moon parties and easy access to quiet retreats.
Pattaya
If you love the buzz of a city but can't bear to be in this beautiful country without access to the beach, Pattaya could be your best pick. Nightlife options and global restaurants abound, as do most of the luxuries of Bangkok, bumped right up against the Gulf coast.
Hua Hin
If you like the quiet aspect of the islands but aren't into that level of physical detachment, Hua Hin is worth considering. Similarly lined with beaches and home to tons of expats, it's infinitely less touristy than Pattaya at a similar distance from Bangkok.
Koh Tao
If you dig the chilled out beach life or scuba is your life and everything else takes a back seat, Koh Tao may be your calling. Energetic, friendly and fun, it's surprisingly established for its size and you'll be far from the only expat.
Krabi
Want to wake up in absolute awe of your surroundings every day? Maybe hike down to your secret beach and catch a fishing boat to a nearby island? If you're not overly concerned with western amenities, nightlife or being surrounded by other expats, Krabi should make your list.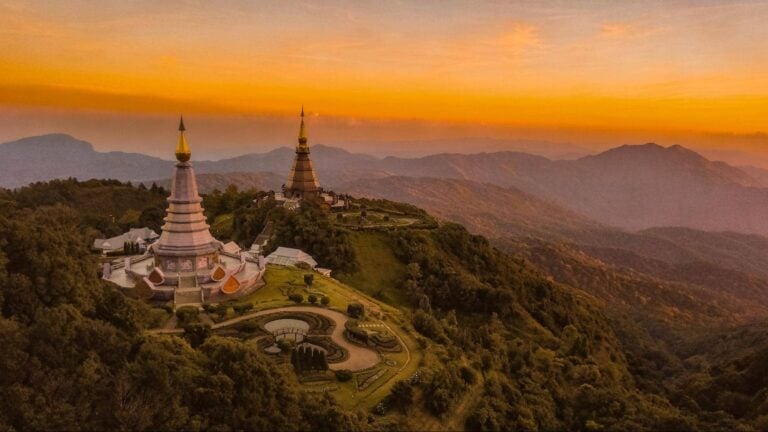 Join Us and Work Anywhere You Want
Choices are hard, eh? Especially this one. We get it—because we've been there. And we'll share a secret: plenty of us have moved to a totally different region of the country since first arriving. Even more of us choose to split our time between polar opposite settings, like Chiang Mai in low season and Phuket in high season.
That's what Iglu does for you. We remove the "where" from your work, and let you run yourself from any place that inspires you. If you're a digital professional looking for the best way to get yourself set up to live and work in Thailand on your terms, get in touch with us today and make remote work for you.