PLEASE NOTE: WE DO NOT PROVIDE THESE SERVICES, THESE POSTS ARE FOR INFORMATION ONLY
It's inevitable that you'll get sick in Thailand at some point after moving here. It's just part of being human, there's no way to avoid it. The good news is that in Thailand you'll find good quality healthcare at very affordable prices. Those who work here and are enrolled in the national healthcare program can even receive free treatment.
How to avoid getting sick in Thailand
While the odds are against you that you'll eventually come down with some illness, there are definitely some practical steps you can take to reduce your chances of falling ill or encountering other health problems.
Be smart with your food
Food in Thailand is generally very safe to eat—even food from roadside street vendors is fine. Thailand is not like India where visitors routinely contract dysentery from eating the street food. Your biggest concern should probably just be avoiding food that has been sitting out for a long time. You'll inevitably come down with a case of "Bangkok Belly" at some point. It's common to get an upset stomach now and again simply from eating something that doesn't agree with you—maybe you had too much chili or a rich curry didn't sit right. If that happens, it's best to drink plenty of water and stick to bland foods until you feel better.
Drink bottled water
You shouldn't drink the tap water in Thailand, but it's clean enough to use for brushing your teeth. The ice that restaurants put in your beverages is made from purified water and is perfectly safe. Because Thailand is a tropical country you might lose more fluid throughout the day through sweating than you would back home. It's important for overall good health to drink plenty of water to stay hydrated. Fresh coconut juice is also excellent for replacing electrolytes. If you want the best drinking water in Thailand, look for Aura or Mineré at the local 7-Eleven. They are the next best affordable options over Evian for mineral water.
Protect yourself
You should take reasonable precautions to protect yourself from preventable things like sunburn and excessive insect bites. One species of mosquito in Thailand is known to spread dengue fever, so you'll want to use mosquito repellent, cover up exposed skin at night, have screens on open windows and doors, and sleep under a mosquito net when staying in traditional style houses. To prevent sunburn avoid direct sunlight in the early afternoon and use sunscreen when at the beach. I've seen foreign tourists at Thai beaches who have turned candy-apple red, and I can only imagine how uncomfortable the rest of their holiday was.
Where to go for self-care in Thailand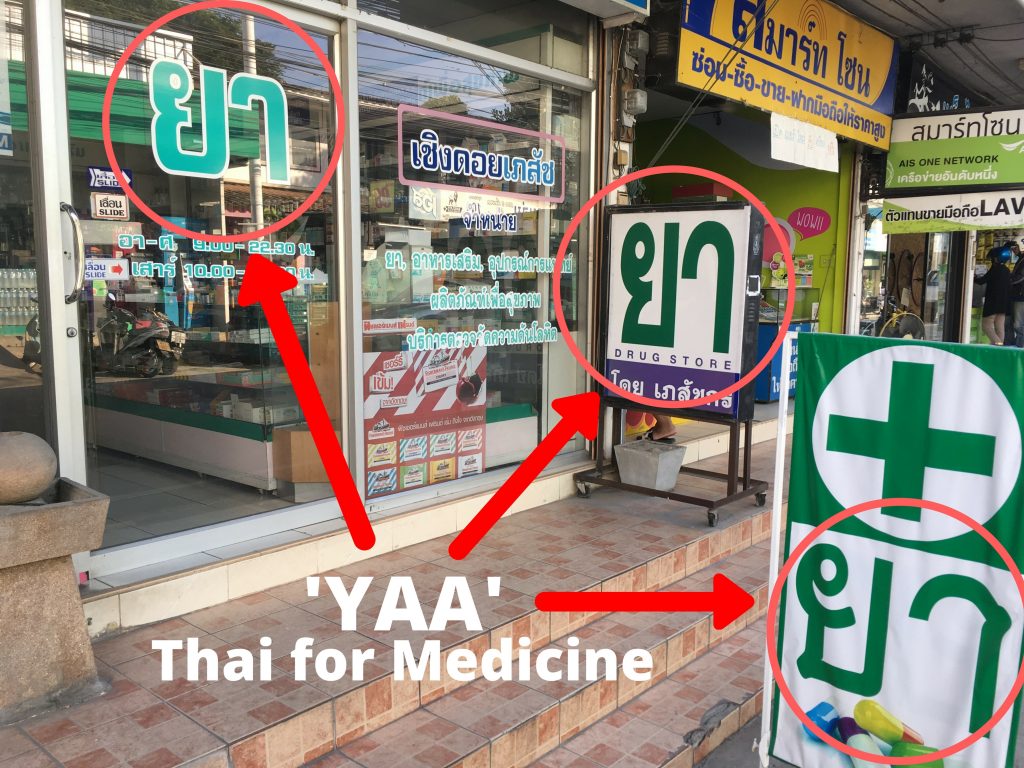 Drug stores in Thailand are very convenient when you've got a minor ailment like a headache or sore throat that doesn't require a trip the doctor. You'll see small drug stores all over the place—there are probably even more drug stores than 7-Elevens. Look out for signs with the Thai word "yaa," meaning "drugs," though most will have some signage in English as well. Thai drug stores are usually quite small, but they carry many items. You can buy things like antibiotics and birth-control pills over the counter with no trouble. Medications are quite inexpensive in general. If you're not sure exactly what you need, the pharmacist will be glad to help you. Their English skills are usually pretty good.
There's a few things to keep in mind when getting drugs from a pharmacy in Thailand:
Generic meds
First of all, it sometimes pays to ask if they have a cheaper or generic version of the drug you need. You can often save money by buying a different brand of the same medication, but the pharmacist won't automatically suggest the cheaper one.
Antibiotics
Second, you should be aware that Thai doctors and pharmacists tend to over-prescribe antibiotics. People are often given antibiotics when showing cold symptoms, but if the cold is caused by a virus rather than a bacteria antibiotics will be absolutely useless in treating it.
When you do take antibiotics, be sure to finish the entire course of the medication even after you feel better. Failing to do so could be contributing to the creation of drug-resistant super bugs.
Probiotics
Lastly, it is important to note that antibiotics kill off lots of good bacteria in your digestive system along with the bad bacteria. So to get your digestion back on track after finishing a round of antibiotics it's a good idea to take some probiotics.
Going to the hospital in Thailand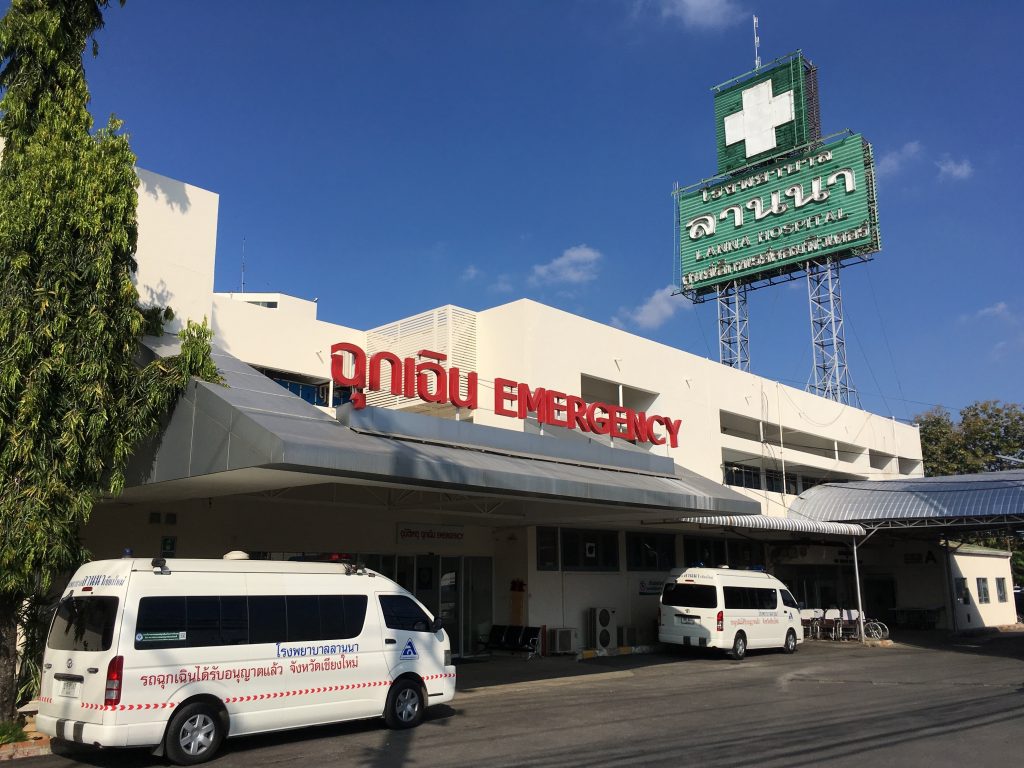 When you enroll in Thailand's Social Security program you get to choose a local hospital from those participating in the program to be your preferred treatment provider. In my case, I selected Lanna Hospital because it's conveniently located right off of the Superhighway and it's a large hospital with modern facilities.
Lanna hospital has a dedicated wing for visitors enrolled in Thai Social Security. I've been there several times for various ailments over the past few years.
Typical visit to a Social Security hospital in Thailand
Here's how a typical visit to Lanna Hospital went after I hurt my arm in a minor bike accident:
Arrived at the hospital and showed my Social Security card and ID (Passport or Thai driving license) to the check-in counter. Informed them of the reason for my visit—pain in my hand from wiping out on my bike after running over a stray cat that darted across the road. (Don't worry, the cat was fine).
Went up to the Social Security wing on the 5th floor, waited by the nurse station to get weighed and blood pressure taken. Answered the nurse's questions about my symptoms.
Waited to meet with the doctor. When called to see the doctor I repeated my unfortunate story about the cat. He examined my hand and decided we should get an x-ray to make sure no bones were broken.
Led by the nurse to the x-ray room. Spent about 1 minute in the x-ray room. They got images of my hand from a couple different angles.
Waited for the x-ray images to be processed. It maybe took 20 minutes or so.
Called back into the doctor's room. He told me nothing was broken. I was just in pain from tendonitis caused by the trauma, and it would take a few weeks to fully heal.
Sat in the waiting area for a few more minutes to wait for some prescription pain-killers.
Picked up my medication at the pharmacy counter when called.
Out the door and on my way without spending a single baht. Total time spent at the hospital was a little over an hour.
More on Thai Social Security hospitals
Sometimes the Social Security wing of the hospital can get quite busy and your entire visit will take much longer. Mondays and flu season are probably the busiest times. If you have to wait for the results of blood tests and so on that will also take much longer.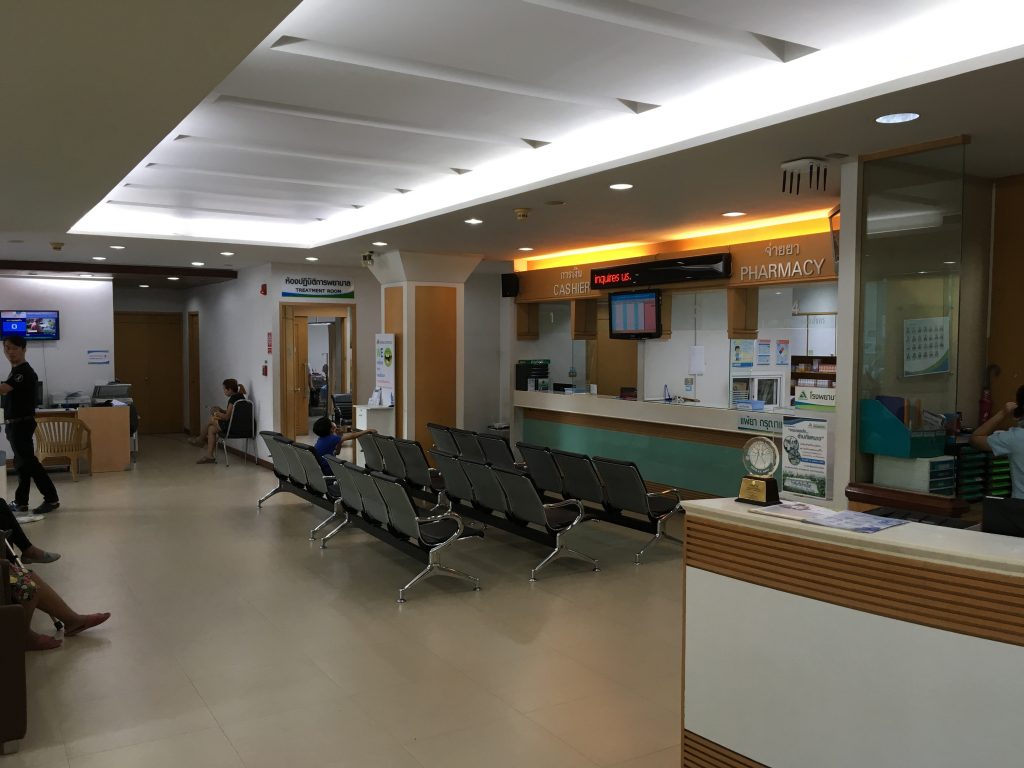 On different occasions I've had x-rays, blood tests, and an MRI all done at Lanna Hospital. The doctors and nurses have always been nice to me, and I felt like I was in good hands. Lanna Hospital is a good choice in Chiang Mai because they have many departments and can provide lots of treatments.
When you need to see a specialist not found in the Social Security wing, they'll send you over to the main part of the hospital. If you require a specific treatment that is only found at another hospital, you'll need a recommendation from your Social Security hospital for the treatment to be covered under the plan. For this reason it's best to choose a fairly large hospital as your main Social Security health provider.
For folks in Bangkok, one of the recommended Social Security hospitals you could choose is Kluaynamthai Hospital. It is conveniently located off Sukhumvit Road, just a short walk from the Phra Khanong BTS station. This makes it easy to access by those working from Iglu's Bangkok office.
Going without insurance (not recommended)
In the past I've paid entirely in cash for hospital visits in Thailand when I didn't have any insurance. The expense involved has always been quite reasonable. It is not unusual to consult with a doctor, have lab tests done, and pick up medication all for 1000-2000 Thai baht (US$28-56). In the US you could easily pay double or triple this amount just to talk to the doctor, and then you'd still probably have to take your prescription to a separate pharmacy to get your medication.
I don't really recommend going completely without health insurance though, just in case something terrible happens to you. If you needed a bunch of emergency services or surgery, you could quickly be looking at a bill for tens of thousands of baht or more.
Health insurance in Thailand for expats
If you don't qualify for Thailand's national healthcare, or you want coverage for something they don't cover such as dental or elective surgery, what are your options?
First I must say I think it's ridiculous that dental is treated as a separate (and often uncovered) area in healthcare plans. Are your teeth not part of your body? The Thai social security insurance plan only covers up to 900 baht per year of dental services. This amount basically covers the cost of a checkup and tooth cleaning. If the dentist finds any cavities that need to be filled, you'll have to pay around 500 baht out of your own pocket for each hole they fill.
Local private insurance providers
There are international health insurance providers that can be used in Thailand, but one distinct advantage of going with a local insurance company is that the hospital or clinic will be used to working with them. You just show your insurance card, and they'll know how to process you right away. Some of the common health insurance providers in Thailand are Aetna, AIA, AXA, Luma, and Pacific Cross.
Coverage exclusions
When looking at private insurance coverage it is important to pay attention to their exclusions. Many of these plans will not cover—or provide only minimal coverage—for:
Motorcycle accidents
Injury from dangerous sports
Alcohol related incidents
Sexually transmitted diseases (STDs)
Depression
Dental
Pre-existing conditions are another issue. Most insurance companies in Thailand exclude pre-existing conditions from their coverage, so please wait until after signing up before developing hyper tension or another chronic ailment.
Age
It's also important to find out how your age affects your coverage. Many health insurance companies in Thailand will drop you once you turn 80. If you're already 60 years old, they may not sign you up in the first place. Otherwise, if you sign up when younger you may see your premiums increase drastically as you age.
One nice aspect of Thailand's Social Security health insurance is that you can continue using it for the rest of your life even after you stop working. In order to do so, you will have to make arrangements to pay your monthly contribution on your own since you would no longer have an employer doing it for you.
Thailand Healthcare System and Social Security Insurance details
For those who will be employed in Thailand, and plan to rely mostly or entirely on Thailand's Social Security program for their health insurance needs, let's examine what is all covered under the plan:
Sickness cash benefit
You can receive a cash benefit for sick leave when receiving medical treatment under your doctor's orders. Under the Labour Protection Act, your employer is required to pay you regular wages for up to 30 days of sick leave. If you are required to take sick leave under a physician's orders beyond this, the SSO (Social Security Office) will pay a "cash benefit" as income replacement equal to 50% of your monthly wages. You are eligible to receive the cash benefit for up to 90 days per each time, but not more than 180 days total in a calendar year. An exception is made for 6 types of chronic diseases, in which case the insured person can get the cash benefit for up to 365 days per year.
The 6 chronic diseases defined by the SSO are:
Cancer
Chronic Renal Failure
Acquired Immune Deficiency Syndrome (AIDS)
Brain injury, or injury of spinal cord and vertebrae resulting in paralysis
Complications of bone fracture such as infection, deformity, plate and screw operations for treatment, and delay of healing
Other diseases or sicknesses that require continuous medical treatment for over 180 days
Hospital services
From your selected hospital you will receive medical diagnosis and treatment services free of charge. If your hospital is not able to provide service and needs to transfer you to another hospital, they will be responsible for the expenses incurred. If you decide you want to change to a different primary care contracted hospital, you can do so only once per year between the months of January to March.
There are 13 diseases or treatments that are not covered by the SSO:
Disease or injury due to drug addiction
Renal replacement therapy and chronic renal failure, except for the end stage of chronic renal failure in which the insured person can receive hemodialysis by Chronic Peritoneal Dialysis and by kidney transplant based on specific criteria, conditions, and rates set by the SSO.
Cosmetic procedures for beautification with no medical reason
Researching treatment
Infertility treatment
Tissue biopsy for organ transplant (except biopsy for bone marrow transplant not exceeding 7000 baht per person)
Non-medical indicated procedure
Organ transplant operation except for:

Bone marrow transplant
Cornea transplant
Heart, lung, liver, pancreas and organ transplant according to the specified criteria and conditions

Sex reassignment surgery
Artificial insemination
Recovering period care
Dental services except for tooth extraction, filling, removal of plaque, impacted tooth extraction, and denture removal
Eyeglasses
Dental services
Dental services covered by the SSO come with the following conditions and restrictions:
Tooth extraction, filling, removal of dental plaque and impacted tooth extraction can be reimbursed for up to 900 baht per calendar year.
Fitting of any acrylic-based overdentures can be reimbursed for up to 1500 baht within 5 years of the date of fitting. The reimbursed amount is limited to 1300 baht for the first 5 dentures.
At some participating dental clinics, you can simply show your Social Security card and the first 900 baht of your bill will be automatically covered without having to get reimbursed later. For other clinics, you'll need to request a claim.
When applying for dental service reimbursement, you are required to submit the following to the nearest Social Security Office:
Application Form for Compensation Payment in Case of Dental Service (สปส.2-16)
A medical certificate and a receipt from the dentist
A copy of your passport and Social Security Card
In case you would like to receive the reimbursed payment through your bank, you should prepare a copy of the first page of the account book showing the name of the account and account number for any of the following 9 banks:

Krung Thai Bank
Ayudhaya Bank
Bangkok Bank
Kasikorn Bank
Siam Commercial Bank
TMB Bank
Tanachart Bank
Islamic Bank of Thailand
CIMB Bank
As you an see, with a 900 THB limit on teeth cleaning and care for cavities, you'll likely need to pay out of pocket for anything other than the most basic dental services. But for all other routine treatments for illness and injury, Thailand's Social Security is a good option.
It's nice being able to see the doctor whenever you feel ill or get hurt without having to worry about whether or not you can afford it. Blood tests, x-rays, MRIs and many other diagnostic procedures are fully covered. There is no deductible or co-payment amount that you have to stress over. It's not perfect, but it's adequate for many people's needs.
Getting sick in Thailand is a bummer—just like anywhere else—but at least you'll be in good hands.