PLEASE NOTE: WE DO NOT PROVIDE THESE SERVICES, THESE POSTS ARE FOR INFORMATION ONLY
After moving to Thailand, finding a place to live is going to be one of your first priorities. Although convenient, using an agency is not always the best way to look for a house, apartment, or condo to rent. You can save money by hunting down accommodation in Thailand on your own to cut out the middleman. Word-of-mouth and following your own intuition are two of the best ways to find good housing in Chiang Mai, Bangkok, and other Thai cities.
It isn't necessary or even recommended to lock down long-term housing before you arrive in Thailand. I've seen people in online forums asking about booking an apartment for several months before they arrive, but I don't think that's the right way to go about it. There are plenty of available apartments around, and the only way you'll really know for sure if you like a place is to see it in person. Many times, the photos you see posted in a property listing are out-of-date, or else they take advantage of camera angle tricks to make an apartment look much better than it really is. The smartest approach is to book a room in a hotel or guesthouse for the first few days or first week. Then, while you're staying there you can do an in-person property hunt.
In many cases, you can find the perfect place to stay in Chiang Mai or Bangkok on your own with a little legwork once you do move to Thailand. If there is a particular part of town or neighborhood that you really like, you can just walk through and see if there are any apartment buildings or condos that look promising. Many times, buildings don't post any sign outside that rooms are available, so you just need to walk in and ask the staff on the ground floor if any units are available. If any are free, they will more than likely be glad to show you the rooms right then.
Take photos of the room with your phone so you can remember exactly how it looked. You can easily visit a half-dozen buildings or more in an afternoon, and photos will help you compare them to make the best final choice.
What to notice when comparing apartments in Thailand
When you look at various apartments or condos to rent in Thailand, here are a few things you want to pay attention to:
Monthly rent
Size of the unit
Furnishings
Rates charged for water and electricity
Communal WiFi
View
Other facilities in the building
Location
What accommodation can you expect in each price range?
2500-4000 THB (US$70-112) per month – For this price you can get a small studio apartment with an attached bathroom and small balcony. The room should come with minimal furnishings such as a bed, wardrobe, and vanity. You won't have a kitchen, and you may or may not have air-conditioning in this price range.
5000-10,000 THB (US$140-280) per month – In this range you can rent a nicer one-room apartment or condo. At the higher end of this range, you might get up to 50 square meters of space and the unit could come with additional furnishings such as a kitchen sink, refrigerator and cabinets (but no stove), table and chairs, sofa, TV, etc. Buildings in this category will often have a pool and exercise room.
11,000-20,000 THB (US$310-560) per month – In this range you're getting into fancier studio, 1 or 2 bedroom apartments. The unit should be fully furnished and could have a full kitchen. The building is probably in a good location and has a pool and fitness room. In Chiang Mai you can rent a whole house in this price range too. Size, furnishings, quality, and location of houses can really vary a lot.
21,000-35,000 THB (US$590-1000) per month – This is more than the average Thai person's entire monthly salary, so you can expect any accommodation in this price range to be quite fancy for a fully serviced apartment. Prices in Bangkok for this price range may be up to 50% higher than what the same quality condo would rent for in Chiang Mai, especially in the most popular areas. You can rent a large 3-4 bedroom, furnished house in Chiang Mai in this range.
What furnishings can you expect in a Thai apartment?
Even the simplest Thai apartments typically come furnished. The most basic ones will contain a bed, closet wardrobe, and vanity table with mirror. Sometimes you'll also get a nightstand table and a small desk and chair. The bathroom will contain a sink, toilet and shower, with an electric water heater for the shower but only cold water for the sink. In simple Thai bathrooms there is no division for the shower—the entire floor of your small bathroom will get wet when you take a shower.
Newer and more expensive buildings may have the shower area divided from the rest of the bathroom. You might also get a refrigerator, microwave, table and chairs, sofa, TV, kitchen sink, and cabinets. It is vary rare for an apartment priced 10,000 THB and under to have a full kitchen. Urban Thai people tend to dine out for the majority of their meals because it's convenient and economical to do so. Those in small apartments who want to cook their own food will make do with either an electric hot plate or a small gas stove kept on the balcony.
Rates for electricity and water in Thailand
The rates you are charged for electricity and water usage in Thailand depend on where you live. There are standard government rates, but the owner of a building can charge their tenants inflated rates for utilities. The government rate for electricity is around 5 THB per unit. Obviously if your landlord charges you 10 THB per unit you can see how your electricity bill will be doubled.
Tap water in Thailand shouldn't be used for drinking. Your building might have a regular drinking-water delivery service that they work with. If so, this is a very economical way to get bottled drinking water delivered to your door.
Communal WiFi in Thai apartments
Communal WiFi in Thai apartment buildings tends to be agonizingly slow. You might get lucky and find a building with WiFi that is usable enough for your home needs. But in most cases, you're much better off paying for a dedicated line. You'll need to check with the building to see if they're hooked up to allow private lines and which companies you can use. If you can get a Sinet fibre optic line connected, I would recommend going with them. For about 600 THB per month you'll get 25/8 Mbps, and they also allow you to pay month-by-month rather than forcing you to commit to a yearly contract. If you need more speed, they have various plans, with the fastest of 100/40 Mbps currently priced at 1200 THB.
Getting a room with a view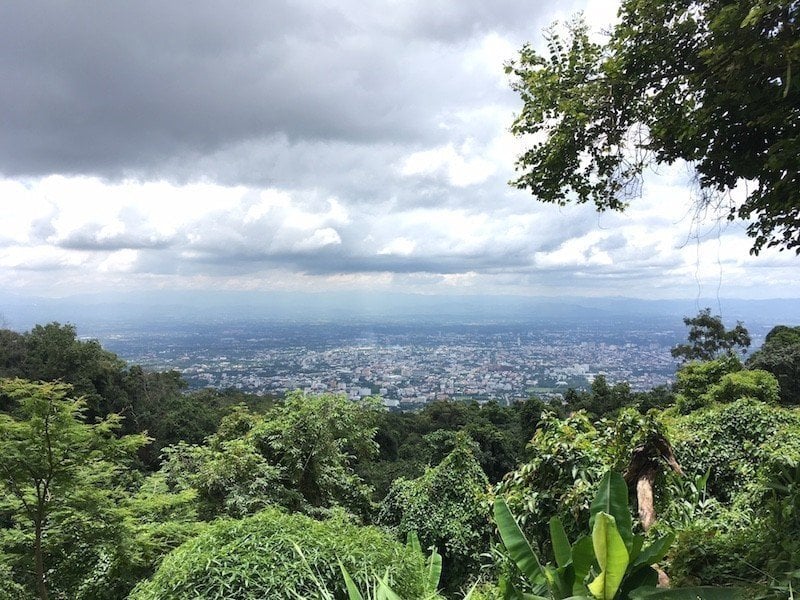 Make sure to check out the balcony area of any prospective apartment to see what kind of view you'll have. The most popular condos in Chiang Mai have views of the mountain to the west. But you should be careful because a western view also means possible direct exposure to harsh late-afternoon sunlight. If you find a place with a view you like, you'd be wise to take a quick survey of the buildings in the immediate vicinity. Be alert for anything resembling a construction site. Besides possible noise disturbance from the construction work, you might soon be looking at a new high-rise apartment to block your view.
Facilities in your Thai apartment or condo
When looking for accommodation in Thailand, it is worth paying attention to the entire building to see what additional facilities are available besides your actual rental unit. Is there a pool? Is there a fitness room? Are there laundry facilities? What condition are these in? If you're somebody who likes to workout regularly, a building with a good quality fitness room and pool might be worth paying a couple thousand baht per month extra. If you consider that you won't have to pay for a private gym membership—and will save time and money not traveling to and from the gym—the more expensive apartment with a nice fitness room will actually save you money.
Pick housing in a good location
Like anywhere else on earth, the price of accommodation in Thailand depends largely on the location. If you want to be more economical you can choose to live in a less desirable location. In Bangkok, you'll find cheaper apartments as you go further down sois and away from the main streets. Accommodation a stone's-throw from the BTS Skytrain is going to cost much more than something requiring a 15-20 minute walk. Before agreeing to move in to a new place it's a good idea to visit the area at night to make sure the noise from any nearby nightclubs or karaoke bars won't be excessive.
Is there a good selection of restaurants nearby? This will become important very quickly if your apartment doesn't have a kitchen. Easy access to good coffee shops, convenience stores, supermarkets, and fresh food markets are some other points to consider.
Helpful resources to finding accommodation in Thailand
Narrowing down your Chiang Mai accommodation hunt
If you don't trust your intuition to find the ideal accommodation entirely on your own—or you want to save time—there are many good resources you can find online. One of the most common questions I see asked in the Chiang Mai Digital Nomads Facebook group is regarding renting an apartment in Thailand for recommendations. I highly recommend joining that group if you're relocating to Chiang Mai, but it's probably not the best source for housing info. Those who have been in Chiang Mai a long time, who have the most knowledge about good apartments and locations, tend to ignore these posts because they've become so redundant in the group. You'll have a much better result going to some property specific groups to speed up finding house's, condo's or apartments in Chiang Mai:
In addition, the following groups are good for finding various items for sale, rent, or giveaway: property, furnishings, used vehicles, etc.
I'm not big on going through a property rental agency, but If you're dying to get a middleman involved in your accommodation hunt and rental agreement, the most highly recommended one in Chiang Mai is Chiang Mai Properties.
Housing resources for Bangkok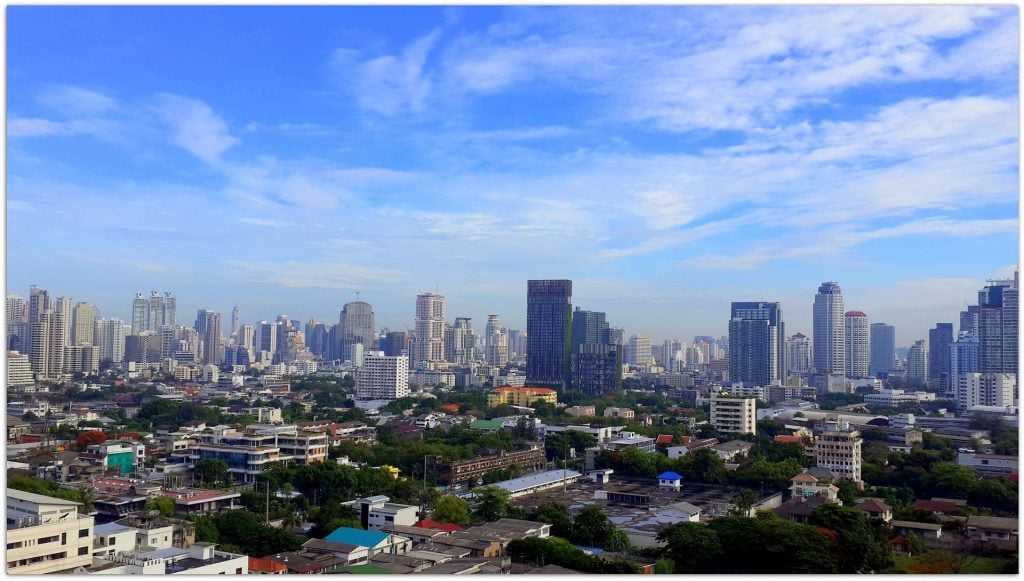 If you've got your heart set on moving to the Big Mango, here are some Facebook groups that could be useful for finding an apartment or condo for rent in Bangkok:
Here are a few groups useful when looking for used furnishings, appliances, musical instruments, etc. in Bangkok:
Housing resources for Phuket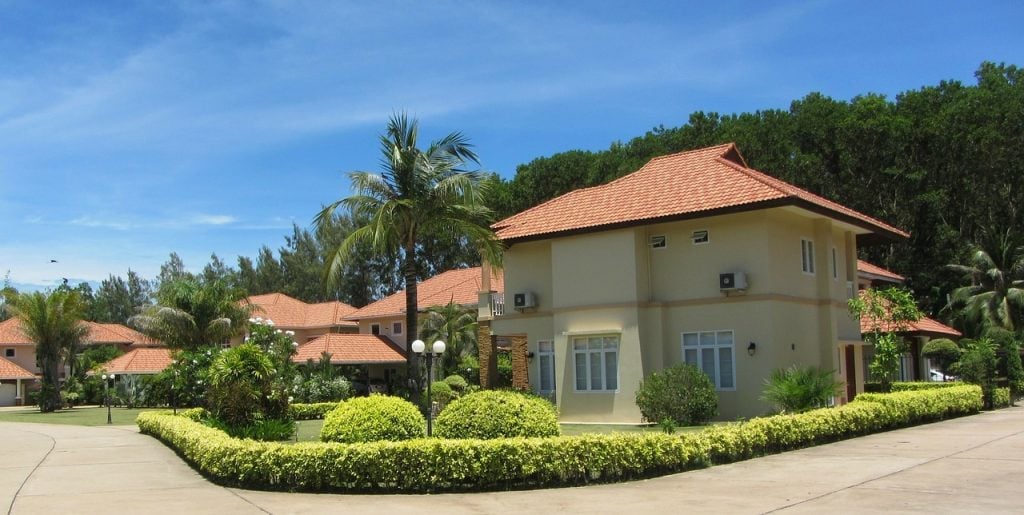 Housing listings in the "Pearl of the Andaman Sea" will be more focused on the luxury property market, but Facebook groups are still a good place to begin your search if you're looking for a house, apartment, or condo rental in Phuket:
Phuket has a number of Facebook groups in the Buy/Sell category as well, if you're looking for some items to fill out your new home. Some include property listings as well:
Rental agreements in Thailand
Rental contracts in Thailand can be more flexible than in some other countries. Some of the cheaper apartments will only require a 2 month minimum stay, while more expensive places might ask for either a 6-month or 12-month rental agreement. They might charge you more per month if you go with an agreement of less than 12 months.
The security deposit is generally equal to one month's rent. So you can typically move in after paying just the 1-month deposit and your first month's rental fee. As long as the apartment is still in good condition when you move out, you should get your security deposit returned in full. Check the property carefully before moving in, take photos, and note any existing damage so that you won't be charged for causing it when you move out.
Hopefully these resources will give you a good head start on finding your perfect accommodation in Thailand. Happy hunting!