So you've decided to move to Thailand, the date is quickly approaching, but now you're getting nervous thinking about all the little things you'll need to take care of once you get here. Settling in to a new environment always involves a bit of culture shock.
You've got many questions because you're headed into uncharted territory. Don't freak out—your first month after moving to Thailand will be an exciting time, and there is much to do. Let's take a look at what your first 30 days living in Thailand might look like, and how you can make it go as smooth as possible.
First night when arriving to Thailand
There's a good chance that you'll arrive in Thailand at night. Many of the international flights from Europe and the Americas arrive fairly late in the day. You're going to be exhausted from traveling and probably experiencing a bit of jet lag.
Have a hotel booked
To make things easy on yourself, you should have a hotel booked in advance. That way, you don't have to think about it, or waste any time searching for a room after you arrive. I would recommend that you book a hotel room for your first week in advance.
That will give you enough time to look for long-term accommodation without feeling too rushed. There are tons of resources online for booking hotel rooms.
I tend to book with Agoda.com while double checking the reviews at TripAdvisor of the same hotels to get perspective. I probably spend too much time researching hotel rooms, but I'm usually not too disappointed with where I end up.
Immigration
After being packed like a sardine for hours on a long-haul flight, you get to experience the joy of waiting in line for Immigration at the airport.
If several flights all arrive at the same time, the queue can get quite long, and there's not much you can do except to be patient.
Most of this article is going to be based off the assumption that you already have a non-immigrant visa that you obtained from the Thai embassy in your home country.
If this is the case, then make sure that the Immigration officer stamps you in correctly. Thailand sees a huge number of tourists that arrive in the country to stay for a short time with a visa-exempt entry.
If your Immigration officer was getting sleepy, he may have simply stamped you in with a visa-exempt entry based on your nationality without noticing that you had a visa.
With your initial arrival into the country on a non-immigrant type "B" visa, you should be given 3-months entry (which you will extend to a year later).
If you're a highly skilled and qualified professional, we can also facilitate your application of the Thailand SMART visa should you wish to be employed through this path.
Changing money
You'll want to get your hands on some local currency as soon as possible. The Thai currency is called the "baht", and it currently exchanges at a rate of approximately 35 baht per 1 US$. Bank notes come in denominations of 1000, 500, 100, 50, and 20.
There are also coins of 10, 5, 2, and 1 baht. In addition, there are smaller coins of 50 and 25 "satang", which are worth .50 and .25 baht respectively. The satang coins are almost completely useless and you'll soon come to hate them.
Conversely, the 1000 baht notes are sometimes equally as useless because small merchants and taxi drivers will often claim to not have enough change (many times they're telling the truth). If you ever have nothing but 1000 baht notes, you can always get small bills by buying something cheap at 7-Eleven.
You can exchange most major currencies for Thai baht at currency exchange counters in the airport, although you may not get the best rate there. If you are carrying a large amount of cash, I would exchange just a small amount at the airport—enough for your first day.
Exchange the bulk of your cash at a private exchange company where you'll get a better rate. There is consensus that Super Rich (with branches in Bangkok and Chiang Mai) gives the best rate.
By far the easiest way to get baht is to withdraw money at an ATM from your savings or checking account back home. ATMs in Thailand generally charge 200 baht for using foreign cards, though, so you'll want to take out the maximum allowed each time to reduce your number of total transactions.
Many ATMs will also show you the rate they're exchanging at (Dynamic Currency Conversion rate) and ask if you want to accept this rate. You should always press the button for "Continue Without Conversion" in this situation.
You'll then get the Visa or Mastercard exchange rate, which is always better. Thai Military Bank (TMB) ATMs should be avoided at all cost because they always give a horrible exchange rate.
Getting to your hotel
Ignore anyone who approaches you in the arrival lounge of the Bangkok airport asking if you need a taxi. You can generally avoid any hassle by catching a taxi at the official airport taxi queue or else get into town using the Airport Rail Link train.
When taking a taxi from the official airport taxi stand, you'll have to pay the driver an extra 50 baht surcharge on top of the fare shown by the meter.
On top of this, you'll need to pay in cash at the expressway toll booths if you choose to use the expressway. Your driver may assume you want to use it to save time, so if you don't want to use the expressway make sure to tell him or her.
The Airport Rail Link train line runs from 6am-midnight daily. You can transfer to the underground MRT line at Makkasan station or the elevated BTS at Phaya Thai station.
Depending on where you're going in Bangkok, the Airport Rail Link can be faster and cheaper than a taxi. If you have a lot of luggage, however, navigating the train stations will be more hassle than it's worth.
If you're flying directly into Chiang Mai you will see a couple airport taxi counters in the arrival lounge. It doesn't matter which one you choose as they both charge the same flat rates (currently 160 baht for the central city). You pay the entire fare to the driver when you reach your destination.
One cultural tip to point out here is that tipping is not a big thing in Thai culture. With taxi drivers especially, there is no need to tip your driver, and they won't be expecting a tip. It is, however, common to just round up to the nearest 10 baht when it's more practical.
For example, if the fare on the meter shows 157, then it's much easier to simply pay the driver 160 baht and let them keep the change. Also, once you're at your hotel, none of the hotel staff will expect a tip from you.
Which Bangkok airport?
One important thing to remember is that Bangkok has two international airports. The original airport is called Don Muang (DMK), and is located on the northern side of the city. It is now mostly the home of low-cost carriers running domestic flights, however some international flights on budget carriers still go through here.
The newer airport is called Suvarnabhumi (BKK), and it's located to the south-east of Bangkok. Suvarnabhumi handles the vast majority of international flights, and this is the airport that connects to the city with a rail link. They are, however, in the middle of extending the BTS line to connect Don Muang Airport to the rail network in the near future.
If you arrive in Bangkok on a flight from the Americas or Europe, you'll be landing at Suvarabhumi, and if you've got a budget carrier hop from Bangkok to Chiang Mai, it will leave from Don Muang. So always make sure you're going to the correct airport and leave yourself enough time to cross the city when purchasing international and domestic flights separately.
What to expect in your first week after moving to Thailand
Congratulations, you've made it through your first night in Thailand. Now let's have a look at what you can expect to go through in your first week.
If you're moving to Thailand to work with us at Iglu, we'll need to get scans of the important pages in your passport as soon as possible to begin the process to get your Thai work permit and visa extension.
If you're in Chiang Mai, you can simply come to the Iglu office and we'll scan it for you. We'll then begin the process to get approval of your position by the BOI (Board of Investment), which should take around 7-10 days.
Tip: If you've seldom traveled before moving to Thailand, don't be surprised if you experience a little 'culture shock' for the first couple of days. It's normal to feel this way. Before you know it, you'll start getting use to your surroundings and forming your new routines as you settle into your new way of life.
Self transportation
Two things that you'll want to get sorted out early in the first week are housing and transportation. If you're living in Bangkok, I would recommend not bothering to get a vehicle of your own.
Traffic in Bangkok is truly ridiculous, and your life will probably be much easier if you rely on a combination of public transportation and taxis. If you're living in Chiang Mai, however, I would highly recommend using a scooter or motorcycle to get around.
There are several advantages to using a motorbike vs a car:
Much cheaper to rent or purchase
Much cheaper to operate
Much easier to find parking
Quicker to get across town because you can sneak ahead of cars stuck in traffic
Conversely, there are basically only 4 areas in which a motorbike loses out to driving a car:
Exposure to sun
Exposure to rain
Exposure to exhaust pollution
More dangerous in the event of an accident
Thai people often deal with the first point above by wearing a jacket while driving a motorbike. Even when it's 35 degrees Celsius (95 F), many Thais will prefer to wear a jacket to keep direct sunlight off their arms.
To protect yourself from the rain, you'll want to buy a plastic rain poncho to keep under the seat. You can buy cheap ones at nearly any 7-Eleven, while higher quality rain ponchos can be found in various shops and markets if you look around.
For moderate rain, you can be perfectly comfortable driving around wearing a poncho. When there is a really heavy downpour, however, you'll probably want to just wait it out somewhere instead.
When it rains in Thailand it usually drops a lot of water in a short amount of time and then tapers off quite quickly. So chances are you can pull over and seek shelter under a tree or storefront awning for 10-20 minutes and then be on your way again without getting soaked.
I would recommend that you rent a bike initially before buying one. There are two good reasons to do so. First, by renting you can test out driving a certain type of bike to see how you like it. Then you'll know if it's something that you'd want to purchase.
On the practical side, you'll need a certificate of residence (or a work permit) to purchase a bike and have it registered in your name. It will be much easier to get a certificate of residence once you've decided on housing and signed a rental agreement.
So I would maybe book a hotel for your first week, and then rent a bike to drive around and look for an apartment. Once you've found a place and signed a rental agreement, then you can go to Immigration and get a certificate of residence.
In addition to your rental agreement, you'll need your passport and a couple visa photos. I would get two residence certificates right away because you'll need one to register a vehicle and another one to get a Thai driving license (or you can just wait until you get your work permit, because it also serves as a proof of address).
There are tons of bike rental shops in Chiang Mai, but you don't want to just go anywhere. Most motorbike rental companies will require you to leave your passport at the shop as a kind of security against you crashing the bike somewhere and running away.
This works out OK for many tourists, but it's not going to work for you because you'll need your passport to get your residence certificates, work permit, visa extension, etc. Instead you'll want to go with a shop that will accept a cash security deposit. Here are some bike rental shops that Iglu members have recommended:
Public transportation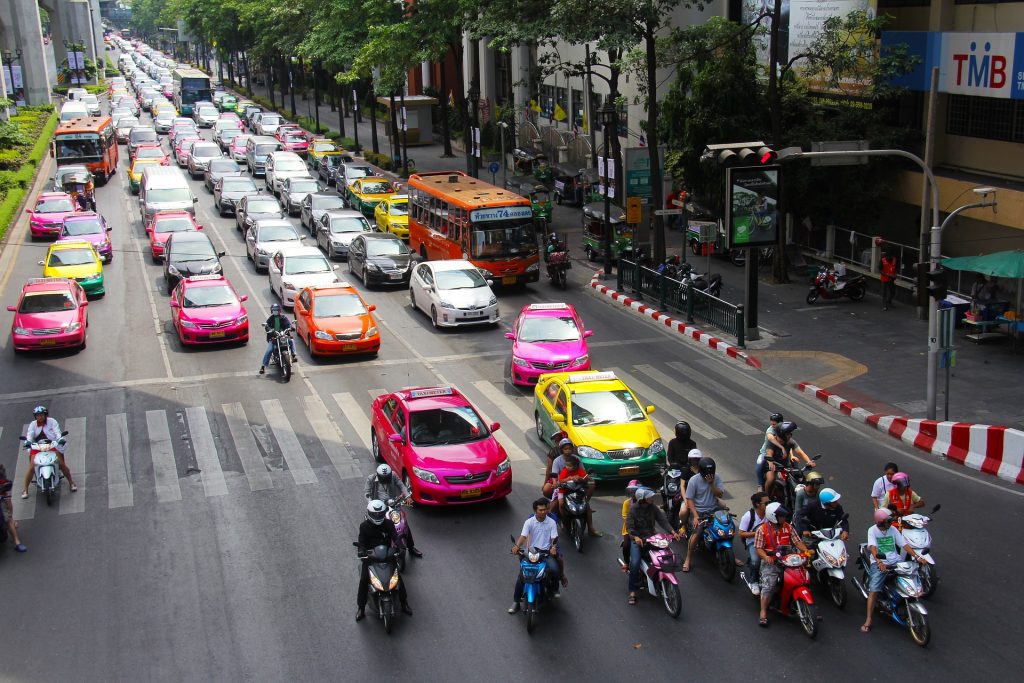 Chiang Mai has never really had a good public transportation system. There are supposedly some buses that run on actual routes now, but it is anybody's guess when or if they are actually going to show up. Most people without their own wheels use the "red trucks" (rot-daeng), which are red pick-up trucks with two covered bench seats in back.
This style of truck is called song-taew ("two rows") in Thai because of the double bench seats. Red trucks are always driving around the city, operating like shared-ride taxis. You can flag one down using a "come here" motion and tell the driver where you want to go. He'll either say OK, or wave you off because it's out of his way.
It's easiest to use red trucks when stating a major landmark as your destination—they're not likely to drive down a small soi ("side street") to take you to an exact address. For locations in the central city the flat fare should be 20 baht.
Don't ask the driver "how much", just hand them 20 baht when you get out. If you're going a little further out, like to the airport or bus station, then you'll have to haggle before jumping aboard.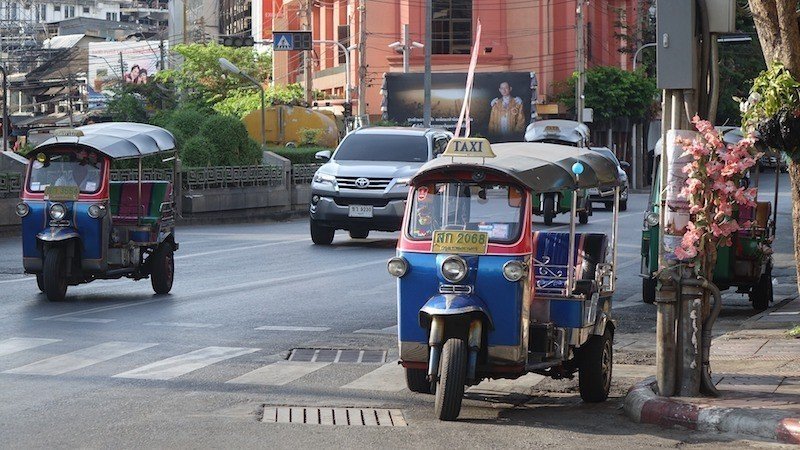 The iconic 3-wheeled tuk-tuk is another option that you can readily find in Chiang Mai, Bangkok, and other Thai cities. When taking a tuk-tuk you've always got to agree on the price with the driver before you set off.
Popular freelance taxi apps Uber and Grab are now both available in Chiang Mai and Bangkok. From our experiences in Chaing Mai, Uber can be a very good value.
Regular taxis in Bangkok are notorious for either refusing to use the meter or even flat out refusing to accept passengers if it's not the part of town the driver feels like going to. Hopefully with competition from taxi apps the regular cabbies will start to get their act together.
Bangkok has an extensive bus system that can be quite cheap and useful if you're not in a big hurry. Sometimes taking a river or canal ferry can greatly cut down on your travel time as they zoom along the water and don't have to fight through traffic.
There are also several skytrain and subway lines in operation, with plans to expand the network further. Trains are almost always the fastest way to get somewhere if your destination is near one of the stations. The Transit Bangkok website is a good reference for all of your public transportation options in Bangkok.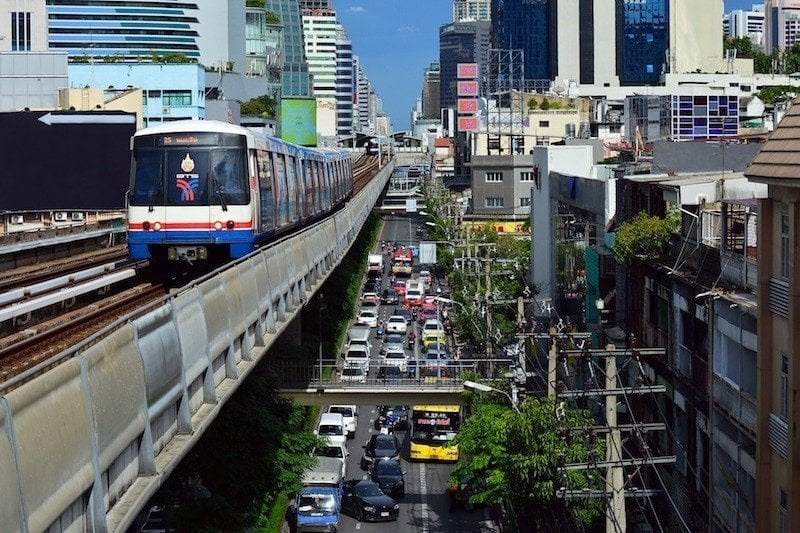 Finding accommodation
Once you get your transportation sorted out, next you'll want to begin your hunt for a apartment, condo, or house to rent. We have another post that deals with this in greater detail, but I'll restate some of the basic points here too. Housing in Thailand is quite affordable.
Depending on your budget and requirements, you should have no problem finding an apartment, condo, or even a full house to rent for between 5000-20,000 baht per month (US$140-560). If you're single, a furnished studio apartment or condo priced around 10,000 baht per month (US$280) should be more than adequate.
The security deposit is usually only 1-2 months rent, so your move-in costs are not going to be too large. A furnished condo might even have many of the everyday items that you'll need to use such as dishes, hot water kettle, microwave, fridge, TV, reading lamps, etc. So the amount of new stuff you need to purchase to get settled in might be minimal.
I recommend to go around on your own to explore apartments rather than get an agency involved as a middleman. You can just walk right into any buildings that look promising and ask if they have any vacant units. Another good source of info when looking for housing in Thailand is Facebook groups.
Ask to join some of the following groups and you'll find many up-to-date properties listed for rent. This is a good strategy to narrow down your apartment hunt and save time.
Properties in Chiang Mai:
Properties in Bangkok:
One point to add is that the details of your rental agreement can be open for negotiation. Obviously this depends on the particular landlord, but if you want to make an adjustment to the terms of the lease, it doesn't hurt to ask.
If you want to buy a bunch of household items for your new pad all in one place, the most convenient thing to do would be to go to one of the large superstores such as Big C or Tesco-Lotus.
There you can get all the bedding, towels, dishes, and cleaning supplies you want. Many of these products can also be found for cheaper at mom-and-pop shops or around the Worrorot Market area if in Chiang Mai.
It is certainly going to be less of a hassle, though, to wheel a shopping cart around one of the mega stores and fill up on all the necessities at once.
Second week
By your second week after moving to Thailand, you should have found a place to stay and be all moved in. Now that you have an address to call your own, there are some other basic tasks to take care of:
Internet
Mobile phone service
Resident certificates
Internet
The apartment or condo that you moved into may very likely have it's own internet, but there is a good chance that the building's shared internet is going to be painfully slow.
For under 500 baht per month you can get a dedicated internet connection, though your choice of provider may be limited to what your building is currently wired up for.
The major internet providers all have service centers set up in the large shopping malls, as do all the mobile phone companies, so you can take care of both with one trip to the mall. I've been pretty happy with the service from Sinet, which currently costs me 599 baht per month for the 500/500 Mbps plan.
If you need something really speedy, another good choice is 3BB, which has a plan offering 1000/500 Mbps for 1000 baht. They are currently one of the most reliable internet providers.

Mobile phone service
You get to choose from a grand total of three companies for your mobile phone service in Thailand:
You can look at their websites to compare their current plans and see which looks the best to you. You have a choice of prepaid and postpaid plans. I prefer to use a prepaid plan so there's never any surprises. Since I don't make many calls it's also more economical for me.
I can also easily top up my account from any ATM of my local bank. You may prefer a postpaid plan if you use data with your phone a lot. In any case, you can find service centers for all of the mobile companies in any shopping mall.
Be sure to bring your passport because Thai law now requires mobile phone companies to register your ID for both prepaid and postpaid SIM cards.
Residence certificates
If you plan to both purchase a vehicle and get a Thai driving license, you'll need a residence certificate for each, so it would make sense for you to get two residence certificates right away.
The requirements for and process of applying for a residence certificate in Chiang Mai continually changes. At the current time, you can apply for one at the Chiang Mai Immigration "One Stop Service" office on the 2nd floor of Building A in Promenada Mall between 9-11am Monday-Friday.
Don't go to the main Immigration office on the ground floor. You won't be able to get it there. The certificate is now free (used to be 500 baht) but now takes 2 weeks (used to be next day). You'll be required to provide the following:
Photocopy of rental agreement, blue/yellow house book, or letter from landlord
Photocopy of TM30 form signed by your landlord
Two passport photos
Passport
Photocopy of these passport pages: main photo page, visa page, TM6 departure card
Completed Residence Certificate application form
Blank copies of the application form are available at the office. If you don't have the photos or photocopies needed, you can get them done and the Photo and Copy office on the ground floor next to the main Immigration One Stop Service office.

Optionally, you could wait until your work permit is ready to avoid the need to get residence certificates. Your work permit lists your address near the back, and serves as an acceptable proof of address for both registering a vehicle and acquiring a Thai driving license.
New Iglu employees should have your position approved by the BOI by the end of the second week. We'll then begin the process of getting your work permit.
Third week
If you're in Bangkok, you can get your work permit and visa extension all done on the same day at the one-stop service center. It is located on the 18th floor of the Chamchuri Square Building on Phayathai Road. The easiest way to get there is by taking the MRT subway line and exiting at Sam Yan station.

In Chiang Mai, the work permit is applied for at the City Hall office in a large government complex just off the 2nd Ring Road on the far north side of the city.

Once your work permit is completed, then you have to take this to the Immigration office to get your non-Immigrant visa extended to one year. At the same time that you extend your visa, you can also get a re-entry permit if you plan to travel outside Thailand at all in the coming year.
The whole process should be completed within 2 weeks, so you should have your work permit and 1-year visa ready by the end of your first month in Thailand.
Fourth week
You will soon find out that your work permit is a very useful document. Around the fourth week after moving to Thailand you should get your work permit completed. You can now use this to open a savings account at pretty much any local bank.
Most banks in Thailand will give you difficulty—or just flat out refuse—to open an account without a work permit. But now that you've got one in hand, you can open a local account with online banking and a ATM/debit card that runs on either the Visa or Mastercard systems depending on which bank you choose.
Check out our detailed post on opening a bank account in Thailand for more information on your options.
The other really nice thing about a work permit is that it can be used for an official proof of address. Regardless of whether you applied for residence certificates from the Immigration police office earlier in the month or waited for your work permit—in either case you should have your proof of address ready by now.
The two main things you can do with this are register a vehicle in your name and apply for a driving license.
Buying a vehicle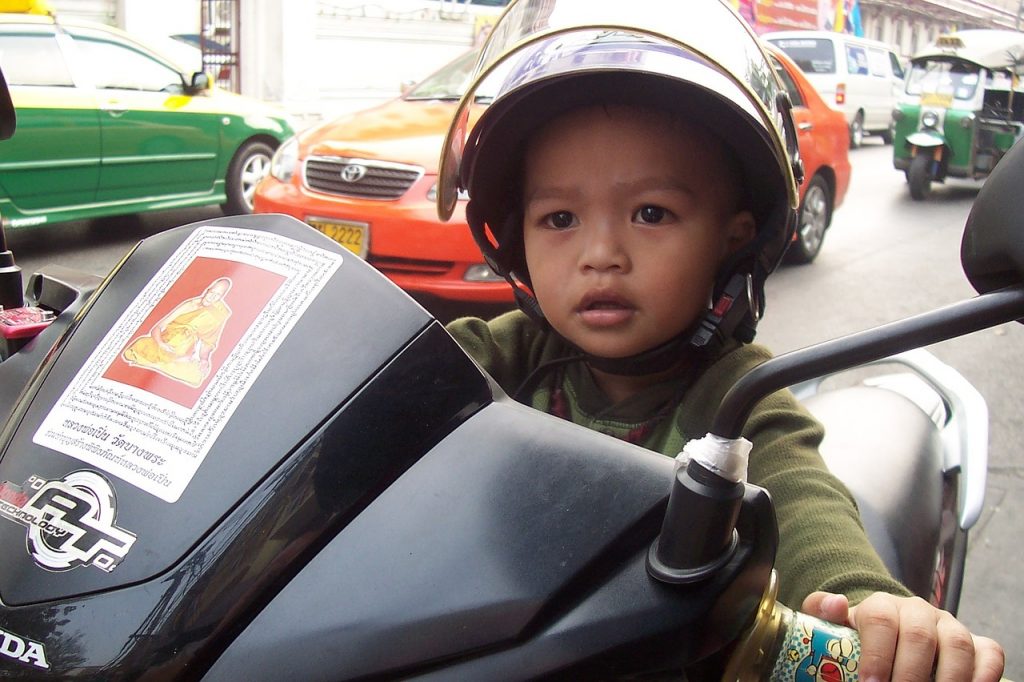 If you're buying a motorcycle from a dealership, they should be able to take care of the paperwork for registering the vehicle. Make sure you take your passport and work permit with you when you go vehicle shopping.
If buying a used motorbike, you'll need to visit the visit the Land Transport Office #1 (on Lamphun Road across from Holiday Inn in Chiang Mai) to transfer the title. For cars, the title transfer is done at the larger Land Transport Office on Hang Dong Road, where you'll also go to get a driving license.

The Land Trasport Office on Lamphun Road is also where you can go to pay your yearly vehicle tax. Every couple of years when paying the tax, they also require you to have the vehicle inspected first.
The inspection is very simple and takes just a few minutes. You're also required to have collision insurance, and there is a small office set up right in front of the Land Transport Office where this can be purchased. It is very basic insurance, and far cheaper than you'd ever expect any insurance to cost.
One location I can recommend for purchasing a new motorbike in Chiang Mai is Nat Motor on Huay Kaew Road. They're a Honda motorcycle dealership and service center. Honda bikes are probably the most popular in Thailand due to their reliability.
I take mine to Nat Motor for regular oil changes and maintenance. I've found them to always do a thorough job. Aside from changing the occasional air filter or lightbulb, my bike has never needed much work.
If you're interested in buying a used vehicle, you can likely get a good deal buying one off someone who is moving away from Thailand, and thus in more of a hurry to sell. A good place to look would be in some Facebook groups such as Chiang Mai Motorcycle Buy and Sell and Chiang Mai, Buy, Sell, Swap.
Getting a Thai driving license
The other major item of business on your agenda should be to get a Thai driving license as soon as possible. It is acceptable to use an international driving permit for the first 60 days upon first moving to Thailand, but beyond that you are supposed to be using a Thai driving license.
Traffic police are constantly setting up road blocks to check people for proper licenses, so you'll want to get one as soon as possible to avoid any hassles. Please read our detailed post on how to get a Thai driving license for more complete information, but I'll go over the basics here as well.
You will need separate licenses each for driving cars and motorcycles in Thailand. If you have a valid license from your home country, then you can acquire a Thai license very easily without having to take any exams aside from some simple vision and reaction tests.
If your home country license is only valid for automobiles, however, then you'll have to take the theoretical and practical exams in order to get a Thai motorcycle driving license.
In Chiang Mai, you apply for a license at the Land Transportation Office on Hang Dong Road.

You'll need to go there early in the morning with your passport, proof of address (work permit or residence certificate), and health certificate from a hospital or clinic.
If you need to take the exams, then you'll likely be made to sit through a long Thai language lecture on the rules of the road. During this time you can study quietly for the theoretical exam that you'll take in the afternoon.
This exam is taken on a computer, and there is an English language version of the test available, though the translations and grammar are sometimes off.
f you score at least 45 of 50 correct, then you pass and can come back the next day to take the driving test, for which you must provide your own vehicle. Strangely, they don't seem to be bothered by the irony of you driving your own vehicle without a license to the testing location.
Beyond the first month after moving to Thailand
After the first month you move to Thailand, you should be starting to feel comfortable in your new home. By now you should have an apartment or house, your own transportation, a Thai driving license, work permit, 1-year visa, and local bank account.
The only official document that you're really missing out on is your hospital card for Social Security health insurance. Social Security becomes available after you've been employed for 4 months.
You will be given a list of local hospitals, and you choose one to be your primary care provider where you can get free treatment. For more info on the program, see our post on what to do when getting sick in Thailand.
Adjusting to living in Thailand
Moving to a new home always involves an adjustment period, and when you come to work and live in Thailand it will be no different. In particular, the unique elements of Thailand's climate, food, language, and culture may be quite different than what you're used to.
Climate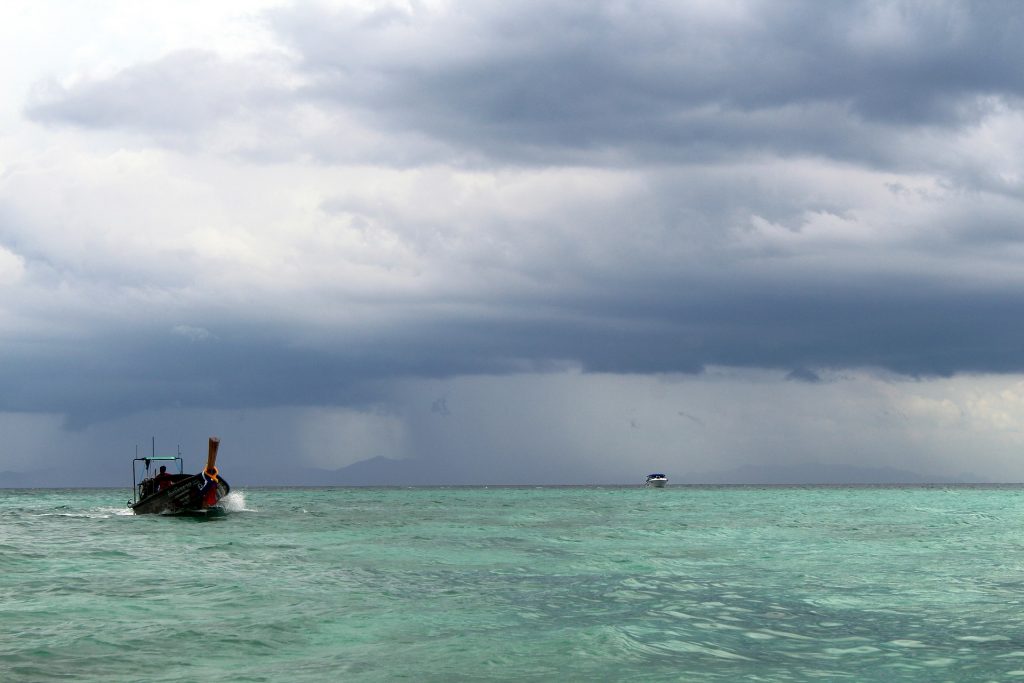 Thailand is a tropical country that is strongly affected by the seasonal monsoon. The prevailing winds shift from wet, southern winds in the northern hemisphere's summer months to dry, northern winds during the winter months. This results in three seasons for the majority of the country.
From June to October there is a hot and humid rainy season. Starting in November, the winds change and it becomes dry and cooler. During the cool season it can still get quite warm during the daytime, and it's usually very sunny.
But it cools off significantly at night, especially in Chiang Mai and other parts of the north. Around the beginning of March it starts to get much warmer, and a dry, hot season continues through April and May.
The hottest month of the year is April, when it can get above 40 degrees Celsius (104 Fahrenheit). Then, usually in June, the monsoon winds return, bringing rain, and cooling things down ever slightly.
Most of the time Thailand is quite hot, and your body will need to adjust to this. The most important thing, of course, is to stay hydrated by drinking plenty of water.
You'll also probably sweat more than you're used to, and so you'll want to get in the habit of bathing more frequently to stay feeling fresh—a cool shower on a hot afternoon can work wonders.
The sun is stronger than you may be used to as well, and you'll quickly learn the value of anything that provides shade. The beaches most popular with Thai tourists are completely filled with umbrellas because Thais think it's crazy to sit out in the sun.
The flip side of the hot climate is that indoor air conditioning is almost just as extreme. Shopping malls, cinemas, long-distance buses, and many cafes are often downright chilly.
So depending on how sensitive you are to this, you may get in the habit of carrying around a light jacket or sweatshirt.
Food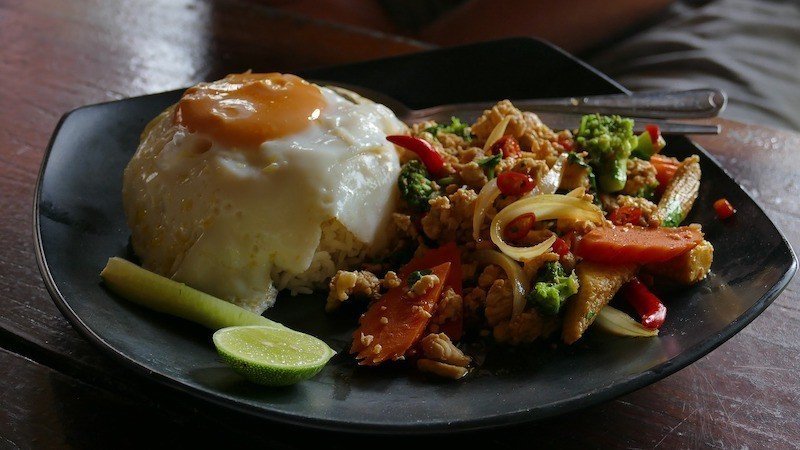 Thai food is famous throughout the world and notorious for being very spicy, but it's all centered around rice as the main staple. In fact, the Thai phrase for "eating a meal" literally means "eating rice." Thai cuisine actually features a wide variety of flavors and cooking styles.
Each region of the country has it's own unique dishes to offer. To quickly get up to speed on all the possible Thai foods you can sample here, I recommend downloading the free AppeThai app.
Restaurants in Thailand can be roughly divided into 3 categories: proper sit-down restaurants, quick-food restaurants, and street carts. A proper sit-down restaurant is where you might go for dinner with friends.
You would typically order a number of dishes to share that everyone eats with rice. This type of place would typically cost 100—300 baht per person not including drinks. Quick-food restaurants come in two basic styles: those cooking food made-to-order, and those with a selection of precooked dishes that you choose from.
Some restaurants also do both. This is the kind of place you'd typically go to eat lunch. You'd usually order a single-plate main dish served with rice at a made-to-order restaurant. Or if it's a restaurant with pre-cooked dishes, you'd choose two to go over rice.
Due to the low cost if living in Thailand, a simple lunch at one of these places should be around 30-40 baht. Food carts will often set up little tables and plastic stools for their customers. A wide variety of foods are available at food carts, but the majority tend to be serving noodles or made-to-order single-plate dishes. Food carts also run around 30-40 baht for most dishes.
When dining out, it's typical to order an array of dishes: one soup, one curry, one vegetable dish, a spicy salad, a fish item, etc. In Thai society it is more common for one person to pick up the tab for the whole group rather than splitting the bill.
This is especially true when one person in the party is clearly the one with the highest status. They reinforce their status by treating the rest of the group to dinner. So if you're invited out to diner by Thai friends, don't be surprised if they refuse to let you pay, though offering to pay will be appreciated.
There is no fixed rule for tipping in restaurants in Thailand. Serving staff are not dependent on tips for their wages unlike in the US, so nobody feels guilty about leaving a small tip or not leaving a tip at all—it's really not a native element of their culture.
Many people simply leave the coins that come back with the change after paying the bill. Others, who feel like being generous, may leave one or two 20 baht notes. You'll certainly never see any Thais break out a tip calculator app to find out what 15% of the bill is.
Look carefully at the bill when you get it. Many restaurants sneak in a 10% service charge. My policy is to leave no tip at any restaurant that adds their own service charge. At quick-food restaurants there's no need to leave any tip, and none will be expected.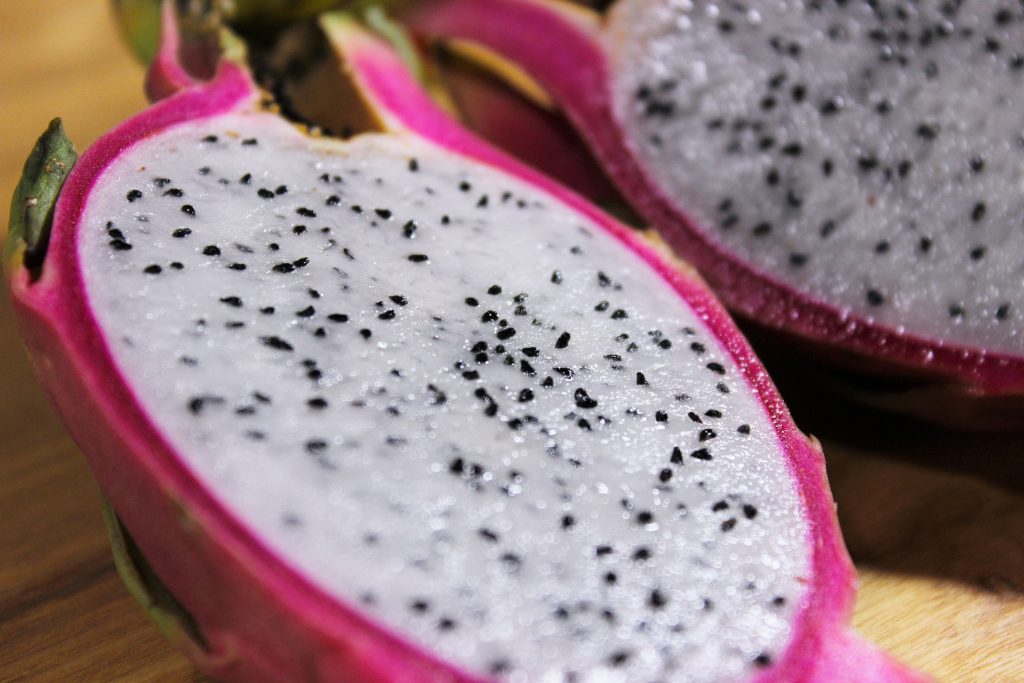 One of the best things about living in Thailand is the huge variety of fresh fruit that's always available. You probably know mango, papaya, and guava. But have you ever tried longan, lychee, mangosteen, durian, jackfruit, rose apple, custard apple, lady finger bananas, or dragon fruit?
After many years, I'm still discovering new fruits that I've never seen before. Chances are there will be a fresh food market not far from your new home. Find out where the nearest one is and stock up on cheap, tropical fruit by the kilogram.
Thai language
Thai is a tonal language like Chinese or Vietnamese and is written using a bunch of squiggly letters that evolved from a South Indian script. The vocabulary is largely based on words from Sanskrit and Khmer, with a fair amount of loanwords from Chinese, English, and other languages thrown in.
Thai grammar is quite simple to master because there is absolutely no declension of verbs, nouns, or adjectives to remember. Words always stay the same—it's just the way they get added to a sentence that affects the meaning.
You can get by in Thailand without knowing any of the Thai language—millions of tourists do this every year. But if you really want to enjoy your time in the country and have a more enriching experience, it would be a good idea to start learning Thai as soon as you can.
Because proper pronunciation is so important, there is a big limitation to how much you can learn Thai from books or even videos alone. A video can't tell you that your tone is wrong when you repeat some word, but a human teacher can.
That's why I recommend taking lessons from a teacher—either in person or via Skype—for anyone serious about learning to speak Thai. Iglu employees in Chiang Mai can join free weekly Thai classes at our office. You can find out more about these lessons and find other Thai learning resources in our detailed post about learning the Thai language.
Thai culture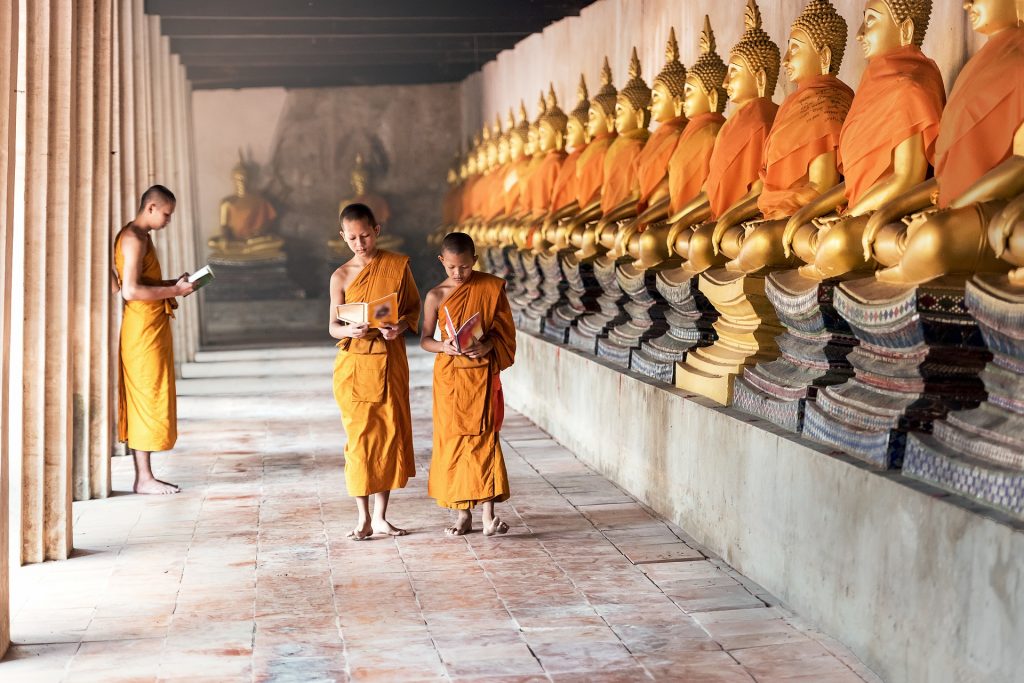 Thai culture is very strongly rooted in Buddhism, family ties, and respect for elders. In some respects, society is much more conservative than most short time visitors realize.
The average tourist sees many beach bars and might get the wrong impression that the whole country is one big party zone. They may not see that Thailand holds on strongly to many traditions. It's one of the few countries in the world where university students wear uniforms.
There's a special day of the year set aside for "bowing to teachers". And the royal family isn't subjected to tabloid coverage like in Britain. In fact, insulting the monarchy is illegal—so be careful what you say, or even what you share on social media.
Feet and shoes are seen as dirty (because they get dirty walking around outside). So always take your shoes off before entering a home or temple, and never sit with your feet pointing up at someone or pointing at a Buddha image.
Keeping "face" is a big concept in Thai social interactions. Losing your temper is never a good idea, as is giving criticism of one individual in front of others. Don't be surprised if you find Thais telling you what they think you want to hear instead of giving their actual opinion when asked a question.
"Thai time" is another discovery most foreigners make sooner or later. Punctuality is not highly valued like it is in some other countries such as Japan. Thais are generally easy-going and don't think much of showing up 15 minutes late for anything that isn't official business.
With all the new cultural nuances, it'll take a little while to get use to life in Thailand, but it's worth it!
Safety
Thailand is, overall, a very safe country to live in. You can go about life without fear of muggers or pick-pockets. The one area where safety should be a concern, however, is when you're on the road.
Thailand has the second highest rate of traffic fatalities in the world behind the Dominican Republic, and it shouldn't take much time for you to realize why. Drivers in Thailand can be extremely inconsiderate, selfish, irresponsible, and foolhardy with their behavior on the road.
When driving a motorcycle, always wear a helmet and exercise caution. The 3 main causes of accidents that you need to look out for are:
Drivers running red lights
Drivers pulling out from side streets without checking for oncoming traffic
Drivers cutting across multiple lanes at once instead of merging and changing lanes
Never assume that it's safe to drive through an intersection just because you have a green light. You need to check to make sure nobody is trying to drive through a red light.
Always be aware of the possibility that drivers emerging from side streets will not turn their head to see you and will not stop.
When a driver enters traffic ahead of you, don't assume they will stay in their lane—be prepared to slow down if they suddenly jump into your lane.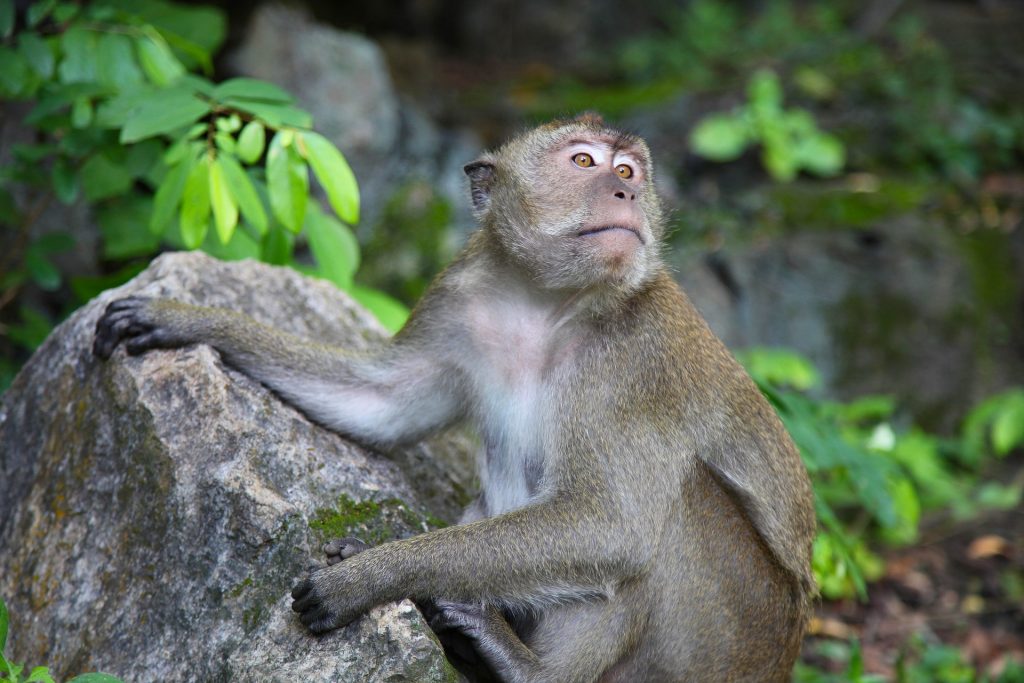 Another safety tip that you should consider is to be cautious around wild animals. Certain islands and temple areas are famous for large monkey populations.
Monkeys may look cute, but they can become very aggressive and potentially carry diseases. It goes without saying that feeding monkeys is asking for trouble.
Tiger and elephant attractions are also potentially dangerous. These are wild animals that could snap and return to instinctual behavior at any time. Tigers may bite less than 1 in 1000 of the tourists who pose for photos with them, but incidents DO happen.
Elephants also should not be ridden. It is cruel to the elephant, and when one is angry they can throw a person around like a rag doll. While uncommon, Thai elephants have turned on their handlers more than once in recent years.
Entertainment and social life
Thailand is a renowned tourist destination, so there are a lot of entertainment options that go hand in hand with this. It's very convenient to take trips to the beach. There are plenty of night markets and bars that largely cater to tourists, but are enjoyed equally well by expats.
Going to the cinema is very popular and more affordable here than in a lot of other countries. A regular movie ticket is around 150 baht, or just over US$4. Air conditioning in Thai movie theaters is almost always super chilly, so bring some long sleeves.
The audience is required to stand when the Royal Anthem is played before each showing. At Thai cinemas, you always choose your seats at the time you purchase tickets. The biggest complaint about Thai theaters is probably the lack of variety.
It's not unusual for the current hit movie to be showing on 8 of the 12 available screens. Still, most of the big Hollywood blockbusters are shown—just make sure you choose the showing with the original language and not one dubbed in Thai.
You'll find that hanging out at the mall is a popular weekend activity for Thai people. Shopping malls are air conditioned, there's lots of stuff to look at, and it's where many popular restaurants are located.
Foreigners sometimes find Thai style nightclubs to be a little boring because there is not much mingling. Groups of friends arrive together and huddle around a table to share a bottle of whiskey and mixers. Much to the horror of many foreigners, Thai people also tend to put ice cubes in their beer.
It can be quite daunting moving to Thailand, away from your creature comforts, friends and family. However, there's no shortage of opportunities to meet new people. Facebook groups are a good place to start.
In Chiang Mai, you'll find many people posting in the Chiang Mai Digital Nomads and the Chiang Mai – What, Where, When groups. There are also dozens of Meetup groups in Chiang Mai centered around a wide variety of interests and hobbies. The Meetup groups for Bangkok are even more numerous.
Hopefully you've got a better idea now of what you can expect with a potential move to Thailand in mind. Good luck with beginning the next exciting chapter to your life.