Thailand is known for many wonderful qualities—an inviting culture, happy people, a relaxed vibe, mouth-watering food, inspired fashion and perhaps best of all, being cheap! But that doesn't mean you won't spend money here.
In fact, because core necessities are so affordable while also on average very high-quality, restraint is a skill many of us at Iglu had to learn the hard way after a few months in wallet-emptying wonderment.
But regardless of your budgetary prowess, spend-savviness or frugality, Thai Baht in cash is a key asset. For many of us westerners used to tapping our phones or, at worst, handing over a physical card to pay for even the smallest expenses, lack of total credit card ubiquity can be a bit of a shock.
They're still accepted—just not universally—but when you factor in processing and foreign transaction fees as well as street vendor haggling, paying in cash is often the best way to save money.
The good news? It's a piece of cake to pull some out of one of the countless ATMs thoroughly blanketing the country.
The less good news? You've got to actually transfer money into the local currency first, or pay unattractive exchange fees each time.
So how to transfer money to Thailand for that cash pickup? Worry not; we've got your back. Read on and you'll be sending money like an expat in no time.
What we'll cover
What to know about spending and sending money in Thailand

The best ways to send money to Thailand

How different services charge more or less via fees and exchange rates

Sending money back out of Thailand
Key Facts About Money in Thailand
1. Don't Rely on Your Credit Card Alone
Your credit or debit card will be accepted at high-end retail establishments, nearly all hotels, and most upscale/chain restaurants. In fact, nowadays you could probably chart a course through Thailand using apps and services that allowed you to forego cash altogether.
But you'd be missing out.
Why? Because the true wonders of Thailand aren't kept behind floor-to-ceiling window displays, perched on ritzy rooftops or arrived at by ordering an on-demand luxury car.
Food
The best food is on the streets around every corner and cheaper than you'd ever imagine, but you can bet the mom and pop stall where it's cooked and served isn't set up with a Square reader.
transport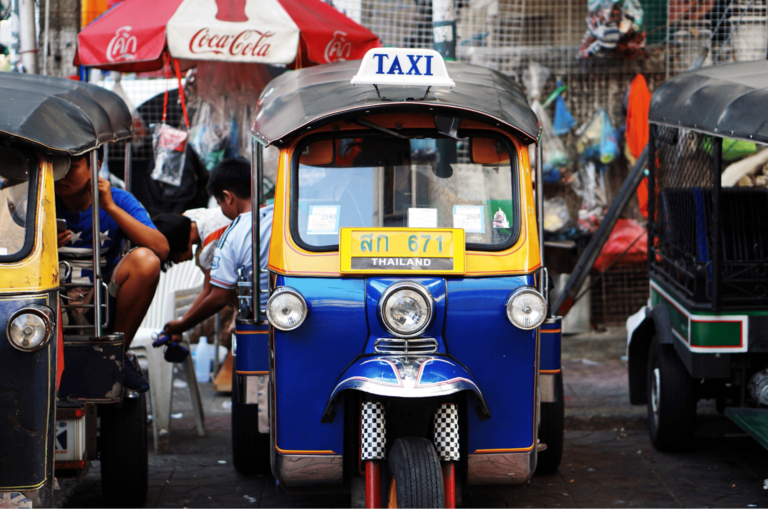 You can order a Grab (Thailand's Uber or Lyft) to and from pretty much anywhere, but when it's raining or rush hour your best bet for a ride is by hailing down a passing taxi. Locals and expats alike will hop on the back of a motorbike taxi (called a "Win") for a third of the price and the superpower that is the ability to slice through infamous traffic jams.
Neither will allow you to tap-and-go. Nor will tickets or reloadable cards for Bangkok's mass transit systems, the BTS and MRT.
Retail therapy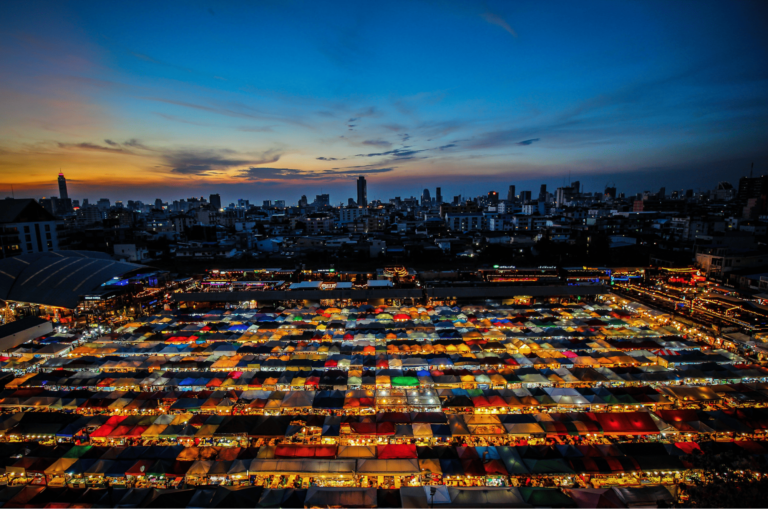 Spending a day in the welcoming comforts of Icon Siam, Siam Paragon or Central World in Bangkok is a great way to experience certain aspects of Thailand's commerce culture. The malls here are unique, interesting, full of fun energy, and deeply ingrained in urban Thai life. Their roles in society have depth beyond shopping hubs.
Stop by any of the extremely well-represented international brands and you'll likely be able to pay with your card. But you'll have completely missed the true novelty of shopping in Thailand.
Here, it's all about the markets. Night markets, train markets, river markets, food markets—you name it, there's a market for it. Probably a few—per city.
Sprawling, packed with stalls and shoppers, and bordered with yummy street food, the real gems (not literal gems—don't fall for that) for sale in Thailand are almost always offered in their midst.
Walking through a market here can easily be a full day's activity, or even a great date night!
The best deal is always in cash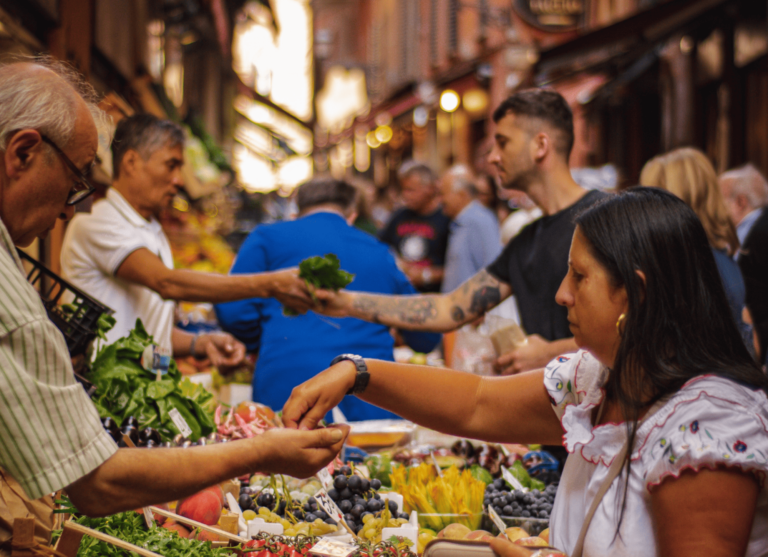 What's better than sampling yummy treats and absorbing a market's buzzing energy while browsing for great finds? Finding something you love and getting it for a killer price.
In Thailand, friendly haggling is all part of the experience, and negotiation is almost always factored into the first price you hear from a vendor. If you're sharp, you can often work a price down by 20-50% of initial ask—assuming you're handing over cash.
If you're card-only, you may still be able to enjoy a stay in Thailand, but you'll be walled off from many of the most authentic, worthwhile experiences.
2. Nothing Beats a Local Bank Transfer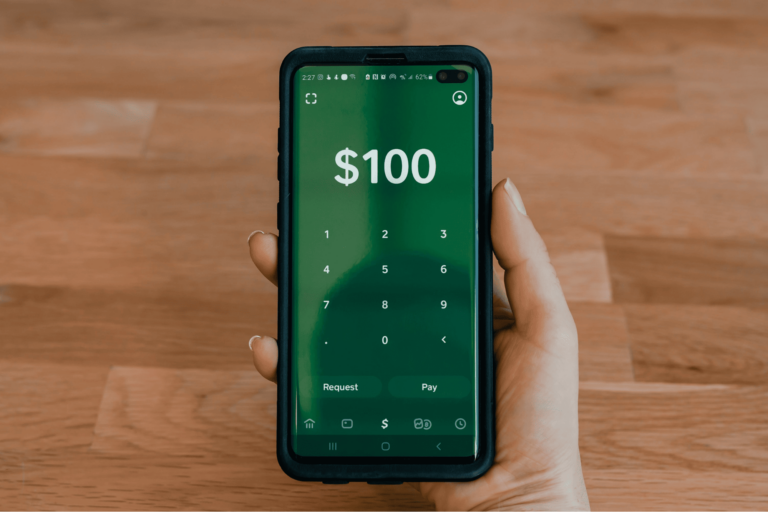 The most digitally-inclined may be pleased to learn, however, that there is a middle ground between cash and cards that often works in place of paper bills—the Thai bank transfer.
While Thailand isn't anywhere near the forefront in terms of widespread credit and debit card acceptance (forget Apple Pay or any other digital wallet payment method), it's all the way in 3022 when it comes to money transfers between bank accounts.
For years now, anyone with a Thai bank account has been able to instantly send money using secure online money transfers, straight into a recipient's bank account.
Trying it for the first time is like magic.
Whereas in the west we carefully guard our bank account number, in Thailand they act just like crypto wallets' public keys—implemented years before blockchain and finance cryptography were on the map.
That is to say you can share them freely with no concern about inviting identity theft, and then others can use yours for money transfers into your bank account.
You open your banking app, or even stop at one of the country's super-powered ATMs, and in around 6 taps you can send money online with no transfer fees. The balance lands in the recipient's account in seconds—often faster than the notification arrives on their phone—and you get a QR-coded confirmation slip.
The Best Methods to Transfer Money to Thailand
Before we dive into the mix of different services and options you can use, if you're reading this in anticipation of a short trip to Thailand and starting to sweat wondering if you're going to need to set yourself up with something special for getting spending money, fret not.
The most common way for tourists to get Thai baht in cash while visiting is simply to use their ATM card at a local ATM, pay a few bucks in exchange fees, and walk away 30 seconds later with a perfectly fair amount of Thai baht.
Is it the most efficient? No. Do we recommend this as an ongoing conversion solution? Definitely not. Will you lose significant money doing it a handful of times while you're here for 2 weeks? A third decisive, "no." It's totally fine.
If that doesn't sound like you, though, or you'd just prefer to plan ahead and save, we've got you covered with some better options:
Note that we are in no way affiliated with, nor is this article sponsored by, any of these brands or services.
1. Wise (Formerly TransferWise)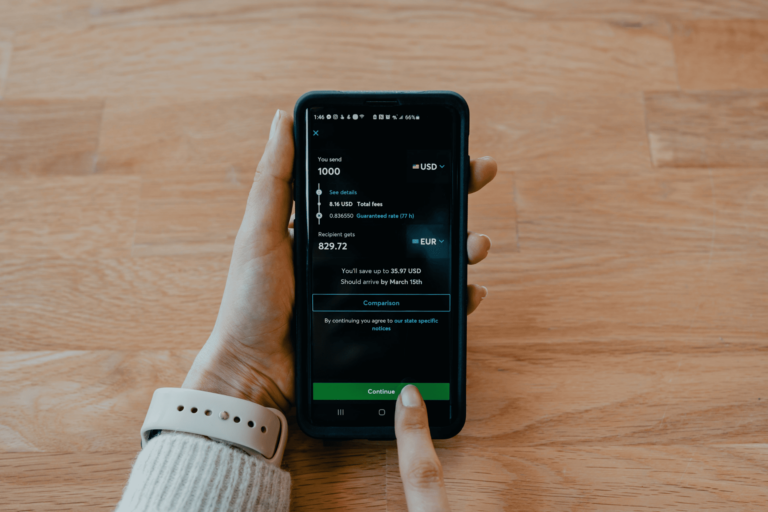 Wise is one of the best money transfer services in the world. There, we said it. We are definitely biased, because we use it and have for years. It's one of the strongest tools in any expat's survival kit, and deservingly so.
Founded by 2 expat friends who were each working jobs that paid in the other's home currency, Wise was invented to do for everyone else what their unique setup did for them. Every month they checked the currency exchange rates and deposited the corresponding amount into each other's accounts. Whatever their currencies were trading at, that's what they got.
Wise began as a money transfer company that allowed users to send money (to Thailand or nearly anywhere else) rapidly, with low transfer fees, and at the true (wholesale or mid-market) exchange rate. It's still exactly that.
That last feature alone remains one of Wise's premier advantages and isn't matched by nearly any other money transfer companies. Most if not all competing services charge both fees upfront and mark up the exchange rate they offer. With Wise you get the same exchange rates as major banks, with a single transfer fee on each transaction.
You can create a free account and almost immediately begin sending money to Thailand online with their app.
What We Love
True exchange rates with transparent fees.

No cost to set up an account.

Multiple payment methods (bank transfer, debit/credit card, Apple Pay, wire transfer).

'Multi-currency account' provides actual bank details for storing balances in foreign currencies.

Optional debit card for spending in local currencies.

Optional business accounts for freelancers or companies.

Many people legitimately use Wise in place of a traditional bank account.
What We Don't
Only 10 currencies support local bank details; Thai baht is not one of them.

Debit card withdrawals come with additional fees past a certain amount each month.
2. XE.com
XE is one of Wise's top competitors, and also provides a fast and easy way to send money to Thailand online. It began as a simple currency exchange tracking website and expanded in that vein until a series of mergers and acquisitions in the last few years broadened the company's services directly into the online money transfer space.
What We Love
Straightforward service centered around currency exchange, from the beginning.

Low exchange rates.

Can use electronic funds transfer (EFT) as a payment method.

Cheaper than sending money via major banks.
What We Don't
Doesn't offer true (mid-market) exchange rate.

No multi-currency bank details for holding money.

No attached debit card for spending money in different currencies.

Somewhat more limited in compatible currencies.
3. Xoom by PayPal
When PayPal got its start it was the scrappy disruptor everyone loved to root for, and one of the first fintech companies consumers knew and interacted with regularly.
These days, though, PayPal is a behemoth, and while the company loves to paint itself as a convenient, universal payment option, it's rarely the best option for anyone with more than one.
Expensive by comparison and excessively apathetic to user privacy, Xoom is essentially on this list to point out that it is simply the international money transfers arm of PayPal.
What We Love
Widely known.

Provides accounts for accepting and holding money.

Offers a money back guarantee on transfers.
What We Don't
High fees.

Horrendous exchange rate.

Ownership by massive corporation is evident throughout user experience.

Constant barrage of terms and policy updates.

Data-hungry and privacy-intrusive.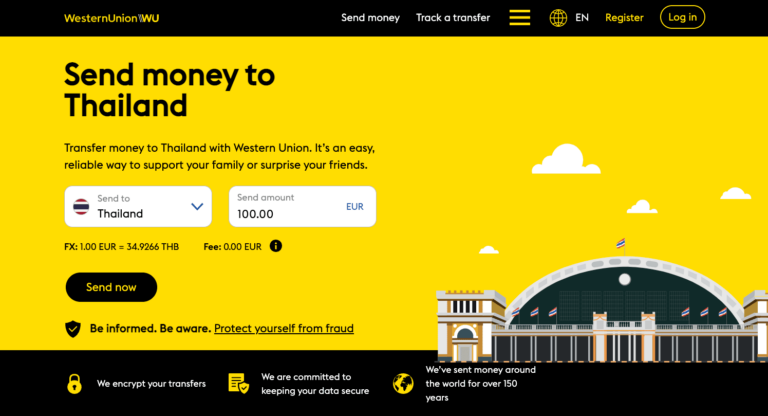 Founded in 1861 (39 years short of 2 centuries old at the time of writing), Western Union hasn't just been around since Abraham Lincoln entered the White House, it's been focused for the entirety of that existence on secure transactions and money transfer services.
One of the few ways on this list to send money to Thailand that allows you or your recipient to make a physical cash pickup from its network of locations, Western Union is also, uniquely, its own bank. Trust and dependability are WU's whole brand, and they're clearly doing something right.
What We Love
One of the longest-standing companies on the planet.

Offers mid-market exchange rate and low fees.

Send money online or in-person via cash bank deposit.

Offers cash pickup and Visa debit card as payout options.
What We Don't
Missing some of Wise's payment methods.

User experience is reminiscent of using a big bank.

Bank account doesn't function as auto-converting multi-currency account like Wise's.
5. Direct Transfer From Your Bank Account
Of course, you can (almost) always just use your bank instead of a dedicated international money transmitter to send money to Thailand. Assuming your bank supports international money transfers, you can just pop open the app or website you're already familiar with and send money without involving a third party.
Benefits for this mostly revolve around trust and simplicity of setup, but in most cases, aside from perhaps with Western Union, the downsides are significant.
What We Love
Just you and your bank account. No intermediary.

No payment methods necessary, nor allowing an app to connect to your bank account.
What We Don't
Western Union aside, this route will never give you the best rates.

Often many hidden fees.

Usually slower than efficient, dedicated transfer services.
6. Other Money Transfer Services
There are other players in this space as well, and depending on your circumstances they may be worth checking out. We won't go into full breakdowns for each of these honorable mentions, but the companies below may warrant some consideration as you compare your options:
How to Transfer Money FROM Thailand
Admittedly, getting money into Thailand is a lot easier than getting it out. There are a number of options for doing it, but you won't find wholesale exchange rates or fees that are nearly as inconsequential..
Ideally we'd recommend to only send money to Thailand as needed, especially since it's so easy and inexpensive to make just-in-time transfers. Not only are fees significantly higher when you send money in the opposite direction, you're not likely to benefit from the exchange rate if you transfer money to Thailand shortly before taking it back out.
But nonetheless, if you end up with a surplus of baht you can't readily use, you have a few options for converting it:
1. DeeMoney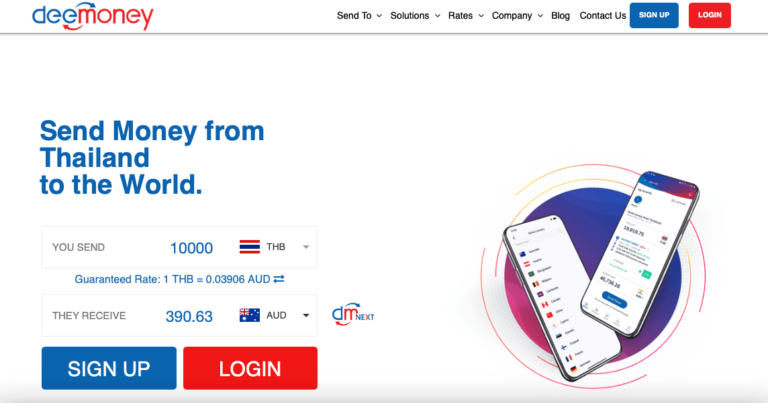 DeeMoney is the closest thing to Wise in Thailand. The app's interface is actually very similar, clearly having taken inspiration from the larger service. It's easy to use and its fees are both manageable and transparent. Unfortunately though, unlike Wise, you won't get true mid-market exchange rates.
2. International Bank Transfer
Most major banks in Thailand provide a service that allows customers to make international transfers. Just like using your primary bank in your home country to transfer money to Thailand, this may be your most convenient option, assuming you have a local bank account.
It's quick and easy to set up, right in the same mobile app you use for everyday banking, but just like the same option in reverse (and we'd bet likely even more so this way) fees and the exchange rate you end up being subject to will be far from the best.
3. Local Money Transfer Service
If you want to just walk into a physical location, you may be able to find a local money transfer company amongst the copious amount of currency exchange kiosks scattered across Bangkok and other metropolitan/tourist hubs in Thailand.
Or, you can stop by a Western Union, which proudly has numerous locations throughout the country, and is far more reliable and consistent with rates, fees and guarantees.
Wrap-up: How to Send Money to Thailand
So now you have a thorough map of your options for sending money into Thailand and back out again. You've got an expat's take on which services will benefit you with the best rates, low fees, ease of use, transfer speed and payment versatility. Hopefully you've got a feel for what to look out for in making your own decisions on how to send money—whether it's to yourself for spending or to loved ones who live here.
To send and spend like seasoned expats and Thais alike, we recommend Wise for transferring in, and DeeMoney for sending money out again. And remember, for day-to-day life and the best Thailand has to offer, cash is king.