LinkedIn is by far the most popular Job Search Marketplace and Professional Networking Platform, according to results of a extensive poll of recruiters by RiseSmart's Kimberly Schneiderman 95% recruiters use LinkedIn to source talent. More than 20 million companies are listed on the site and 14 million open jobs.
Although competition is high especially for Developers and Tech profiles, there are many ways to boost your profile on LinkedIn and put all the chances on your side.
In order to make most of what this network has to offer, you will need to have the right profile configuration.
So how do you stand out on LinkedIn?
Update your Status and Profile Visibility
Go to the 'Career interests' section on your profile, then select the appropriate status. ('Actively looking' might be the best choice.) You might also want to go to 'Me' > 'Settings & Privacy' > 'Edit your public profile,' and edit your public profile visibility accordingly.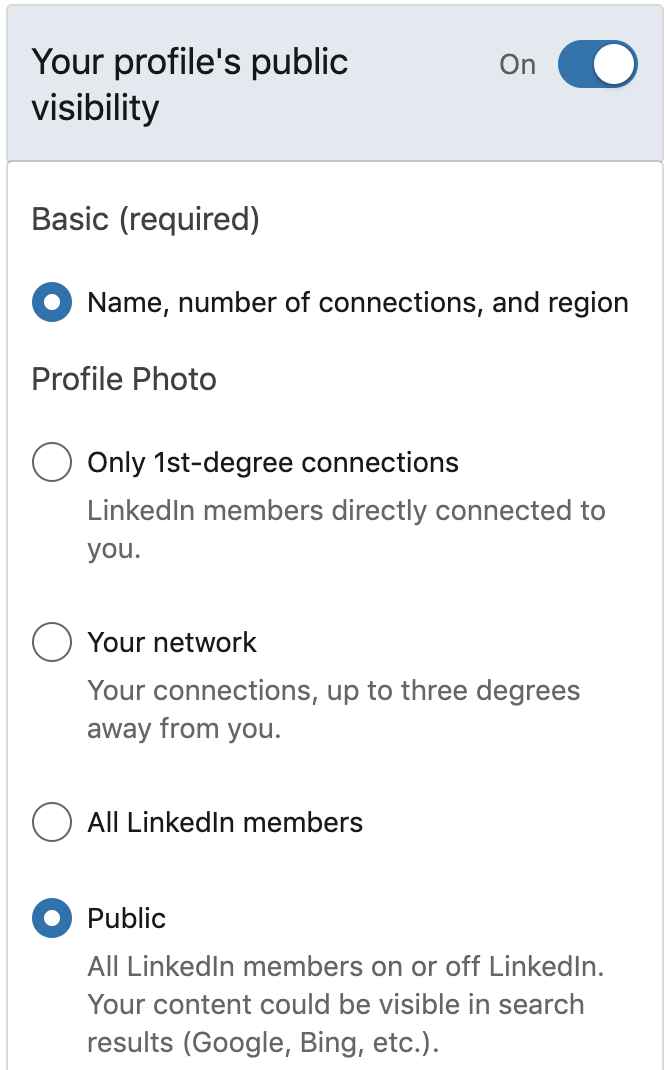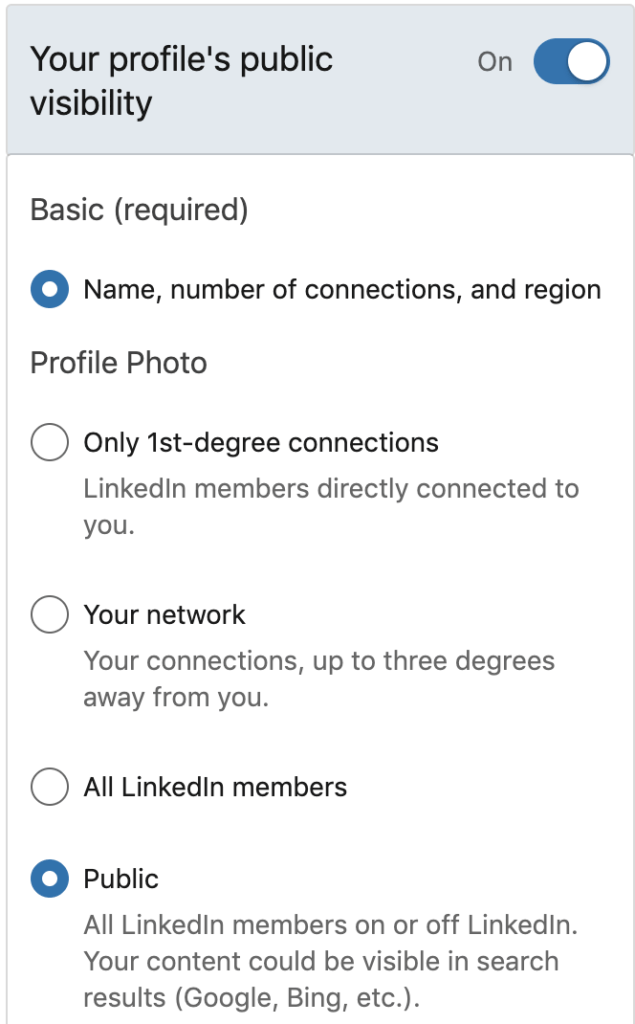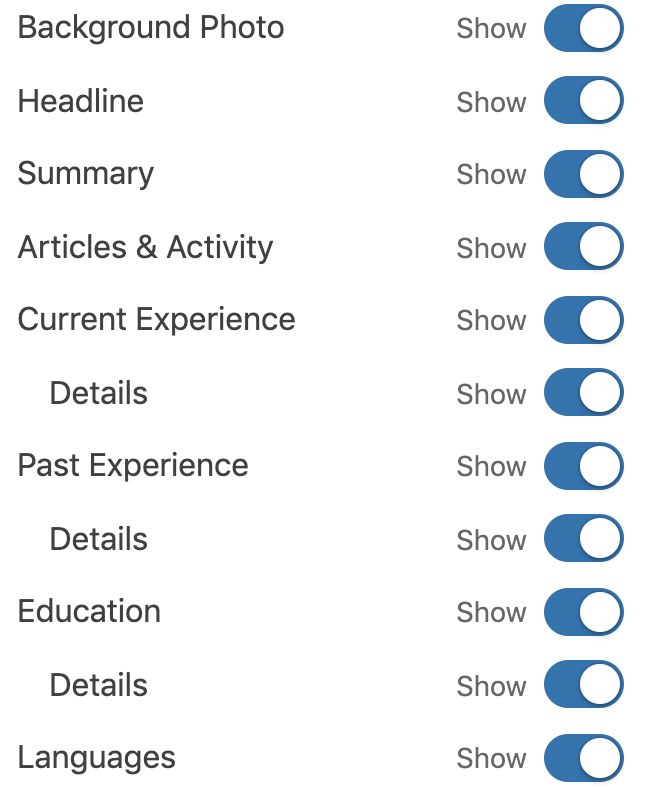 Use the right Keywords
Recruiters use LinkedIn to search for profiles on the platform using specific keywords to find the perfect match for their job listing.
Ultimately, your descriptions must contain all the relevant keywords that best describe you, your speciality, skills, responsibilities, background, etc. LinkedIn also provides advanced paid search filters for recruiters to narrow down their search. This applies to all the text on your profile, from title down to skills listing.
Update your Profile Picture and Banner
How your profile looks and feels is as important as its written content.
( Think of how important the design is to the user experience of any digital platform or service)
Make sure you have a proper headshot as a profile picture; high-quality photos will get you 14 times more views according to LinkedIn.
What to avoid: Black and White Photos, Group Photo, Selfie, Weird Angles, whole-body Photo.
Think of the banner as a billboard, use it to advertise your expertise and specialization at a glance.
What to avoid: All text banners, nature/landscape cover, plain solid color with no text, generic quotes.

Find the right Title for your profile
Be very concise in presenting yourself on your LinkedIn title. As a Developer, your challenge is to put forward your specialization as well as your level of expertise.
So steer clear from generic titles such as "Web Developer" or "IT" it's undermining your skill at best and confusing visitors at worst.
You also want to avoid fluffy titles such as "Full Stack Magician" or "Lead Code Wizard" Your goal is to leave no room for doubt when a recruiter or employer visits your profile. Also remember: Keywords are Important.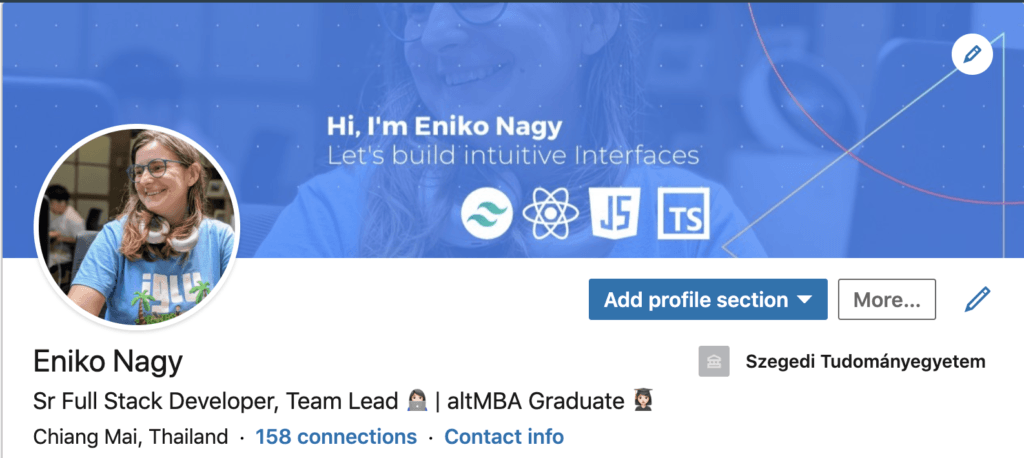 Optimize your About Section
Most profiles oversee this section or have a long text where they attempt to fit all experiences and skills. Think of this section as an introduction to your profile and keep it at max 3 sentences for better indexation in the search results of the platform.
Use it to put forward your core skills, your values, and a brief description of the role you're looking for.
Do you have a language and technology preference? Include it and eliminate the ones you only toyed with for a short period. Do you prefer Remote positions? State it, you will do yourself the favor of filtering out the positions you're not interested in.
Show examples of your work by attaching media or links by adding one of the Featured sections.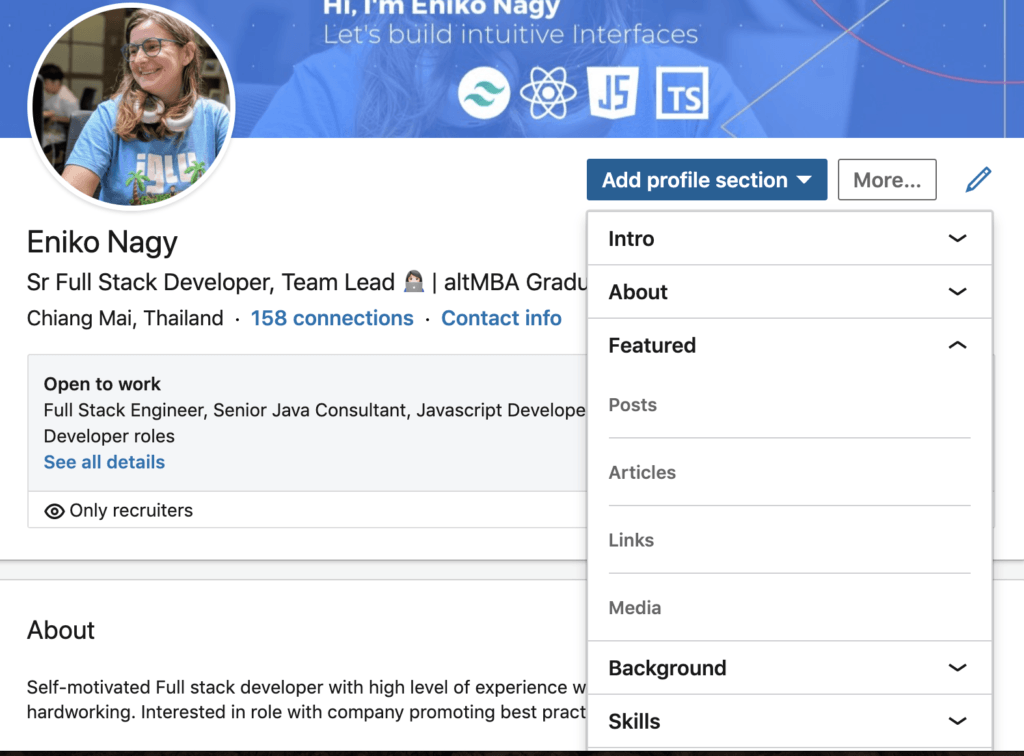 List your experiences
LinkedIn has a resume builder that allows users to list their work experiences without worrying about fitting all your experience on one page.
Include descriptions for each and every experience you list and must contain the right keywords.
Include any quantitative data of your achievement
Make sure you make most of all the features: showcase your work through media attachments; videos, docs presentation, or link to your portfolio, website, or platforms such as Github.
However, If you're kick-starting your career as a developer you can always put forward the skills and experiences from your non-tech positions.
Here are some examples of skills, which can easily be transferred to any role:
Communication skills, blogging, negotiating, presenting, and coaching/mentoring.
Collaborative work experiences, give examples of ways you've worked with clients or teams, etc.
Organizational skills, showcase it by including any workflow or process you've created.
The ability to work remotely
Crisis Management or Problem-solving.
Additionally, all your experiences with software and tools are more than likely valuable for your next job. So, sure you mention all the programs and tools you used.
Skills and Endorsements
An efficient way to boost your credibility is by listing your top skills and ask colleagues or people you worked with to endorse you.
However, these skills have to be as specific as possible to avoid generalities such as Web Development, Software engineer, communication…
Tip: You can pick a set of skills mentioned in the job listings that fit your profile most, or that you'd likely be interested in considering applying for.
According to LinkedIn, listing 5 or more skills on your LinkedIn profile can lead to up to 17x more views.
Recommendations
Request recommendations from your colleagues, managers, freelance clients, and ask them to include a set of keywords that describe your profile best. Do the same for your network of people you have worked with.
Recommendations add social proof and credibility to your profile, so don't shy away from asking.
Include a translation of your profile
If you are fluent in multiple languages and would like to be visible for different markets, it might be useful for you to include a version of your profile in different languages. Go to Add Profile section Add profile in another language.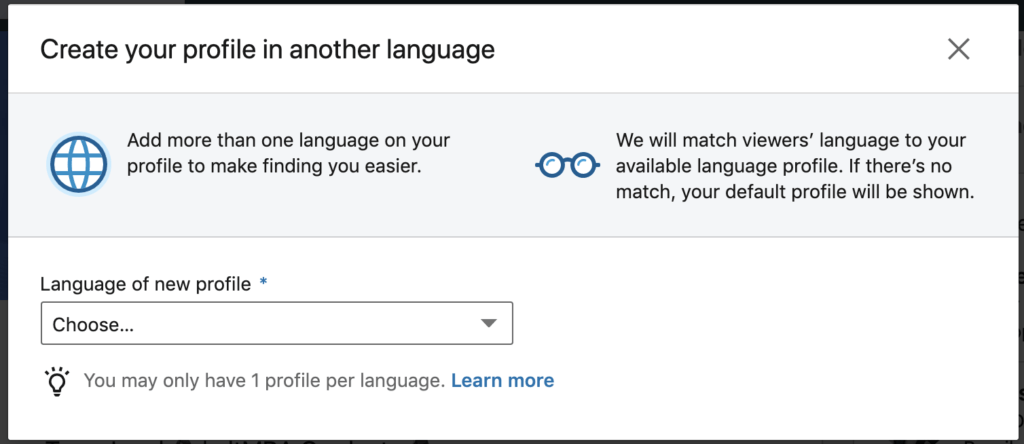 List your Projects
Instead of including your projects in the Experience section, use the Projects section to list all the side hustles and personal projects.
Differentiate between Education and Certification
Other than the fact that some recruiters look for graduates and alumni from specific universities, it is important to fill your education section so that your LinkedIn Profile would be considered "Complete".
However, avoid listing certifications as Education since it's not the same thing and LinkedIn has made this separation.
Find this section under Add Profile Section > Background.
Build Your Network
Don't add people to your network at random, get strategic, and intentional with your Linkedin invitations. You also don't have to accept every person that ads you to theirs. Instead, search for profiles you deem interesting or who'd most like likely be interested in connecting with you.
One way to do it is by sharing your profile on a social media or a forum where you already have an audience.
You can also look for:
Profiles that have the same certifications as you
Experts in your Specialty
CTOs in your area
People who attended the same events as you (or join the event's LinkedIn group if any)
Your favorite Tech Bloggers
Observe
Look at what other users are doing on LinkedIn, read profiles, check comments on the posts you like, join groups, and spend some time reading the conversations.
Stay Active
Posting content and interacting on LinkedIn expands your reach, as it's a highly engaging platform. The way content is consumed on LinkedIn is different from other social media channels, people are on LinkedIn to find jobs, look for a candidate, learn new skills, sell services, etc…
However, your content should be curated to bring value to your network and has to be relevant to your industry. This also means that you have to be intentional with your interactions with the publications on your feed.
You might also consider publishing your blog articles natively on Linkedin, and get the "Author badge". Not only will you attract more opportunities and stand out from the competition, but it will also add notoriety to your profile.
With these tweaks, your profile will attract the right opportunities straight to your inbox. Not to mention that even if you're not necessarily looking for a job on the platform, most job applications ask for a LinkedIn profile URL. It's also very useful to have it for branding purposes, and cataloging your achievements.