Have you ever wondered what it would be like to live on the other side of the world?
Perhaps you have been living in your home country for decades and you are starting to realise, that the world has much more to offer.
If you work in tech, we have some good news: the opportunities for remote work keep increasing and it's not necessary to wait until retirement to start enjoying life.
Why not start living your dream life right now?
In this digital age, there's no reason you need to be stuck somewhere you're not happy with.
Keep your tech skills at work, but do it from a tropical paradise where your dollars or euros go further.
Relocate to Thailand!
Why relocate to Thailand?
Thailand has been a popular retirement destination for a long time, but in today's world, there's no real reason that you need to wait until you're old and withered to relocate.
Unless you're an avid downhill skier, most people would jump at the chance to swap the cold, gloomy winters of North America and Europe for the sunny skies and coconut palms of Southeast Asia.
Thailand has a little bit of something for everyone. On the one hand, it's a newly-developed nation with a modernized infrastructure.
Fast, reliable internet is available in every city. Glistening mega-malls draw in shoppers from all over Asia, and tourists flock to stay at luxurious beachside resorts on the southern islands.
In contrast, Thailand is a country with much rural charm still intact. Green rice fields cover much of the countryside.
Every morning, tens of thousands of barefoot Buddhist monks step out from their temples to collect alms from pious villagers. Young people still respect their elders, and neighbors casually stop by to chit-chat and joke around.
Thailand has warm weather year-round. It has plenty of sandy beaches. It is known throughout the world for its unique, spicy cuisine and fun-loving population.
People tend to be genuinely friendly and easy-going. In short, Thailand is a wonderful place to live.
Thailand is also a place where you can get more out of life. The overall cost of living is much lower than in Western countries.
You can do more with less money spent. For example, if living in Chiang Mai, it would only take $2000 to get the same quality of life that would cost $5,200 in Chicago.
Or if you made your home in Bangkok, $2,800 would buy you the lifestyle that a New Yorker spends $7,300 on.
Working with Western clients and spending locally in Thai baht is one of the biggest advantages of relocating.
Stretch your money further to take more vacations and buy better toys for yourself.
Make your Facebook friends jealous as you sip cocktails by the sea yet again while they're busy shovelling snow at 6 am just to get their car out of the driveway.
This alone makes moving to Thailand from the US for example even sweeter!
Bangkok, Chiang Mai or Phuket?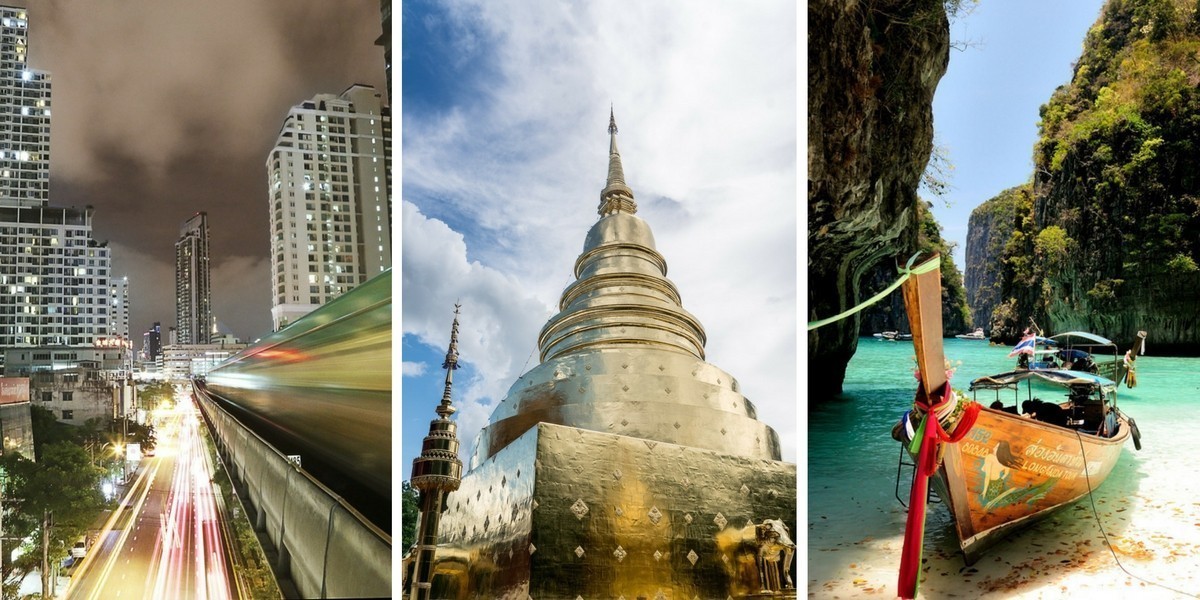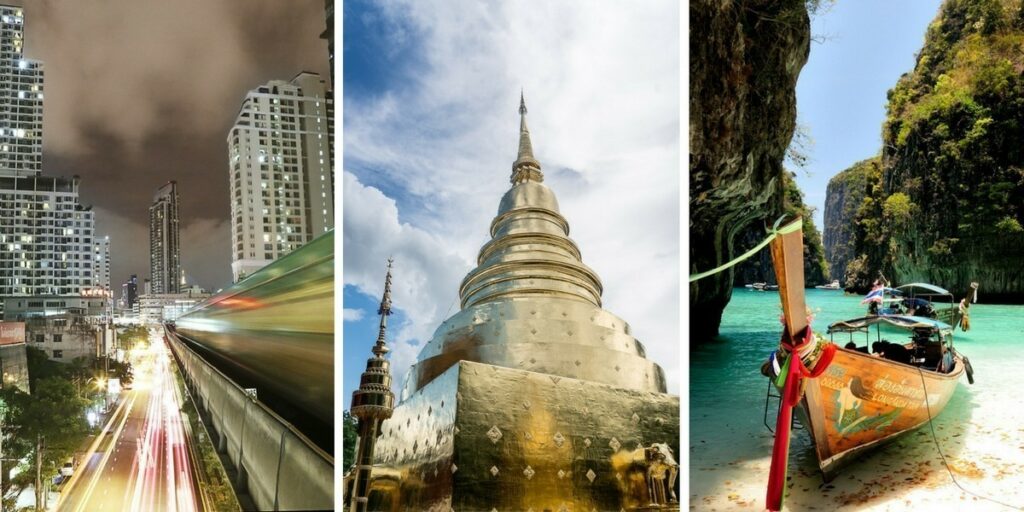 Thailand isn't a tiny country. It has several distinct regions, giving you several choices of where to relocate to.
If you thrive on the excitement of big city life, then Bangkok is the place for you. A bustling metropolis of over 10 million, Bangkok is home to people from all over the world.
Living in the Thai capital gives you access to endless dining options, a vibrant nightlife, high-end shopping galore, a huge dating pool, and local offices of many international companies.
Bangkok is also a transportation hub with international flights to nearly anywhere in the world. And whenever you need a break from the city, there are beaches just a couple hours away.
Chiang Mai is the most important city in northern Thailand. For 500 years it was the capital of the separate Lanna Kingdom.
To this day, the Chiang Mai people retain a unique identity with their local dialect and regional cuisine.
The heart of the old city, bound by a square moat, is free of high-rise buildings and full of colorful temples. Many outdoor activities are possible in the surrounding green mountains.
It's a university town with tons of coffee shops, inexpensive restaurants, and bars. The pace of life is slower than in Bangkok. Many expats and location-independent employees make it their home.
Phuket is the largest island in Thailand. It has been one of the world's top beach destinations for many years.
Scuba diving among whale sharks, leopard sharks, and other fascinating marine life is one of the major attractions to the area.
Living in Phuket gives you many options for shopping, dining, and nightlife with the added bonus that you can head to the beach at a moment's notice.
Of course, these are only three popular destinations in Thailand, a country that has 77 different provinces and cities to satisfy everyone's taste.
Iglu has offices in Bangkok and Chiang Mai and allows remote work, so you can pick the best relocation spot to match your personality and lifestyle.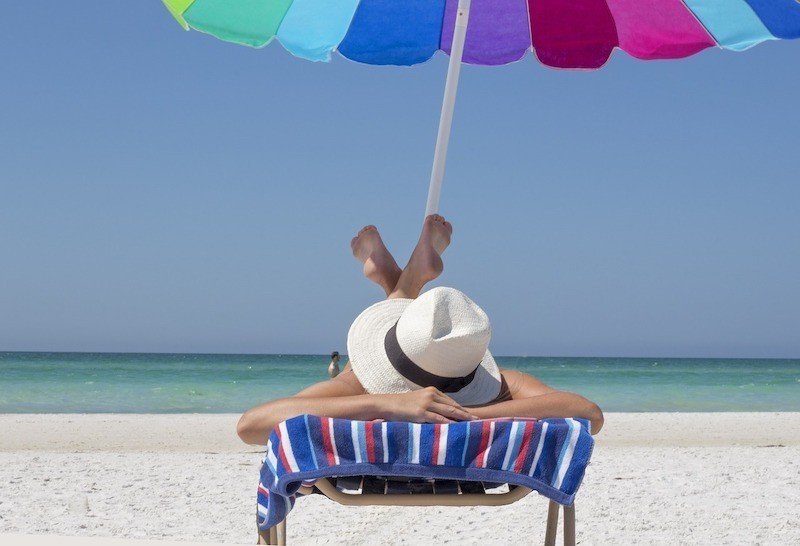 Why work at Iglu in Thailand?
Iglu has over 10 years of experience with helping digital professionals relocate to Thailand. We specialize in providing digital services to clients around the world and currently employ over 200 employees in the Kingdom.
Iglu employees may work on client projects of their choice and benefit from our generous PRP (performance-related pay) salary model. 
We offer all our employees a Non-B visa and work permit or a Thailand SMART visa, as well as social security with a free healthcare plan.
The Iglu Admin Team helps with all the hurdles of the local bureaucracy when you decide to make a move to Thailand, making the process easy and straightforward.
Our assistance doesn't end with your arrival, as our team is here to help you with local admin tasks as needed during your stay in Thailand. 
Our employees have 24/7 access to our modern and beautiful offices in Bangkok and Chiang Mai, with regular social events, company trips and the ability to network with our community of over 200 like-minded digital professionals.
Our offices are equipped with plenty of work desks, meeting rooms, skype booths, kitchens with freshly-ground coffee and social areas.
Our Bangkok office also includes access to a gym and a large swimming pool, with a sauna and steam room to relax after work. 
Iglu also actively partners with both local and global service providers, securing exclusive discounts for our employees for various services.
We have access to special deals for co-working/living spaces, healthcare, financial services, travel services and education.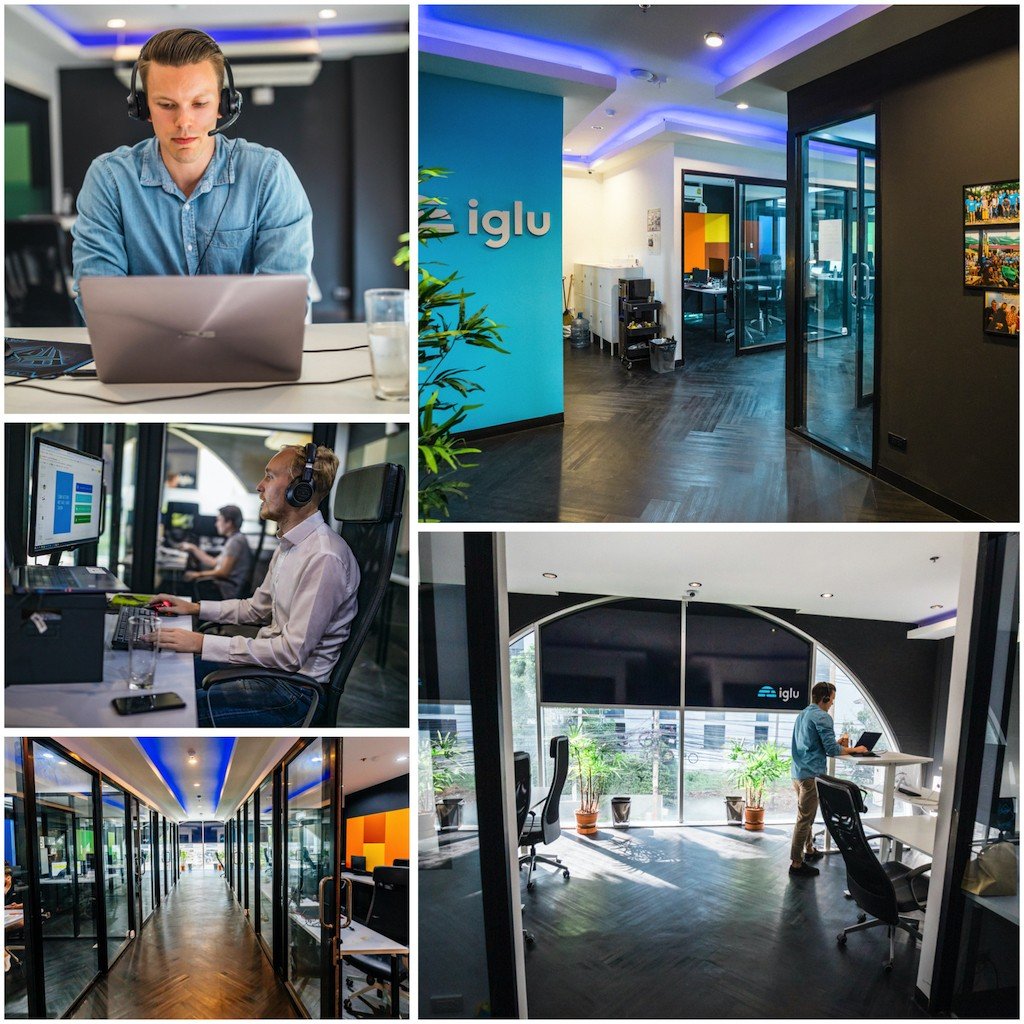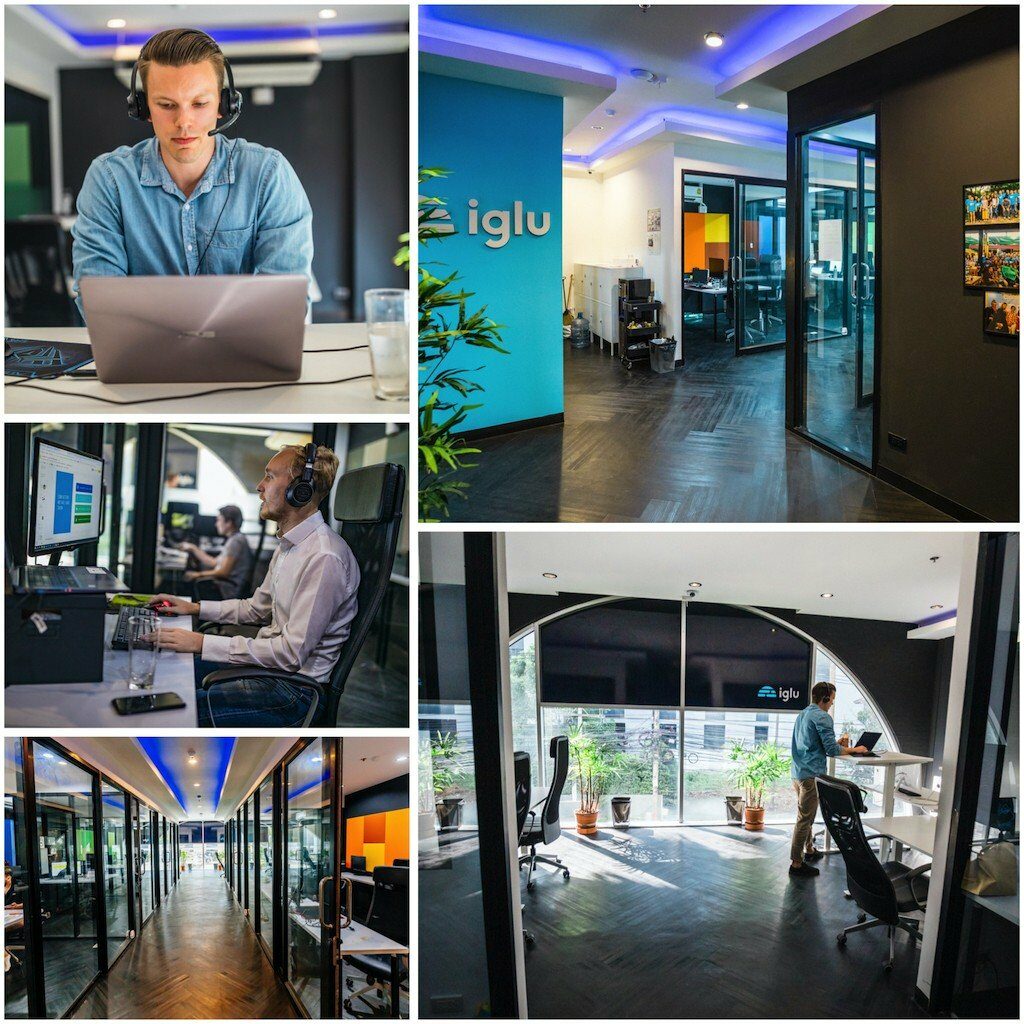 I'm ready. How to make it happen?
If you've made up your mind to relocate to Thailand—or if you're on the fence and want to ask some questions—contact Iglu to get the ball rolling.
The general requirements to join us are as follows:
You work in software development, IT, design or digital marketing
You have a relevant university degree plus 2 years experience in your field, or at least 5 years total experience
You're at least 22 years old
To join Iglu, you can apply to work for us via our job portal or get in touch if you have any questions. 
How to prepare for living in Thailand
It's a good idea to come to visit Thailand as a tourist at least once before deciding to completely uproot yourself.
If you've been to both Chiang Mai and Bangkok you can easily tell how different the lifestyle is going to be in each place.
Bangkok is probably more exciting but might be a little too much for some—while Chiang Mai is more laid back, but some might find it boring.
You can get by living in Thailand with only using English, but you'll have much more enriching experiences, a better understanding of Thai culture, and generally more fun if you learn some of the Thai language.
The best way to learn Thai is directly from a Thai speaking teacher who will correct your pronunciation mistakes.
Thai is not a difficult language to learn, but it would be difficult to produce the correct sounds by simply relying on books. Before you come to Thailand, you can start learning by taking lessons with a tutor over Skype.
And once you're in the country, there are many Thai teachers who can give private lessons for around $10 per hour.
You'll find that it won't take very long to get the basics down. At the time of the post, Iglu is providing complimentary Thai language lessons to help give all our team members an opportunity to start elementary Thai lessons should they wish to continue with private tutoring.
Do some reading to get familiar with basic Thai history, religion, and culture. A little knowledge will help you understand much more of what's going on around you when you land in Thailand.
Many foreigners fail to grasp the importance of things like personal appearance, respect for religion and the monarchy, social hierarchy, and family obligations. Understanding the basics of Thai culture will help you to avoid unintentionally offending anyone.
Thailand isn't the right place for everyone, but there are plenty of expats who love it here so much that a permanent move back to their homeland is out of the question.
If you're ready to start a new life in the "Land of Smiles," Iglu can help make it happen.