A 2021 perspective to successfully outsource your web development requirements
Outsourcing web development becomes a valuable proposition for small and large companies when the need arises to either expand their presence online, or to initiate one from scratch.
The need to outsource web development arises for a multitude of reasons ranging from a lack of specialised skills of the company's own team, a lack of manpower to complete a required project, or to cut costs relative to other methods.
Skills like software engineering, multimedia production, music and filmography, and video game development are all disciplines that require an online footprint, but the underlying skills of the engineers do not cater for web development skills.
This is further amplified with workforces that have no programming experience – and outsourcing web development therefore becomes a viable and attractive proposition to fill that void.
Outsourcing software development is an alternative to both outstaffing and acquiring in-house team members, all 3 of which will be discussed in this piece along with their strengths and weaknesses.
Outsourcing web development typically comes with its own set of advantages that vastly outshine the other two strategies, but outsourcing software development does not come without its challenges.
Outsourcing web development companies is not an easy endeavour; there are thousands of web development services situated all over the world, with varying skill sets, work ethics, style of development and ultimate expectations of how a project should be satisfied.
Because of this highly variant ecosystem, a comprehensive vetting process needs to be established if you are planning to outsource web development for your company. This article will cover the following topics:
The advantages of outsourcing web development, and the differences between outstaffing and  in-house team strategies.
How to effectively outsource for your web development needs, step by step.
Popular web development outsourcing platforms will be documented. These platforms aggregate outsourcing companies, their history, portfolio, rating and many more metrics to gauge whether they are best suited for your web project.
How much it costs to outsource a web development company. This varies across continents and countries, and cheaper web development services do not always equate to the quality you are expecting.
Finally, common mistakes to outsourcing website development will be covered; these mistakes should be avoided at all costs to minimise the risks for a successful web project.
By the end of this piece you will be prepared to start your outsourcing endeavours for your web development needs.
Advantages of Outsourcing a Web Development Team
There are a range of attractive benefits of outsourcing web development.
Run through the following points and gauge whether these advantages resonate with your organisation or web project requirements. If they do, outsourcing web development services may indeed be the optimal strategy for expanding your web development needs.
Quicker turnaround time and web development speed
The number one advantage to outsourcing software development is the ability for the outsourcing company to provide quick turnarounds of the development process, whether they be design ideas, prototypes, or an iteration on a final web page.
The web development outsourcing company will have a dedicated team of web developers that specialise in the particular solution you are looking for, thus the web project can be iterated or developed at a quick speed relative to any in-house efforts.
This speed in-turn promotes a faster feedback loop and as a result the web application will take its optimal form a lot quicker.
Flexibility and Manpower
The outsourcing web development company will have a larger skill pool to leverage for the development process you require, and will therefore offer more capability in a range of factors; software and toolsets, working hours and development time needed, and knowledge of industry leading technologies and libraries to maximise your project's potential.
These advantages are of course reliant on a good web development outsourcing company. How to find a great outsourcing web development team will be covered in more detail further down.
Scalability
With additional manpower comes a powerful ability to scale software development.
It is in your interest to choose an outsourcing partner for the long term, as it is likely your web development needs will be evolving for a number of years as it gains more traction in online presence and ultimately more end-user adoption.
It is at this time where you can leverage your outsourced development team to scale your web development project.
With the knowledge acquired on working on your project from its inception, your outsourced development team will be in a much stronger position to scale your project than a development team less knowledgeable on your web projects.
Feedback and Support
With web development outsourcing, your chosen web development outsourcing team will have built up experience by working with other clients throughout their history, and you can leverage this experience for your own web app.
Listening to feedback on a regular basis is very advantageous, either from a technical or project management perspective.
Utilise this feedback to amend deadlines, milestones, expectations, budgets, and other aspects of your business model and core business operations that fall short of realistic accomplishment.
Through this feedback loop as your web project develops, your outsourcing partner will positively amend your business goals and ultimately shape them into a more realistic proposition.
A business plan is never set in stone! The more expertise you expose yourself to with a development partner, the stronger your project planning will be and thus greater the probability of success.
Allows focus on other business activities
As the introduction touched on, many businesses are not specialised in the field of web development, and attempting to become skilled as a web developer consumes a lot of time and resources.
Outsourcing software development avoids these eventualities and allows you and your team to focus on the main business proposition and surrounding activities.
Core business activities like marketing, research and development (R&D), and customer support need not be compromised when a web outsourcing team is taking care of your web app development needs.
However, it will become apparent that a project manager will become a necessity to manage the communication between yourself and your outsourcing web development company.
This dedicated oversight (that should be undertaken by dedicated project managers) will maintain efficient communication and keep the project inline with the project requirements.
Feedback and overall communication will become one of the main themes of this piece to drill its importance for success when outsourcing web development companies.
Cost savings versus in-house teams
There are huge cost savings to be made with outsourcing web development relative to bringing in web development experts into your organisation, and the salaries that entails. These cost savings are more impressive than adopting an outstaffing or in-house team strategy.
Outsourcing vs outstaffing vs in-house team
The most expensive strategy is the in-house team approach whereby the project owner takes it upon themselves to hire a team of talented specialists in web development with the technical knowledge to fulfil your project requirements.
This entails a constant flow of  web app development work that in-turn must yield financial gain to make it worthwhile.  The cost burden of the in-house team model can result in hiring less than the staff the project requires, and this is where outstaffing comes in.
The outstaffing model entails hiring specialists, whether freelance or from other companies, to make up for the lack of manpower within your in-house team.
By following this thought experiment one can conclude that outsourcing website development would be the logical solution to the problems that both outstaffing and in-house team models present.
Outsource web development services to get talented web developers required to complete your project to a high standard and with the ability to scale, while maintaining operations within a healthy budget.
The following illustration summarises the advantages and disadvantages of the three models: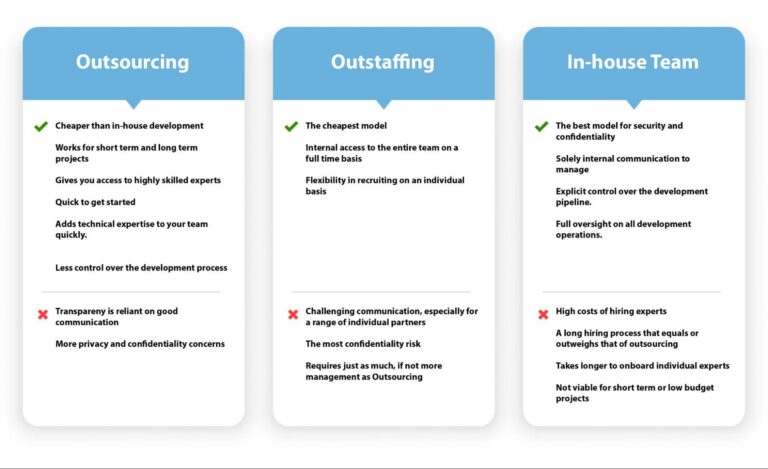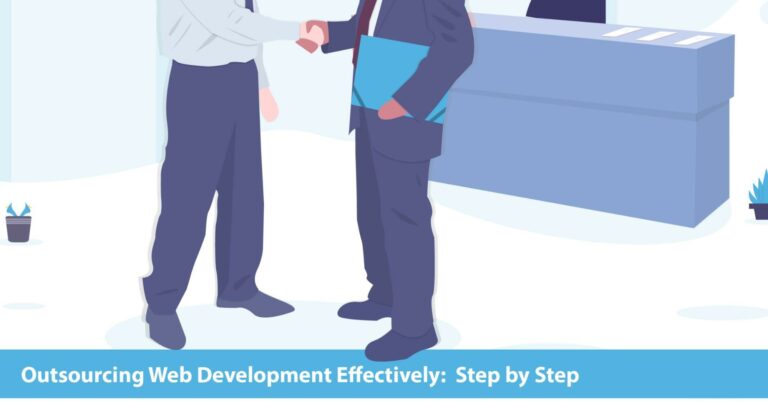 How to Effectively Outsource Web Development: Step by Step
Now that we are aware of the benefits to outsource web development services, we will cover the best way to go about doing so in a step-by-step manner, highlighting the key to-dos along the way.
Step 1: Prepare business plan and outline expectations
Before communicating your requirements to a  web development outsourcing company, it is paramount that you and your internal team understand your website development requirements and overall business goals in as much detail as possible.
Some of the key components your business plan should clearly communicate are as follows:
Goals and milestones coinciding with a detailed plan of operation.
Expectations in terms of cash flow and finances throughout the short term and long term.
The software and tooling that will be adopted to run the company.
The tech stack being targeted to apply to your project.
These details must be finalised before outsource web development services. There lies documentation you should prepare specifically for your potential software outsourcing partners in addition to your business plan:
A clear summary of the business goals as they relate to the outsourcing partner's potential web app development activities.
More detail on the particular technologies that the project should adopt. Being specific on the desired libraries, programming languages, targeted platforms, and server side technology stack may determine whether the outsourced developers are suitable for your project needs.
A list of concise questions to carry out a pre-screening process for potential partners. These questions should be designed to determine whether the outsourcing team is capable, reliable and inline with your expectations.
Make your budget clear. Explicitly note how much you can allocate for the web development project, and mention any contingency plans if more work is required. This should all be tied into an expected timeframe.
This foundational step will add clarity not only for your outsourcing web development company but also will give you the opportunity to revisit your business plan and make amends where necessary.
Adjusting web development projects is common, especially in tech where there are a lot of fast-changing variables at play. Keeping your business plan up to date and relevant in this initial step is therefore required.
If your plan is not viable, it will likely be pointed out with a competent web development outsourcing vendor as you outsource web development. However, some vendors may take work just for the paycheck, without being concerned about the project's outcome. It is therefore worth asking for feedback on your business plan to call out the vendor's opinion early on in negotiations.
Step 2: Find the best suited web development outsourcing vendor

With all your supporting material prepared, it is now time to find the best suited outsourcing web development vendor for your specific project requirements.
The following outlines major factors that should contribute to finding the right outsourcing development company.
The web development outsourcing vendor portfolio and testimonials
Perhaps obviously, check their portfolio to gauge whether their previous work is inline with what you are after. A broader portfolio will include mobile app development, web design as well as technical-centric projects.
Keep in mind that these portfolio items will likely be the vendor's better software development projects that they feel are worth showcasing to potential clients; your project may not yield better results, but it could yield a lot worse results; get a feel of the vendor's core competencies via their portfolio.
Although internal reviews will be biased towards the outsourcing company, they should be linked to a real client alongside contact details.  External reviews from social media or external review platforms may be a more accurate representation of the company, but are generally harder to find.
The vendor's favoured tech stack
Make note of the technology stack used in the project portfolio. If particular technologies are not mentioned, make a note and ask the vendor as a matter of urgency.
There may be a valid reason that a vendor may not adopt a particular technology you feel is valuable – but it is more-so likely that the vendor simply does not have staff trained in that particular technology.
Carefully review all the technologies used in a portfolio.
Are they actively maintaining successful projects?
Beyond the portfolio itself, investigate if the mentioned projects are still active and ultimately successful.
A successful business reflects very well upon the vendor, and demonstrates their capabilities to take a project from a concept to a production-ready revenue generating asset.
Carefully observe these projects to gauge the vendor's track record, and make notes of questions you wish to ask about any projects of interest.
Also, if the vendor has an active role in open source development such as on GitHub, this is a valuable indicator on the vendor's programming capabilities and overall skillset.
Browsing any open source activities or code snippets from their internal projects will reveal how competent they are at their craft and whether they follow standard coding conventions.
Are their specialisations and capabilities relevant?
Ensure that the technology stacks being adopted by the vendor are relevant and up to date. Are they using the latest version of a particular programming language? Have particular hosting platforms or libraries overtaken their's in popularity?
Observe whether the software and platforms used by the vendor are industry standard and relevant in today's web ecosystem.
Step 2.5: Other key criteria of creating a list of outsourcing companies
With all the above said, the following 3 criteria summarise a lot we have already discussed when curating a list of companies to outsource web development services.
Relevant portfolio pieces for your project and supporting documentation
Relating to our previous discussion on the vendor's portfolio, ensure that you have a collection of portfolio pieces at hand along with samples of code, templates or any other aspect of a project that catches your interest. These pieces can act as inspiration or reference material.
If possible, reach out to industry partners (perhaps other clients of the vendor) for them to offer their feedback and opinions of the vendor. Any information of this nature is extremely valuable, and could determine whether to choose or turn down the vendor.
Effective communication channels
A regular, manageable communication process is critical to successfully outsource web development, and English fluency is also critical for effectively communicating to the outsourcing company and to ensure there are no miscommunications.
In addition to verbal communication, also consider what tools the outsourcing web development company uses for project management, documents and spreadsheets (Google Docs, Microsoft Office, etc), instant communication channels (Telegram, Slack, etc), and other means of communication adopted.
How often does the vendor update documents? Can they provide weekly and monthly progress reports? Are they willing to provide quick communication when clarifications need to be requested?
These are all key considerations to ask, and to ensure your project manager will not have daily frustrations attempting to carry out necessary communication to the vendor.
Cultural differences can potentially impact communication, whether this is derived from perceived acceptable working hours, and whether it is acceptable to communicate outside office hours and weekends. Don't be in a position where hours if not days are consumed for just waiting for an email response from the vendor.
An effective internal web development process
The development strategy itself should be an effective strategy in meeting milestones that meet acceptable quality standards:
How quality assurance is practiced; how the web application is unit tested or integration tested.
How often tests are carried out, and how bugs are fixed. Are source control measures in place to ensure one member can fix bugs without interrupting the development of a particular feature?
How seamless are software updates? Updates and version "bumps" are inevitable in any web project, so ensure the vendor is well-versed in package management and follows consistent upgrade cycles.
Step 3: Plan and Schedule Reliable Communication
A regular feedback loop between client and outsourcing companies is critically important to ensure the project is on the right track. This is especially true if the outsourcing company is taking an agile development approach whereby development milestones change frequently.
The final step to effectively outsourcing web development therefore is to ensure effective communication. Consider the following strategies and finalise a communication schedule with your chosen outsourcing company that works for both of you.
Agree which communication channels are to be used. It is in both parties' interest to avoid scattering messages across many channels, and instead have a set agreed number of channels where all communication takes place.
Beyond email, platforms such as Slack, Element or Gitter can be used as a dedicated workspace for communication on the project.
Instant messaging is valuable for instant communication in daily office hours if the outsourcing company is willing to provide such communication. With services like Telegram, WhatsApp and Signal, the entire conversation is recorded and archived for reference.
A video call schedule should be established, with one of the most effective video conferencing tools currently being Zoom.
The chosen file storage services for progress reports and other documents should be agreed upon before work starts. Such services range from Google Drive, Drop Box, or private GitHub repositories.
Ideally, a project manager within your organisation should carry out such communications primarily. Managing the outsourcing vendor takes time in and of itself, so the most efficient way to manage them is to have a dedicated project manager to ensure the smooth running of the partnership.
The responsibilities of the project manager could include:
Making sure conference calls and other meetings are going ahead, and to reschedule any meetings if one party cannot make it.
Ensure progress reports are updated regularly and that the project is on track in line with expectations.
Communicate to the outsourcing company changes that need to be made to the project, and in-turn notify his internal team members and director of any changes to the project.
Ensure the allotted work hours are performed and that the works are inline with the agreed budget.
These responsibilities are time consuming, but hiring a project manager to complement the outsourcing strategy is still much cheaper than the outstaffing or in-house team strategies we discussed earlier.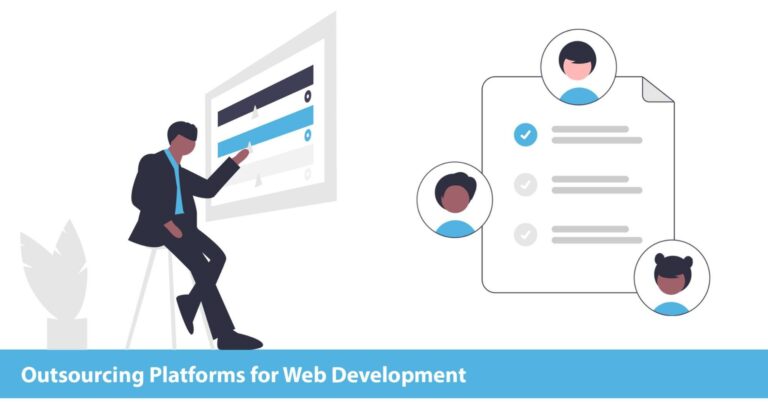 Outsource Web Development using Online Platforms
There are a number of online platforms that aggregate web development services for you, speeding up the discovery process dramatically. There is a huge and robust market of web development outsourcing companies, with many of whom being well suited for your required software development process.
This section lists some notable platforms dedicated to outsource web development services. They host contact details, portfolios and work history of the local development team and overseas web developers alike.
Outsource Web Development by Platform
Clutch hosts over 150,000 agencies in a  number of categories ready to source for your project requirements. Web development services range from web desi and software development, web design, search engine optimization, and more. Get started with Clutch by creating your company profile.
Find Iglu on Clutch here.
GoodFirms is branded as a business to business (B2B) service that helps technology companies source companies and as well as promote their own. This network consists of a large number of categories and also has a large database of verified reviews that can be used to gauge a prospective partner's suitability. 
Categories are focused on web design, with outsourced web development projects and reviews hosted on the platform.
Find Iglu on GoodFirms here.
UpWork is a popular freelance platform that also supports an agency model. The platform can be used to source both individuals and teams of web developers to carry out your task.
UpWork has their own monitoring software to ensure that the agency you hire works their allotted hours, that in-turn give payment protections to you as the client.
Dribbble's mission is to host the best designers and creatives, and provide them to you based on your requirements whether for web design, branding, animation and more. 
The platform hosts high resolution portfolio pieces from its collection of artists for you to browse, making it easy to find pieces that resonate with the visual style you are after for your project.
Behance is another design focussed platform that allows designers to showcase their work.
Behance consists of photographers, web developers, and designers and like Dribble, it can be used to get inspiration or to find freelancers who match your artwork requirements.
Choosing the right platforms
You may find yourself in a position where you find notable teams on multiple platforms. Providing this is in your budget, it may work well to outsource web development with multiple teams coinciding with various aspects of your project.
For example, outsourcing an individual graphic designer for some promotional materials and a more robust web development company for your major project development effort.
Onboarding more teams will dramatically increase the complexity for your project manager and the day-to-day communication and management required to keep all parties up to date. As discussed previously, project management tools (file storage, documentation, communication channels) need to be in sync amongst your partners to ensure a smooth running of operations.
Talent aggregation platforms like the above will speed up the sourcing of your partners which, with some due diligence,  should result in great candidates.

How to outsource your web development with Iglu
With over 10 years of experience in the industry, Iglu has a track record of attracting talented digital specialists from all over the world. 
Our employees range from senior talents with decades of experience to junior employees for more affordable solutions. Not only are we experts with the mainstream tech stacks, but we also have specialists in some of the most exotic programming languages.
See our comprehensive list of services for more information and we will look forward to working with you.
How much does it cost to outsource web development services?
You may have the impression that a particular location may offer the best rates, or have a bigger skilled pool of workers than other places in the world.
You may hear that China offers the best rates for skilled web developers, or Eastern Europe (Poland, Ukraine) has the fastest growing talent for web development outsourcing, or that Latin America has a budget friendly developer environment, and is therefore the most economical option to outsource web development.
This is not strictly true. The reality of location and talent is that less developed economies will offer cheaper software development rates, but are more likely to be less skilled or up to date with cutting edge software solutions.
Conversely, more developed economies will likely offer more expensive software development rates, but are more likely to be skilled and have access to the latest technologies and cutting edge software solutions.
We have mentioned cultural differences further up as a topic of consideration when outsourcing web development partners, but it is worth mentioning that studios located in highly connected cities will more likely have teams consisting of multiple nationalities and cultural backgrounds – this can be beneficial to you.
There is no fixed rule on where to outsource web development, but the following illustration highlights average hourly rates in key locations across the world: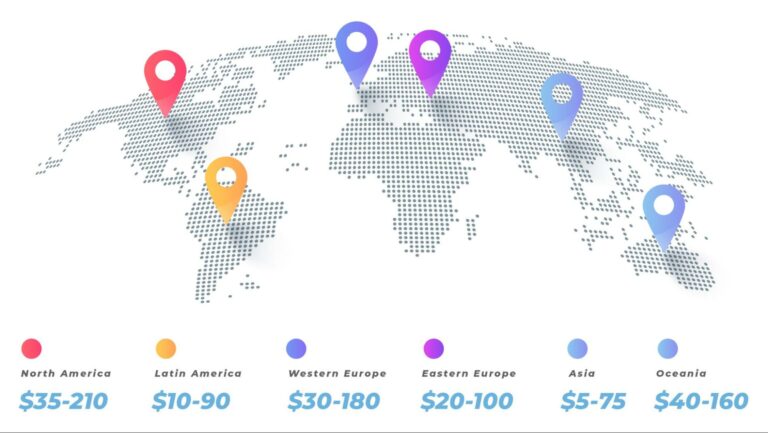 This large variability in prices further suggests it is not wise to rely solely on a particular location. The aggregation platforms mentioned above will do a more effective job at finding suitable teams with many more variables than just location.
If your web development outsourcing partner is an offshore web development company, consider:
Time Zone differences and how communication efforts need to be adjusted to accommodate it.
Again, communication is critical so ensure they can provide communication that is sufficient in English.
If you are situated in a more developed economy, your outsourcing partner may expect you to pay higher rates. Stick to what they advertised when negotiating rates.
This wraps up this web development outsourcing guide for 2021. As an additional summary, the following section lists typical mistakes to avoid when outsourcing web development.
Be mindful not to fall into these mistakes when you begin to outsource web development services, or outsource software development in general!
Mistakes to avoid when outsourcing web development
Sub-par selections due to a lack of information, time constraints or lack of sources to look for partners. The tips in this guide have addressed this mistake.
Setting unclear milestones and overall project goals. We discussed the business proposal and surrounding documentation to avoid this.
Neglecting management of your partners. Assign a project management role to an in-house team member to ensure this does not happen.
Insist on quality assurance. Keep that feedback loop in motion and ensure that the project is bug-free and of a high quality. Do not rely on your partners alone.
Underestimating required budgets. Plan your budgets in as much detail as possible, and consult with your outsourcing partners about required finances before commencing work.
Not considering non-development outgoings such as promotion, further R&D and other business running costs. Factor every cost into your business plan, not only your outsourcing costs.
Planning for the short term only. Treat your project and outsourcing partners as long term prospects and grow your connections with a long-term commitment in mind.
Lack of technical understanding. In order to gauge whether your partners are doing an acceptable job, it is wise to have an individual with a technical background to monitor progress and ensure the project is technically to a good standard.
Forgetting to issue a non disclosure agreement to ensure your sensitive data and company activities are protected.
We wish you all the success on your web development outsourcing endeavours.