There is a lot involved when planning a move to another country.
Other than reading up articles about life overseas and fantasizing yourself walking down those streets, estimating the future cost of living and realistically drafting your potential living situations are just as important.
Thinking of moving to Vietnam? Surely, there has got to be something so attractive about the country that prompted so many expats to make the big move to Vietnam to live, work, or retire.
So, before you start sorting out your tickets and paperwork, read through our article containing first-hand information on:
What it is like for expats to live in Vietnam
4 most popular cities that expats who live in Vietnam pick as their base, and why
What the cost of living, mobilizing, eating, and having fun in these cities are
What the biggest pros and cons of living in Vietnam are according to expats
Introduction to living in Southeast Asia and Vietnam
Southeast Asia is not only an economic epicenter but also a great expat hub. It is warm, with a low cost of living, alluring sights, and hospitable people.
Vietnam is no exception in the mix. Thanks to its robust economic and social advances over the past decades, more and more expatriates want to move to Vietnam.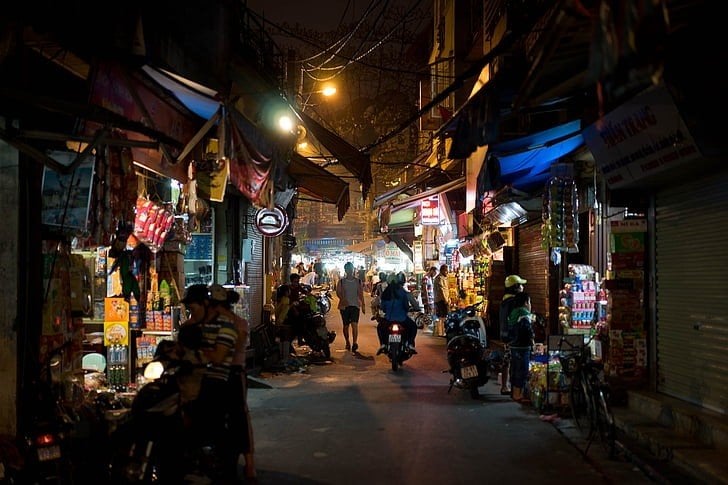 According to several surveys, these sites ranked among the most livable locations: 
Hue – Hue is a bit of a hidden gem. Not as popular as the previously mentioned big city boys, Hanoi and Ho Chi Minh City, it is considered to be a quiet and affordable location, and perhaps the most walkable city of the mentioned.
Hue also aspires to become a highly sustainable and green city and adopted a GCAP green plan to do so. Main goals are to improve the system of ponds, canals and drains, develop a landfill, or promote bicycle use.
Ho Chi Minh City – Once named Saigon, this southern metropole ranked 3rd among the best cities in the world to live in 2020 in an InterNations ranking, where 15,000 expats shared their opinion on the quality of life, environment, and more.
HSBC bank confirmed that the previous year, when it placed Ho Chi Minh City, Vietnam, among the 10 best countries for expatriate employees to live, work and raise a family.
Danang – One of the twenty cleanest cities in the world and the most livable city in Vietnam, Danang continuously leads in the Provincial Competitiveness Index (PCI) rankings.
Hanoi – It is the capital, that mixes modern and old, and offers numerous job opportunities. In 2019, it ranked 107 out of 140 cities in the Economic Intelligence Unit's liveability ranking, making it one of the five biggest improvers.
The general monthly cost of living in Vietnam is 500 – 1500 USD. Follow us on our deep dive into the details of the living costs in all these cities in this article.
But first: We mentioned several annual types of research and surveys. In general, what are the pros and cons of living in Vietnam, according to InterNations Expat Insider (2019/2020), and HSBC (2019)?
Pros and cons of living in Vietnam, according to expats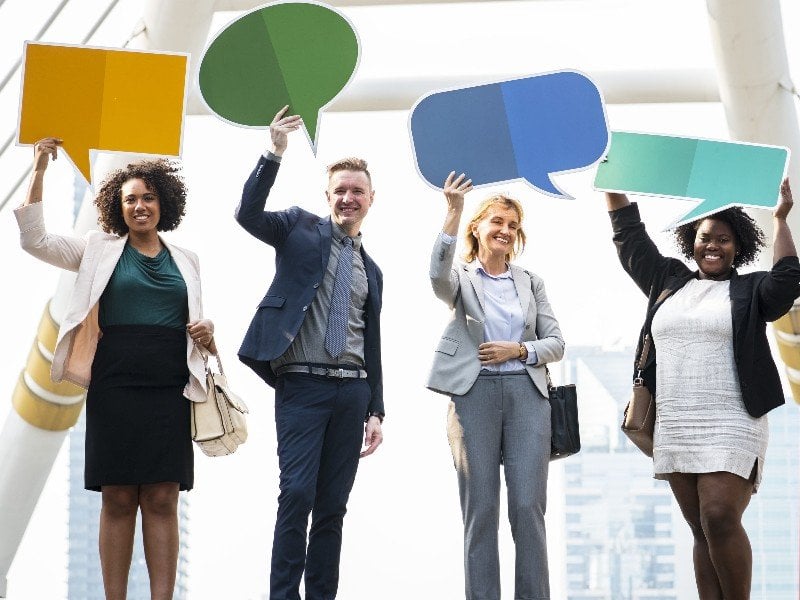 PROS
Life in Vietnam is not expensive! The leading city, HCMC, ranked 1st in the finance & housing index, as well as the local cost of living index.
Thanks to the work/life balance, disposable income, economic stability, and career progression and potential, Vietnam ranked 1st in the HSBC research.
Expatriates are happy with their current jobs (79% versus 64% globally), plus confirmed by previously mentioned HSBC survey, they also earn more money than the global average ($78,750 per year, compared to $75,966.)
However, some of the expats indeed notice the big gap in their salaries compared to the locals'. According to Trading Economics research, the local average annual salary at the end of 2018 was $2,920. This results in many expatriates donating their free time and resources to a good cause.
Expats in Vietnam also like local career opportunities (68% versus 51% globally) and working hours (75% versus 62% percent).
Vietnam is also perceived as very friendly: 88 percent of expats find local Vietnamese people friendly toward foreign residents against 64 percent globally.
According to HSBC, it is also easy for expats to make friends. Vietnam ranked 4th in the HSBC survey.
Moreover, the overall happiness index was 88%. The leading place, Taipei, scored only 78%.
In 2019, nine out of ten expat respondents said they were happy with their life in Vietnam.
CONS
Vietnam ranked quite low in environments & sustainability (56th out of 60 countries).
Almost seven in ten expatriates (69%) have a negative opinion of the air quality in Vietnam (vs. 24% globally) and that is not the only health risk.
A lot of expats succumb to health issues related to smoking, drinking, or eating unhealthy, or motorbike accidents, often without proper life and health insurance (in 2008/9 73% percent of all deaths were aged from 15 to 49 years!).
Only 38% of expatriates are happy with the water and sanitation infrastructure (vs. 72% globally).
Vietnam is beautiful but still ranks at 50th place out of 60 worldwide for the natural environment, because of its problem with single-use plastics.
Expats also do not believe that the government does what it can. Only 26% agreed that the government supports policies to protect the environment (vs. 55% globally).
Almost half the expatriates (47%) are dissatisfied with the availability of green goods and services (vs. 21% globally).
37% of expats rate the energy supply negatively (vs. 18% globally).
And last but not least, the language barrier. Asian & Pacific Islander American Health Forum found out that 46 percent of Vietnamese have limited English proficiency.
A lot of expatriates who live in Vietnam long-term would make the effort, and try to learn Vietnamese. For example, a group language course in Vietnam costs roughly 1,5 – 2 million VND ($64 – 86) for 10 lessons.
Expats in Vietnam – a general overview
It is hard to say the exact number of expats currently in Vietnam, but it is not low.
According to the Directorate for Employment Labour and Social Affairs paper published in 2005, there were 1 507 164 foreigners living  in Vietnam, 23.6% of which were highly skilled.
According to the Ministry of Labor, Invalids, and Social Affairs, in July 2019, there were about 91,200 expats in the country, though the figure has certainly changed since, especially considering the COVID-19 pandemic. 
Back in mid-March, it was recorded that there were 94,005 expats in Vietnam, as it closed borders to prevent further spread of the coronavirus. Since Vietnam has done really well to contain the pandemic, staying here is perceived to be enjoyable by many.
Fun fact: In April 2020, only 11% of foreigners "stranded" in the country due to COVID-19 wanted to leave Vietnam on repatriation flights.
Generally, most of the expats living and working in Vietnam are:
digital professionals,
remote working professionals,
education professionals,
recruitment professionals,
members of diplomatic missions and honorary consulates, 
NGO workers,
hospitality and tourism professionals,
workers of representative offices,
executives (Vietnam scored an index of 64.9 out of 100 in the 2019 International Executives Mobility Study),
creatives and entertainment professionals (such as models, videographers, photographers),
business owners.
If you fall into one of these job categories, dig into our guide into the cost of living in Vietnam and its most expat-popular cities, and decide whether you would make this your next home:
Overview:
Cost of accommodation in Hue
Cost of transportation in Hue
Cost of groceries and dining in Hue
Cost and options of entertainment in Hue
Options to escape Hue and expenses
3 main pros and cons of living and working in Hue
Did you know the Imperial City Hue used to be Vietnam's capital for hundreds of years, where kings of many generations resided in?
The rich culture and ancient beauty and spirits never seem to have left the city as you can still see it and feel it to this day.
Nevertheless, this hidden gem has been undergoing changes as the city opens itself to foreigners settling down, becoming a new favorite hub for many expats.
So, is the cost of living in Hue as charming as it presents itself? Let's find out.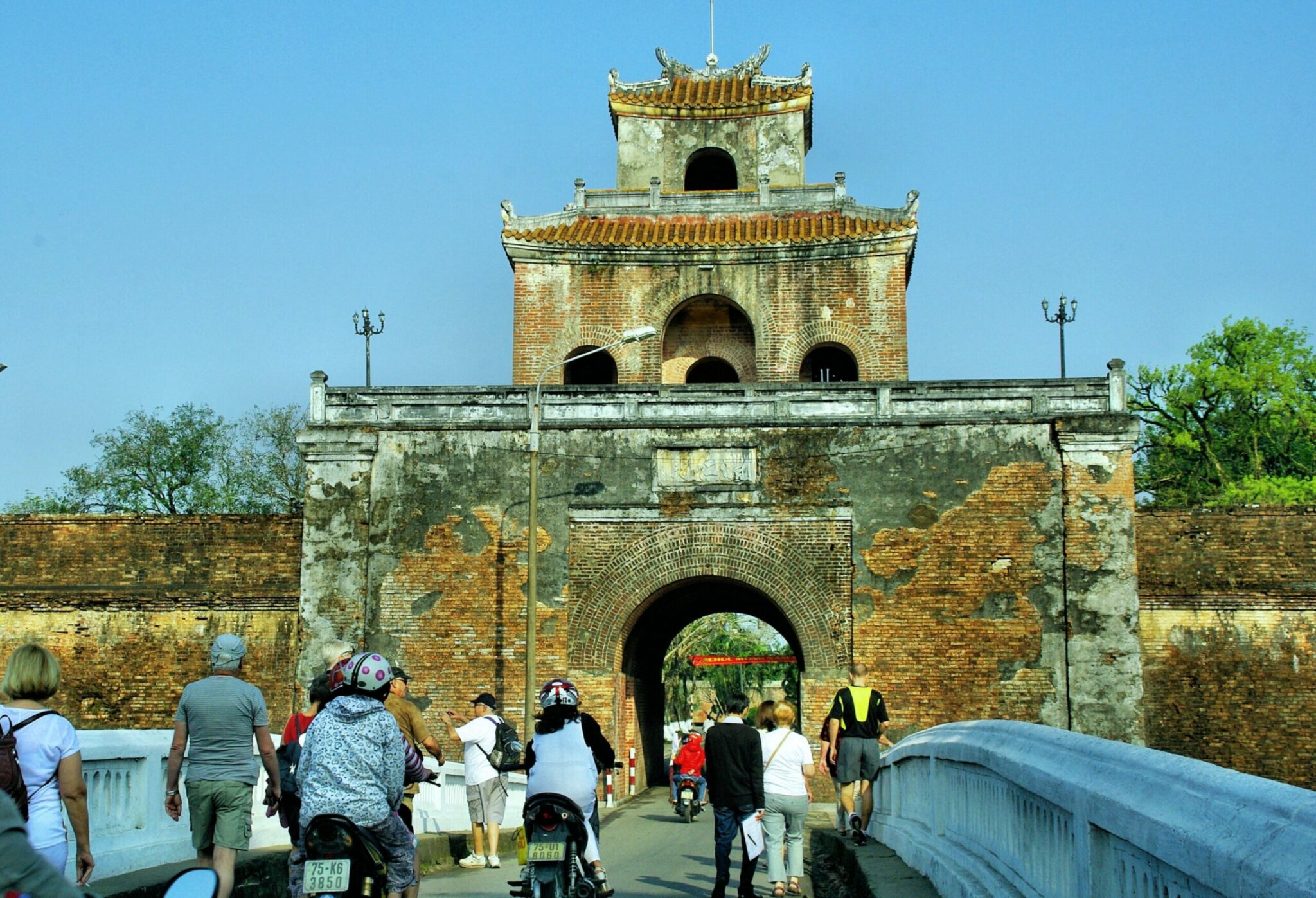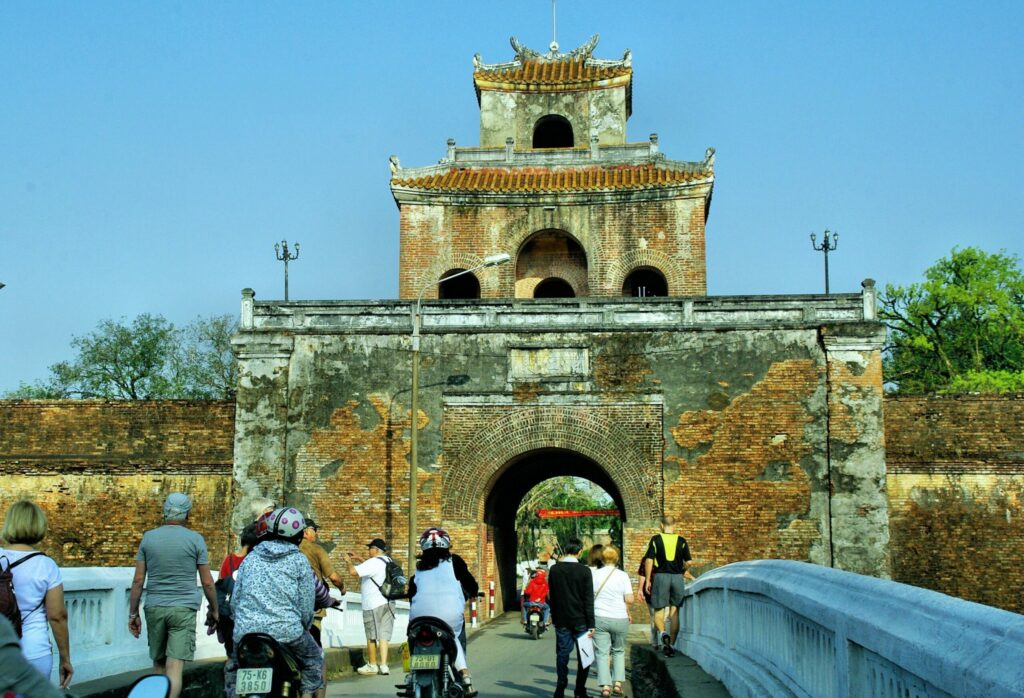 Cost of accommodation in Hue
Hue's competitive advantage is the price. It certainly is the cheapest among the previously listed cities for those with a limited budget! You can get a full, basic house, with three to four bedrooms for $300-400 per month, without water and electricity. Monthly costs for en-suite rooms are around $170, and a studio apartment is about $220.
Cost of transportation in Hue
If we said that Danang's traffic is calmer, traffic in Hue is almost non-existent and yet, more organised with modern traffic lights and a traffic control center. Amazingly, some respect for pedestrian crossings exists too, unlike in Danang. Bike cycling in Hue is easy and much safer than in many other cities. It is perfect even for beginners who want to try blending in. Renting a motorbike ranges from around 800,000 to 1,000,000 VND a month ($34.4 – 43).
For biking, Hue province is a perfect landscape with its weather, easy-access mountain roads, beautiful views and border roads. Soon, Hue plans to promote biking through
a bike-sharing program and more bike lanes and possibly also use waterways for urban mobility. The city also adopted a Climate Action Plan, that aimed to improve the impact of urban development and identify adaptive measures.
Cost of groceries and dining in Hue
General prices for Vietnamese street food in Hue are +-5,000 VND compared to Danang.
Western food needs are trickier to fulfill, as there are not as many options as in big cities, or they are just non-authentic Asian versions. Nevertheless, prices are not less than in big cities, because, in Vietnam, you always pay more for foreign products: pasta 85,000 VND and more ($3.7), pizza 150,000 VND ($6.5)…
Cost and options of entertainment in Hue
Hue is a quiet town. Most expats explore its culture, history, and nature. We recommend visiting the tombs of ancient emperors, and more. Check our article completely dedicated to Hue.
Options to escape Hue and expenses
If you are based in Hue, it is quite easy to visit the aforementioned Danang, or Hoi An, Hai Van Pass, or do a DMZ tour, where battles between the North and the South took place. A 1-day tour is about 500,000 VND.
3 main pros and cons of living and working in Hue
PROS
The cheapest city of these 4!
Great for lovers of culture, history, and nature
Ideal for families with kids
CONS
Not so many expat-friendly and English-speaking services
Might be too traditional and quiet for someone's taste
Typhoon season affects Hue as well and severe floods can occur
Overview:
Cost of accommodation in Ho Chi Minh City
Cost of transportation in Ho Chi Minh City
Cost of groceries and dining in Ho Chi Minh City
Cost and options of entertainment in Ho Chi Minh City
Options to escape Ho Chi Minh City and expenses
3 main pros and cons of living and working in Ho Chi Minh City
This Southern city came a long way since it became quite a symbol during the Vietnam War.
Named after Ho Chi Minh, often referred to as "Uncle Ho", HCMC aka Saigon is a bustling metropole, with busy traffic, shops of most famous brands, and high skyscrapers. The tallest one is 461.2 m (1,513 ft) high.
Same as Hanoi, Saigon is divided into districts. From the expat's perspective, the most interesting spots are District 1, known for its French architecture, old temples and pagodas, lively bars and restaurants, and the busy Ben Thanh Market; District 2 where many expatriates work and live; District 3, home to War Remnants museum if you are interested in learning more about the past; and District 5 where you can explore HCMC's Chinatown.
Once you immerse yourself in the city life, you will easily see why HCMC was nicknamed the "Pearl of the East" or the "Big Market".
It has everything! So what is the cost of living in this energetic city?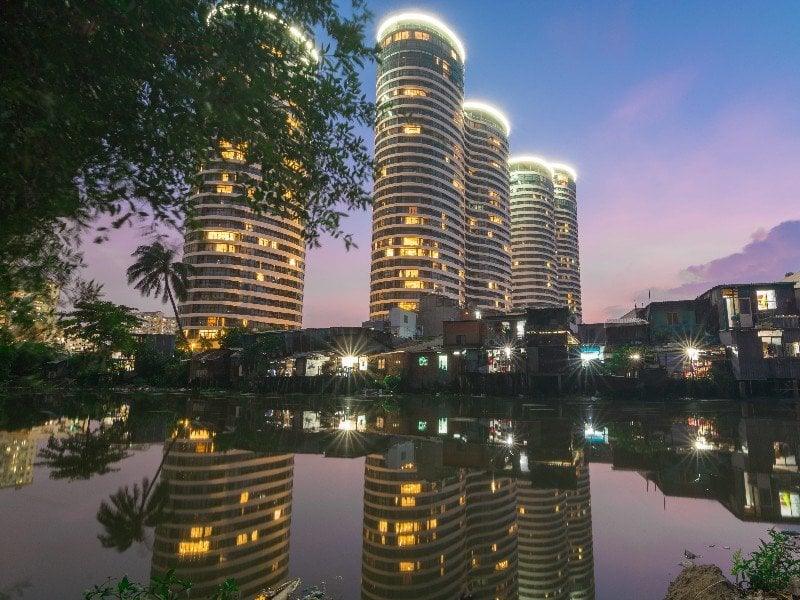 Cost of accommodation in Ho Chi Minh City
The average rent is either the same as in Hanoi or only slightly more expensive. And of course, the more modern the apartment, the higher the rent.
Good practice on how to keep your electricity bills low is paying attention to kW price. Do not pay more than 3,000 – 3,500 VND.
Sadly, this rate is up to your apartment landlords and there is no regulation.
However, now that you know the appropriate amount, try to level with them as best as you can.
Cost of transportation in Ho Chi Minh City
Same as in Hanoi, the most popular and fastest option to get around the city is a bike ride. You can rent a motorbike for about 150,000 VND a day ($6.5).
If you want to experience the traffic here first hand and live like a Vietnamese, bike rental is a good option, about 1,000,000 VND – 1,500,000 per month ($43 – 64.5). 
The cheapest alternative is a public bus with a ticket being only around 6,000 VND ($0.3).
Cost of groceries and dining in Ho Chi Minh City
General prices for Vietnamese street food and Western food in Ho Chi Minh City are the same as in the previously mentioned capital.
Cost and options of entertainment in Ho Chi Minh City
The prices of entertainment options are generally similar to Hanoi. If you are new in town, hit the backpacker area of Bui Vien street, or if you go for quality and ambient atmosphere, some of the fancy sky bars.
For every city on our list, there is a Facebook group gathering expats, so join to discover more places.
The city center, surroundings of Bitexco Tower, Pasteur Street especially, offers many good options. Then again, Thao Dien area in District 2 is one of the most popular places for expatriate living and entertainment. 
Options to escape Ho Chi Minh City and expenses
The city life here is definitely more lively than the "conservative" capital, especially the nightlife.
Thus, if you settle in Ho Chi Minh City, you might find it loud and overwhelming at times. Some of the honorable mentions of locations worth visiting are:
Mekong Delta – Sail on the world's 7th longest river, get food from floating markets, see fishermen fighting catfish, visit farms and orchards.
An ideal city getaway takes around 500,000 – 3,000,000 VND ($21.5 – 129) for 2 days 1 night, depending on the services and type of the boat.
Phu Quoc island – Just a 1h flight away lies the biggest Vietnamese island, with sandy beaches, friendly people, and tasty seafood.
A plane ticket from the city is around 40-140 USD for one way, and way more during holidays, since this is a popular destination.
3 main pros and cons of living and working in Ho Chi Minh City
PROS
More networking and job opportunities
Often cheaper international flights than from/to Hanoi
A city that is "alive 24/7″
CONS
Busy and chaotic looking traffic, longer travel times
Air pollution
Public transport is lacking, metro is just being built (same for Hanoi)
Overview:
Cost of accommodation in Danang
Cost of transportation in Danang
Cost of groceries and dining in Danang
Cost and options of entertainment in Danang
Options to escape Danang and expenses
3 main pros and cons of living and working in Danang
Danang is also loved by expatriates, as it is not as crowded as big cities being a newer hub.
You get to live close to the beach where it is airy with natural air conditioning, backed by mountains rising over the horizon.
What was once a military airbase, is now home to many retirees, and digital professionals.
Since it is not as big as the other two, surely the cost of living in Danang must be cheap?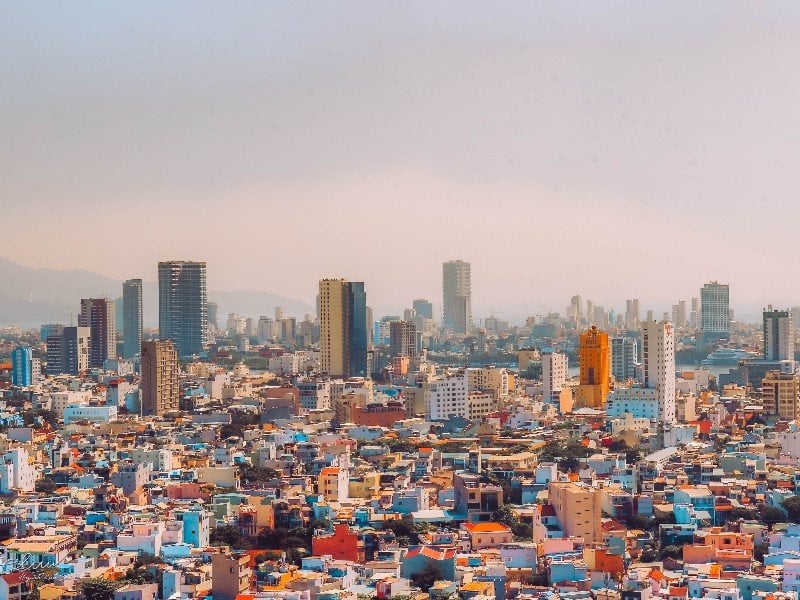 Cost of accommodation in Danang
While in the aforementioned two cities, it is common for expatriates to share a house, in Danang, it is easier to afford a studio or an apartment, some even with a pool, possibly due to its less suffocating space and easier-to-breathe housing prices.
Expect to pay around 4 – 5 million VND per month ($172 – 215) to live in a studio apartment with a view (35 – 40 sqm) and 5 – 6 million VND per month ($215 – 258) for a 1 bedroom apartment. Electricity is worth around 3500 VND/kWh.
Cost of transportation in Danang
Most of the expats buy or rent a bike. Luckily, the traffic is much calmer in Danang although with much higher speed.
If you are a pedestrian, be careful. The rental of a motorbike is approx. 1,000,000 – 1,500,000 VND per month ($43 – 64.5).
Neighboring Hoi An is also very bicycle-friendly.
There are 5 public bus lines in Danang, with 5000 VND fare.
Cost of groceries and dining in Danang
General prices for Vietnamese street food in Danang are:
10,000 – 20,000 VND ($0.4 – 0.9) for Banh mi baguette
10,000 – 15,000 VND ($0.43 – 0.6) for a beer, 25,000 VND ($1.1) for a big bia hoi pitcher
25,000 VND ($1.1) for a noodle soup
General prices for Western food in Danang are similar to the capital.
Cost and options of entertainment in Danang
You need to go to the beach while you are here! You can try the basic scuba diving course that is around $75 – 100, the licensed PADI course for $260 – 350, or sea trekking!
What is it? Walking under the water with a helmet, available at $63.
Options to escape Danang and expenses
The closest and most beautiful thing to Danang is Hoi An town. Famous for yellow walls, quaint streets, and canals with boats, it is nicknamed "Venice of East".
Do not forget to visit a tailor for any textile and garment need, as Hoi An has one of the best and affordable ones.
You can reach Hoi An from Danang in less than 60 minutes on a bike, by bus, minibus, or car.
My Son Valley or mountain pass Hai Van Pass are great places as well if you have a bike. My Son is nicknamed the "mini Angkor Wat", thanks to its ancient Hindu temples.
And then there are, of course, Ba Na Hills that have gained worldwide attention with its latest addition, the walking bridge carried by "hands of God".
You can also find the next city on our list, Hue, not far away from Danang.
3 main pros and cons of living and working in Danang
PROS
Living by the sea, with close proximity to ancient Hoi An
Relatively clean air, occasional fresh sea breeze
Many remote working professionals = networking hub
CONS
Not that many job opportunities outside the online world and hospitality industry
The smaller and tighter expat community
Typhoon season, yet not often hitting Danang directly
Overview:
Cost of accommodation in Hanoi
Cost of transportation in Hanoi
Cost of groceries and dining in Hanoi
Cost and options of entertainment in Hanoi
Options to escape Hanoi and expenses
3 main pros and cons of living and working in Hanoi
The capital has a big foreigner community. Both tourists and expatriates love the city for its versatility and a proportional mix of old and modern. Just picture this: the Truc Bach Lake, a place where the US soldier and politician John McCain landed after his plane was shot down in 1967 is now a place where you can rent a swan and paddle on the lake, go jogging or enjoy an iced coffee.
In the neighboring district, Ba Dinh, a statue of Lenin overlooks skaters gliding and the elderly exercising under thick canopies in the park… And we can ramble on endlessly!
Onto the main part, what can you expect about the cost of living in this lovely city?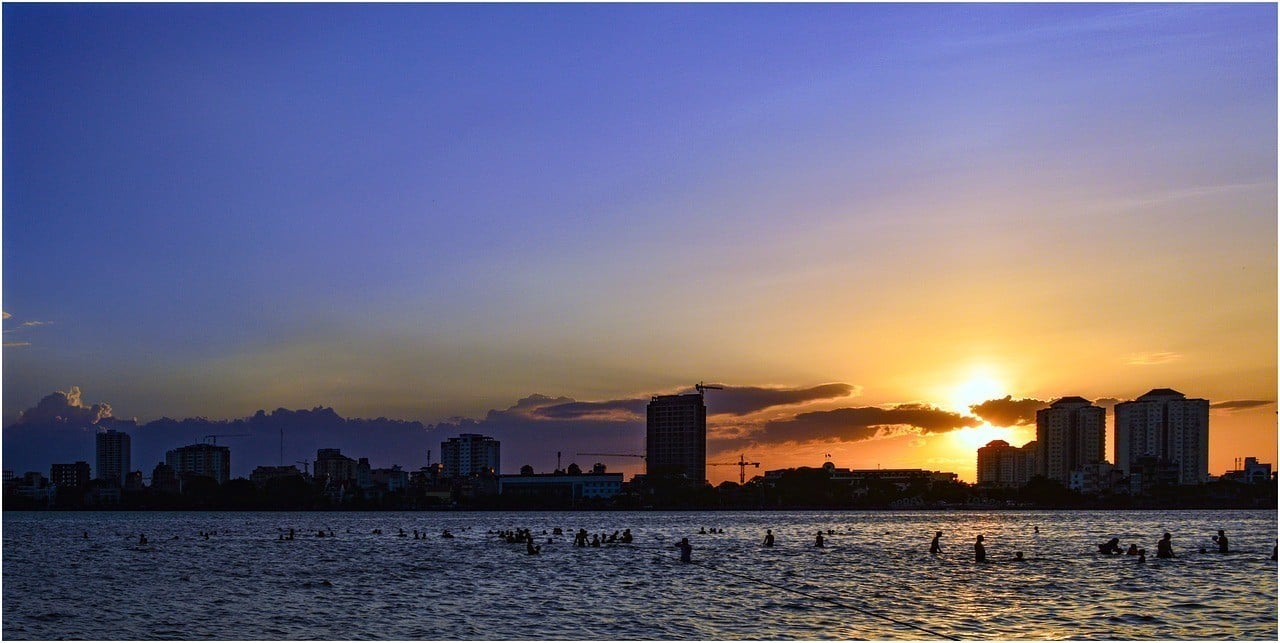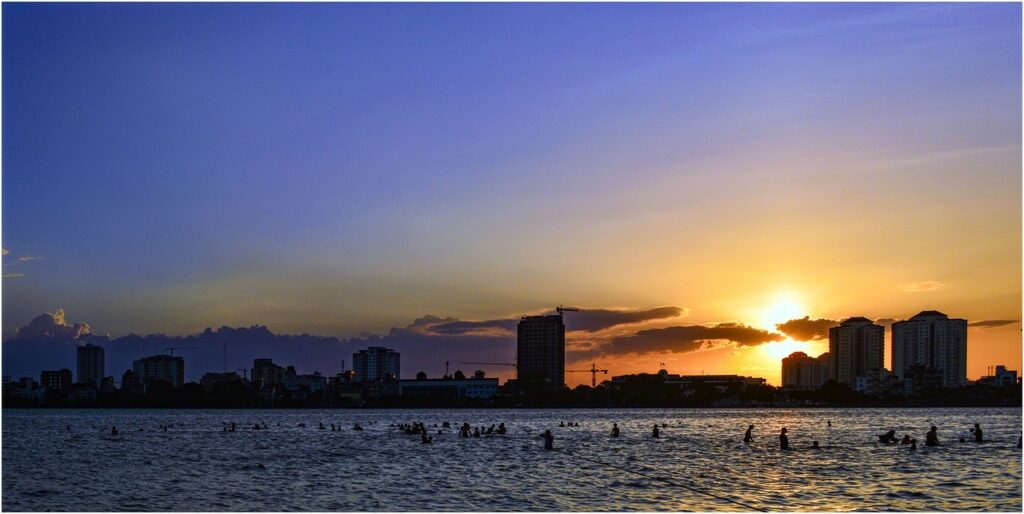 Cost of accommodation in Hanoi
The average rent is around $200 – 250 per month for a room in a shared house. En-suite rooms and rooms with a balcony can range from $250 to 350 a month.
A single-person small apartment unit will be more expensive, approximately $230 – 340 per month. These prices do not include water (very cheap) and electricity.
Expect monthly electricity bills to be roughly $22 in the summer, due to the use of air conditioning and fans, etc.
Cost of transportation in Hanoi
The most popular transport for expatriates is to order a car/bike ride (via apps like Grab) or get yourself a motorbike if you have an international license (rent amounts to about $34 per month; buying one is from $400 – 500 for a 2nd bike in the Facebook Marketplace, however it would be wise to have the motorbike serviced by a mechanic once bought and/or paying a little more to ensure you buy a reliable motorbike).
Riding a bike in Vietnam might appear scary at first due to the high volumes of traffic and vehicles coming from all humanly possible directions, especially during rush hours, but you will get a hang of it.
Plus, useful blogs such as Vietnam Coracle provide nifty tips for trips.
Though public transport may take more time, if you are want to use it, 7,000 to 9,000 VND ($0.3 – 0.4) is the usual price per trip, which is not much, and there are even buses connecting the city and the airport (number 86 requires a bit more for its additional services like free Wifi, about 35,000 VND ($1.5)). It is by far the most budget-friendly way to get to and from the airport.
Taxis, which camp outside a lot, are very expensive if taken immediately in front of the airport terminal.
In any case, if you need to take a taxi outside the apps (i.e. Grab, Be, Go-Jek, etc.), make sure that you agree with the driver on the price beforehand or check whether the meter is running properly.
Cost of groceries and dining in Hanoi
Food in Vietnam is generally cheap. However, you will always be a "Tây" (meaning "a Westerner") when you live here, which means some people would assume you have much money and raise the price (applies even to old ladies selling pineapples on the street!), so it is good to do your research before buying something. And we got you covered!
General prices for Vietnamese street food are around $1, equal to 23,000 VND
15,000 – 30,000 VND ($0.6 – 1.3) for Banh mi baguette,
25,000 – 45,000 ($1.1 – 1.9) for soup or fried rice
20,000 – 40,000 ($0.9 – 1.7) for a juice or smoothie
20,000 – 30,000 ($0.9 – 1.3) for a beer
15,000 – 25,000 ($0.6 – 1.1) for the black coffee
40,000 – 50,000 ($1.7 – 2.2) for a fresh coconut
General prices for Western food are:
120,000 – 200,000 VND ($5.2 – 8.6) for a pizza
70,000 – 160,000 ($3 – 6.9) for a burger
50,000 – 100,000 ($2.2 – 4.3) for a taco
600,000 – 3,000,000 ($25.8 – 129) for a fancy degustation menu
60,000 – 100,000 ($2.6 – 4.3) for alcoholic mixer
Some fast-food restaurants may offer them at a cheaper price.
Cost and options of entertainment in Hanoi
Local people prefer to train outdoors, so you might see some people dancing, jogging, or even weight training in parks.
If you are looking to subscribe to a gym membership, there are numerous modern gyms, gyms with pools, or kickbox centers in Tay Ho District. Membership ranges from 3 – 5 million VND ($129 – 215) for six months.
Yoga is also a very popular option and often offered at the gym as a course. In the summer, the entrance fee to outdoor swimming pools, such as Thang Loi or Be Boi Ho Tay in Westlake is 80,000 VND ($3.4).
Cinemas are frequented by both the locals and foreigners as well, usually 100,000 VND/a ticket on average ($4.3).
If you are more of a party person, there are various pubs and clubs for dancing, drinking, or even organizing pub quizzes and concerts. The entrance fee is 50,000 – 200,000 VND ($2.2 – 8.6).
Options to escape Hanoi and expenses
If you are based here, it is easy to explore Northern Vietnam. Expat favorites are Cat Ba Island and Halong Bay.
A luxurious 1 night 2 day cruise costs around 2,000,000 – 3,000,000 VND ($86 – 129).
Ninh Binh, also referred to as Halong Bay on land, has many cozy homestays for as much as 200,000 VND a night ($8.6). Luxurious resorts amount to 800,000 VND a night and more ($34.4).
Sapa, a Northern destination famous for local people in traditional indigenous dresses and the highest mountain in Vietnam, is easily reachable via train. 1 night in a fancier lodge is 500,000 VND a night and more ($21.5).
You can also easily venture towards Chinese borders and explore Ha Giang, either via bus, a rented motorbike, or join an "easy rider" tour.
Expenditure is somewhere around 3 – 5 million VND ($129 – 215) for a 3-day tour.
3 main pros and cons of living and working in Hanoi
PROS
Big expat community with many expat-friendly places
Possibility to travel around in your free time
Cheap living compared to salaries
CONS
Crazy traffic
Air and water quality
Cold and wet winters
For a quick take on the cost of living in Vietnam, have a look at our concise summary below:
Hanoi is the capital with a diverse climate ranging from raging hot summers to numbing cold winters, but the people are warm; expat communities are big, and there are many fun events on weekends, even if Hanoi is a very traditional and conservative city as is the entire northern Vietnam.
HCMC (Saigon) lives in a fairly constant state of heat with two seasons of rain and drought. It also benefits from the most relaxed and open atmosphere in Vietnam, the big and diverse expat community, larger job pool, and various entertainment options.
While salaries in Hanoi and Ho Chi Minh city are the highest, you pay a price by experiencing heavy traffic and being exposed to more pollution. Nevertheless, Vietnam is a very diverse country, so everyone can find their home.
For those in love with beaches, the oceanic winds, and nature in general and do not mind a few months of typhoon season, go for Danang, the growing hub for expatriates that costs a little less and is a breath of fresh air away from the other two bustling hotspots.
And for those interested in experiencing a slower and laidback way of living, in love with history and places with ancient Quo Vadis, prefer lower living costs, and do not mind a small expat community, Hue might just be the key to your heart.
Vietnam awaits!