Vietnam is diverse, welcoming, rich in culture, and ancient. No city paints the historical heritage better than Hue, (pronounced /way/), lying along the Perfume River.
Back when emperors and dynasties ruled, it used to be the imperial capital.
Now it is a cozy city, famous for its cuisine ranging from vegetarian dishes to spicy beef Bún bò Huế soup, as well as ancient tombs, and nearby natural scenery — from waterfalls to beaches.
Let us dive into Hue, an expat-friendly city, yet a hidden, peaceful gem (over-crowded Saigon and Hanoi, we are looking at you).
A short introduction to Hue
This Imperial City, written as Huế, was once the country's capital (1802 to 1945). Now, the Imperial City and Citadel still stand strong, protected by UNESCO.
They were primarily a fortress with many bastions and gates, but also a royal residence. And they were designed magnificently.
Till this day, the green outdoors with lakes and bridges, buildings with elaborate columns, doors, decor, and especially the Forbidden Purple City, the royal residential area — they all provide a sneak peek into Vietnam's feudal era.
The Nguyen dynasty (Nhà Nguyễn) was the last one that could enjoy palaces, temples, and even the local theater.
You can see them all on your visit. Apart from that, tombs dedicated to emperors, the photogenic Thien Mu Pagoda, or Bach Ma National Park await in Hue city or nearby.
You might love it so much you will decide to reside in Hue, Vietnam, for a longer time. But more on that later.
When to visit Hue in Vietnam
If you are visiting the Imperial City of Hue, plan according to the time of year. Central Vietnam is affected by the monsoon climate and tropical weather. There are two seasons: dry and wet.
The most comfortable visit falls into the dry season, March to August, our favorite being April. There is not much rain and the kids are still at school, so there are few local tourists.
The famed biennial Hue Festival also takes place in April, with many art performances, a kite-flying festival, a Perfume River boat race, and even film screenings.
If you do not live in Hue, but want to travel here, expect rain and humidity in September to December, but no floods, as in Hoi An.
How to get to Hue
You can travel to Hue by plane (Phu Bai International Airport), train, bus, or car.
For tickets, check websites such as Traveloka, Vexere, Baolau, or 12go. Vietnamese websites can be more tricky — in terms of language, or payment methods.
However, if you want to buy your train ticket via the official website, head to dsvn.vn
We recommend Hue to Danang via train solely for the scenery. In 1978, Vietnam restored the North-South line (Hanoi to Saigon), so the trip on Vietnam's "Reunification Line" is comfy, and the Hai Van Pass mountain range view awe-worthy.
If you are confident in riding a bike and have the proper papers to ride a motorbike in Vietnam, you have another great option at hand.
Hue itself is bicycle-friendly. Grab a map, hire a guide, or simply follow our tips.
9 most "whoa" things to do in Hue, Vietnam
1. The Imperial Citadel
As mentioned before, this is a must. Its sets of walls and moat made Imperial City safe, hiding the Purple Forbidden City, home of the ruling imperial family.
Intricate decorations make it a feast for the eyes to this day, long after the last emperor left.
It seems like ancient history, however, this happened in 1945. Then, in 1946, the First Indochina War started.
You will find remnants of the local war-filled history scattered around Hue and The Imperial Citadel is a good place to start.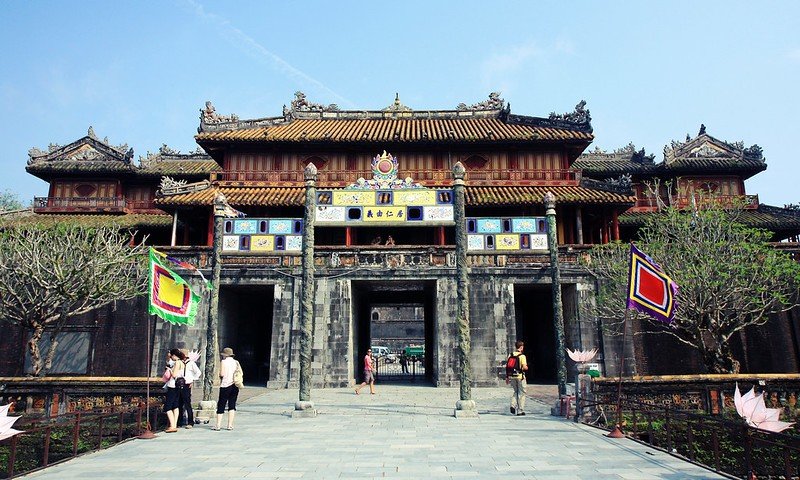 2. Imperial Tombs and Mausoleums
There are several important tombs in Hue. All emperors started building them during their life — after all, the local beliefs on death and life stay the same even today.
As Phạm Công Sơn, a Vietnamese anthropologist, said, "Death is not the end but is the final stage of one life to be transformed into another."
Every detail was precisely thought through — from facing a certain cardinal direction or the sun, following Feng Shui, or using only top materials.
Our favorites are Emperor Minh Mạng's tomb, with beautiful wooden doors, green exterior, and a lake, or Emperor Khai Dinh's tomb with French elements and breathtaking ceiling.
Interesting facts:
#1 It is believed that Emperor Minh Mang had 142 children, while Tu Duc had no children at all.
#2 Khai Dinh's tomb is the most expensive, opulent, and took 11 years to finish!
#3 The last emperor of Vietnam, Bảo Đại from the Nguyen Dynasty, died in 1997 and is buried in France.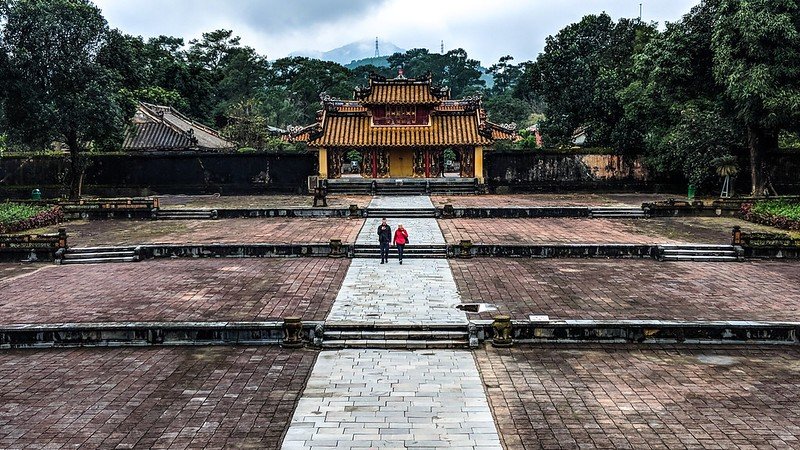 3. Thien Mu Pagoda
Pagoda of the Celestial Lady is a symbol of Hue. Sitting on top of the Hà Khê hill, it has witnessed history since 1601. Thích Quảng Đức, a monk that you might have read about, lived here.
He protested the persecution of Buddhists in 1963 by self-immolation in Saigon. He did not make any noise, did not move, and his heart remained intact and did not burn at all.
A car he owned is displayed here. Snap a picture of this pagoda, chill in its bonsai garden, and either walk back to the center, or take a dragon boat docked right in the front of the entrance.
PS: The heart relic of said Buddhist martyr is kept in Xá Lợi, the largest pagoda in Ho Chi Minh City.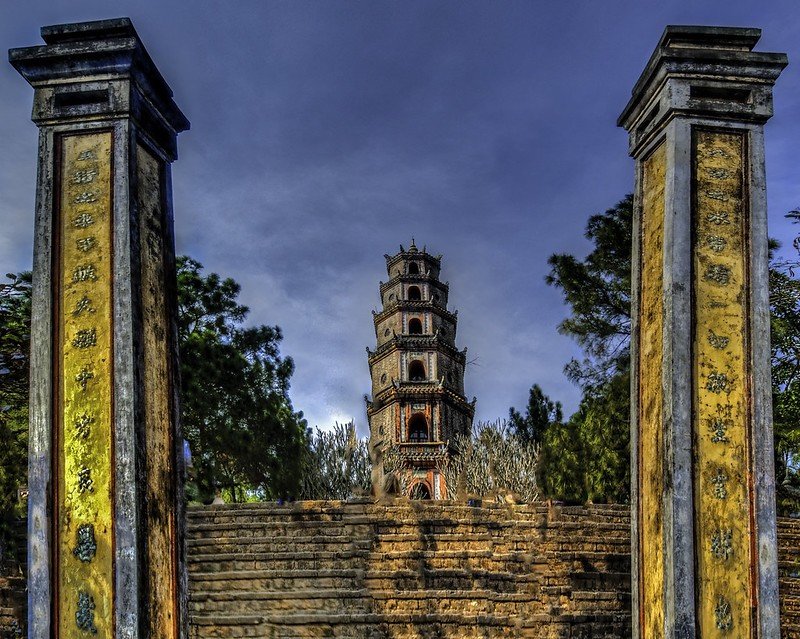 4. Perfume River cruise
There are several options to discover Hue — on foot, by bike… why not by boat? Cruise like royalty. There are day cruises, sunset ones, options with lunch or dinner included.
Whether you pick a group tour or a private boat, you will enjoy the beautiful scenery, local life, maybe even spot some water buffalos.
By the way, it is called Perfume River because, in the old days, the falling blossoms from the orchards gave it a nice aroma in autumn.
Since then, sadly, pollution has increased and the story is no longer true. However, the city is still famous for its orchards and you can see people selling flowers and trees, especially during Tet (Lunar New Year)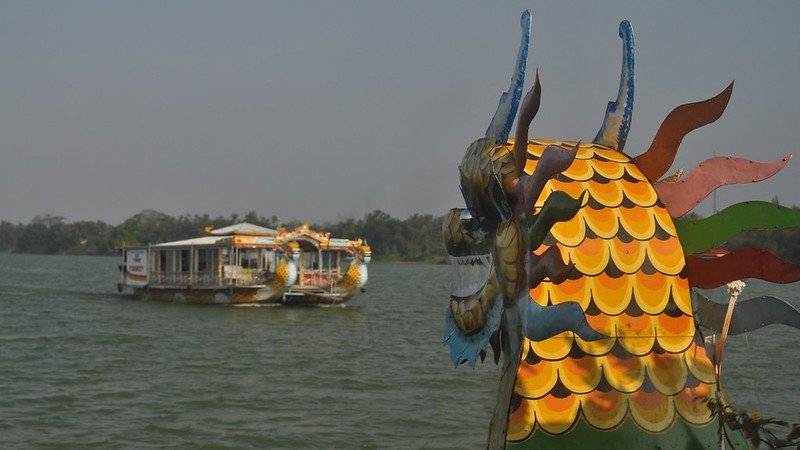 5. Enjoy Royal Banquet Dinner
Dine in style. Guests get to dress in royal garments and are served delicious, traditional Hue dishes in an authentic building
Accompanied by traditional music and performances, it is a feast for the eyes, not only the stomach. Hungry for more?
6. Follow the "foodsteps" of late Anthony Bourdain
Are you a fan of street food and the culinary world? Chef and writer Anthony Bourdain (1956-2018) was famous for traveling the world and "breaking bread" with locals
He adored Vietnam: "Does everybody fall in love with the country like I did? I came here and it stole my heart." On his visit to Hue, he tried the famous Bun Bo, Clam Rice, or Banh Bot Loc, served wrapped in a banana leaf
Watch the episode of Bourdain's Parts Unknown series, and enjoy food while sitting on a low plastic stool, mastering your chopstick skills.
One useful word for you: "ngon" means tasty. You will use it a lot, we promise. If you love cooking, look into cooking classes as well.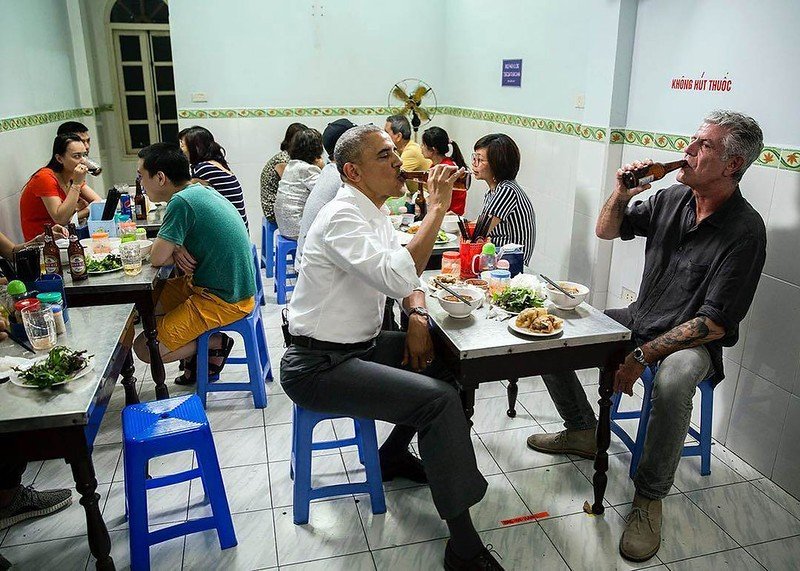 7. Discover the Vietnam war history
Backed by hills and close to the coast, the Imperial City played a big role — in times of Japanese occupation, First Indochina War, and Second Indochina War, also called The Resistance War Against America, The American War, or The Vietnam War.
Hue was significant: the infamous Tet Offensive escalated into the Siege of Hue, with intense battle and thousands of casualties. The fight lasted for 26 days and the city was badly damaged.
It was rebuilt, so now you can walk around the Hue Citadel (where you can still spot bullet holes), visit the War Museum, or join the DMZ excursion. The Demilitarized Zone is a former border between North and South Vietnam.
There are tunnels, military cemeteries, combat bases, the infamous Ho Chi Minh trail, bridges, and important battlegrounds.
Some tours are still run by former soldiers — they know the area the best. Even if you are not a history buff, consider looking into it. After all, "Those who forget their history are condemned to repeat it."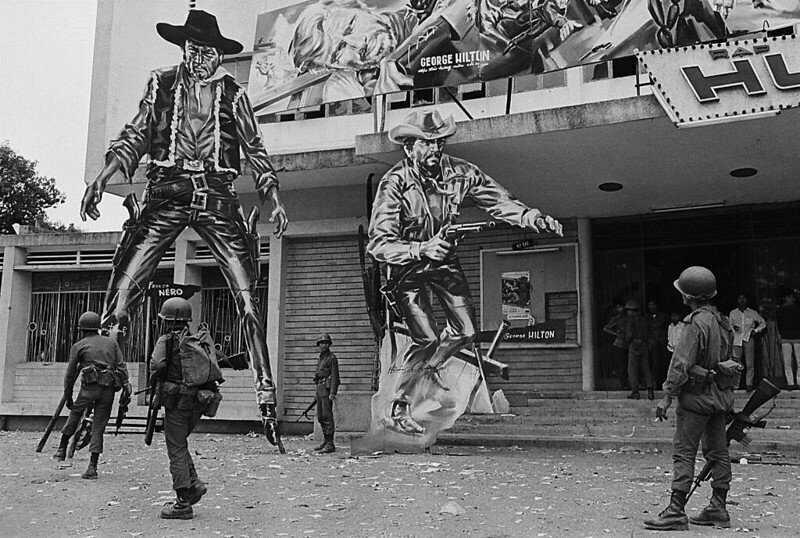 8. Support local communities
Vietnamese people are friendly, welcoming, and talented. Support a good cause. Have a blind massage at The Institute of the Blind or some smaller parlors.
If you are into hand-crafted souvenirs, recycled items, and textiles, shop at the Hope Centre or Healing the Wounded Heart Shop, supporting disadvantaged people.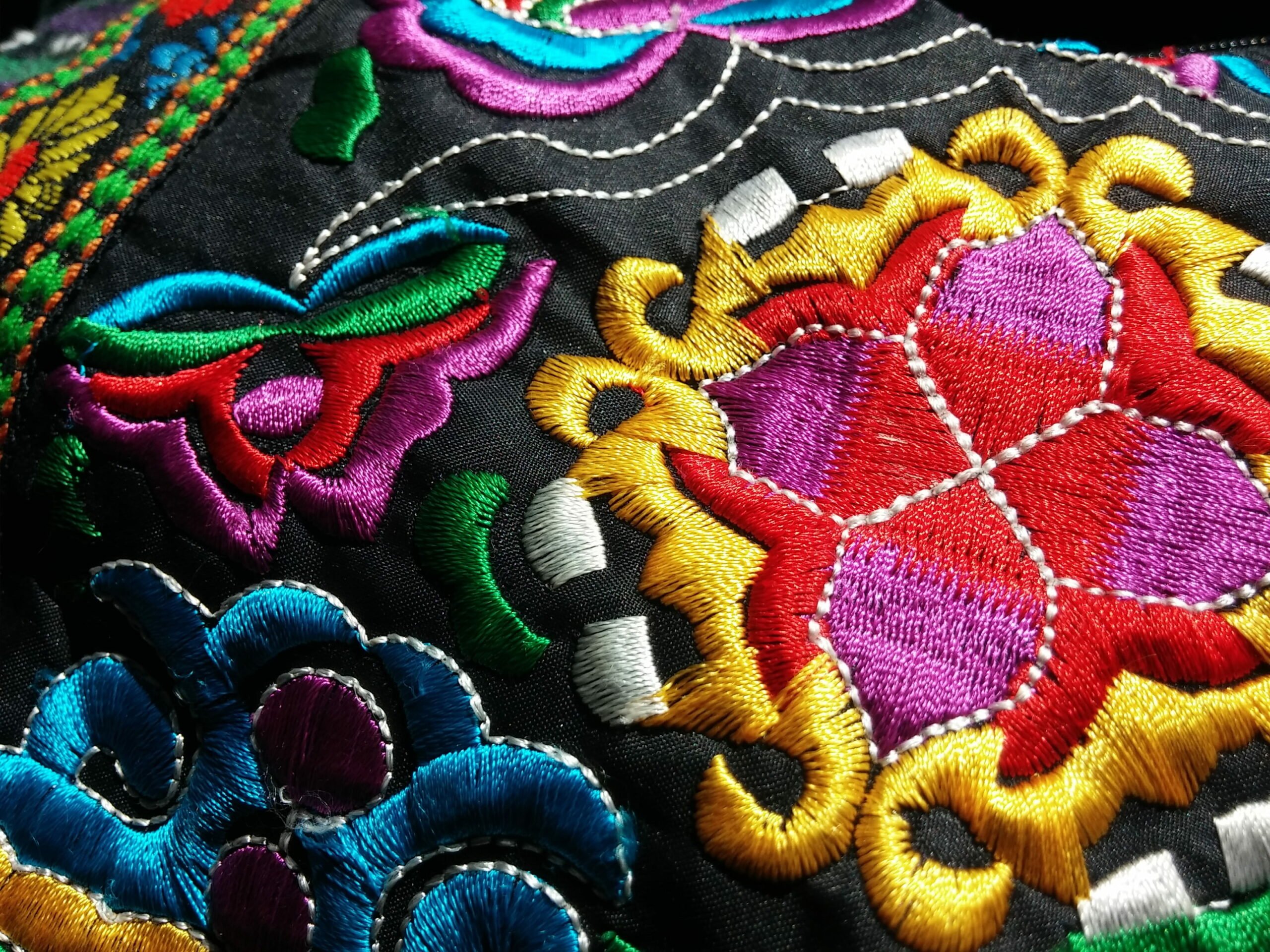 9. New Space Arts Foundation
The Earth without art would be just "eh". Visit this exhibition space with residence artists from all over the globe.
There are also 4 rooms, making it possible to stay in a homestay surrounded by art and artists.
Easy trips from Hue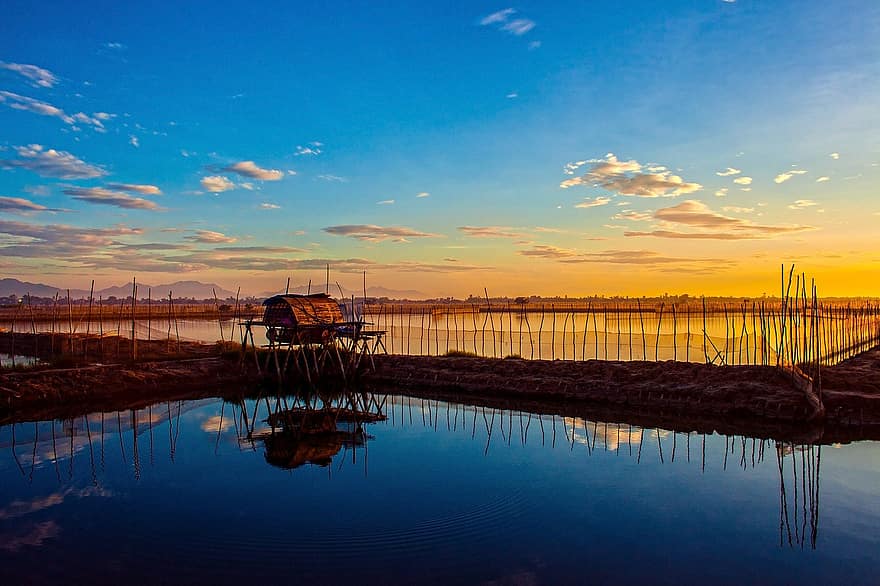 There are many places to visit in the area, even further (Danang and Hoi An). Our top 5 nearest picks are:
Beaches such as Lang Co, Ham Rong, or Thuan An
Bach Ma National Park
Chuon Lagoon, where you can try fishing
Thanh Thien Village, famous for paper flower art
Alba Thanh Tan Hot Springs
Cuisine of Hue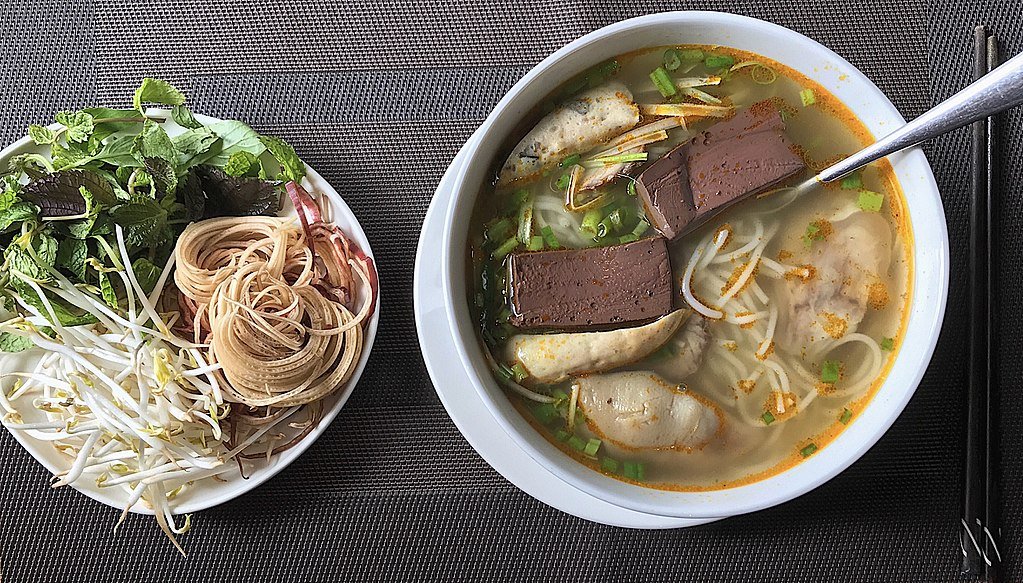 Food in Hue has barely changed since the royal days. It is delicious, nicely presented, served with sauces and greens.
But how is the taste of the local cuisine distinctive from the rest of Vietnam? It is complex. More flavourful and colorful than Northern cuisine.
It can get hot and spicy, as chilies are widely used, but you can wash it down with locally-brewed Huda beer.
What are some of the most famous dishes? Bún bò Huế, a spicy/umami beef and noodle soup. Another famous noodle dish is Bánh canh bột lọc. If you prefer rice, try Cơm Hến (mussel rice).
Steamed tapioca/rice cakes, called Bánh bèo are yummy, as well. If you have a sweet tooth, go for Chè, a sweet gelatinous dessert with ice. Just point at what you want in it — the offer is mindblowing, from beans, lotus seeds, sweet corn, coconut, young rice, fruit…
This city with a strong Buddhist tradition is vegetarian-friendly, too. Many locals eat vegetarian food at least twice a month (following the lunar calendar).
If you will be looking for vegetarian restaurants in Hue, look for the word "chay". Many places are vegan, too. We recommend the website and app called HappyCow to find the closest one.
Living and working in Hue
Expats in Hue are spread out and the community is smaller than the one in the capital, Hanoi, or in the largest city of Vietnam, Ho Chi Minh City.
The closest more expat-populated city is Danang. If you are craving Western food or a night out, head there. Hoi An, (75 mi), is also a good option.
The air in Hue is also cleaner than in Hanoi, or Saigon. AQI (air quality index) levels are instantaneously in red numbers — over 200, while 100 is already considered harmful.
This, noise pollution, plus the UV index impacts the quality of long-term residency.
Hue is better, not only because fewer people equal fewer motorbikes, cars, and produced garbage. The city is also very green, with big public spaces where people gather and play games or chat, many walking streets… Natural attractions are nearby, too.
However, the city is very traditional, and if you move here with your child, expect it to be touched and caressed by every grandma (Vietnamese people are very family-oriented) — on the other hand, people are just curious, especially if you are a Tây (meaning Westerner), but very respectful.
Be the same, learn some Vietnamese phrases, and do not forget: A smile goes a long way.
Hue is also a safe city, just beware of scammers. Even if you reside here, locals could assume that you are a tourist and do not know your way around, your banknotes, price levels, etc. Read our article on how safe Vietnam is.
However, Hue is a great destination for digital professionals, and other expatriates including those with families that prefer smaller cities, less traffic, cleaner air, blue skies. It is calm, with wallet-friendly prices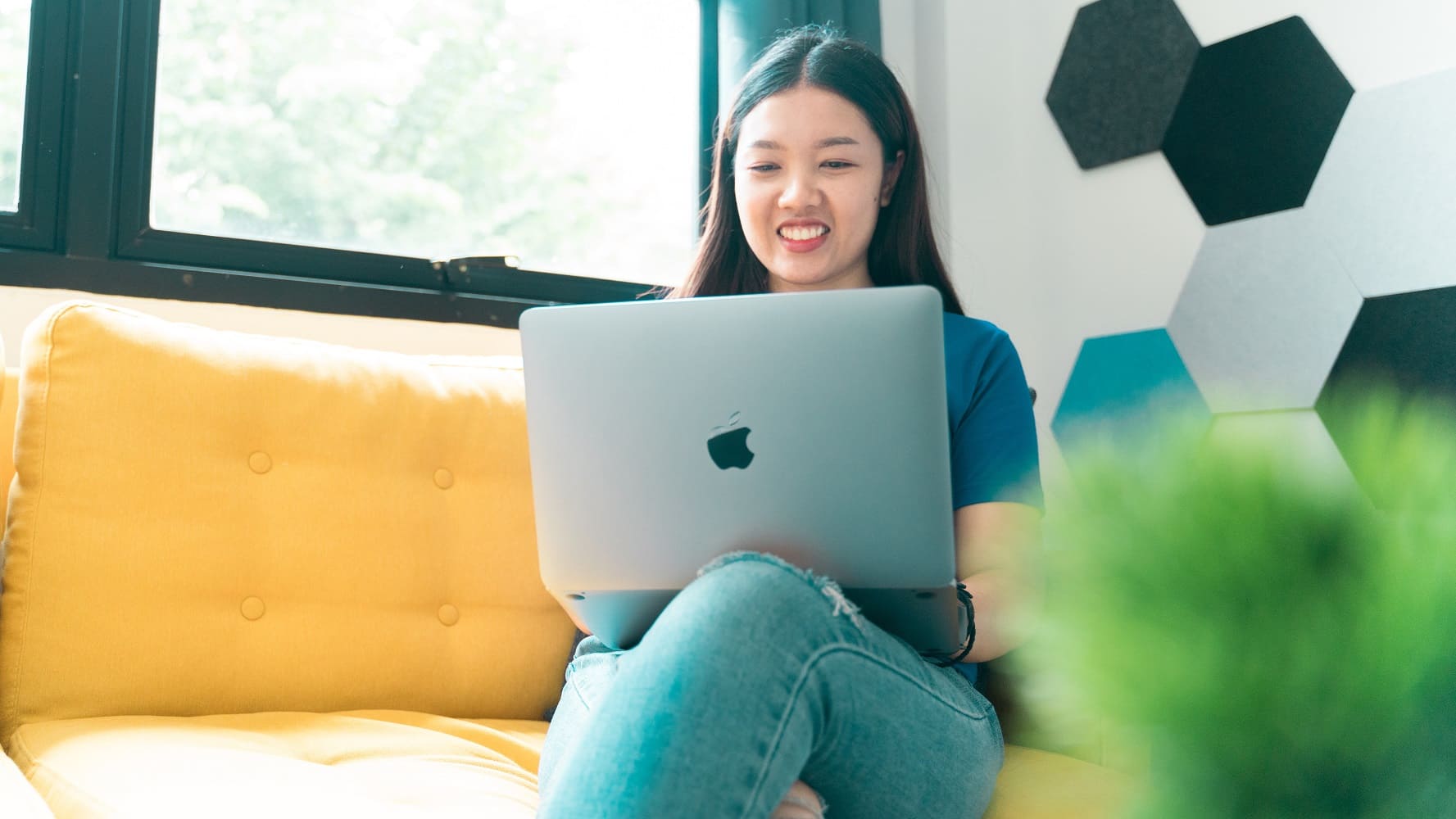 In Hanoi, you can get one room for 5 million VND, in Hue, you can get an apartment. A bowl of local food is also around 15k cheaper.
And food is definitely more vibrant than in the North. Discover more about moving to Vietnam, prices, and housing.
Join one of the Hue expat Facebook pages for first-hand intel, or follow our blog and social media.
What is even better is that Iglu opened its office in Vietnam in February 2020. Are you a digital professional? Our new office in Hue is waiting for you, with work-from-home options available.
Hẹn gặp lại! See you soon!