If you're planning to be in Vietnam—whether on a short trip or an indefinite stay—knowing how to send money and use it there is absolutely critical. If you've been there before, things may have changed as the government is feverishly pushing to modernize and standardize the country's financial systems.
Whereas USD used to be a manageable alternative to the Vietnamese Dong in most retail environments, these days it's much harder—and much more costly—to transact using any foreign currency.
At the same time, cash is still very much king in this Southeast Asian paradise, so you'll need to have a good source of it. The recent explosion of online money transfer services has made this easier than ever, but it's also introduced a lot of options and variables—not to mention hidden fees and tricky sales language.
Let's dive into everything you need to know to send money to Vietnam, including how to get the best exchange rates and avoid both unnecessary costs and risks.
In This Article We'll Teach You…
Key facts and tips about spending and sending money in Vietnam in general

The benefits of having a Vietnamese bank account, and what you can do without one

All the possible options for receiving a money transfer

How to assess services based on fees and the way they quote their exchange rate

The smartest methods to transfer money to Vietnam, and why we chose them
What to Know About Money and Currency in Vietnam
Vietnam is currently in something of a currency renaissance. While the Vietnamese Dong is the official national currency, there are some quirks and caveats about using it that may be helpful (or at least interesting) to know about.
Become an 'Instant Millionaire'
The Vietnamese Dong is one of the world's highest-denominated currencies, with notes as large as 500,000 Dong in circulation. With 1 US dollar valued at around 24,000 VND at the current exchange rate, it only takes a currency exchange of around USD 42 to end up holding a cool million.
And while those dong won't go nearly as far as the same amount of dollars or euros would in the west, many things in Vietnam are famously inexpensive. So you can have the full millionaire's experience, compacted into the span of about 20 minutes, from "earning" your millions, to literally spending it all in one place.
Fun Fact: Not Everything is Bought and Sold in Vietnamese Dong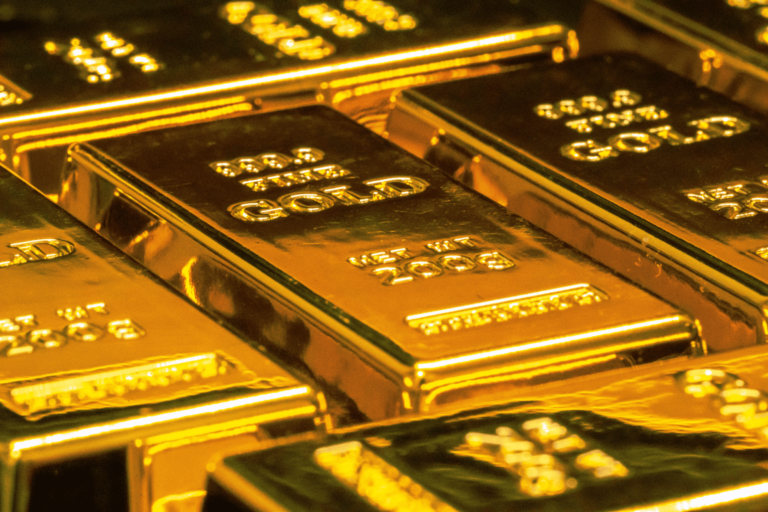 There's no telling how much longer this will be true for, as the Vietnamese government urgently pushes both business and consumers toward the dong and secure digital transactions, but technically there are 3 "currencies" that may be used to buy and sell in Vietnam:
The Vietnamese dong

The US dollar

Gold
USD isn't really a viable alternative currency anymore, and due to its much rarer acceptance these days you can expect to end up spending a good amount more for the convenience if you do find a store or vendor willing to take it.
Up to just a few years ago you could reliably carry USD as well as VND and not worry too much if you ran out of local currency. There was always at least a bit of exchange rate markup applied to prices offered in USD, but it was widely accepted—especially at higher end retail establishments.
In recent years the Vietnamese government has strongly pressured these businesses to stop the practice and only take payment in dong—a completely understandable move toward shoring up the value of the local currency.
The savvy expat, however, never relied on this option in the first place, as the best deal is always in dong. Using dollars was seen as a convenience for tourists and was never the cheapest option.
What About Local Currency Exchanges or Hotels?
If you're a millionaire in more than just VND, sure. You can use your hotel or stop into the currency exchange shop next door. They're convenient and at least you're unlikely to get full-on robbed at one (depending on how you define the word).
But beyond convenience, unless you need cash in Vietnam fast, you'd do well to avoid both of these options. Suffice to say they're essentially tourist traps and will reliably give you the worst exchange rates available.
Though it's possible to find a decent exchange rate at some of the larger hotel chains, we'd still strongly advise politely declining these services, unless you've just arrived with no cash and need to make a small first transfer to hold you over.
Do I Need a Local Bank Account?
If you're a tourist, no. As an expat? Definitely. But no matter what, having one does help make things easier as well as open up additional options that also save money.
You can take a look at our article all about how to open a bank account in Vietnam if you're interested in pursuing that, but as of July 2019, foreigners are only eligible to open one if they're legally permitted to stay in the country for a year or longer.
That means no tourist visas.
Receiving Options Other Than Using a Bank Account
Depending on the service you choose to send money to Vietnam, you'll have a few options to pick from in terms of how it's ultimately received.
Receiving a bank deposit into a local bank account may seem like the default, but what if you'd rather not connect to a recipient's bank account? Or perhaps you're traveling to Vietnam and don't have a bank account to do a bank transfer with in the first place.
You may be planning on traveling directly to a more remote part of the country, and unsure if you'll be able to use your debit card to withdraw the cash you need once you're there.
These are some great examples of why it's important to evaluate money transfer services on more than just their fees upfront when deciding how best to send money to Vietnam. Some will offer the versatility you may rely on to receive your money, while others are quite limited.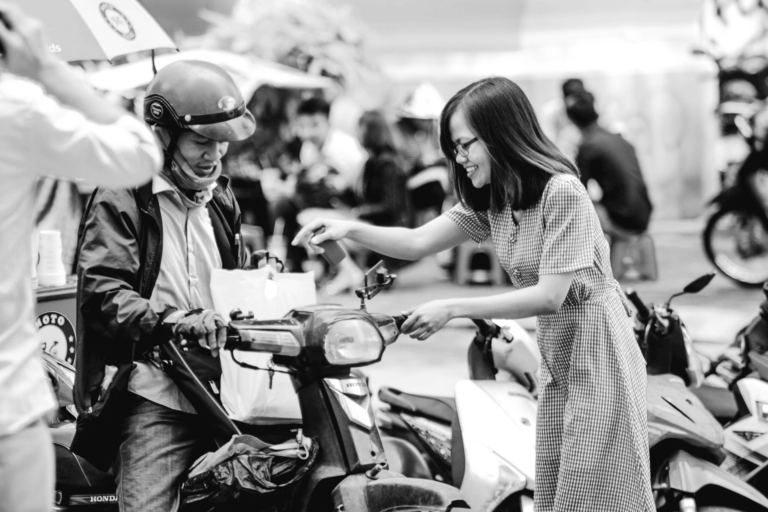 Common Ways to Receive a Money Transfer After Sending Money
Deposit into a Vietnamese bank account

Cash pickup

Crediting to a debit card

Cash delivery

Mobile top-up

Add to your VND balance held with the transfer company itself
What to Look For in a Trustworthy Money Transfer Service
The market for secure online money transfers is saturated and competitive, which is a good thing for consumers looking to send money to Vietnam or anywhere else abroad.
On the other hand, it means there are a lot of different money transfer services to consider, and at first glance they all have a similar look and feel. Even the branding across a handful of big names is confusingly similar.
But while convenience is certainly an important consideration for choosing the best service, making the smartest choice for your money entails sizing them up well beyond the surface experience of their website.
Key Considerations in Choosing a Money Transfer Service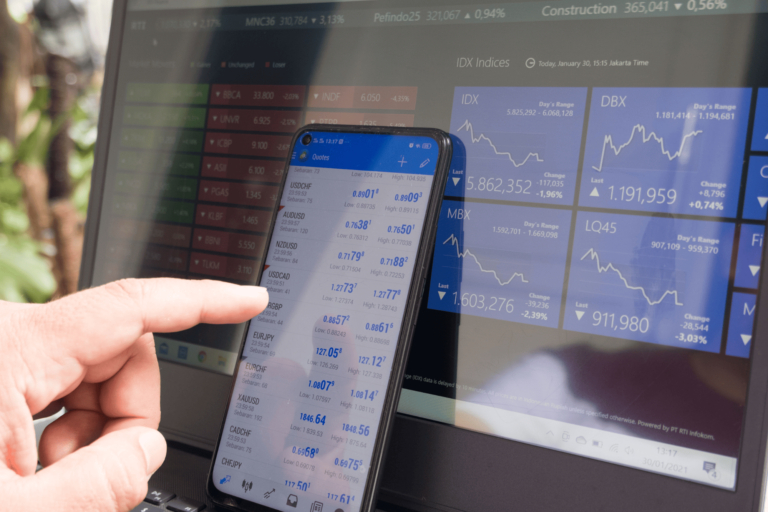 Transparent fees

: Does the company clearly present all of their fees upfront, or do they have a reputation for charging hidden fees that will

Exchange rate quoting:

Does the money transfer service pass through the true mid-market exchange rate, or do they mark them up as a way of taking additional fees?

Delivery promise / guarantee:

What happens if the company doesn't deliver your funds on time? Do they keep their fee?

Payment methods:

How can you send your money? Bank transfer only? Debit card? Other options?

Other features:

Can you spend with a multi-currency debit card that comes with your account? Add an account for your business?
Do they provide a way for you to hold money in various currencies? Can they act as a pseudo bank account with actual bank transfer capabilities?
What about their exchange rate? Do they quote you the true (mid-market) rate you'll find when you search verified financial reporting sites?
Can you receive money the way you need to? Do they guarantee your transfers? And what about customer service when something doesn't go as planned?
All these factors are crucial, and could make a big difference not only in your money transfer experience, but in your total cost to transfer money as well. That's why seasoned expats likely don't use the most obvious methods when sending money to Vietnam.
How to Transfer Money to Vietnam Like a Pro
In most cases, especially when you're sending money to Vietnam from the United States, your best bet to minimize transfer fees will be to use a dedicated service for secure online money transfers.
These money transfer services—from which nowadays there are plenty to choose—will offer to tie into your bank account, at your option. If you're not comfortable with that, most offer ways to send money using a bank transfer without connecting them to your account, and nearly all of them allow you to initiate an online money transfer using a debit card.
Beware of the Credit card Payment Option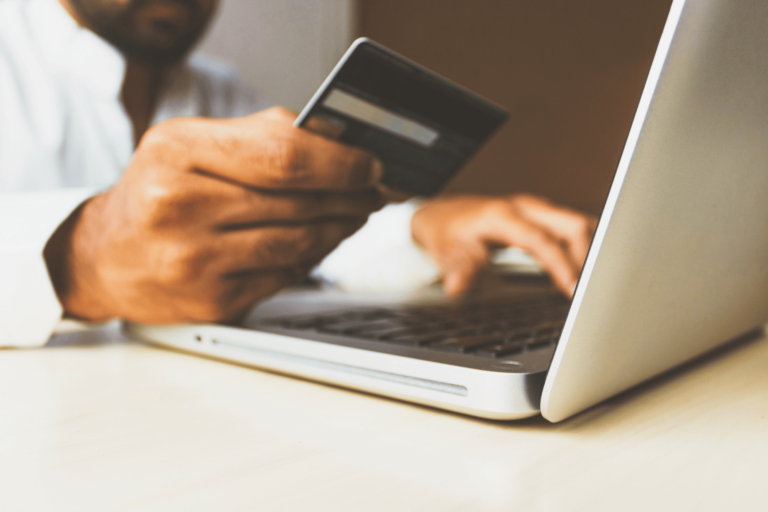 Many well-meaning services even allow you to use a credit card, but be warned that this is universally the method that will net you the highest transfer fee. Additionally, your credit card company will very likely consider the transaction a cash advance, which we can confirm from experience is always costly and even potentially damaging to your credit score.
This is a convenience offered by these services, most of which don't necessarily want you to pay this way, as will likely be evidenced by the significantly higher quoted fees you'll see upfront.
Our Top Picks for The Best Money Transfer Services
These are the companies we know and trust. The four options below contain services we use personally for our own money transfers as well as those most highly regarded amongst our friends and colleagues in the expat community.
1. Wise (Formerly TransferWise)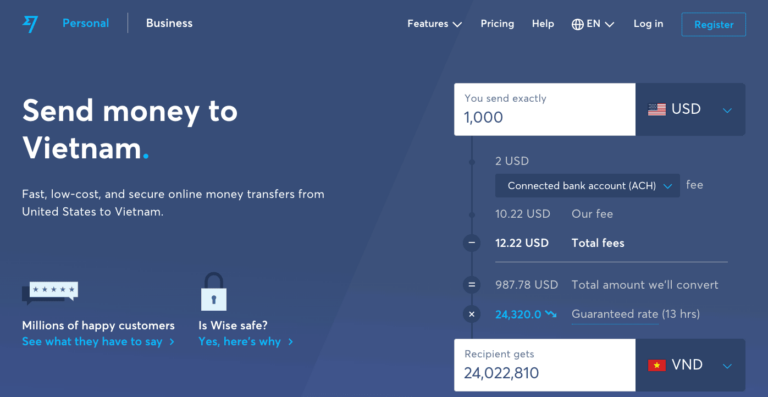 Ah Wise, we love you.
A service started by 2 genuine expats each living in the other's country of citizenship, Wise exists to make international money transfers across currencies as easy as domestic ones.
They're big on transparency, and proudly pass through the true exchange rate to their users, taking only nominal fees upfront.
They also offer some of the most unique and powerful features of any of the services on this list: bank details for up to 10 international currencies, and their very own debit card that automatically functions in the local currency of whatever country you use it in.
Together these features can turn a free account with Wise into something indistinguishable from a local bank account, except much more powerful. Using their debit card, you can withdraw and spend money in any supported local currency (much more than the 9 you can use full banking features with), even if you only have a balance in another currency.
What We Love
Transparent fees with nothing hidden.

True, mid-market exchange rates that lock in as soon as you send money.

Overall an extremely low cost option.

One of the fastest ways to send money to Vietnam, with transfers often completed in one day or less.

Bank account functionality for 9 currencies, plus IBAN support for the Turkish Lira.

Ability to store money in dozens more.

Physical debit card for spending and withdrawing local currency.

A wide range of payment options for sending money to Vietnam and elsewhere.

Industry-leading customer service.

Optional business account for global entrepreneurs and freelancers.

Offers a sizable referral fee for introducing friends, family and colleagues to the service.
What We Don't
Unfortunately VND is not one of the currencies Wise supports for local bank account details.

Debit card withdrawals come with additional fees past a relatively small amount per month.
Remitly is one of the largest money transmitter companies on this list, and they're based in the United States. They're widely known and are intently focused on helping immigrants, specifically, send money back to their families abroad. Their mobile apps are highly reviewed and they offer decent exchange rates.
What We Love
Very attractive conversion rate on your first transfer.

Transfers complete in as little as a few hours, when using a card to pay.

Offers instant transfers to Visa debit cards.

Their guarantee promises a refund on their transfer fees if your transfer is late.
What We Don't
Website uses some misleading language about fees and guarantees.

They do in fact charge a margin on top of the true exchange rate.

Not the most transparent service we've looked at.

No way to hold money in different currencies or spend it with a universal debit card.
XE got its start as a simple currency exchange tracking website and expanded in that vein until a series of mergers broadened the company's services directly into the online currency conversion space. It now stands as one of the top players in the field. At the time of writing, it also offers the strongest net conversion rate amongst all the service providers in this article.
What We Love
Low exchange rates.

Straightforward service centered around currency exchange, from the beginning.

Can use electronic funds transfer (EFT) as a payment method.

Cheaper than sending money using international bank transfer.
What We Don't
Doesn't offer true (mid-market) exchange rate, despite presenting exactly that on their front page.

No bank details for holding money in various foreign currencies.

No attached debit card for easily spending and withdrawing in local currencies.

Somewhat more limited in compatible currencies.
WorldRemit has a down-to-Earth backstory, with its founder finding motivation to create the service from personal experience as an international student. The company offers well-liked mobile apps for both iOS and Android and lots of versatility in how you send and receive money.
What We Love
Diverse receiving options, including cash pickup and airtime top up.

Many transfers are completed within the same day.

Full-range of payment methods.

Transfer as little as USD 1.

Support for 145 countries and 30 currencies.
What We Don't
Exchange rate contains a markup.

Variable fees on top of marked-up exchange rate.

Maximum transfer of USD 10,000 — far below other options.

No business transfer options.

No way to hold money in different currencies or spend it with a universal debit card.
Other Noteworthy Ways to Send Money to Vietnam
Xoom is meant to be the youthful, global transfers brand that breathes new life into PayPal. But really it's just PayPal using an 'X' to try to sound cool.
There are infinite disappointing corporate sellout stories, but PayPal is still a standout example of how to grow without grace.
Neither particularly "zoom-y" nor your "pal", the payments behemoth will charge you more than other options while scraping every bit of personal data it can force "consent" for during the process.
Our advice: stay far away. There's nothing smart about PayPal or any of its fluffy branding attempts at relevance.
Western Union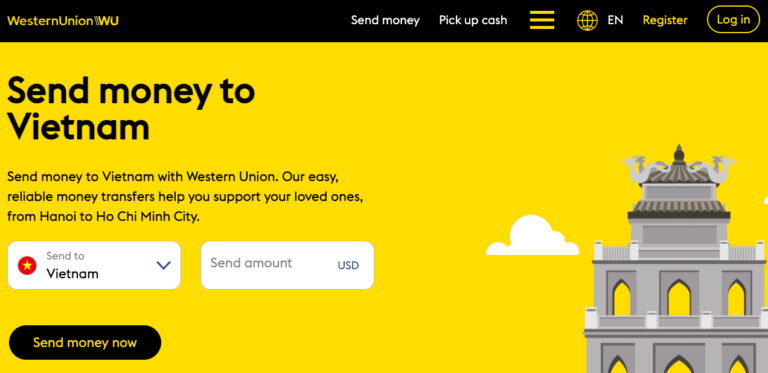 Western Union is a decent option when in-person service and cash pickup locations are at the top of your values list. Send money to Vietnam with them and it can be ready for pickup within the same day.
They've also been in business for over a century and a half.
They don't offer the most competitive rates in the business, but they're not horribly short of the alternatives either. If you want a name you've known your entire life and some of the more analogue features they're uniquely equipped to offer, they can be worth considering.
International Bank Transfer or Wire Transfer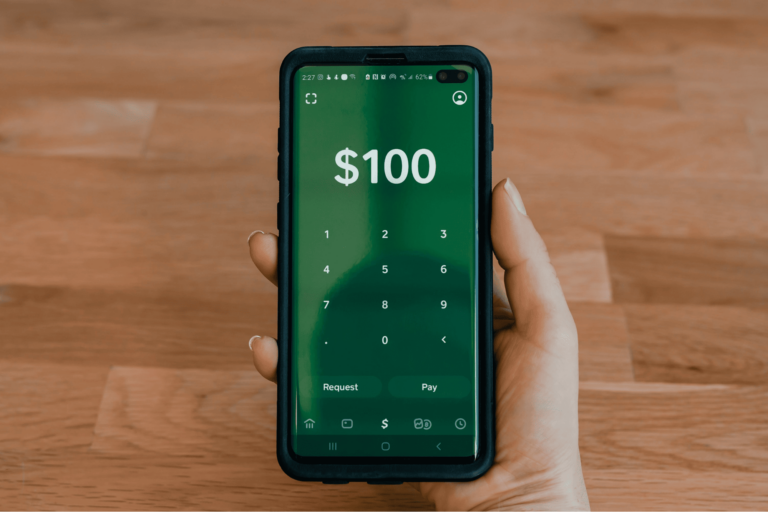 Most western banks nowadays offer full suites of functions through their mobile apps. For those they don't perform directly, they're more than happy to "suggest" integrated partner services for you that often come with no upfront fees.
It's often relatively easy to send money to Vietnam using your own local bank account, but keep in mind that doing so will never offer you the best deal on the transaction in terms of fees or exchange rate.
It's so easy to set up an account with Wise, XE or Remitly, you'd be leaving a lot of money on the table to let your bank handle your transfer.
What About Cash-Only Options?
There are in fact a few services that will allow you to complete an international money transfer to Vietnam entirely in cash. You can walk in to a location near you and deposit the cash you want to send, and then your recipient (or you at a later time) can stop by a local brand in Vietnam and make a cash pickup.
This is the tried and true old-school way of international money transfers, but what you lose in speed and convenience, some may find they gain back in peace of mind and the value they may place on not disclosing sensitive data or allowing access to personal finance tools over the internet.
TL;DR: How to Send Money to Vietnam
Whether you're traveling to Vietnam and want to have a supply of local currency, living there already and tired of leaving money on the table, or sending money back to family, you have a world of options available to you.
In almost every case, our recommendation remains the same: use Wise.
We mean it. They don't pay us to send you there. But as expats ourselves, we've relied on Wise for years, and can vouch for their reliability, transparency, and incredibly handy functionality.
They normally have the best rates. If they don't, they literally tell you who does and link you to them from their website. If that doesn't earn them your trust, gaining actual working bank details for 10 currencies just by opening a free account should do the trick. If you have a bank account and have used digital banking, you'll be able to use their app without issue.
If you're dead-set on going cash only, we'd point you to either Western Union or as a last resort, PayPal's Xoom, though be aware that neither of those services will provide you with the best deal on the transaction when compared to independent, all-digital options.
Have a Better Way to Send Money Internationally?
If we missed a great option, let us know! And if you're looking for help getting set up as an expat in Vietnam or Thailand, always feel free to drop us a message.